Since launching pricing plans back in March 2018, we've learned a lot about how you integrate Polly in your daily work. From small and simple use cases to large and complex, our pricing was meant to serve all the various ways you use Polly.
As it turns out, our pricing wasn't always simple or straightforward for every team – especially as the needs and size of the team scaled in usage. Our mission is to make it radically easier for all teams to measure and act on the knowledge that drives their work – and in order to make that a reality, we needed to simplify our pricing to reflect how our users use our product day in and day out.
New Pricing Details
What's going away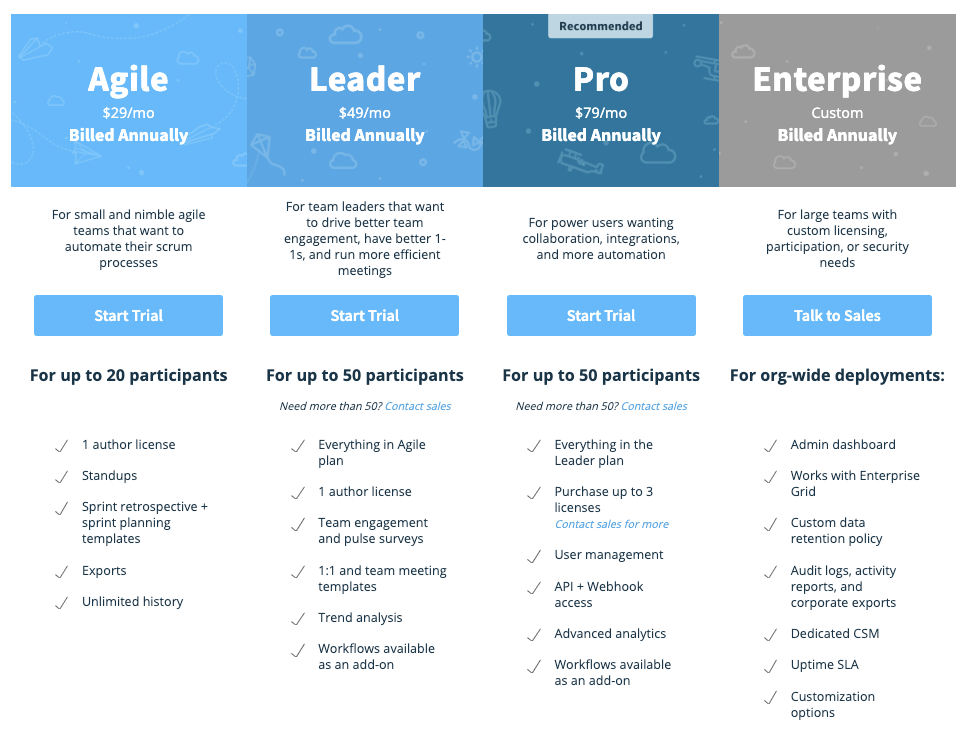 We're getting rid of the Team and Business plan in order to make it easier and more flexible for our users to scale up their usage and needs, without having to fit within a set package.
With the new pricing model, there's more flexibility in creating a plan exactly around your needs -- whether you want a response limit bumped up to 250 responses, or to purchase 6 extra licenses for your team, we made that much easier to customize.
The Individual plan features will remain the same, and will be renamed to Leader plan. The Leader plan is perfect for team leaders, managers, or coordinators that want to use Polly to manage and automate every part of their team experience – from 1:1 meeting coordination, to team engagement pulse surveys, to project or meeting feedback, and more.
What's new
We've added two new additional individual license plans to cater to users at varying levels of complexity and features they need from Polly to solve their problems.
The first plan is the Agile plan – which is exactly as it sounds. It's our lowest plan, right below Leader plan, with a more limited feature set and a lower response limit per survey. The Agile plan is perfect for small teams that are just getting started with automating some of their manual agile processes in Slack (such as standups), and don't quite need all the shiny bells and whistles yet.
The next plan that we're introducing is the Pro plan – which is the highest self-service individual licensing plan, right after the Leader plan. This plan includes API, webhooks, and integrations access that we rolled out recently and had previously been granting access on a case-by-case basis. The Pro plan is perfect for Polly power users that want more collaboration and to connect Polly to all the tools they use every day, with a lot more flexibility for their growing team.
For both the Leader and Pro plans – we have the flexibility to scale with you as your team or your needs grow. If you need more than one license, or a higher survey response limit, you got it. Just let us know at any time, and we're happy to add it onto your plan for a small additional cost.
Introducing our new onboarding services
In addition to new self-serve individual licensing plans, we're excited to add services for folks that want a bit more guidance and custom work. It's been requested from our customers in the past, and we've informally done it for certain customers that have complex use cases, and now they will become available to all users as an add-on to their plan.
A custom build, onboarding, internal integrations, and training are all new services that you can add onto your plan for an additional cost.
Impact on existing Free and Paid customers
Our primary goal for new pricing was to simplify the experience for our users regardless of what plan they're on. With the addition of the new plans, we've made some changes to the existing Free plan.
We've gotten a lot of feedback over the year around our 10 response limit for recurring polls/surveys and multi-question surveys. Initially, the intention was for it to be a preview of the capabilities of recurrence and surveys, we have since realized that the experience can be pretty limiting for larger teams that had a one-time or occasional need for a poll or survey.
In an effort to reduce confusion around the limited preview, we've removed the ability to create recurrence and surveys to only be available on a free trial, or on a paid plan – so the entire experience will be truly unlimited when evaluating Polly.
By removing recurrence and surveys from free, that means that we can focus on building an even better Free polling experience, without any limitations.
For the Free plan, we've added the following functionality that was previously only available on paid plans, to round out the full polling experience:
All question types (yes, even NPS, ranked, and point allocation)
Editing a poll after it has been published
Resending a poll
Reopening a closed poll
Scheduling a poll in advanced
Looking forward to 2020
As part of our ongoing long-term investment in making Polly the companion app to your Slack workspace, we have some big plans for 2020 that will make it even easier yet more robust to collect and measure the knowledge that drives your work every day.
One of our biggest priorities for early 2020 is to remove even more friction when it comes to in-Slack interactions. This includes bringing survey authoring into Slack (now that survey results are already in Slack!), all the controls you need from a single home tab, a more personalized experience based on your needs, and the ability to create whatever you want, whenever you want, with a single click of a button.
As always, we'd love to hear your thoughts – if you have any requests for new product features, or just have a question, feel free to drop a line.
If you're interested in seeing how much Polly can automate some of your more human processes and help you make decisions faster, consider one of our new paid plans today.