What a long but exhilarating two days it's been at Frontiers! Some of the Polly team went out to San Francisco and most recently New York for Slack's annual user conference, Frontiers.
For us, the conference was spent connecting with attendees, listening from inspiring keynote speakers on inclusion and diversity, and getting excited about upcoming features coming to Slack.
Here's Bilal with Slack's CEO Stewart Butterfield, and Tim, a fellow attendee.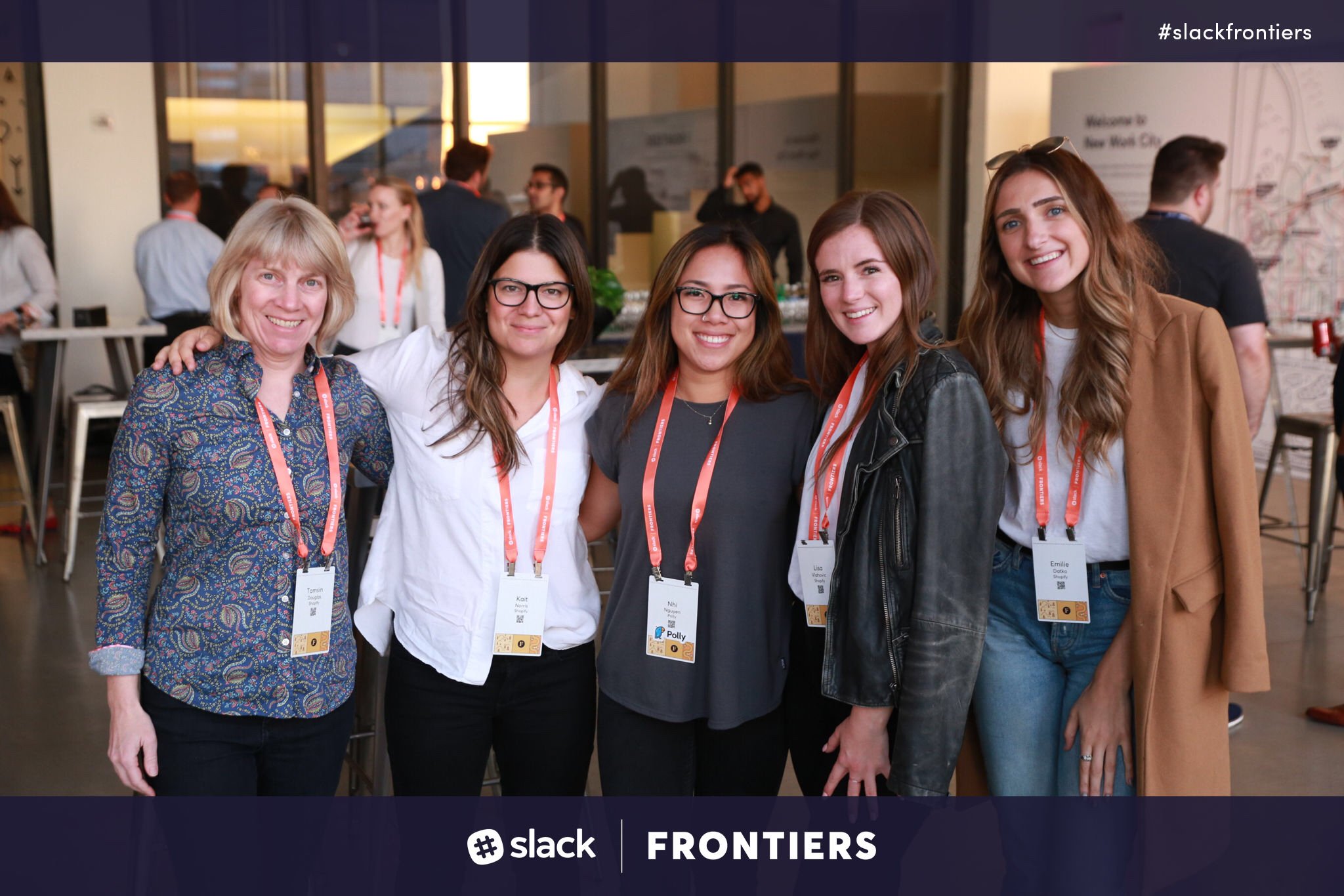 Here's Nhi, with some folks from Shopify.
The focus of this year's Frontiers centered around the future of collaboration in the workplace – and the importance of achieving alignment, coordination, clarity, collaboration, and agility across organizations.
Conference highlights
And of course, Slack is at the forefront of next-level collaboration— here were some of the highlights from the conference that proved this:
Slack launched Next Chapter, which helps formerly incarcerated people find work and succeed in tech in partnership with The Last Mile and the WK Kellogg Foundation, in an effort to make the workplace not only more collaborative but more inclusive and diverse as well.
The launch of Enterprise Key Management (EKM) which will allow administrators to encrypt channels
A partnership with Atlassian, a well-known enterprise software company with a wide toolset for modern software development and collaboration
The acquisition of Missions, which is a workflow automation tool that enables anyone (not just developers!) to be able to create workflows in Slack that automates common and mundane processes
And a whole suite of new features that makes working in Slack more interactive, simple, and productive — such as shared channels, message actions, a faster web/desktop client, and much more
TOMO and workplace collaboration
Lindsay McGregor, the opening keynote speaker and best-selling author and Vega Factor cofounder explains that there are two types of performance — adaptive and tactical. While equally important, they should balance each other out like Yin and Yang. And in order to build a high-performing culture, why you work determines how well you work.
What is tomo and why is it so important? According to McGregor, the phenomenon behind why you work is called TOMO (short for total motivation) – which is a measure of a complex range of reasons that people work and how it drives their performance. And tomo is more important than ever for a workplace to be collaborative, connected, inclusive, and more importantly, so that the people can do their very best work.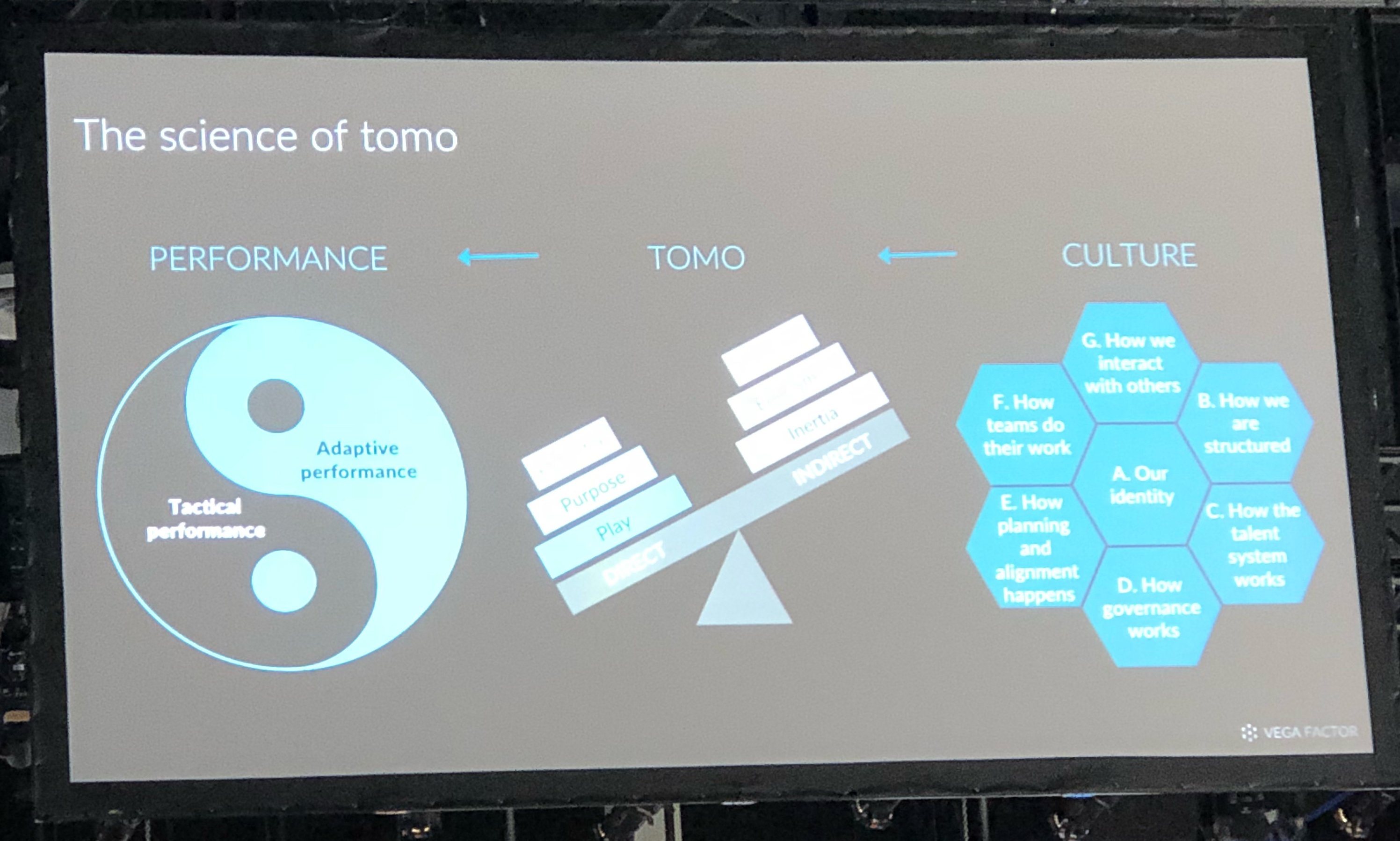 McGregor goes on to describe the six basic reasons that makeup TOMO: the first three lead to higher performance — play (the work itself is enjoyable), purpose (if the work provides meaning), and potential (the work is helping you grow). The other three have a negative impact on performance — the three being emotional pressure (working to fulfill your parent's wishes), economic pressure (you work for money or other economic pressures), and inertia (you show up to work not because work is enjoyable, it's just what you do).

High performing cultures maximizes the play, purpose, and potential felt by its people, and minimizes the emotional pressure, economic pressure, and inertia.
And as it turns out, tools like Slack can help an organization raise tomo — and while company culture is by far the biggest driver of tomo, Slack's focus on improving transparency, open communication, and collaboration across organizations can definitely be a contributing positive factor on employee engagement and motivation.
Measuring TOMO in Slack made easy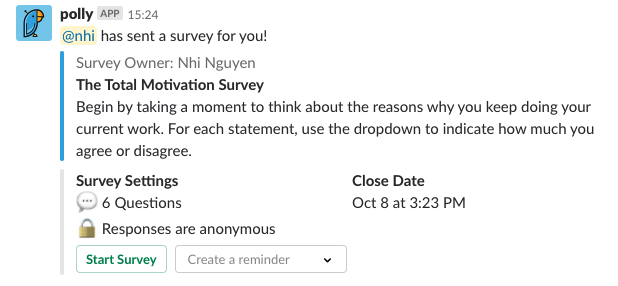 Creating a high-performing culture takes a lot of work and patience, and definitely doesn't happen overnight. The first step in building a high-performing culture is to measure your tomo today, and then you can begin to evaluate the right steps to incrementally improve your culture that would affect your employees' tomo in a positive way.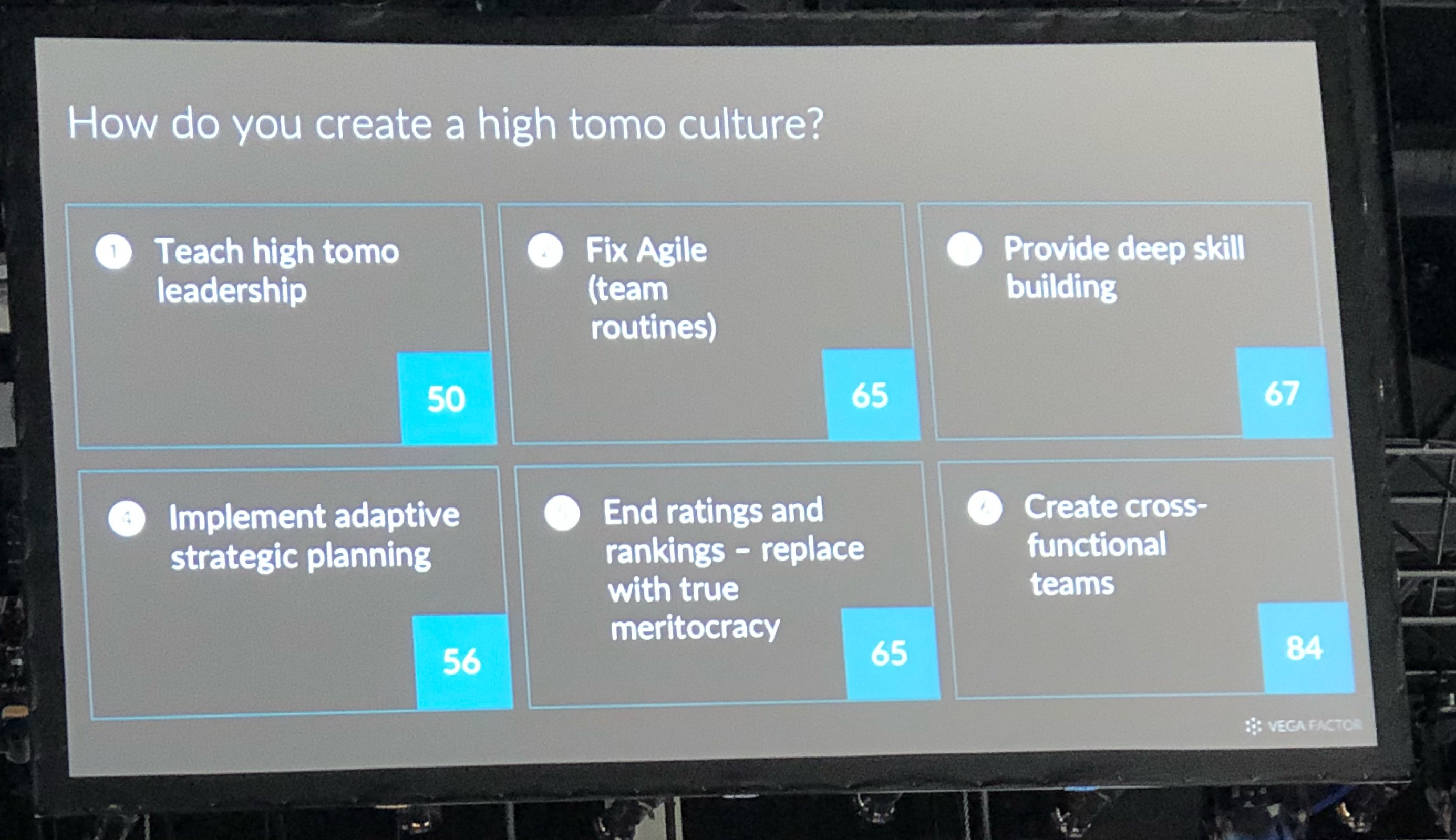 Measuring total motivation is actually pretty simple — the folks over at Vega have come up with six questions (one for each motive) that determines how much of each motive a person feels in their work, on a scale from 1 (strongly disagree) to 7 (strongly agree). Your score sits in a range between -100 and 100, with a higher score indicating that you are more intrinsically motivated.
Polly has teamed up with the team over at Vega Factor to make it possible to easily measure what your tomo score is from anywhere, anytime. And especially if your company's all-in on Slack, you can measure your tomo score and send it to your team without ever having to leave Slack.
To find out what your tomo score is today, simply use the command /polly tomo to take the quick, six-question survey directly in Slack and we'll calculate your score for you.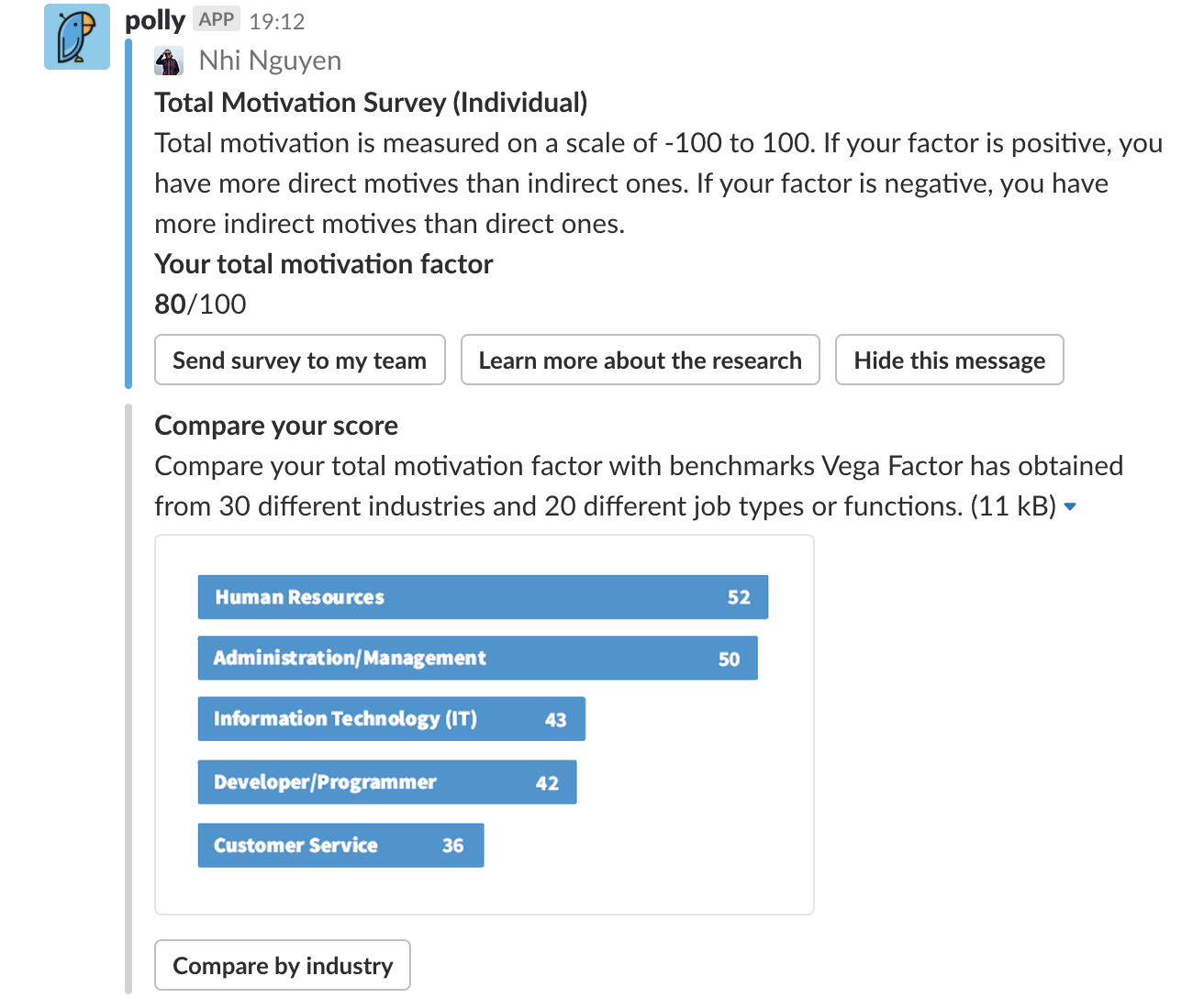 Interested in the research and science between TOMO? Learn more at https://vegafactor.com.