Why small things like dialogs matter in user experience
When one of the few important attributes to Slack's large success can be boiled down to an exceptional, near-perfect execution of their product, the small pieces that make up the product matter a lot. It's not rare to have a pretty good, or even really good product, but that alone is no longer satisfactory for the ever-evolving needs users have towards products that they use every day. To give you an example -- marketers have an average of 65 apps in use per enterprise organization. With that many applications to manage their workflows and processes, there's less tolerance towards small user experience frustrations and higher expectations of meeting what the user needs. While there are a lot of other factors that play into Slack's overall success, a large and very important part of it is the design of the product.
To be laser-focused on providing an exceptional product that is easy to use, intuitive, and understands the user's pain points means that there are a lot of really small and easy-to-look-over moving pieces. We've seen continuous small improvements in Slack's design and overall usability that in of itself, isn't particularly groundbreaking. But it's all the little pieces that come together that gives Slack a uniquely immersive user experience, unlike most workers, have traditionally encountered in the past.
Even for the big, noteworthy updates, they all have the same core goal in common: make the user's life easier, their interactions effortless, and be incredibly user-friendly. Bringing quick interactions that ultimately gives you the best-personalized experience within Slack, have historically resulted in a cult-like following for Slack and its apps. We've seen this in the past with all of Slack's updates -- from summary highlights of your most important unread messages, dynamic and extensive searches, prioritizing notifications, message threads, and most recently message/menu buttons -- that have garnered mass-adoption and praise, because it results in massive wins for engagement and user experience.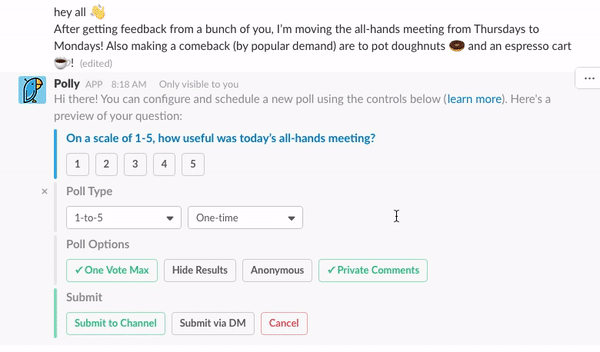 Dialogs closes the circle at Polly
At Polly, our approach towards our product is less about what our product does, and more about how our product impacts the user in a meaningful way: how can we build out features that are incredibly simple in design, yet intuitive and helps our users be more efficient? When message and menu buttons launched on Slack, we brought in the ability to schedule polls and choose responses on the interface with the message and menu buttons. With this new, instant, interactive experience, we immediately saw over 5x increase in users being able to schedule polls.
Slack's introduction of a dialog functionality is a prime example of one of the 'small things' that brings every piece together for a complete solution. For us at Polly, it's a total game-changer for surveys. A big part of surveys is centered around the ability to add qualitative input or feedback, which we had the functionality but without the user-experience. We've seen the consistent frustration with being sent to the web to add comments and having back-and-forth conversations with the Polly bot as opposed to giving valuable feedback directly to their team in one go.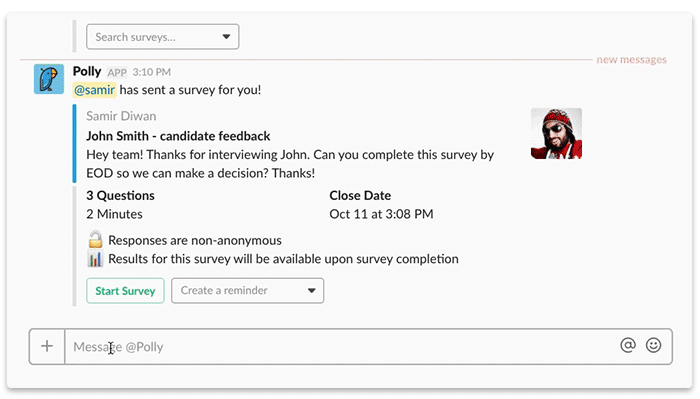 Being able to leverage Slack's dialog functionality enables us to finally bring in the missing piece that allows our experience to be fully complete. Instead of having to interrupt users' workflow by redirecting them to the web interface, everything can now be done directly in Slack, in a matter of seconds. Dialogs simplify workflows and allow for more simple experiences to live in Slack. It allows apps to reach users where they are, instead of kicking them off to the web. It keeps context in one place. These apps don't just work where users are, they provide a drastically better experience.
Simple interactions wins for productivity and engagement
On a larger scale, small and incremental improvements to core functionalities make all the difference in vastly improving employee productivity and engagement. The attention to detail and having a customer-centric approach to product design signals a larger, cultural shift in user expectations and the ways they're changing how they work. Prior to just a few years ago, it was the norm for tools to work asynchronously from one another, which required users to constantly switch between tools depending on their workflow.
Teams are now migrating not only their internal communications to Slack but their workflows and processes as well, which effectively turns Slack into a centralized hub where they work best. By moving core functionalities of all these third-party tools into a centralized hub via integrations that betters the Slack experience, it challenges users to question all of their existing workflows and processes -- what else can we improve? What else changes? How can we make everything better to take advantage of this shift? These questions cultivate a bottoms-up approach to adopting software where they can tangibly see the value themselves.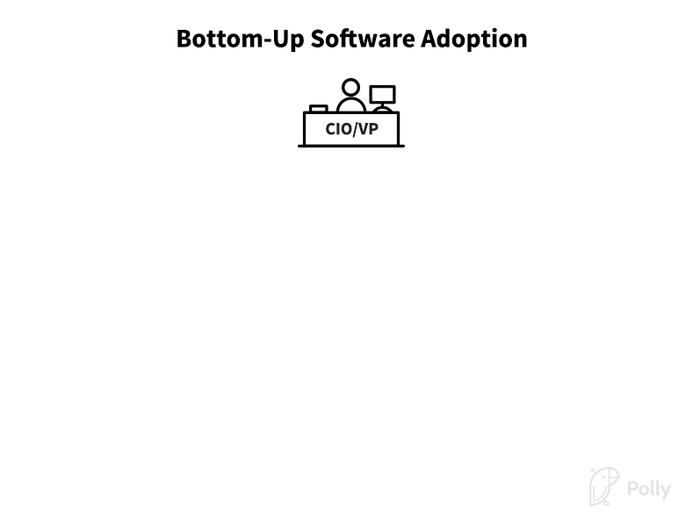 The increasing need for a simple experience that lives in Slack is indicative of the future of enterprise SaaS companies. Looking at Slack's app directory at a glance, there is no shortcoming of integrations with hundreds of companies or Slack-first apps and tools that the typical worker already uses in their day to day workflows. Existing SaaS companies that already cater to enterprise users need to be integrated into Slack as well, otherwise, they risk being on the chopping block when it comes time to make decisions on what apps should be used in the new way they work.