We've made some adjustments to Polly's pricing model
TLDR;
Polly has made a significant change to the pricing to more accurately reflect the value our beloved users get from the tool. We've moved to fixed pricing instead of pricing based on workspace size.
Visit our new pricing page to learn more.
---
Our beloved customers use Polly every day to get better insight and feedback into their processes, and as a result, be able to really measure their workflows in Slack. We've seen some incredible organic growth over the last few years across both large and small companies – with usage varying from all walks of life.
Under this previous pricing model, we operated on a per-active user model (similarly to Slack's) that takes into account workspace size. Unfortunately, this old model didn't scale well for small and siloed teams across large enterprise companies that wanted to use Polly for just their specific team – it became cumbersome to get the whole organization on board and usually involved going up the ladder to get budget approval.
We've received a lot of feedback from our users that our old model of selling to an entire organization doesn't align perfectly with the same bottom-up adoption that Slack and Polly is so well known for. As a result of this, Polly is adjusting our existing pricing model to more accurately reflect the value that users get from the tool and to make room for some exciting new features coming your way here soon.
Moving to a per-author pricing model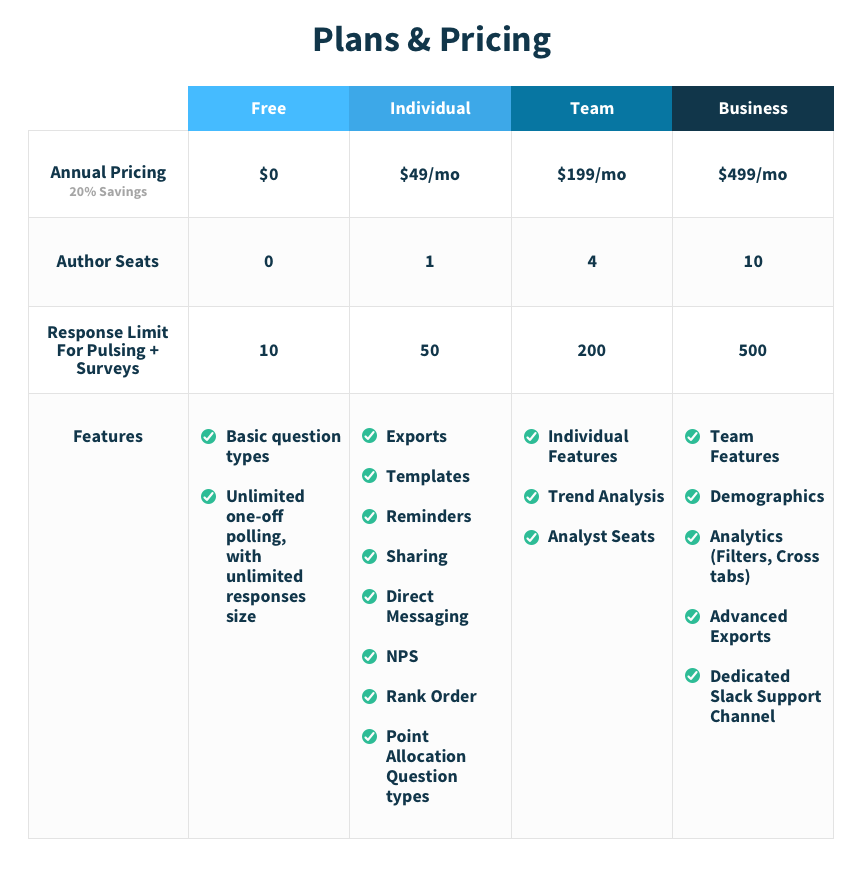 For more serious processes and workflows, these level of permissions more accurately reflects the level of granularity needed in an organization. For all the users that are not needed to run sensitive surveys, they have more limited access to survey functionality while the survey administrators (team leads, managers, human resources) are given more control and access into the surveys they can run for their team.
Additionally, analyst seats serve those that need more insight into surveys (such as your VP or senior director) to drive business decisions without the need to administer surveys.
Under this model, an individual license will be granted where the author has more advanced authoring capabilities and access to other premium features – perfect for individual users or small teams. For larger teams or teams that use Polly for multiple workflow processes, there are also bundles of author seats that come with more features under the Team Plan or the Business Plan. Everyone else in the workspace that is not granted an author license, will still have access to all of Polly's free features – meaning simple and one-off polling is still free and unlimited to everyone else.
How does this benefit me?
For most customers, this actually ends up saving your team a lot of money – but for a handful of customers depending on their need/usage, this is a very modest price increase. These prices are fixed, so they are meant to work for all teams, regardless of the size of your company and won't change based off of workspace size.
For pockets of users across a large company, this new model makes it easy for multiple siloed teams within an organization to go purchase a license to run surveys for just their team, without having to get upper management approval for one credit card invoice for multiple teams. In this new model, each plan (Individual, Team, or Business) is billed separately – even if that means you're a part of the same workspace. This way, you would not need to consolidate all potential authors onto the same company credit card and you're free to purchase a license in silos.
Where can I learn more?
To view the full list of features that come with each plan, head on over to our pricing page. There, we also address common questions we've received – just check out the FAQ. :) If you still have questions, feel free to shoot us an email at sales@polly.ai.