Poll Creation Not Working
If you tried something like @polly "Your poll in quotes" "voting option" "another voting option" or one of the other authoring options but nothing is happening, then you're likely not tagging Polly correctly. In Microsoft Teams, you need to hit tab after typing @polly in order for us to recognize the mention.
Tagging incorrectly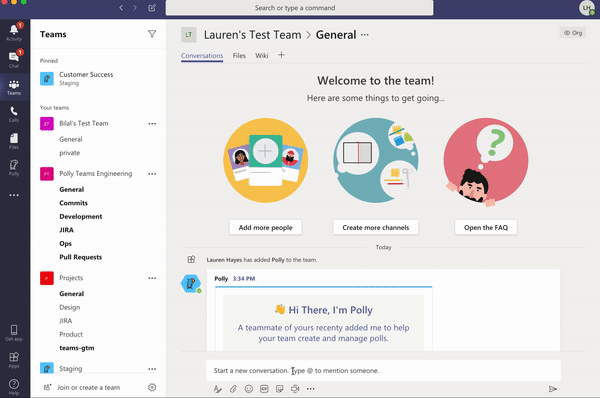 Tagging Correctly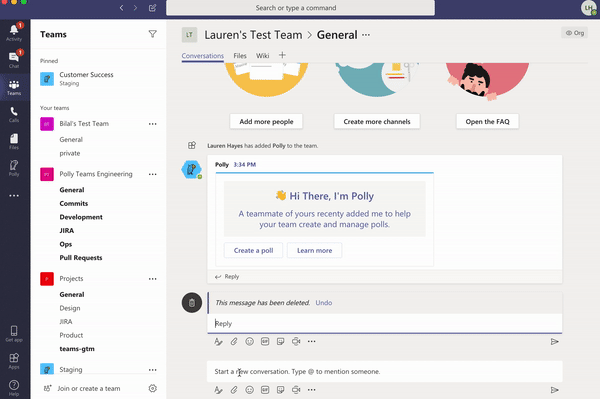 Notice how after typing @polly, hitting tab selects the bot
Some other problem?
Make sure Polly has been added to this team. If you start typing @polly, you should see an auto-complete option to select Polly. If you don't see that, then Polly is likely missing from your team. Here are details on adding or re-adding the bot.
If that still doesn't work, please reach out to us.
Polly Not Responding to @ Mentions
You could be hitting one of the following issues, most likely it's #2, but let's rule out the first two options before we go to #3
Make sure you're

tagging the bot correctly.
Make sure you've added both the tab and the bot. Details

here.
If that wasn't it, check if bots are enabled by your Office 365 admin. Your admin will need to follow

steps in this doc to check.
If #3 didn't solve your problem, you're likely hitting an edge case, and you need to reset the "bots enabled" setting. From the last step in #2, disable bots. Then re-enable them and wait 30 minutes. Microsoft has assured us that this should solve the problem for most users.
If Polly still isn't responding, can you please take the following steps so we can pass some information back to Microsoft to investigate?
Check if Polly responds to "hi" in a 1:1 chat
Navigate to the web version of Teams (https://teams.microsoft.com) and go to the channel that you're having trouble in. Copy that URL.
Find the timestamp of the poll you tried to create in the channel that had no response, and make note of it (please also make note of the timezone you are in)
Send us an email

and include the URL, timestamp/timezone information, and your Office 365 domain. We will start investigating the issue ASAP.
Polly Tab Requesting Admin Approval
When I click my Polly tab, I get a pop up that says I "need admin approval" to use Polly, what should I do?
Your organization's tenant admin enabled security settings which is what is blocking access to certain applications.
Polly uses Active Directory to authenticate users. We make the request to AD for that user to authenticate who they are, and grant the Polly app the permission to read the user's basic profile (email and name).
Most likely, the tenant has disabled this functionality to allow users to grant access to Polly.
To resolve, ask your IT admin to authorize the Polly app for everyone in your organization which should unblock you. The link to do that would be here: https://login.microsoftonline.com/common/adminconsent?client_id=817c2506-de4a-4795-971e-371ea75a03ed
Other issues?
If you're still running into issues installing or using Polly, check with your IT admin to be sure that permissions are enabled to allow members to add and use 3rd party apps, like in the picture below.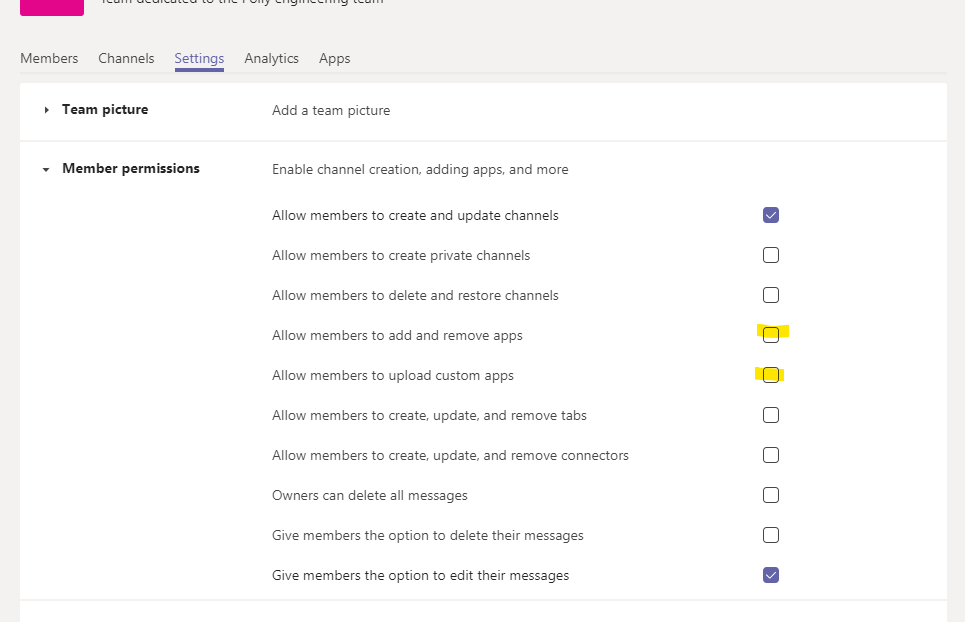 As always, if you have any questions you can reach us at contact@polly.ai