Learn about the licenses reselling and transfer options available with Polly for Slack.
How many licenses can I purchase and assign?
With Polly you can purchase and reassign up to 3 licenses on behalf of others.
The way this works is that you — a user, have the option to purchase up to 3 licenses for your customers or employees and reassign them to their respective slack IDs from your web app account.
Please note that your licenses are tagged to your unique slack IDs, which means that you cannot add more people to a single license, or allow them to use the responses, pollys or other perks associated with your account. For that, you will need to purchase more licenses.
✏️Note: If you wish to purchase more licenses, please reach out at sales@polly.ai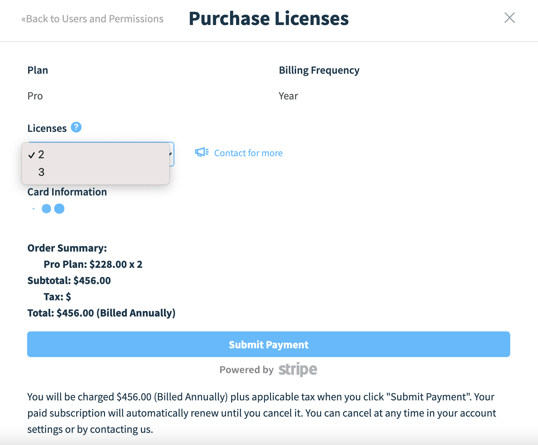 Can I transfer my license to someone else?

Yes, you can transfer your author license to another individual in your workspace. To do so:
Click on your Account dropdown from your dashboard
Click on Users & Permissions
Then you can re-assign to anyone in your workspace
✏️Note: Only authors/billing admins can do subscription and license management. If you were assigned a license by someone else then you cannot reassign your license on your own. Reach out to your billing admin int his case.
Transferring a license will transfer the Pollys data as well automatically?

No, Polly data does not transfer automatically with a license transfer, it will only get shared with someone if you do it on your own. Even your subscription owner/admin cannot do this on your behalf. If you are leaving the company and the historical pollys and their data are important then, make sure you transfer them to the new license holder. More on sharing this polly data can be found here.
Can I buy a license for someone else?
Yes you may buy a subscription on behalf of your customer. Here are our standard terms:
Reseller Discount: 0% (as per our policy for orders below 10 licenses)
Payment Term: 30 days
Payment Method: Credit card or wire transfer
Process of placing order: Send approved PO, with user details of 1 slack account who will act as admin and reassign licenses
Email to which PO must be send: sales@polly.ai
Price Validity date: 30 days
Pricing info:
Item & Pricing: As per our pricing on the website for annual plans
Custom pricing and enterprise plans are also available for customers who require unlimited responses or >10 licenses.
Term: Resellers can purchase annual plans with 1 year term and auto-renewal unless cancelled before renewal date
Company info:
Subcurrent, Inc.
(we dba as Polly)
815 First Avenue, #333, Seattle, WA 98104, United States
+1 206 743 0987