Want to add and manage users on your AgilePolly subscription? Here's a quick help guide that goes over how and where.
Adding users to my subscription
When you purchase a subscription, you are automatically assigned as the subscription owner.
If you wish to add other users to your subscription so they may create their own surveys, you can do so by:
Navigating to the pinned AgilePolly tab in Teams, from there head over to Account Settings under the ⚙️ button.




✏️Note: If you do not have AgilePolly pinned in as a tab in one of your channels, click here for instructions on how to do that.

From the ⚙️Users and License Management tab, if you are the subscription owner, you can then assign the licenses that you purchased for your subscription.

From the search bar, you can search for any users within your team to assign a license to.



✏️Note: When you add a license to a user, you may incur additional charges based on their usage. This means that if the licensed user starts creating their own standups and averages 8 attendees for their standup, their usage will reflect on your bill. This applies for any and all licenses that you add to your subscription.

Once you've added licenses to your subscription, you can remove them at any time as well by clicking on the 🗑️Delete icon next to their name.
✏️Note: Due to the way Microsoft Teams works, users who are assigning and receiving licenses must be in the same team. However, once the license has been assigned, they are free to author in or from any team in their tenant.
Viewing Subscription Usage
Whether you have multiple licenses on your subscription, or just your own, you can view your usage activity at any time by going to the Billing & Plans tab. This will give you a sense of how much activity you're incurring for a more accurate estimate of your next invoice.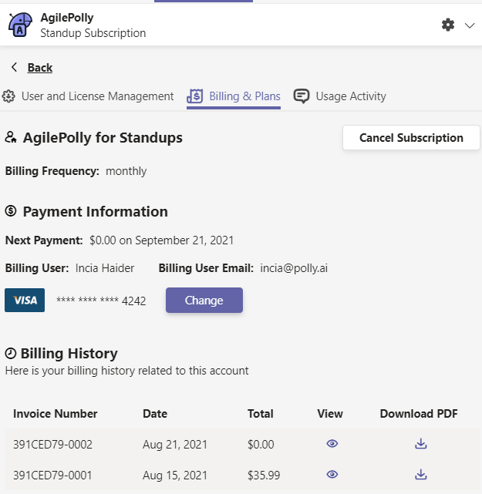 In the Activity section, it will list the channel, standup title, owner of the standup, and how many users participated in the standup. For all licenses on your subscription, we will show them under this Activity tab as well.