Need help managing your subscription? We've got a couple options that you can explore including upgrades, pausing, cancelation/unsubscription and refunds.
How can I manage my account?
If you have an active subscription, everything you need to manage your subscription can be found in the Polly Dashboard. This can be accessed by:
Clicking the Polly icon on the left-hand side of your Teams (under Chat, Teams..etc). You may also need to click the overflow menu to find Polly.
Click Dashboard
Then under your ⚙️Settings drop-down → Account Settings → 💲Billing & Plans.
This will bring up a screen that looks like the below, from here we'll go through the different options have for managing your subscription.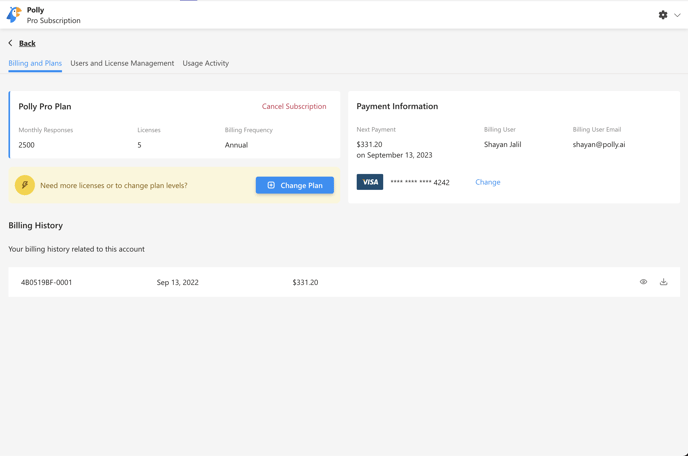 How do I upgrade/downgrade my subscription?
Clicking on Change Plan will allow you to upgrade or downgrade your subscription. You can change to a higher response level plan (e.g. from 500 to 4500) or add/remove additional licenses.
For upgrades, we will automatically bill you the prorated amount up front, and then on your next billing cycle, we will charge you the full amount moving forward.
For downgrades, we will credit you the difference on your next billing statement. You will still have access to your current plan until the end of the billing cycle, at which point you will then be downgraded to the selected plan and/or license(s).
How do I cancel my subscription?
You can cancel your subscription from the same 💲Billing & Plans page on the Polly tab.
Here, we ask that you provide some reasons for your cancellation, and confirm the cancelation by hitting the Cancel Subscription button (in red). Similarly to upgrading and downgrading your subscription, you will have full access to your subscription until the end of your billing cycle.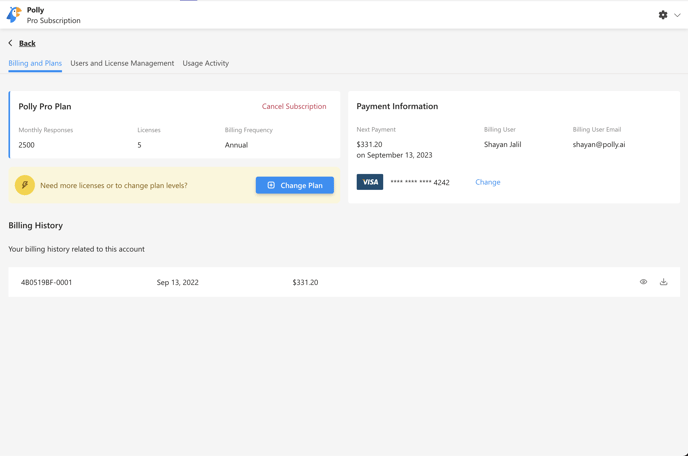 Can I move from monthly to annual or vice versa?
This functionality is not yet supported in the subscription plan changes, but we're more than happy to make this change for you. Just email our support team and we'll take care of it.
Will I get an email invoice every month?
Yes! Stripe will automatically email you an invoice every month before you get automatically charged.
How do I remove my card details?
Please reach out to our support team for removing your card details. Once you cancel the paid subscription you will not be charged again so removing card details isn't required if you want to avoid getting charged.
Do you offer refunds?
Generally, we do not offer refunds for subscriptions or renewals. If you believe you purchased a subscription mistakenly or it got renewed accidentally, you may reach out to our support team within 48 hours of your charge to request a refund.