Difference between our plans and available payment options.
Polly offers quarterly and annual pricing plans on Slack.
Annual Billing Cycles
Our Annual plan holders are incentivised with more responses and a more feature robust product for a lower per-month cost. Annual plan holders will see a one-time charge applied at the beginning of the subscription to account for the entire year's worth of usage.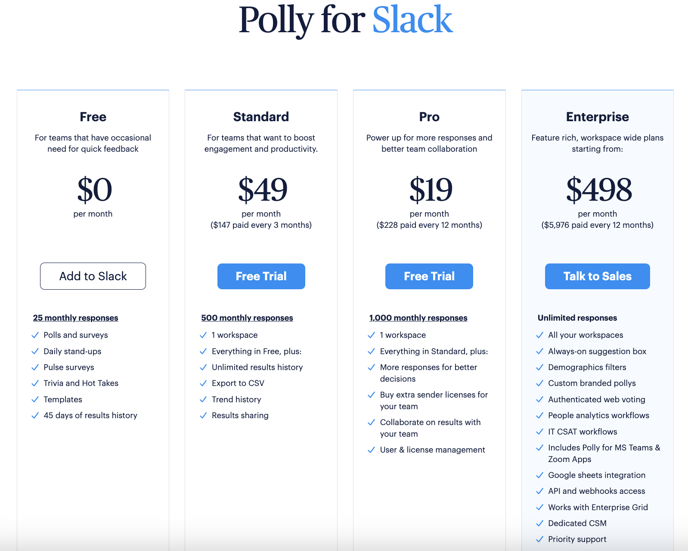 Once you've chosen the appropriate plan, you'll be redirected to the Checkout page where you'll be prompted to enter your credit card and billing information as per usual.
For all plans, you have the option to add on additional licenses that you can assign to your colleagues.
If you decide later on you want to add additional participants or licenses, you're able to do so under Users & Permissions.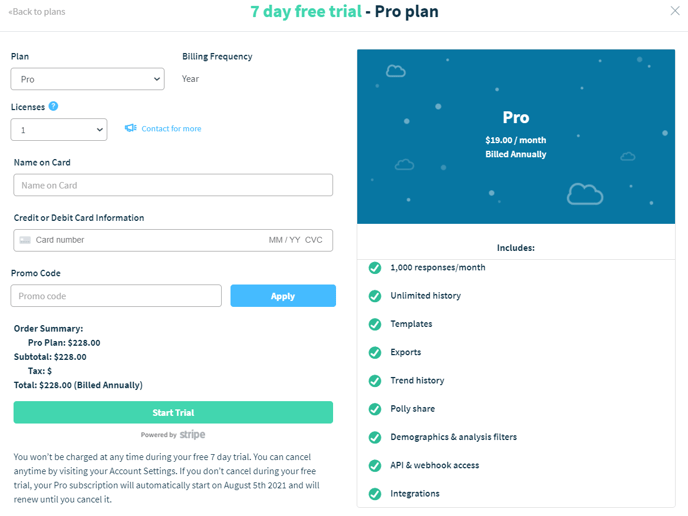 Once you have confirmed your purchase, you will be charged and sent an email confirmation of your subscription. Regardless of your subscription renewal (either quarterly or annual), you will get charged on the same day every recurrence.
So, if you upgraded to the Standard Plan on January 15th on a quarterly plan, you will get charged on the 15th of April.
✏️Note: Our plans are paid upfront for the entire duration of the plan and the cost you see is for 1 license.
Payment Options
We accept all major credit cards for billing, and you can use your credit card for any of the plans.
In the case of a large annual subscription, we can send an invoice as well for qualifying teams – just let us know if that is your preference.
Credit cards are however, required for monthly plans.
Need more help with your billing or invoices?
Feel free to reach out to contact@polly.ai if you need your historical invoices, want to update address/name etc. on invoices or any other specific billing/invoice requests.