Information about AgilePolly's free trial, subscription, billing and cancelation/unsubscription.
AgilePolly Free Trial
Your free trial will allow you to experience the full functionality of AgilePolly for 14 days.🎉
3 days prior to it ending, you will receive a direct message reminding you. Once the trial has ended you will not be charged and authoring capability will be disabled, however your Standup series will continue to be sent (Standup delivery, reminders, etc.) and participants will still be able to respond to Standups.
✏️Note: Results for Standups will not be available after a trial has ended, until you have upgraded your plan. The Standup owner can decide to disable or delete the existing Standup series.

14 days after a trial has expired (28 days total), all Standup series will be disabled and a Direct Message will be delivered notifying the author that the series has been disabled.
Subscribing to AgilePolly
To subscribe to a plan, please follow these easy steps:
Make sure you have AgilePolly installed in your Team.
Navigate to your AgilePolly tab, and click the drop down arrow with the ⚙️ symbol, and then click on Upgrade plan



You will be redirected to an external payment page for AgilePolly. You should see this screen that indicates that the checkout page has opened.
Once the page is opened, you may see a screen to sign in with your Microsoft Teams credentials. We ask for this information (similar to when you authenticate AgilePolly for the first time) in order to tie your AgilePolly subscription to your Microsoft Teams account.

A price calculator will help you calculate your monthly cost prior to signing up, but note that it is just an estimate and may not reflect your actual invoice that is charged based on actual usage.



Please fill in your Name, Email ID (if different from the pre-filled one), and your credit card💳 details. In case you have been provided a Promo Code please enter it in the field and then click Redeem to apply the discount. Then click 💲Submit Payment to finalize.




Congratulations, you are now an AgilePolly subscriber!🎉
AgilePolly Billing and Cancelation
Once your trial has concluded, you will have the option to sign up for a paid plan.
Pricing for AgilePolly is $3 per month, per unique active user.

Active user is defined as a participant across any of your standup(s). So if you have 3 standups with a total of 10 unique active participants, you would be billed $3*10 = $30/month. Let's say you have 2 standups in different Teams (e.g. Project 1, Project 2) with the same 10 unique users in both projects, then you will be charged $2*10=$20/month.
✏️Note: Unlike other Polly plans, for AgilePolly your billing is carried out at the end of the month based on your usage. This means that if you did not create any standup during the month then, your invoice will be of $0.
If you have an active subscription, everything you need to manage your subscription can be found in the AgilePolly Dashboard. This can be accessed by:
Clicking the AgilePolly icon on the left-hand side of your Teams (under Chat, Teams..etc). You may also need to click the overflow menu to find Polly.
Click Dashboard
Then under your ⚙️Settings drop-down → Account Settings → 💲Billing & Plans.
This will bring up a screen that looks like the below, from here we'll go through the different options have for managing your subscription.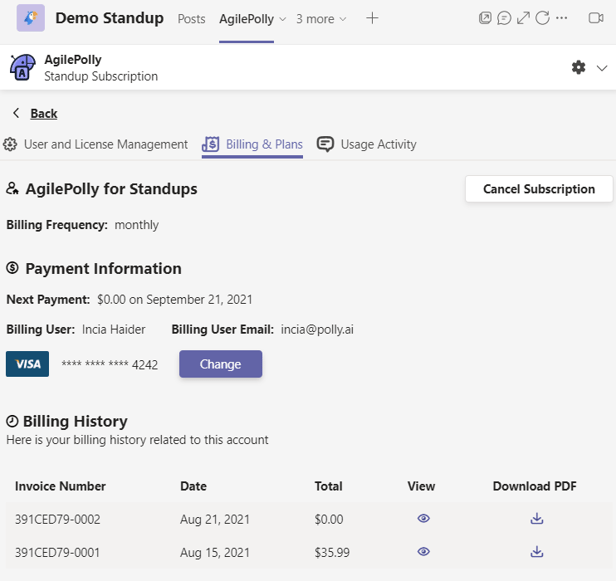 ✏️Note: The option to cancel free trial does not exist in AgilePolly as the trial ends automatically at the end of the 14 day period. Therefore, the Account Settings tab only appears after you are on a paid subscription.