Step-by-step guide to installing and setting up AgilePolly in Microsoft Teams!
To interact with AgilePolly, you'll need to first:
Install AgilePolly for your team
Please follow the below steps to install the AgilePolly application in your team:
Open Microsoft Teams, and then click the Apps button near the bottom left hand side of the application.

Search for AgilePolly🔍 and then click the AgilePolly icon to open up the app preview window

In the app preview window, hover over the Open button and click Add to a team to install the AgilePolly app in your team.

AgilePolly will then be installed to Teams!🎉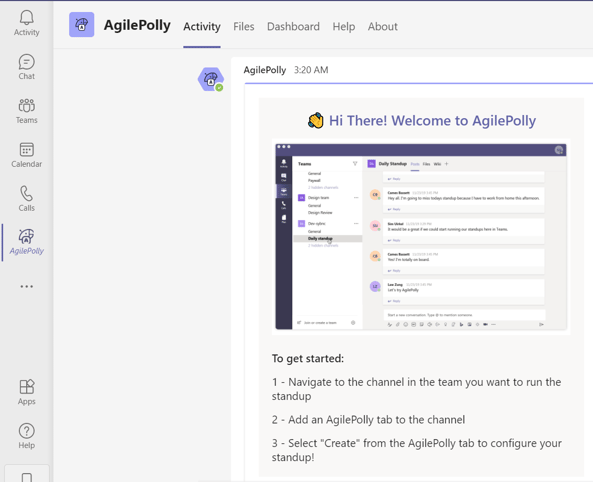 💡 Please visit our pricing page to view the available plans.
Pinning AgilePolly as a Message Extension
Navigate to the channel of your choosing, and click on the button, at the bottom of the new conversation box.

Search for the AgilePolly app.

Right-click to 📌pin the app to your message extension.
The pinned AgilePolly will be visible in your message extension in the channel. You can create a standup anytime using the pinned app.

Pinning AgilePolly as a Channel Tab
AgilePolly provides the ability to view a dashboard of all Standups and results and user setting access by visiting the AgilePolly tab in your channel (you should do this for every channel you plan to use AgilePolly in). If you don't have a tab pinned, here's what you'll need to do:
Once the AgilePolly app has been installed in your team as per the above instructions, navigate to your preferred channel in a Team and click the ➕ to add Polly as a tab in the channel.


In the Add a tab window, search for AgilePolly and add it.

A confirmation screen will appear, select Save

You are now ready to start using AgilePolly in your team🎉

💡Reach out to Microsoft Teams support if AgilePolly occasionally shows an error that it's uninstalled while it is installed and working smoothly. Polly does not show such errors or controls app installation issues.