Unable to add the Polly app to the meeting, Polly not working in a meeting or participants facing difficulty while responding, adding owners ...we've got the answers!
Unable to add Polly app to a meeting?
If you're unable to add Polly to a meeting you're creating on your Calendar, try the following steps:
Instead of adding a channel to a scheduled meeting, leave it empty and hit send.



You'll then be able to view your meeting in your calendar. Now click on ✏️edit, for the same scheduled meeting.



You'll then be able to see a ➕ sign on top which you click to Add an app to the meeting.




Search for polly in the search bar and add it to the Meeting.

Polly is not working in Teams meeting, what do I do?
In order to ensure that Polly works smoothly in your Teams meeting, make sure that:
You are using Polly in a meeting that is scheduled through MS Teams Calendar 🗓 Adding/using apps functionality is not available for instant in-channel meetings initiated through the "Meet" functionality
The meeting made via Teams Calendar 🗓 is not assigned to a channel as MS Teams does not support apps in Channel meetings i.e. the meeting is assigned to specific users, but not assigned to the channel (screenshot below)

You are on the latest version of MS Teams
Meeting attendees not being able to vote or even see the pollys shared. Some have Polly installed while others don't. It's appearing for those who don't have it installed so installation isn't the problem. What could be the reason?
The possible reason here could be that the users who are unable to see the pollys joined as Anonymous users. Anonymous users are not presented with the In-meeting dialog, although they can see and respond to Pollys in the Meeting Chat. Anonymous users are users who do not belong to the tenant/organisation of the organiser of the meeting, and they normally join the meeting via a link.Here's a table that details what meeting app features are available to each type of user.
Also, participants who join as Guests will be able to see & respond to pollys but the meeting dialog (the one that opens in the center of the screen whenever a polly is sent) is not visible to them. They can respond to pollys via the meeting chat. The Guests don't need to have the Polly app installed in order to respond to pollys in the meeting chat.
💡 Want to setup Pollys in advance for your upcoming Teams Meeting, here's how
The external guests in my Teams meeting have to go through a multi step process of accepting permissions, sign-in etc in order to respond to pollys. Is there a work around for making it simpler for them to respond?
Granting an org-wide permission for the Polly app can reduce the number of permission steps for these external guests.
This can be done by an org admin and when done, individual users are not prompted for permissions. In this case, the external org can have an admin grant org wide permissions for Polly. Here's a link from Microsoft help docs that explains how to do this.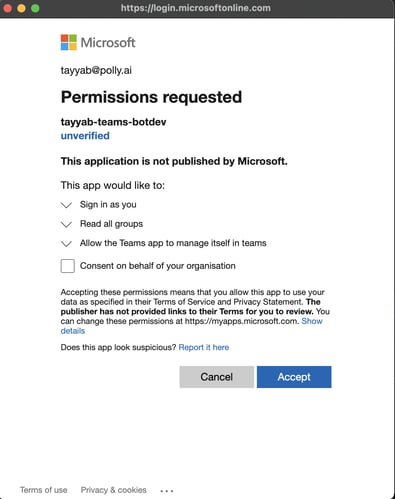 The external users would still have to sign-in when they interact with Polly for the first time. If the external guests have already interacted with Polly in Channel or Chat, they wouldn't be prompted to sign in. So they could use the Meeting Chat in Teams to respond, but responding in the Meeting itself would require signing in.
I have created a recurring polly in a Teams meeting chat. I am not able to add Owners to it. In the management menu from the polly in the conversation, I am only able to delete the Polly. Any idea how to add Owners to a live meeting/polly?
Ownership can only be managed from the pinned tab inside a meeting, group chat or team. It cannot be managed from the chat/conversation.You should be able to access the ownership management menu after pinning the Polly tab, and then access the required Polly. Learn more about adding Owners here
Also, the functionality of scheduling recurring pollys for your Teams meeting in advance isn't available currently. So if you have created a scheduled recurring polly for a meeting, it will not show up in the list of pollys in the Teams Meeting. If however, it is a scheduled polly but not a recurring one, then it will work smoothly & will be listed in the Meeting tab page.
Does Polly work in Live Events?
Polly currently works in Teams Channel, Chat & Meetings. We'd love to offer it for Live Events in the future, once Microsoft enables apps in Live Events.