Choosing the right question type can play a vital role in the success of your polly. Lets review the many options we offer!
Need help in choosing the right question type? We've got you covered with great options!🎉 Learn about the offered question types and make the perfect polly for your audience.
Let's review the many options that Polly offers:
✏️Note: Emoji Rank, Point Allocation and Ranking Polly can only be created via the web app dashboard. The rest can be created from both web app dashboard & Polly app in Slack.
Multiple Choice Pollys
Multiple choice pollys are easy to use in many different ways as they allow intuitive choices with fixed options and help in producing easy-to-analyze clean data.
If you're creating a polly, by default, Polly will start your polly as multiple choice with the ability to add up to 30 choices via Slack app and 60+ choices via web dashboard.
also try something like /polly "When should we meet?" "10am" "11am" and hit enter.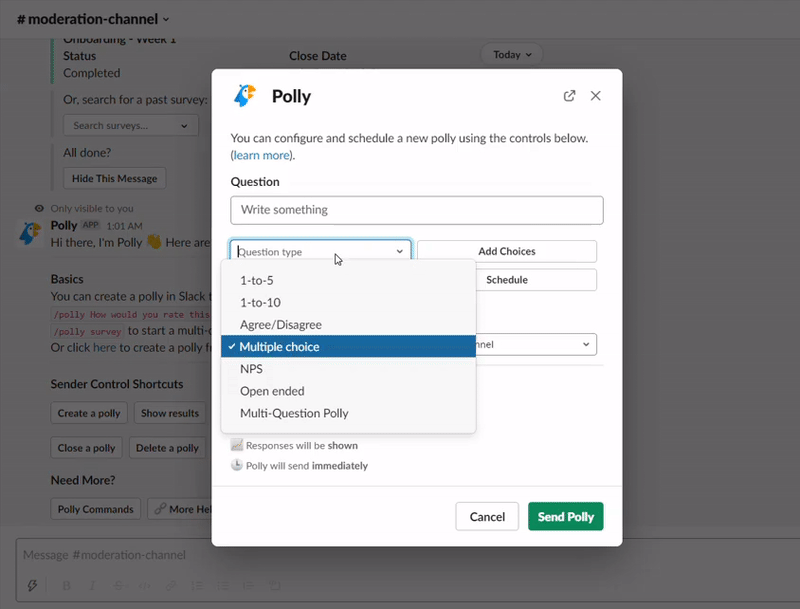 Reordering multiple choice answers
Once you add the choices for your multiple choice polly and hit Submit, you will see three dots … against each choice. By clicking on it, you will be able to see the options to Edit, Move up/down and Delete the choice.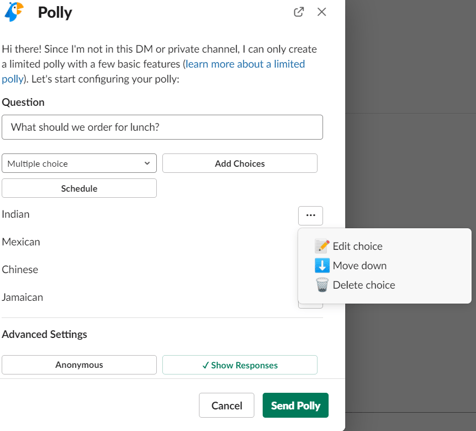 Numerical Question Types
When looking to understand specific feedback on topics, such scales allow you to capture the attitudes and opinions of your people. The numerical scale accurately represents the response of the participant. e.g the Net Promoter Score is ideal for gauging customer's likelihood of recommending a product or service.
Numerical Polly currently supports the following types:
1 - 5 numerical scale
1 - 10 numerical scale
NPS / 0 -10 scale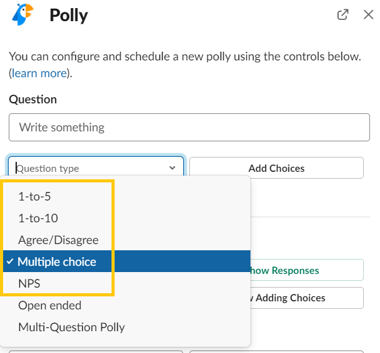 Open-ended Questions
Open-ended questions let you gather qualitative feedback without any pre-set options, with an experience completely in Slack. This question type not only allows you to gauge feedback but also uncovers opportunities that could've been overlooked otherwise.
You have the option of making responses viewable by all participants, or just to you (the author). Similarly, toggle off/on anonymity depending on the nature of the question.

Ranking Options
A ranking polly can be created through the web dashboard and asks the respondents to answer the options in the way that they prefer. It captures how popular a certain option is to the people while also understanding their priorities.
Similar to multiple choice pollys:
You can add up to 10 options
Choose the number of options your audience can rank from, and
Rank up to 5 ranked options.
Your audience will then rank the choices in order, using the drop-down menu that's pre-populated within the polly voting selection.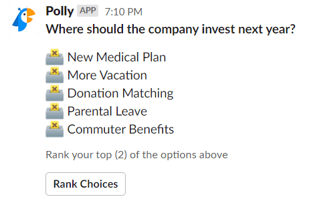 💡If you want to allow more than 5 ranking options then a better way to go about it would be multiple choice pollys
Point Allocation
With point allocation, you can allow your audience to assign points to any of the polly options. It helps in producing interval-level data that captures the respondents perceived importance of the provided options, allowing you to make better decisions.
This can be created through the web dashboard and you can add up to 5 options, and assign up to 100 points for your audience to allocate in any manner.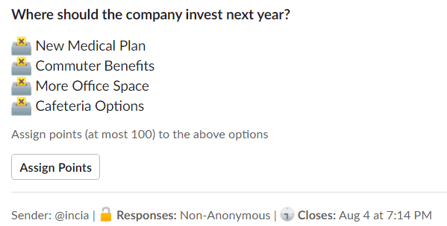 Emoji Rank Pollys
The emoji rank polly is a great way to drive up engagement quickly for your pollys. As each of the chosen emoji relates to attitudes and sentiments of your audience, it is a quick and effective way of gathering ratings for a particular topic in mind.
An emoji rank polly has 5 standard response options and is a great way to drive up engagement for your pollys. The options are
Great/Good/Neutral/Bad/Awful with corresponding emojis
These can be created through the web dashboard

Agree/Disagree Pollys
When trying to understand the viewpoint of your audience on a scale of agreeableness, Agree/Disagree pollys are your best way to go!
To create a agree/disagree polly, simply begin your polly with the /polly command and choose the Agree/Disagree option from the drop-down list of question types.

Yes/No Pollys
The yes/no polly is one of the most simple-to-use question types which allows you to gather immediate feedback through easy two-way options and can be effective in splitting opinions into groups which are easy to analyze.
To quickly create a thumbs-up, thumbs-down polly, use /yesno command with your yes or no question in Slack and we'll publish it in the channel immediately!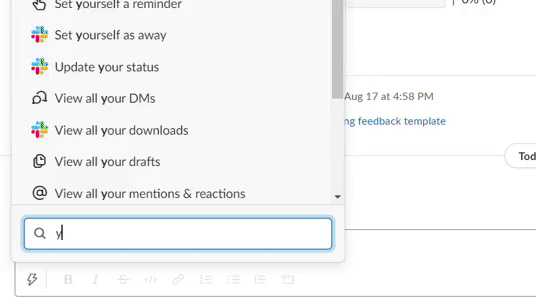 ✏️Note: Yes/No Pollys by default inherit the following options:
Anonymity is off
Users can only vote for either Yes or No
Results are visible to everyone