We care deeply about your data and privacy 💙 Here are some answers to your frequently asked questions about our security practices along with how to uninstall or delete the Polly app.
Concerned about adding a bot to your team?
Your privacy and the security of your data is our top concern. In order to install Polly into your workspace, you'll need to authorize the addition of a bot. If you're concerned by this, please continue to read other parts of this FAQ.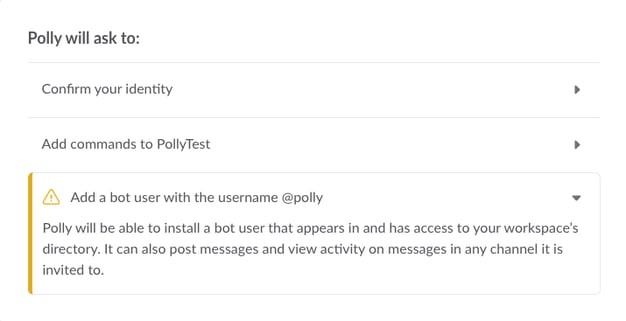 Does Polly read or store my team's messages from Slack?
Polly cannot read any of your teams messages, with the following exceptions:
Messages that have explicitly tagged Polly with @polly
Direct messages sent from a user to Polly (in the Polly DM channel only)
Messages that are posted by Polly (i.e. a multi-question polly)
⚠️We also do not store any messages in our database.
Can Polly read the history of the channel?
No - nor can we. The sole exception is the "Polly" Direct Message channel, in which cases a user will have sent the message to only Polly.
What Slack Scopes do you request?
The following scopes give Polly the ability to simply deliver our services, without adding the capability of reading or storing any of your Slack messages (other than messages where we are @ mentioned, DM's, or messages that Polly sends)
commands: 
im:read: 
im:write
im:history
team:read
channels:read
chat:write
chat:write.public
groups:read
mpim:read
users:read
users:read.email
app_mentions:read
links:read
How do you store your data?
All data is passed over HTTPS and stored in an encrypted database in AWS.
What security practices or certifications does Polly have?
Polly has the following:
SOC2 Type1 and Type2 certifications
EU/US Privacy Shield Certified
GDPR/CCPA Compliant
Annual 3rd party pentest and audits conducted
Business Continuity and Disaster Recovery Plan
How do you use my team's data?
Data generated through Polly by your team is only used to enhance your team's services – to provide you and your team the ability to view, collect, and analyze polly results. For more details, please refer to our privacy policy.
How do I remove the Polly app from my Slack?
You can uninstall/remove/delete the Polly app from your workspace just like any other app in Slack. Here a step by step
guide
from Slack on how to go about it. If you are on the paid plan then removing the Polly app
will not automatically cancel the subscription,
you will have to cancel it from your Polly Account settings as per the instructions mentioned
here
or reach out to
Polly support.
Data Deletion Policy
Policy requires that a workspace admin or primary owner submits the request. Please have one of your admins or primary owners submit the request and we'll take next steps from there.
⚠️Note: Once we process your deletion request, your organization's data will no longer be retrievable. If you re-install Polly your organization's usage will start anew.
Privacy & Security FAQs
🔎Can't find what you're looking for? Here's a consolidated list of all the privacy and security FAQs with Polly for Slack.