Learn how the polly creators can generate links for their pollys and share them with the meeting participants, while giving a boost to the response rates.
Your Zoom meeting participants don't have the Polly app installed? They are joining the meeting through phone or using Zoom through guest mode? Web Voting solves all these problems 🎉
What is Web Voting
Web voting in Zoom allows meeting hosts to collect responses from everyone in the meeting, regardless of not having the Polly app installed or using a mobile device.
Problems it solves
Increases response rate. Earlier the meeting participants or audience could not respond to pollys because:

They were attending the Zoom meeting through mobile.
They did not have the Polly app installed due admin approval issues.
They were using Zoom in guest mode.

Makes meetings more efficient by reducing the participants time wasted when introducing the Polly app and trying to get it downloaded.
Reduces the burden of responsibility on the meeting host around IT issues.
How to set up (for polly creators)
Create a polly Hot Take, Word cloud, Q&A, Icebreaker etc
Click on the Share icon on the top right of the polly

A link will be visible and automatically copies to the clipboard so you can easily share/paste it in the Zoom meeting chat or even outside the Zoom meeting
When the participants click on the link, they will be directed to a web page whereby they can respond to the polly
✏️Note: Every polly you create has a different link. Example if you created one multiple choice polly at the beginning of the meeting and then another one later, link of each of these two will be different.
How to respond (for polly respondents)
Click on the polly link shared in the Zoom meeting Chat
It will redirect you to the web page which shows you:

The Zoom meeting for which the polly is for i.e. meeting title and date
You can add your name in the "Responding as" section. Whatever you enter should be saved for the next time you respond to a polly using the same device. If the question has been set by the host to Anonymous, then you will not see the "Responding as:" section.
For any new user it will show "Responding as: Guest User" by default which can be edited by the respondent prior to answering the polly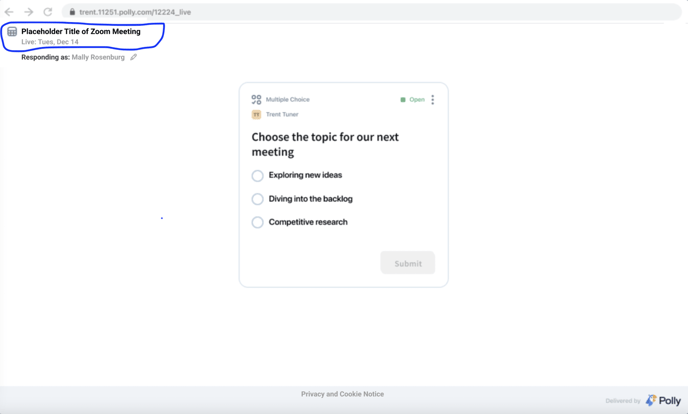 Viewing Results
Unlike the in-app experience, the results will not be visible to the respondents on real time while voting through the web. They will be visible real time to the respondents who vote within the Zoom app for which you need to have the Polly app installed along with other requirements.
On the other hand, the polly sender will have access to the real-time results within the Zoom app as below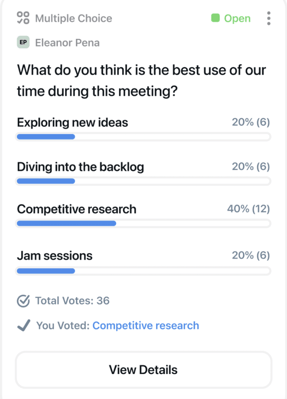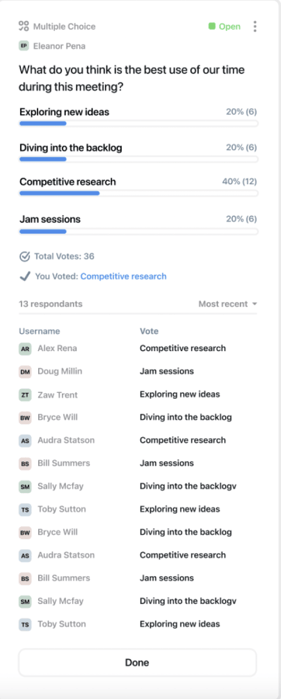 💡 The polly link generated is unauthenticated which means that it can be copied, shared and consequently responded by anyone who has the link. This allows for non-meeting participants to vote or respond to the polly as well
If your respondents are a combination of web voters and within Zoom voters then your results display will look something like the below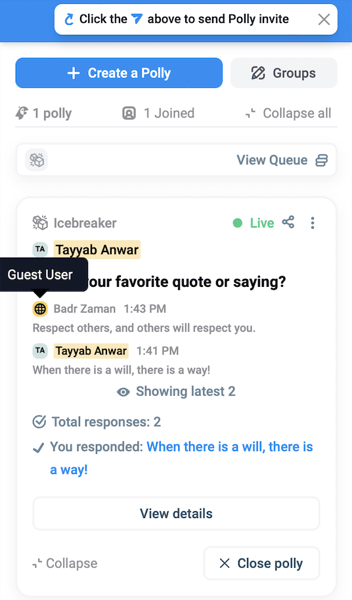 ✏️Note: In case of Q&A polly, the polly creator can only reply or respond to the questions submitted by in-app respondents. The creator will not be able to reply to the questions submitted by guests/web users. More around the available question types can be found here
This link sharing and web voting feature is intended for those meeting participants primarily who don't have the Polly app installed. For participants who have the app installed, their in-app experience while responding to pollys remains unchanged. More details on that can be found here