Started running pulse surveys, and want more of your team to be able to create them? Here's how you can add licenses to your current subscription.
Adding users to my subscription
When you purchase a subscription, you are automatically assigned as the subscription owner.
If you wish to add other users to your subscription so they may create their own surveys, you can do so by:
Navigating to the pinned Polly tab in Teams, from there head over to Account Settings under the ⚙️ button.





✏️Note: If you do not have Polly pinned in as a tab in one of your channels, click here for instructions on how to do that.

From the ⚙️Users and License Management tab, if you are the subscription owner, you can then assign the licenses that you purchased for your subscription.




From the search bar, you can search for any users within your team to assign a license to.
Once you've added licenses to your subscription, you can remove them at any time as well by clicking on the 🗑️Delete icon next to their name.
✏️Note: Due to the way Microsoft Teams works, users who are assigning and receiving licenses must be in the same team. However, once the license has been assigned, they are free to author in or from any team in their tenant.
You can also see response limit usage of each of the license holders in the Usage Activity section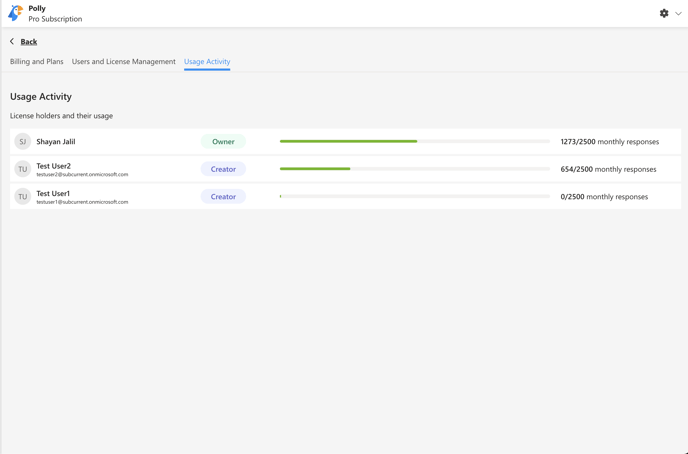 Can I purchase a subscription on behalf of someone else?
Yes!🎉 You may buy a subscription on behalf of your customer. Here are our standard terms:
Reseller Discount: 0% (as per our policy for orders below 10 licenses)

Payment Term: 30 days
Payment Method: Credit card or wire transfer
Process of placing order: Send approved PO, with end-user details (see: https://www.polly.ai/help/microsoft-teams/whoami)
Email to which PO must be send: sales@polly.ai
Price Validity date: 30 days
Pricing info:
Item & Pricing: As per our pricing on the website for annual plans.
Custom pricing also available for customers who require unlimited responses or >10 licenses.
Term: 1 year term, auto-renewal unless cancelled before renewal date
Standard Terms & Conditions applied.
Company info:
Subcurrent, Inc.
(we do business as Polly)
815 First Avenue, #333, Seattle, WA 98104, United States
+1 206 743 0987
How to assign a license if the person is not part of my Team?
Make sure the user you want to assign the license to is part of a Team where Polly has been added as a tab. You can also use a group chat to do this, simply add the people to your shared group chat, then add Polly as a tab.
I want to assign a license to a member outside the organisation. I see that I can only assign them as a "guest". What access will the guest have once the license is assigned?
The guest will not able to use the functions available to other Polly users. The way things are set up, licenses don't run across tenants. For the guest to have full access like other Polly users, a subscription should be purchased with their own account.