Have questions about starting a Polly free plan or trial? We've got answers.
Ready to power up your pollys with the full range of features? 💡Find the perfect plan for your organization here.
What can I do on a free plan?
You will still have access to the majority of Polly's functionality, but will be limited by responses. Here are the features available to you on the free plan:
Questions: Unlimited number of pollys and questions per polly.
Responses: 25 responses/month.
Use Cases: Access to Standups, Sprint planning, Remote/WFH check-ins, Engagement/Pulse surveys, Meeting/project feedback, All Hands feedback, New employee onboarding, Trivia, and Employee Awards.
Templates: Access to over 30+ Polly templates along with the functionality to save and share your templates.
Advanced Options: Advanced authoring options such as reminders, send via DM, multi-audience targeting, and alternate aliases.
Data & Reporting: 45 day Results history, real time results, visualization of survey results and automated results sharing.
You are limited to viewing all results within the last 45 days. Results older than 45 days are hidden from your dashboard, and can be accessed if you upgrade or jump on a trial.
✏️Note: There is an audience limit of 500 people on the free plan for sending polly via DM but if you send it in a channel with 500 people, you should be able to. You won't be able to see results past the first 25 responses due to the free plan 25 response limit but all users should be able to still respond to the polly.
How do I start a free 7 day trial?
You can start a free Polly trial by navigating to our
upgrade page
, and clicking on
Start Now
.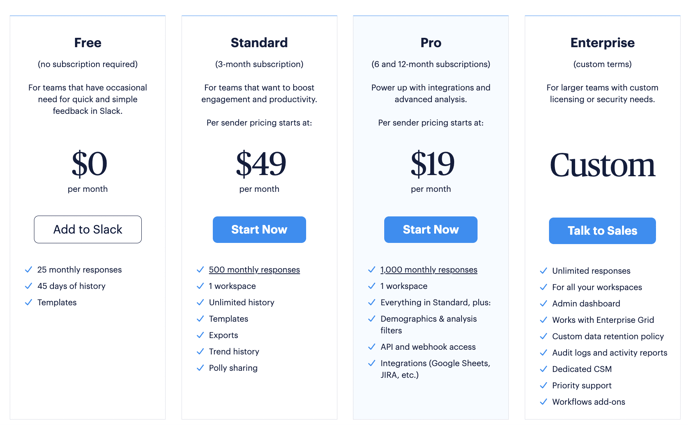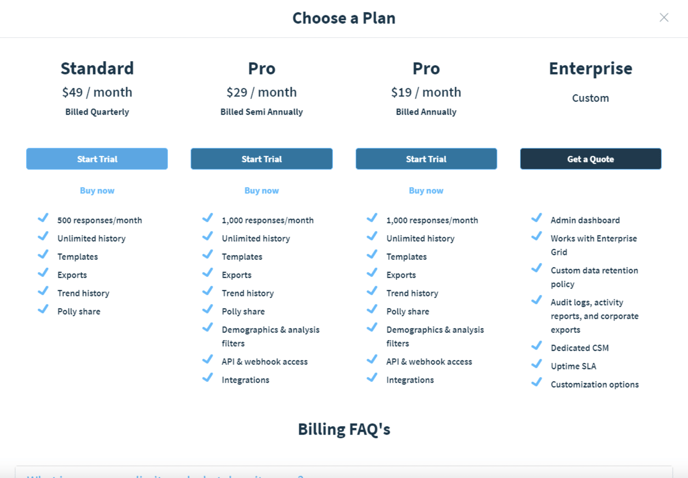 ✏️Note:
If you've had a free trial before, you will need to request another trial by contacting
us
. We will manually review on a case-by-case basis & get back to you accordingly.
What access do I have on a free trial?
The access depends on the plan selected - but for the most part, you will get access to a higher response limit (500 Standard, 1000 Pro) and additional features to help make getting feedback from your team better and more actionable.
Will I get charged to start a trial or any time during my trial?
Once clicked, you'll be prompted to enter in your credit card information to start the free 7 day trial. We will not charge you to start your trial, or at any time during your 7 days.
If you decide that you do not want to continue with a paid Polly subscription, you can cancel your trial subscription before the 7 days are up and you will go back to the Free plan and will not get charged.
What happens at the end of my trial if I don't cancel?
If you don't cancel your trial by the time your 7 days are up, your subscription will automatically start and you will be billed for the selected trial plan.
So if you trialed a paid plan, your subscription will start and automatically renew on the day the trial expires. You can cancel the free trial or the paid subscription through your Polly account settings in the web app. More on cancelation can be found
here
What happens when I don't upgrade?
If you decide to cancel your free trial, you'll automatically revert back to the Free plan. You'll notice that some of the functionality and pages that you had access to during your free trial, will no longer be available after the end of your trial.
Additionally, you will lose access to all of your results older than 45 days – so if you have pertinent survey results from your free trial, we recommend doing a bulk export of your results so that you don't lose them.
For further details on available plans, visit our plans and pricing page or contact us.