Know more about the available scheduling options i.e. setup pollys to go out on recurrence automatically
What do you mean by recurrence?
A recurring polly is a single question or a set of questions that get asked on a schedule, and are repeated at some frequency. With Polly, you can currently select the following frequencies of repeating or scheduling:
Daily (including weekends)
Daily (weekdays only)
Weekly
Biweekly (every other week)
Triweekly (every 3 weeks)
Monthly
Quarterly
Semi-annually (twice a year)
When choosing Monthly, Quarterly, or Semi-Annually, the polly will get asked at the same time on the same day of the month. By default, in case that day falls on a weekend, we will adjust the date by +/- 1 day so it falls on a business day. Similarly, if the schedule was set up for the 31st, we'll pull it in so it gets asked on the 30th if the following month is shorter.
💡Currently we don't support recurring on specific days e.g. I want to send the Polly every Monday, Thursday & Friday. The workaround to this can be creating three separate pollys for each of these days. Save the polly as template so you don't have to re-create it everytime.
What does a recurring polly look like?
On the web app dashboard, you will see a Recurring tag with your recurring polly along with an infinity icon showing the number of times the recurring polly has been sent.
What are the different formats of scheduling?
A recurring polly can currently be scheduled with the following frequencies: daily (every weekday), weekly, biweekly, monthly, or quarterly.
You can also manipulate the number of questions to poll your teammates in the following ways:
Recurring polly: Ask a single question on a schedule
Recurring multi-question polly: Ask multiple questions all at the same time on a schedule
Pulse polly: Rotate through a set of questions at your selected frequency.
For example, if you have 5 questions set up with Polly, you can choose to have Polly ask question #1 this month, question #2 next month, etc, until question #5; after that, Polly would restart the cycle from the top, and ask question #1 again in month 6.
✏️Note: Recurring polls can be authored in Slack or through the web app, but surveys can only be authored on the web app due to their complexity.
How can you skip recurring pollys set by others?
If you are part of a channel that has recurring pollys (scheduled by others) coming in that you simply do not have any business responding to, you can Skip/Snooze them. Click in the three dots on the right side of the polly (as seen below) and select whichever option works best for you.

You can go in anytime later to change these settings.
Can I set it up in a way that it only goes out in working hours?
Currently you are only able to select the date and time for scheduling a recurring polly. You can, however, choose to send a polly during a weekday at a specified time. Just be mindful of the timezone of the person you are sending to as the displayed time options would follow your timezone.
My polly got sent an hour late, why did this happen?
By default, all pollys are setup to Send Now i.e. immediately. However, you have the option to schedule them by choosing Schedule and the date and time you'd like to send on. By adjusting these settings, you will be able to schedule the polly or send it out immediately.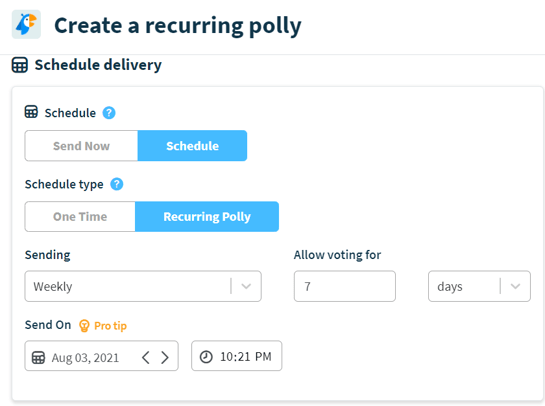 My recurring polly is scheduled to go out daily at 4pm but it goes out at 4am, why is this happening?
This can happen if you have setup a 12 hours daily reminder for your recurring polly. Below is how the functionality works in this scenario:
The polly went out at 4pm in the channel
Reminder at 4am triggered (i.e. after 12 hours) & provided the polly again at 4am
Turning off the reminder will fix this issue i.e. polly will stop showing up at 4am. More on reminders here. You can turn off the reminders for a love polly through editing the polly.