How to change the Polly bot name to something else of your choice, changing your display name and deleting the Polly app.
Changing the Polly bot's name
Navigate to Polly's app page in the Slack App Directory (note: if you're a member of multiple Slack teams, make sure that my.slack.com redirects to the correct domain).
Navigate to Configuration settings
From there click on the Edit box under Bot User
Update the name to 'polly'.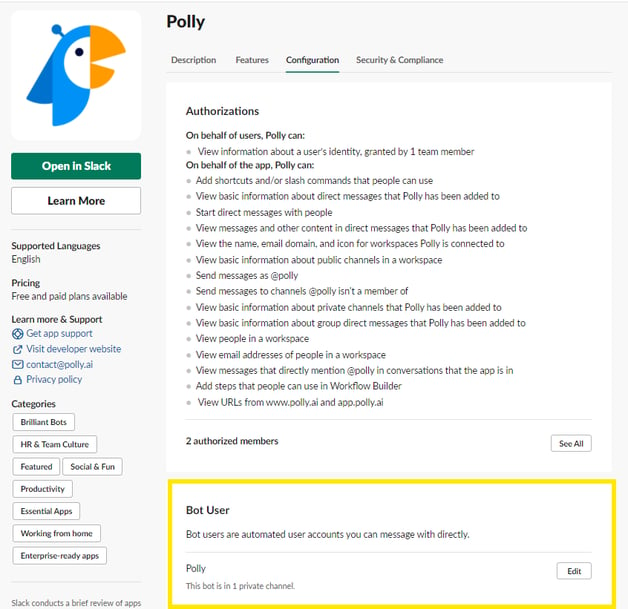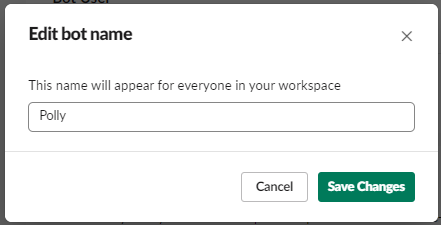 ✏️Note: In order to change your bot's name, you will have to the workspace owner or be the authorized member who added Polly to that particular workspace.
Changing the sender or respondent name in your pollys
In the pollys you send or respond to, the credentials are picked up automatically from Slack. Polly doesn't have a separate username, as it is integrated with your Slack account.
There are 2 things that can be done if you wish to change your name:
1. Edit your name in Slack by going into your Slack Profile Settings. Your new name will be visible in the pollys you author and respond after that
2. When creating a multi question polly, you get the option of adding a
Sender Alias
. You can access this setting when you create polly through the
web app
. If you're logging in for the first time, it will require your Slack credentials & once that is done it will show you all your pollys. Click on
Create
& follow the
step by step process.
Removing the Polly app from Slack
You can uninstall/remove/delete the Polly app from your workspace just like any other app in Slack. Here a step by step
guide
from Slack on how to go about it. If you are on the paid plan then removing the Polly app
will not automatically cancel the subscription,
you will have to cancel it from your Polly Account settings as per the instructions mentioned
here
or reach out to
Polly support.
💡Want to delete a polly that you've sent? The simplest way to go about it would be through the /polly delete command. More on deletion & other polly controls like sharing, reminding etc can be found here