Know more about viewing recurring pollys results history & how you can organise the results.
Who can view historical results?
| | |
| --- | --- |
| Free Plan | 45 days polly history |
| Paid Plan | Unlimited results & trend history 🎉 |
How to view the historical results for your recurring pollys
Login to your web app
Navigate to the Results Feed and select your recurring single or multi-question polly.
Here you can access the aggregate view of your polly.
You can see a full detail view of your recurring poll results including trend line of the averages of all of your votes to date (if you are on a paid plan) or the latest instance's results.

Down below the trendline/latest instance is the History table, where you'll see all historical results for your recurring polly with their status and averages for each question.
To view a particular instance and detail: just click on the desired Send Date.
This will pop open a window that will show you that pollys full results, including comments.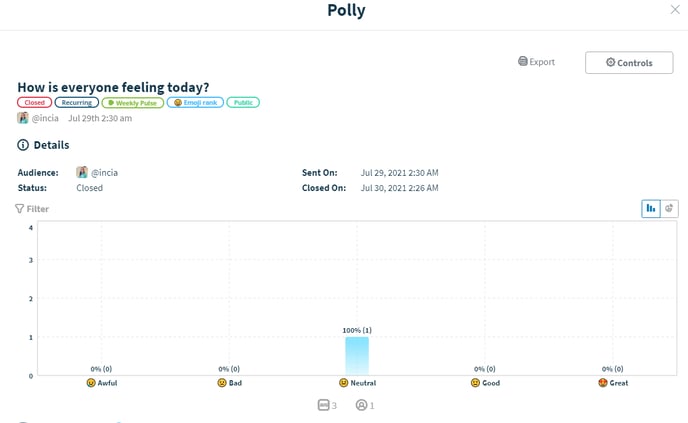 How to organise the results
Tag them & mark favorites:
Organize your polly results by starring ⭐ your most important pollys, or adding tags 🏷️ to filter different types of results. Click here for more details
Apply filters:

Slice and dice your data with filters for more insights about how your team responds to your polly. Click here for more details

Export results:

Exporting your polly results 📥 makes it easy to gain deeper insights and push to your dashboard of choice. Click here for more details