Why switch to Polly on a paid plan?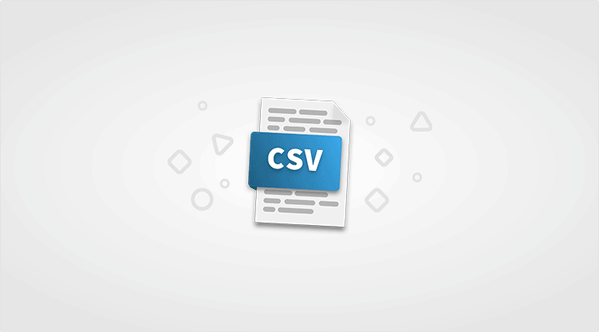 Are you thinking about upgrading to a paid Polly plan, but just unsure whether you should pull the trigger or not? Or perhaps, your team just upgraded your Polly account to a paid one (yay!
) but you're not sure of what all the benefits and values entail. Luckily for you, we're here to help you find out exactly that.
If you're looking to do some simple polling for casual usage, or if you have a small team that has an occasional need to do some polls/surveys here and there, then the free plan will still work beautifully for you. But if you're ready to make the jump to doing more with your poll/survey data, then upgrading to Polly on a paid plan might be worth it (or at least, we think so!).
Here's a few ways that upgrading to a paid plan will enable you to be more productive and data-driven in Polly:
Have more freedom and control over your poll and survey options
Run reports and manipulate your poll/survey data however you like with CSV exports
Advanced analytics allows you to have a better insight into your team's poll/survey data
Interested? We'll go over in detail about all of the value you can get out of our paid plans.
Do more with polls and surveys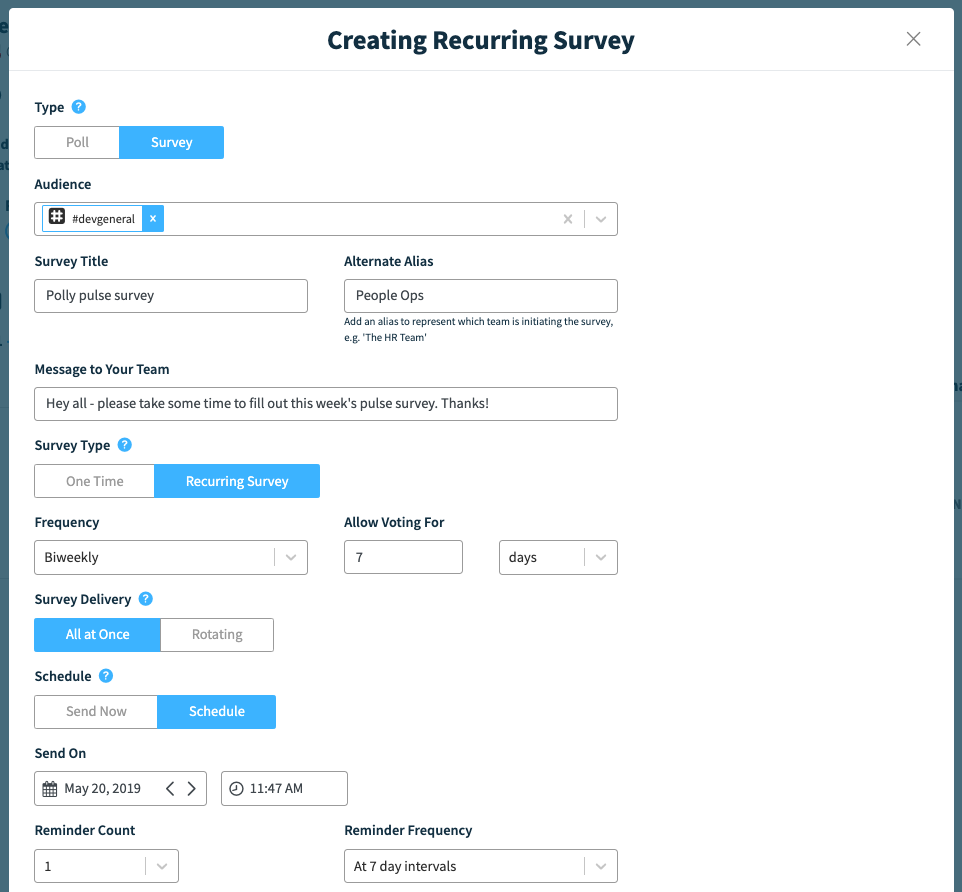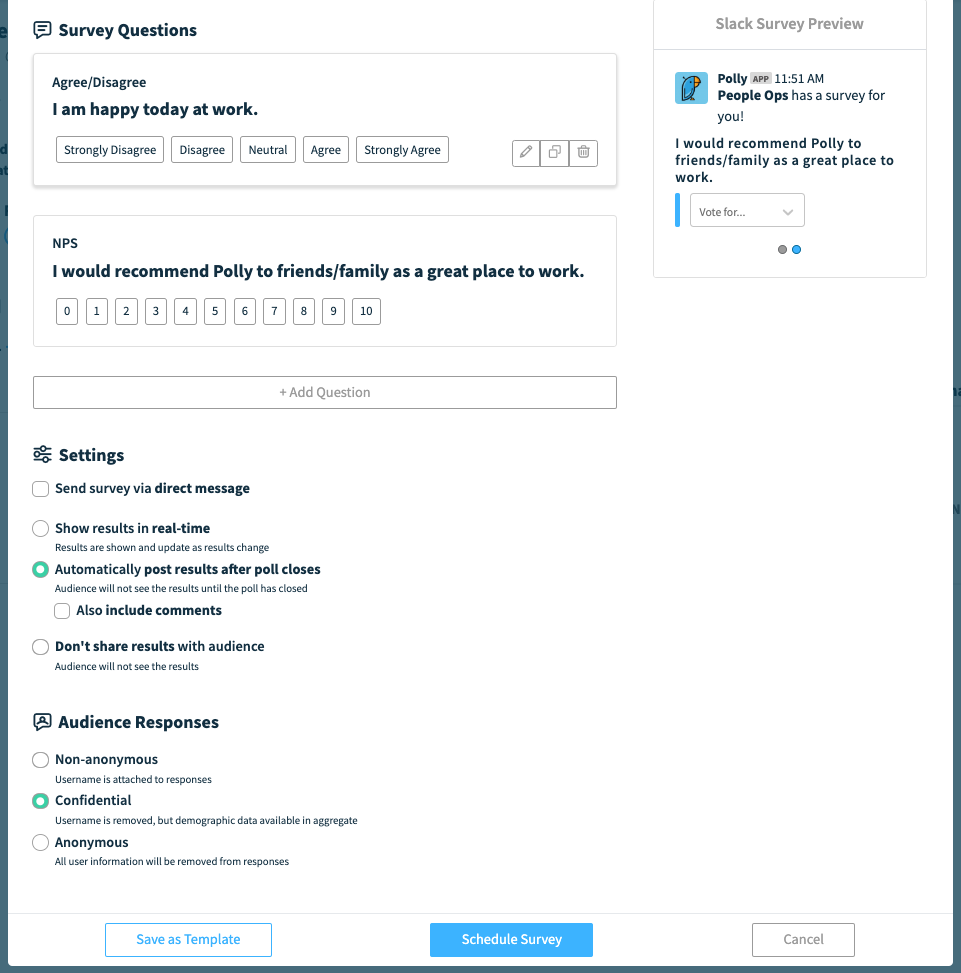 If you're looking to get fancy with your polls/surveys, any of the paid plans will do the trick.
You can send via DM instead of a public channel, add more than 10 options, rank options, send polls/surveys to multiple channels or multiple individuals, and set up automated reminders if your team tends to be forgetful.
Within Slack, you have much more control as well: you can close polls on a future date, share results to your team, deploy saved templates, and schedule polls/surveys for the future.
Need a hand with crafting surveys that achieves near perfect participation in Slack? Read more on our survey best practices.
More importantly, Polly's paid tiers offer support for teams that are growing and scaling fast – you can add more levels of permissions that fit your organization and you won't get hit with the responses limits for audience sizes for surveys, or the number of active recurring polls or surveys either. This gives you much more freedom to send out as many surveys as you want, to as many people as you want – perfect for big organizations.
What about shared channels? Polly's paid tiers also supports usage across Slack's shared channels as well. So if you have stakeholders (such as your investors) in a shared channel for your Slack workspace, now you can send a survey to people outside of your organization as well.
Simple and advanced CSV exports for your data needs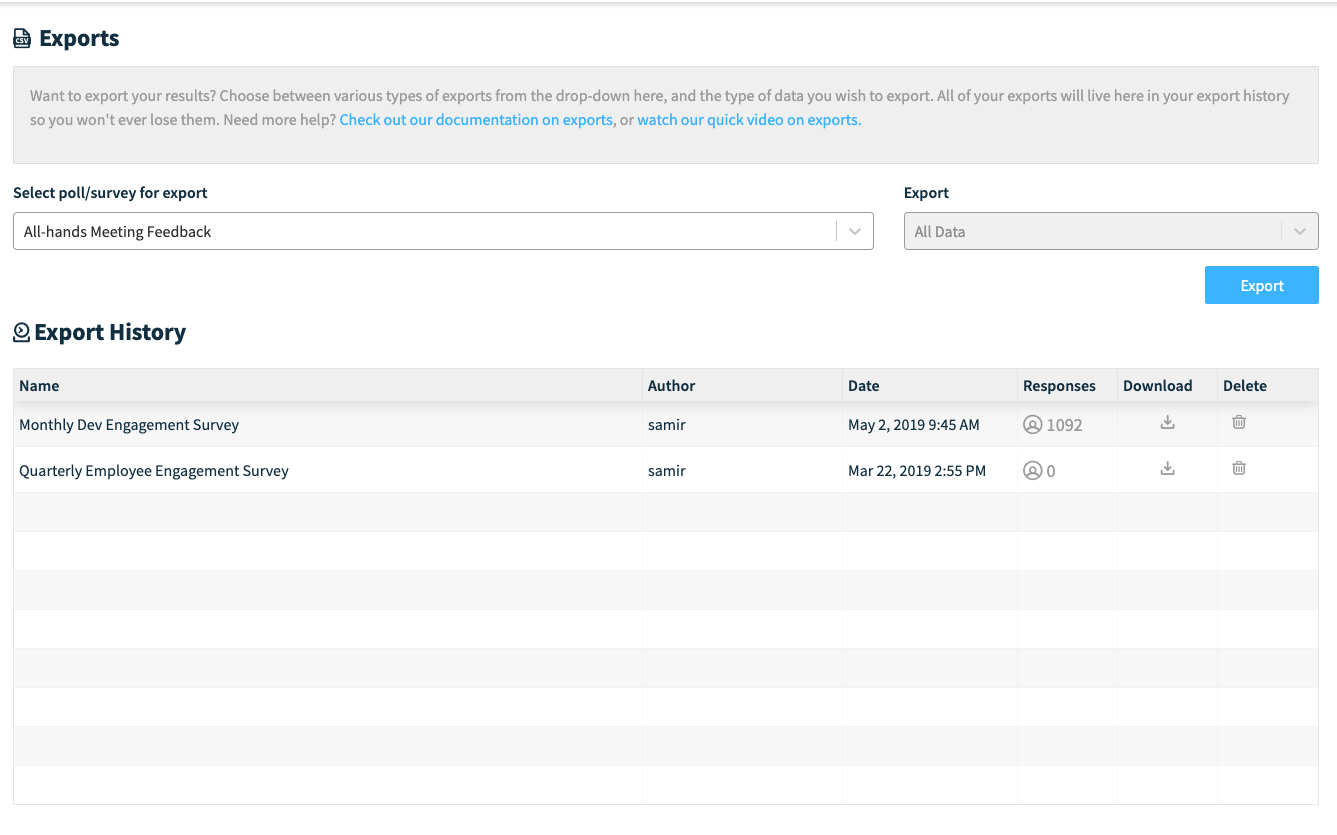 Upgrading to any of Polly's paid tiers will allow you to export your poll and survey results for all of your heart's desires. Polls, surveys and templates are a means to an end, but being able to measure and react to them is what makes Polly meaningful. You can export results on a per-question basis, recurring track basis, or a single one-off survey instance.
We even make it easy for you export without having to leave Slack – exports are delivered straight to you in Slack, and are automatically stored and archived on the web dashboard so you'll never lose track of it again.
The exports are easily digestible, and gives you endless opportunities to do what you want with your data. Compare this month's performance to last month's, look at trends over time, and more.
Dig into your data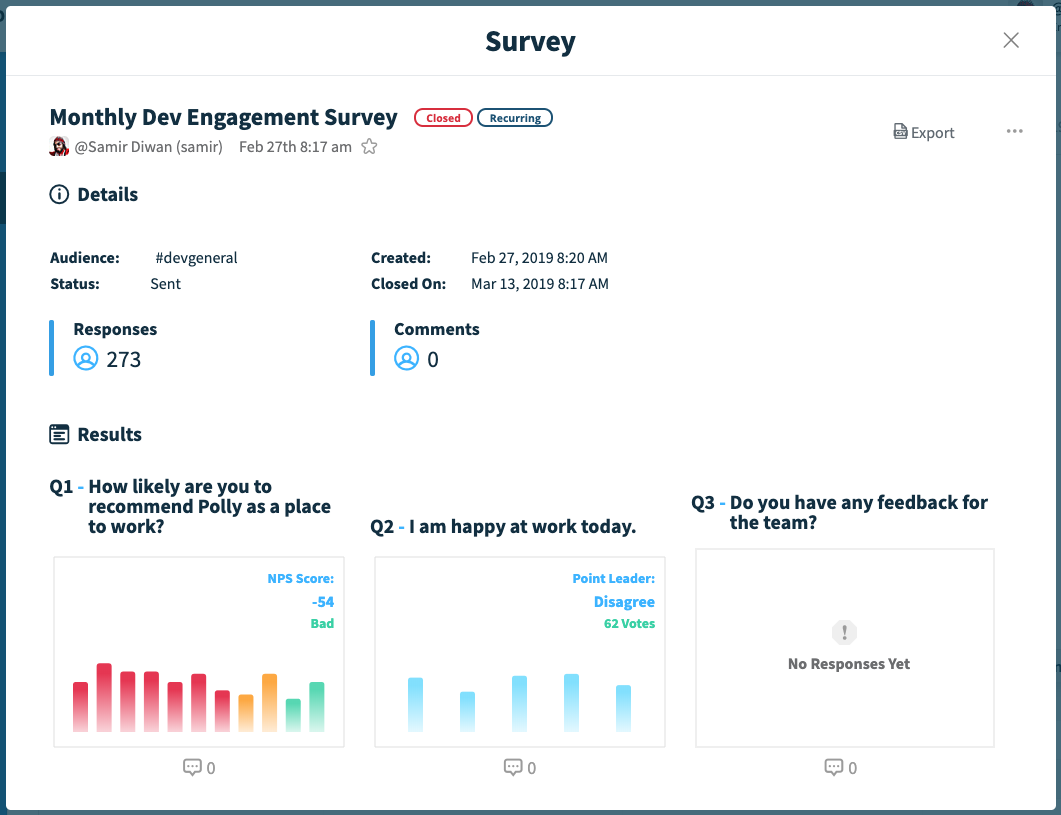 Polly's advanced analytics capabilities unlocks more opportunities to uncover insights and trends within your organization. Besides just looking at raw historical data that comes with every plan, you also get access to how your historical data has been trending.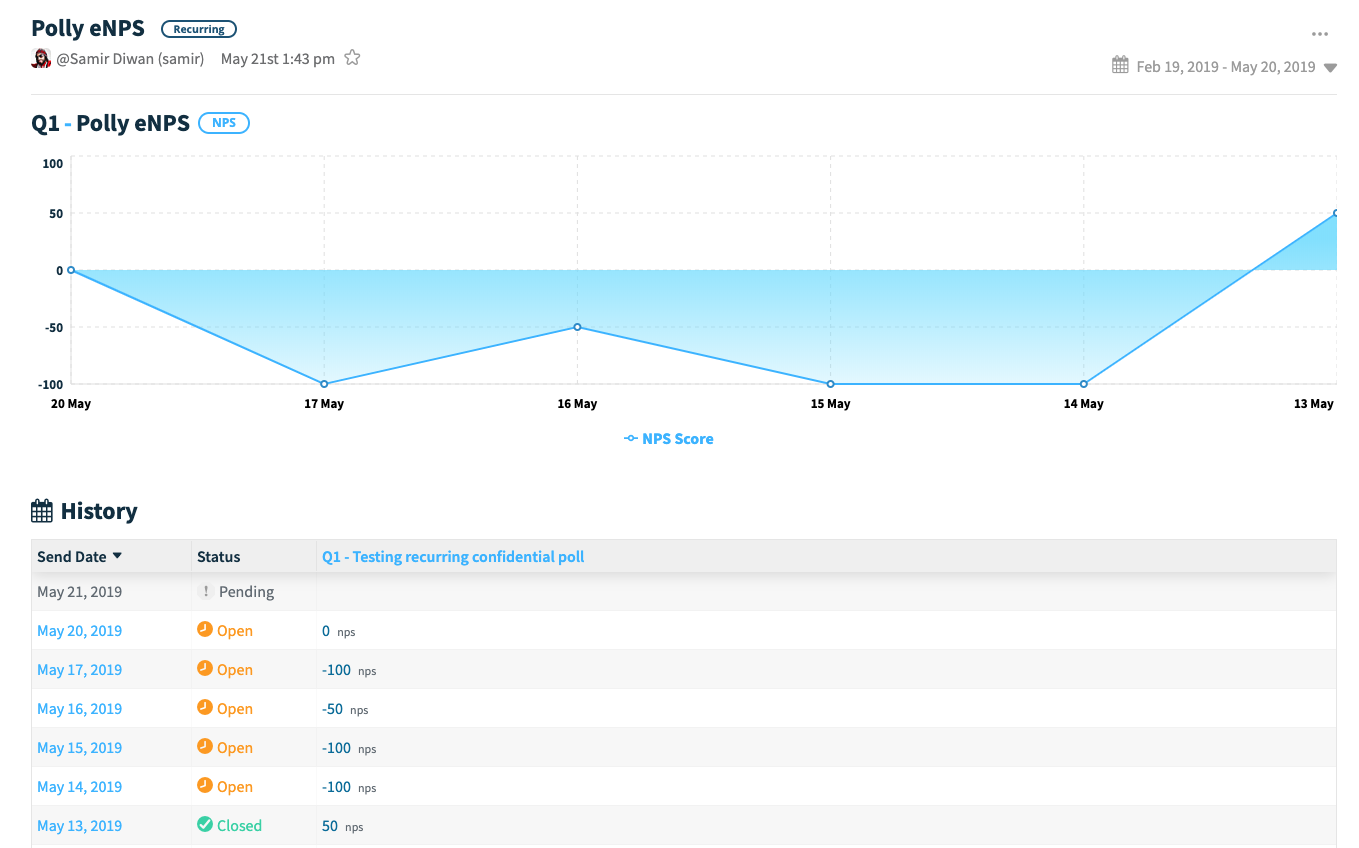 You can take it one step further by segmenting your data with a custom roster of your choice via CSV upload – useful for determining if one department has more positive sentiments than another department.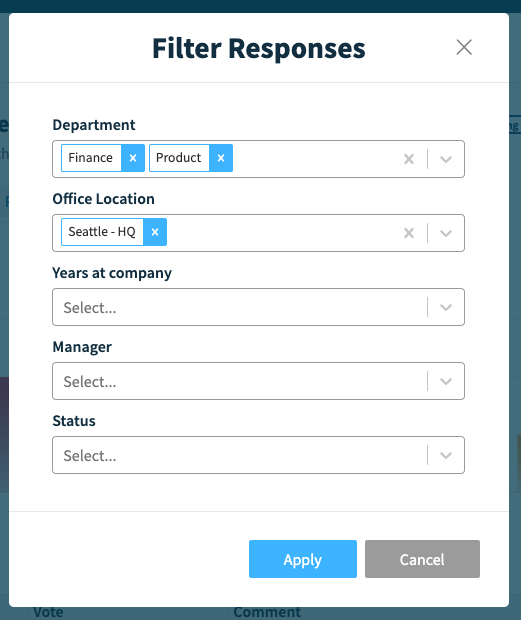 Not only is your dashboard full of pretty visual graphs of your data, but you can also choose to share these results to show off to your SVPs if you so wish. That way, you save loads of time by not exporting CSVs and creating the graphs yourself.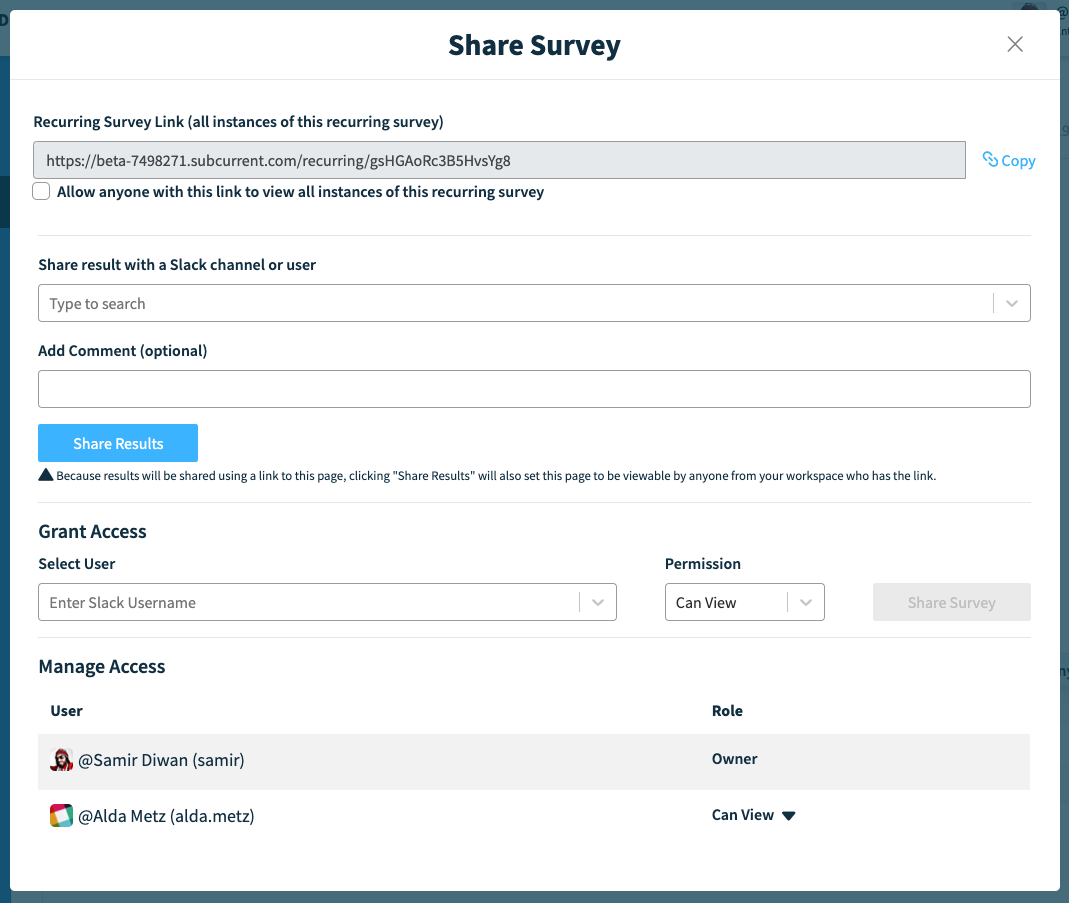 Polly customer success story: Auth0
"For Work Health Index monthly surveys, it helps a lot in terms of the increased participation and time-management savings. It's been a great tool for our monthly surveys."

Ariel, Customer Success
Up next…
Hopefully this was helpful information on everything Polly offers with a paid plan! If you've already upgraded to a paid plan – great! Feel free to give these features a whirl, and we'd love to hear your feedback on the premium features as we're always looking for ways to improve. And if you haven't already upgraded, here's some additional information on our plans, pricing, and how to upgrade.
New to Polly?
Becoming a Polly master is easy.
Here's a
step-by-step getting started guide for new Polly users
.
If you ever have any questions, feature requests, feedback, or just want to say hello – our support team is more than happy to help out. Just
get in touch
!