Getting Started with Polly on a Business Plan
---
Basics of poll/survey creation
Hey there! We're so happy you're here. If you're new to Polly and need a quick refresher on the basics of poll and survey creation in Slack and on the web UI, we've created a Getting Started Guide for new Polly users that walks you through how to get started. If you're a seasoned Polly pro and want to explore all of what the Business trial unlocks for your team or you just upgraded to a Business plan, then you're in the right place.
Let's get started!
Assigning author and analyst seats
As part of the Business Plan, you get 10 author seats and 4 analyst seats to distribute to your team.
For the survey administrators across your workspace that tend to do more serious survey such as All-Hands feedback, or the Quarterly Employee Engagement survey, these are the folks most suited to be a Survey author.
Analysts would typically be your supervisors, C-Suite, or other stakeholders that need access to pertinent survey results but don't necessarily need the ability to administer surveys.
The person that purchases the Polly plan is typically the first author, but you can easily grant other users on your workspace Author and Analyst Access, as well as swapping out seats for users. Here's how:
Click on your account drop down in the top right-hand corner
Click on Users & Permissions
Select your desired user from the drop-down or start typing to search
Choose whether they are an Author or an Analyst and hit Add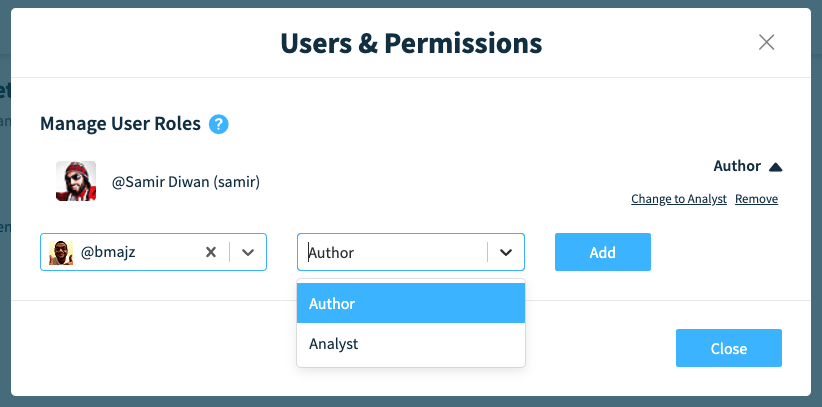 From the same page, you can also change or remove a user's access by clicking on the down arrow next to their name.
Granting Analysts dashboard access
For important surveys that you create, you can share dashboard access to your supervisor (or other stakeholders) without having to grant them author seat permissions. You can choose to either give View only access where they can dig into the results with the advanced analytics features, or View/Manage access where they can modify it as well (including deletion).
To be able to grant dashboard access to an Analyst, you can only do this for polls/surveys you've specifically authored and the person must already be designed as an Analyst or an Author.
You can grant dashboard access to polls/surveys in one of two ways:
The Results Feed view by hovering over the selected poll/survey and clicking on the Share button
From within the poll/survey details page when you click on the ... button to the right of Export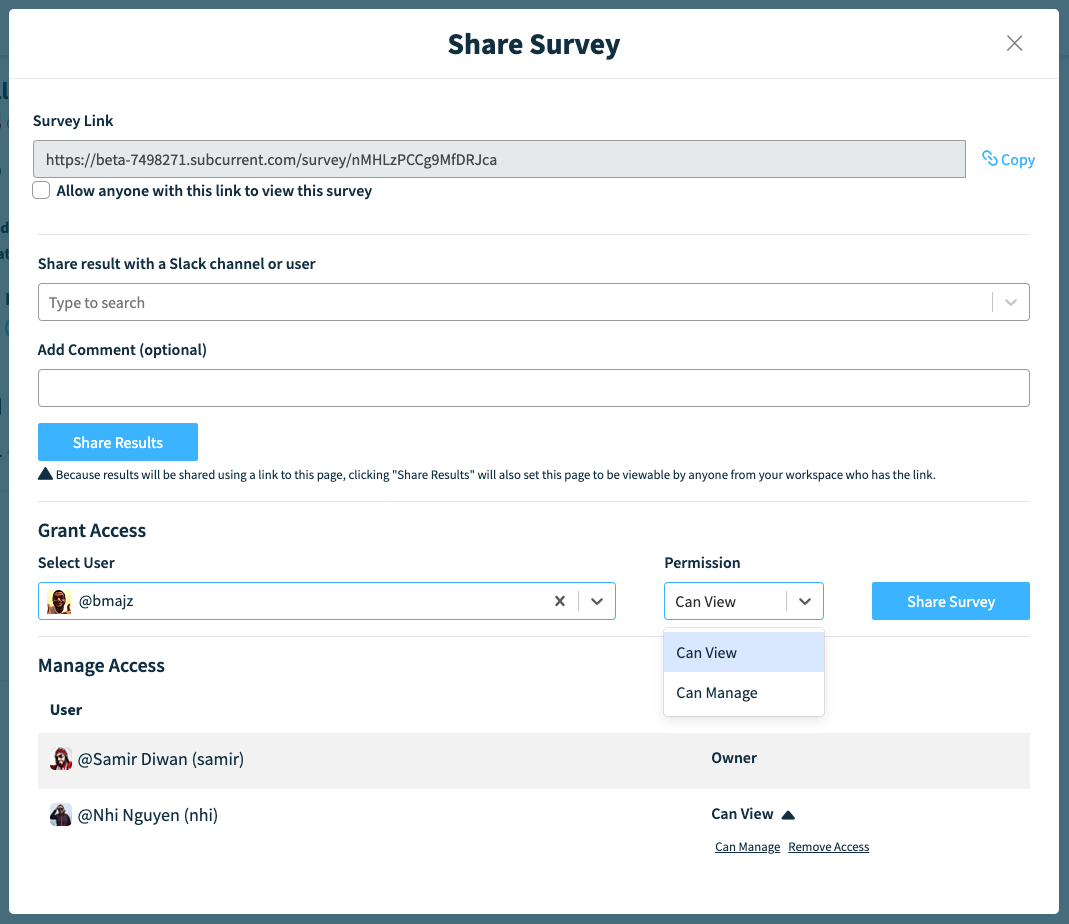 From the Share window, the top section is to share the results in Slack. Once you click on Advanced Sharing Options will then show the option to grant individual users dashboard access.
From the drop-down, you can start searching for a user or clicking on them from the drop down to select, and then choose whether you want to grant them Read-only (can view) access or Read/write (can manage) access. This user will then have these results appear in their own dashboard's results feed, and you're able to change the level of access if needed – or even remove access.
Setting up demographic attributes
Having the ability to segment your results by your company's demographic attributes can be an extremely handy tool to not only filter your results to what you're looking for, but dig into the areas of opportunity for your initiatives – such as underperforming departments when compared to other departments across your organization.
To import your company roster metadata, you can do that with a CSV upload when you click on the Demographics tab on the left-hand sidebar, and then clicking on the Update Population button.

You'll see that there are a few requirements to ensuring an error-free import:
The file must be a CSV – if you're uploading your company's roster from an external tool and it's currently an Excel file (.xls or .xlsx) then you can easily convert it into a .csv file.
The first row must all be column headers – the demographic attributes that you are trying to upload (gender, department, age, etc.)
The first column header must be email – this is what we will use to match your existing Slack team's users with the company metadata
All other rows besides the column header row must be user information
Here is what a correct CSV sample import would look like: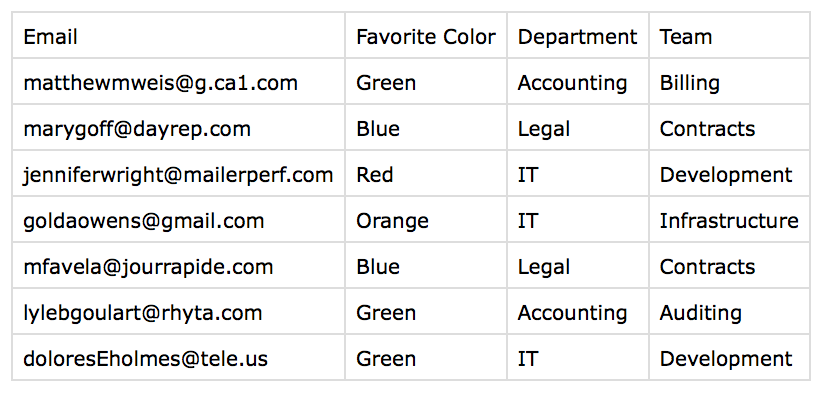 Once you have uploaded your CSV, you will get a preview of the data that you uploaded given that there are no errors. If there are errors with your CSV file, text will appear under the drag-and-drop what the error is. Here's an example when you upload a blank CSV: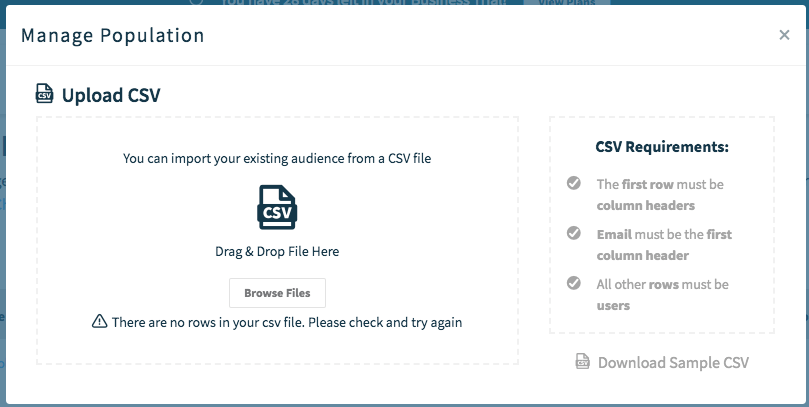 If the coast is clear, then this the what the preview of your upload will look like. But if we are unable to match email addresses, then there will be a banner at the top and also noted next to the email, as shown below: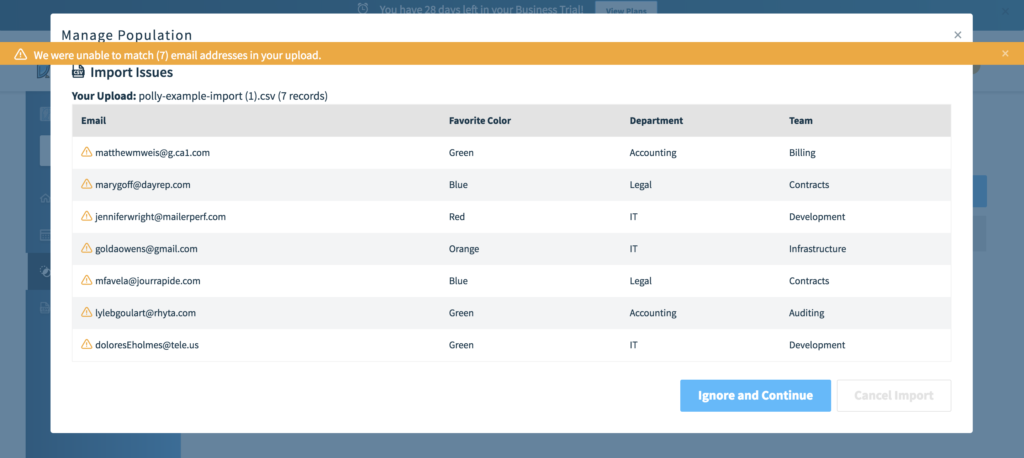 You can either choose to ignore and continue or cancel the import and re-upload if you come across errors. By choosing to ignore and continue, the CSV will successfully upload with the attributes matched to the correct users – and will even apply attributes to all results retroactively unless the results were anonymous.
Updating demographic attributes
As any company, we all go through employee changes here and there. Whether that means growing and adding new team members to the company, shrinking in size, or people move around in their roles – change is inevitable.
Although we wish that we could automatically detect changes in your employee roster and demographics, we're not that magical... yet. In the meantime, every time big changes occur in your company, you will have to re-upload your employee roster to make sure that your filters and exports are accurate and reflect the changes in your company.
To update your company demographics, click on the Update Population button, similarly as you would when you imported your data the first time around. The process is exactly the same as uploading for the first time – just make the necessary changes on your most recent CSV, and re-upload. The file that is uploaded last, is considered as the current demographic attributes that will be applied to all future results.

The Applied to Responses Before column indicates the date the file was uploaded and thus all responses prior to that date is applied with that file's attributes. This is the default behavior, but if you have multiple uploads, you can also choose to change the date to a later or earlier date where all responses prior to that date will be applied. The current roster will always be after the most recent upload application (in this example, between 3/12/2018 and now) and for all future results until you update the population again.
The Population Count is the number of users that were matched correctly with the file, and the Attribute Count is the number of attributes correctly uploaded as column headers (including email). If there are missing values for a user's row, the file will still upload as long as the commas line up. For example, if you uploaded a roster with 3 of the following attributes: Department, Gender, and Salary, but John Green is missing a Salary value, he will still be imported but his response won't be included in results if you're looking at just salary.
Once you're all ready and satisfied with your demographic attributes, now you're ready to start getting fancy with your results!
Applying a demographic attribute filter to results
Filtering your results by audience attributes is one of the many ways you can get immediate visibility into the areas of opportunity, without having to manipulate your data in Excel (but you could if you wanted to!). Demographic attributes must already exist for your Slack workspace in order to be able to create filters based on them.
Filters are currently available on a per-question basis — we're working on adding the ability to filter on a recurring trendline, as well as across an entire survey's set of questions.
Depending on your results, whether it's a one-time poll or survey, or a recurring poll or survey, it might take a few clicks to get to the single-question view from the Results Feed.
One-time poll (single question)
Marked by avg, participants, and number of comments.

Filtering one-time polls is pretty straightforward: just click on the results from your Results Feed, and then under the Poll Details you'll see a button to filter.
Recurring poll
Marked by the blue Recurring pill, and the avg, participant, and comment count.

To get to the filter view on a recurring poll, click into the results from the Results Feed. This is where you'll see your poll's trendline, and your poll's send history (all of the times that the poll has been sent out).
To filter your poll, just simply click on the desired poll instance under the Send History, and then you'll see the option to filter below the poll details.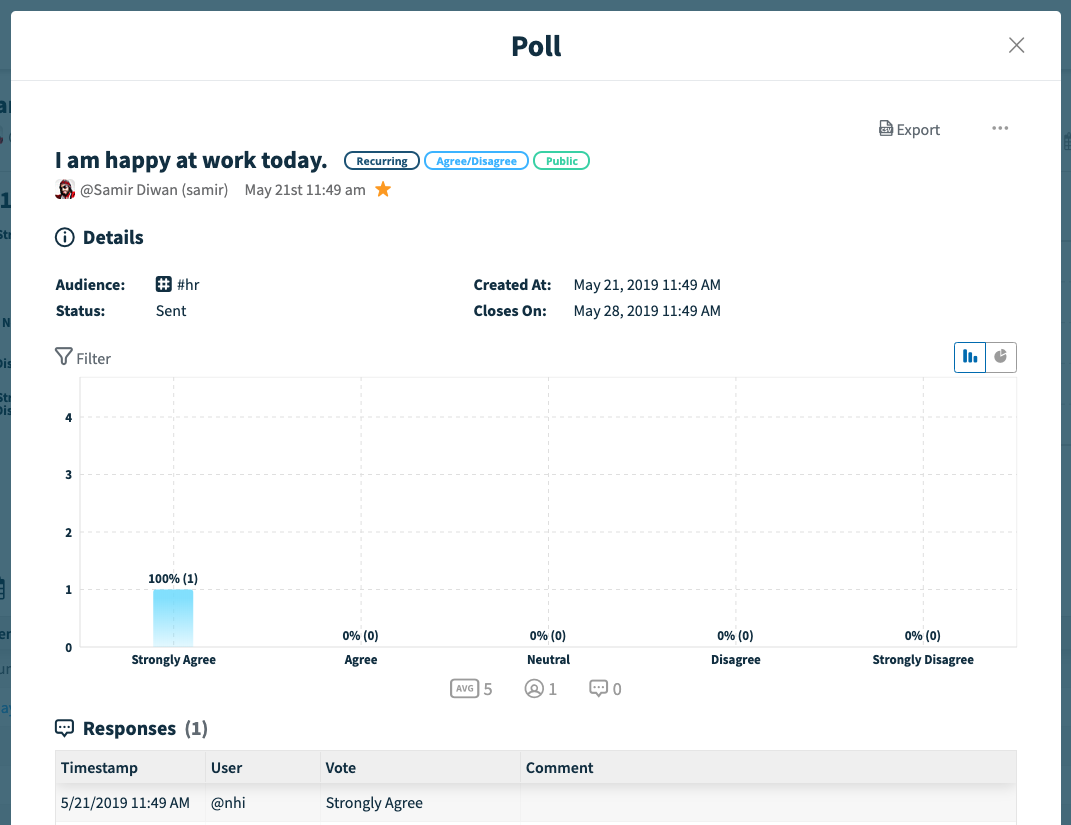 One-time survey (multiple questions)
Marked by the count of participants and questions within the survey.

To get to the filter view on a one-time survey, start by clicking on the results. From there, you'll see an overview of the responses you received for your survey. Next, just click on the question of choice, and you should see a filter appear underneath the question details.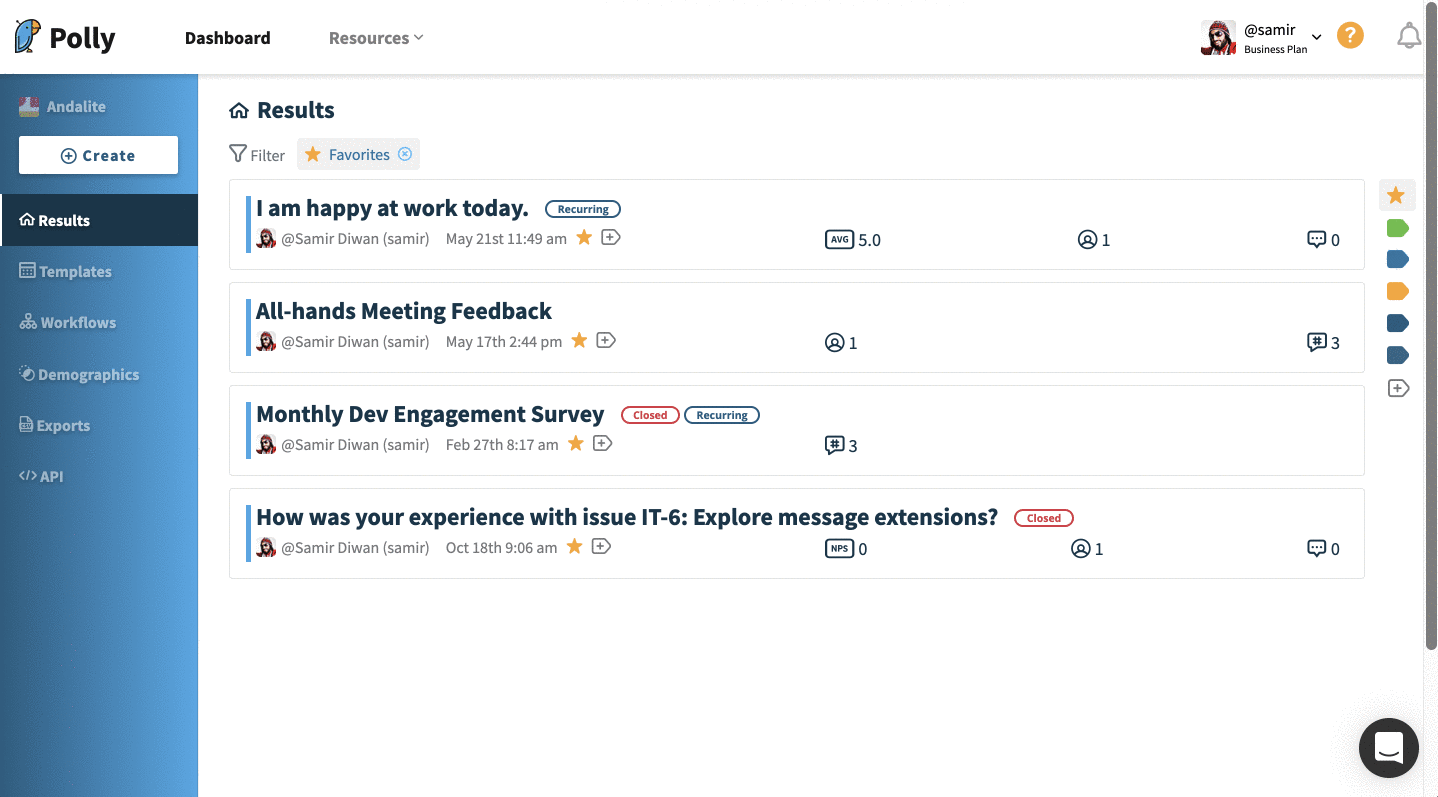 Recurring survey (multiple questions)
Marked by the blue Recurring pill, and the count of participants and questions.

Similarly to finding the filter option for a recurring poll and a one time survey, it'll take a couple clicks to get there.
Once you've clicked into the recurring survey results, you'll want to navigate to the desired survey instance under the Send History. Then, you'll want to click on any of the questions in your survey, and you should see a Filter button underneath the question details.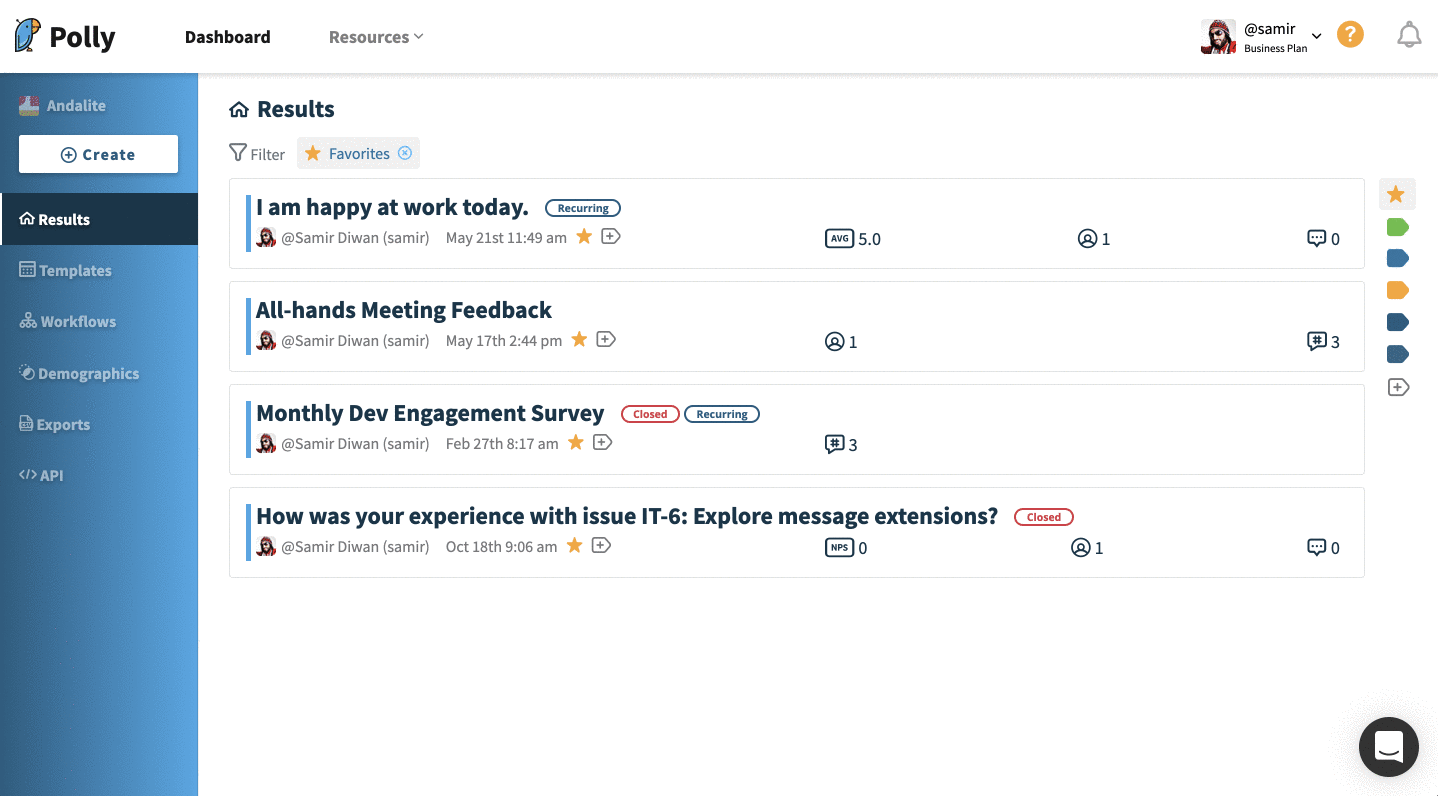 How to filter responses by attributes
Once you click on the Filter button, you'll see all of your attributes that you've imported. Here, you can select as many attributes available from the list. There is no limitation to the number of attributes you can apply for a filter.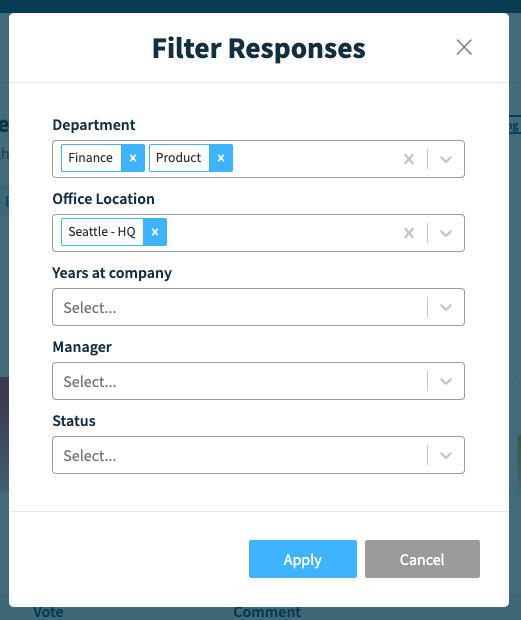 Note that if you are selecting several different options within the same attribute, such as Finance and Product within Department, it will filter results based on people that are in Finance or Product. If you are selecting options within different attributes, such as Finance and Product within Department and Seattle HQ as the Office Location, it will filter results to anyone who works at the Seattle HQ office, and is in Finance or Product.
Once you're ready, hit Apply to filter your results according to your attributes.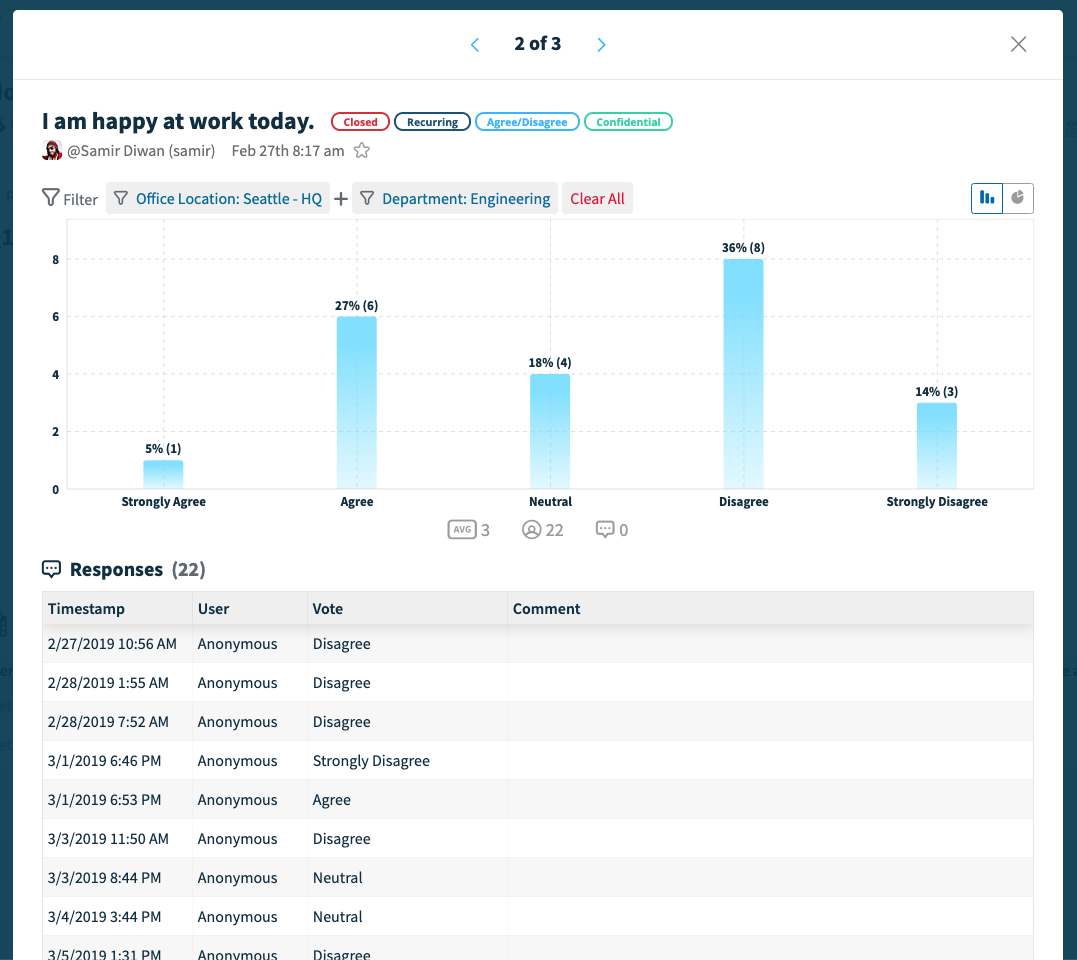 In the results details underneath the chart, the Results will filter to just the audience members that match the attributes listed, if your poll or survey is public (non-anonymous).
If it is confidential, the chart will still re-populate to display the filtered results, but will not display the usernames. In the case that your results were marked as anonymous, then you won't be able to filter your responses.
You can re-select different filters by hitting the Filter button again, or to reset them all by hitting Reset.
Applying a response filter to results
A response filter is when you want to filter responses to the question you're looking at, based on how a different question has been answered in the same survey. Since you can easily just look at a specific answer in the same poll from the chart or poll results detail, this is only applicable for surveys (more than 1 question in a sequence).
As an example of this scenario, you've asked the following two questions:
How likely are you to recommend Polly as a place to work? (NPS)

I am happy at work today. (Agree/Disagree)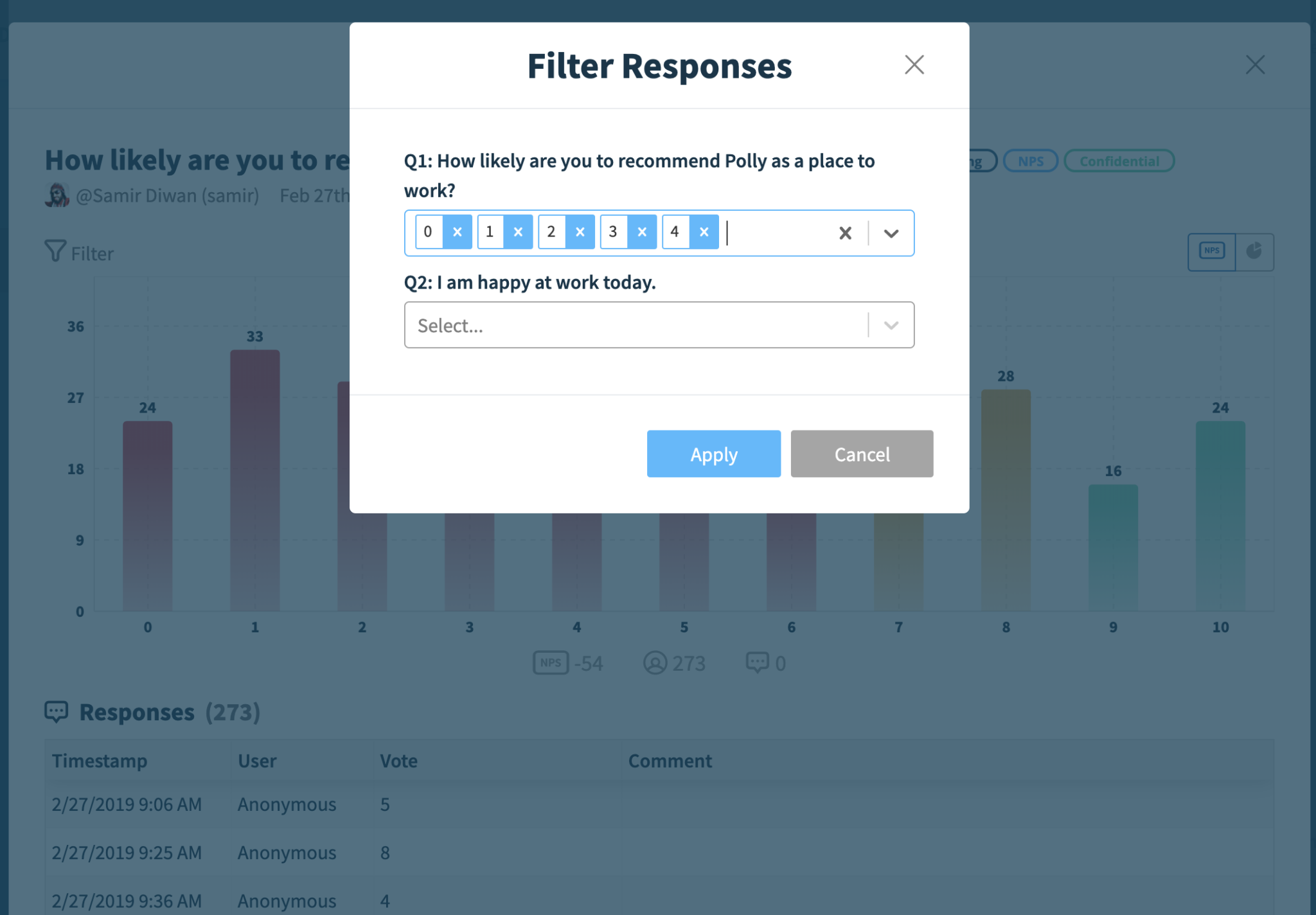 If you wanted to see what the users that responded with scores 0-4 to the first question how they responded to the second question (and beyond), you would select those response options as a filter – this can be done on any of the survey questions. As you toggle back and forth between questions, the filter will be preserved.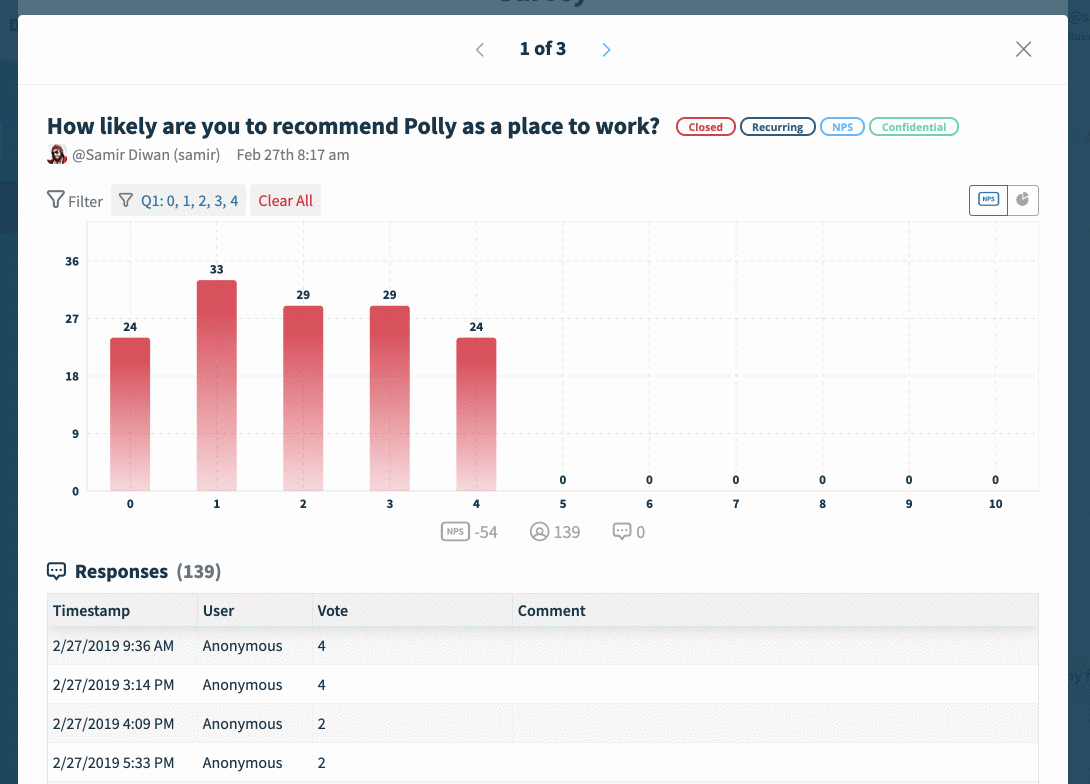 Then, once your filters are applied, you can see that the results have been filtered to only the people that have selected either 0, 1, 2, 3, or 4 to the first question, "How likely are you to recommend Polly as a place to work?".
Requirements and limitations of applying response filters
The first requirement of being able to apply a response filter is that it must be a survey that has more than 2 questions since you don't need to filter out responses to a single question poll, especially since the intention is to break down your survey data and focus on a specific way a question or question(s) have been answered. Secondly, this is only applicable to close-ended questions – meaning any question type except for open-ended is allowed.
As far as the limitation on how many response filters you can apply, there is no hard limit outside of the options given in the question. You may also choose multiple responses in a single question – so for the Agree/Disagree question type, you can opt to choose all of them and exclude only the responses Strongly Agree and Strongly Disagree. This will filter out anyone who did select the excluded option (Strongly Agree and Strongly Disagree in this case). This is considered a single filter in which you see results based on people who answered Q1a OR Q1b OR Q1c.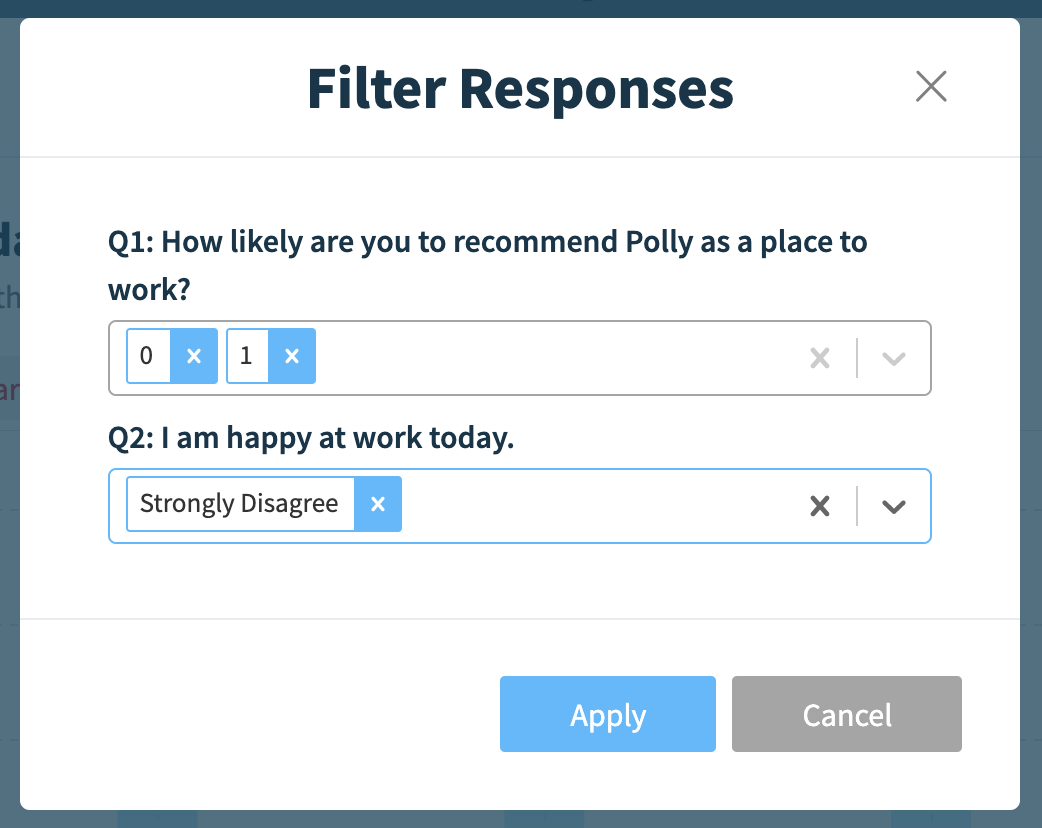 What about in the case that you want to filter responses from more than just one question? You can do this too. You can select responses from multiple questions, and it will filter your results similarly to how multiple filters are added to attributes: Q1a or Q1b and Q2c as an example.
However, do note that every question you filter by limits the results even further – each question is considered a filter, so if you try to filter the results by 5 different questions with varying responses selected, you will see results based on people who answered Q1a AND Q2b AND Q3c.
Cross-tabulation basics
If you've ever needed to compare two questions within a survey side-by-side to see who voted for Question 1c and also Question 5a, then a crosstab will give you this exact visual presentation in an easy-to-digest manner.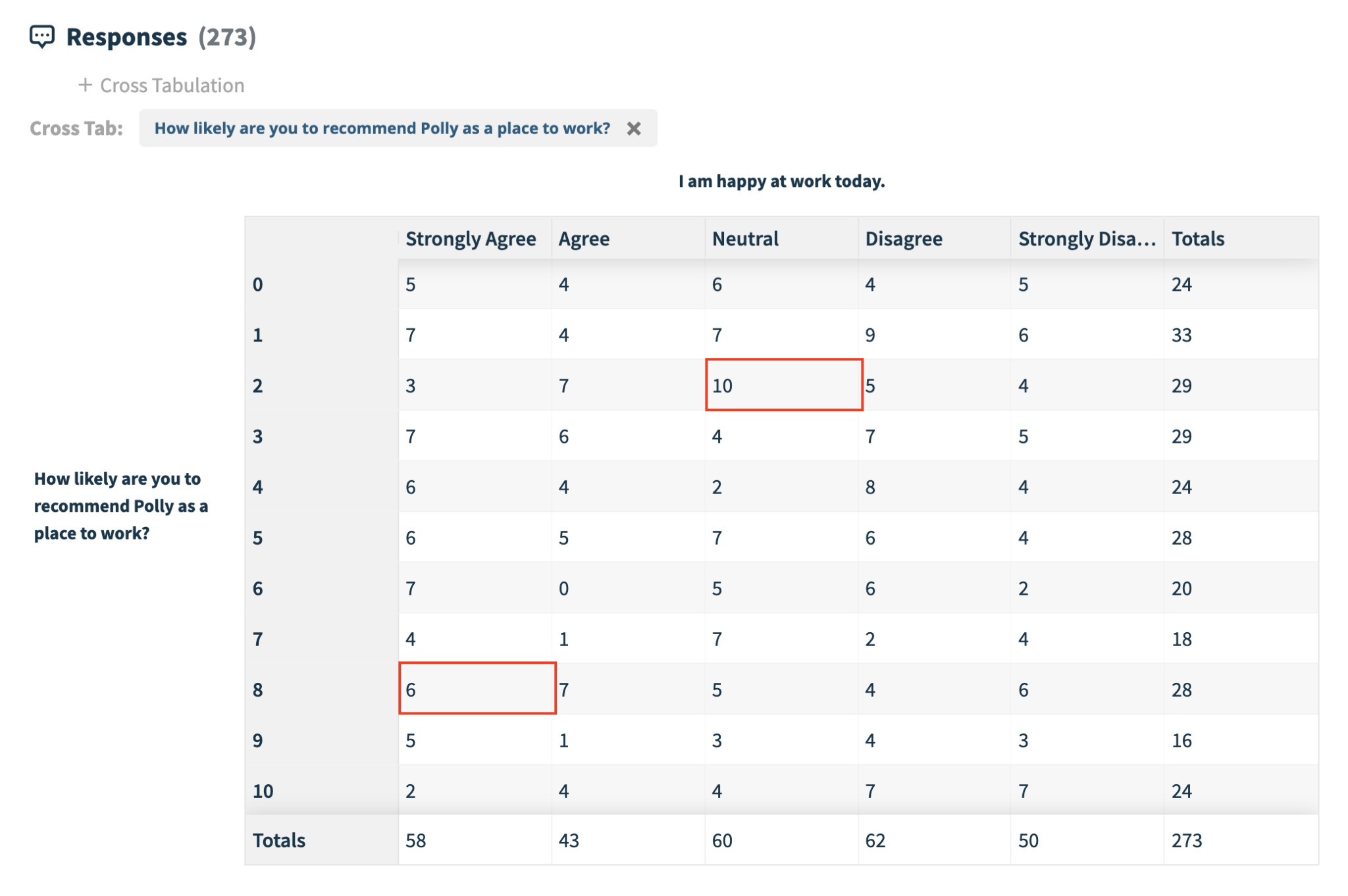 In the above picture, you can see that for the red-outlined cells, six people agreed that 1) they are happy at work and 2) would recommend Polly as a place to work. For the other cell, 10 people both feel neutral at work, and would not recommend Polly as a place to work.
The vertical totals to the right of the crosstab indicate the row totals for the question that runs across the X-axis.
The opposite is true for the horizontal totals at the bottom of the crosstab – they indicate the Y-axis totals for the question that runs horizontally at the top.
When you are setting up a crosstab, the question that you are currently viewing will always be at the top, with options running vertically. And the question that you wish to compare against in a crosstab, will always be the question on the left with options running horizontally.
In terms of displaying longer questions, the question being compared (Q3) will show the whole vertical span – so if Q3 had 20+ options, it would show all of them. But if Q1 had a lot of options, you have the ability to scroll left and right to see the full set of options.
Requirements and limitations of cross-tabs
When creating a crosstab, there are a few different limitations and requirements to keep in mind. For the time being, you are only able to create crosstabs with two questions side-by-side – as the Polly product matures, we hope to be able to introduce the ability to create richer and more robust crosstabs that allow additional questions and more.
If you're a fan of open-ended questions and want to be able to see how people responded to certain multiple choice options have also answered the open-ended question, then you're in luck – we support creating crosstabs with open-ended options. However, you cannot create a crosstab with two open-ended questions, one of them must be a multiple choice question.
The open-ended question also needs to be the question you are viewing, and the question you are comparing when creating the crosstab is the multiple-choice question.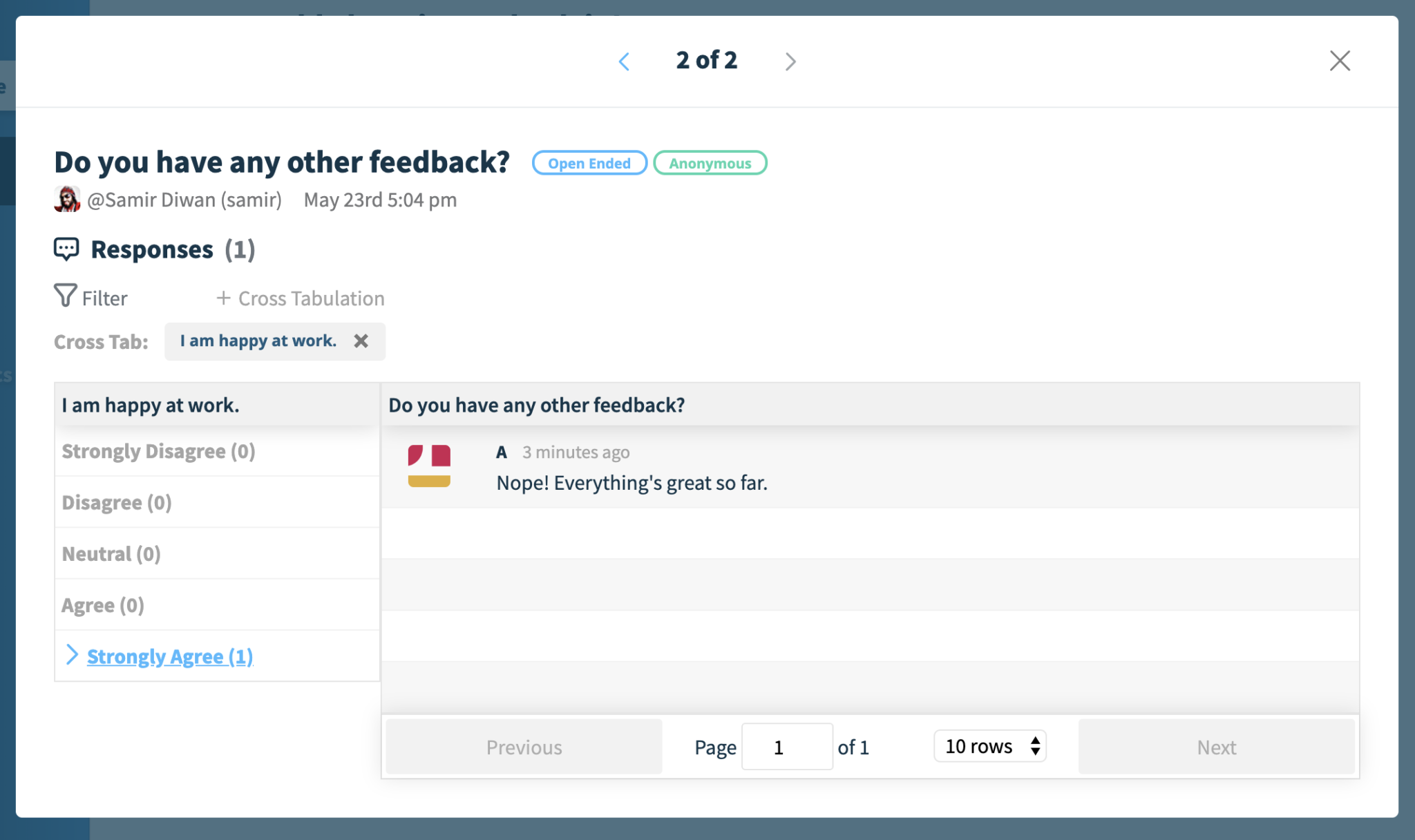 In the example above, I am comparing the open-ended question "Do you have any other feedback?" against the Agree/Disagree multiple choice question "I am happy at work". By clicking on any of the multiple choice options, you can drill into the open-ended responses based on the people who answered the multiple choice options.
If you wanted to compare a question to another question from a previous instance of the same survey, this isn't quite possible – yet! At the moment, crosstabs are only available for questions within the same survey, but this is coming very soon to crosstabs.
Different methods of exporting poll/survey data
Being able to manipulate your survey data is crucial for doing in-depth analysis that goes beyond survey data. Some examples would be to connect to your external database, creating pivot tables in Excel, and more. Luckily for you, we've made it very easy to export your results from (almost) anywhere – whether you're in your Dashboard, on a Poll Detail page, or in Slack.
Exports page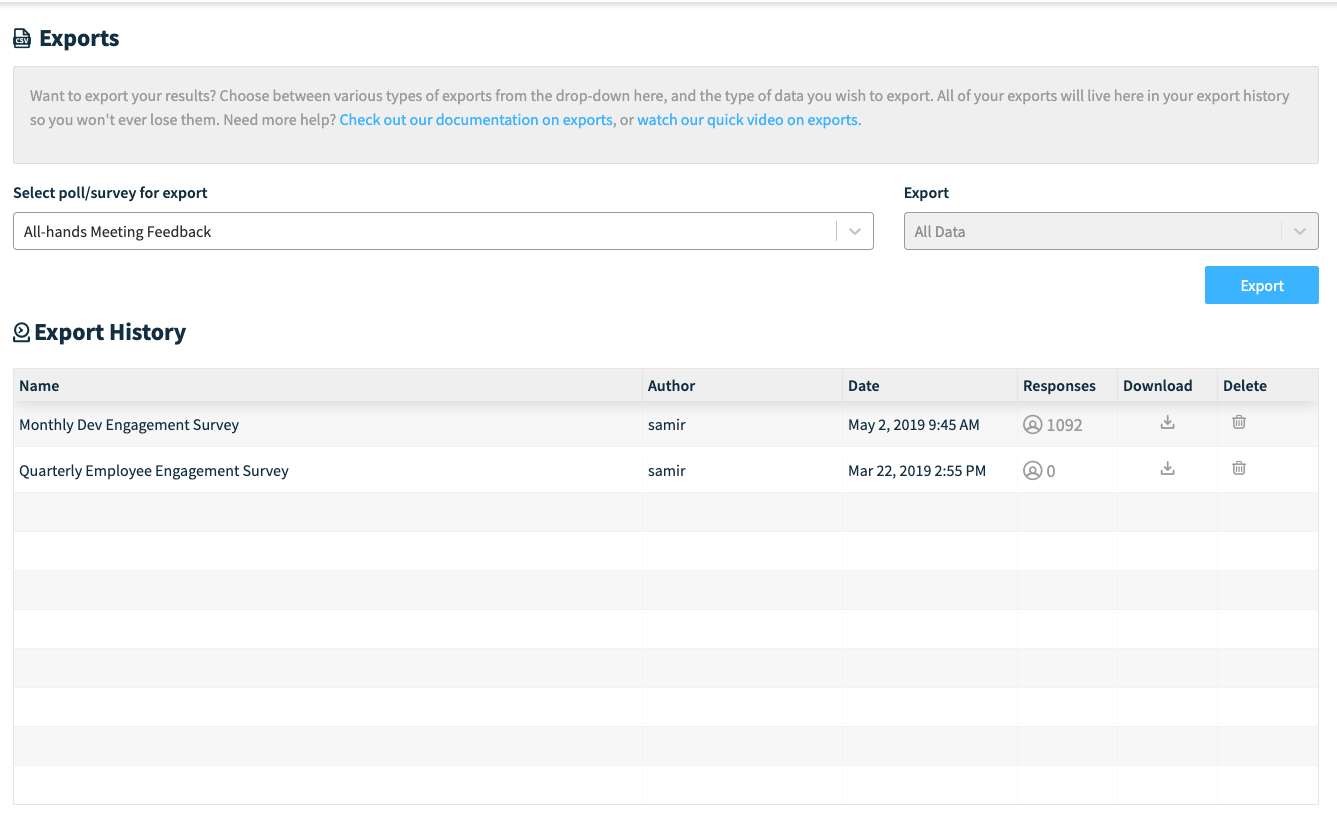 From the Exports page on the left-hand sidebar menu, this is where all your past exports live, as well as where you can do any type of export. From the poll/survey export drop-down, you'll see the option to do a bulk export, then a list of all of your available polls and surveys that you have authored, as well as polls and surveys that you did not create but have dashboard access to. Once you've selected the poll or survey (or bulk) export that you want to do, you'll choose the data you'll want to export from the drop-down.
The options to export either: all data, latest instance, or from a date range will change dynamically based on what you have chosen – not every export is available for every kind of poll and survey yet.
Here's a breakdown of what types of exports you can do with what types of data:
Bulk export

All data

From a date range

Recurring polls/surveys

Single polls/surveys
Once you've hit export, it will download automatically to your desktop (or wherever you store downloads) and you're free to go off and run wild with your data manipulation!
Results overview page
Regardless of where you're consuming your results – either that's from the entire recurring survey series history or from a single poll/survey instance, you can export your results. The export button sits up at the top, above the date-picker (if you're looking at a recurring series).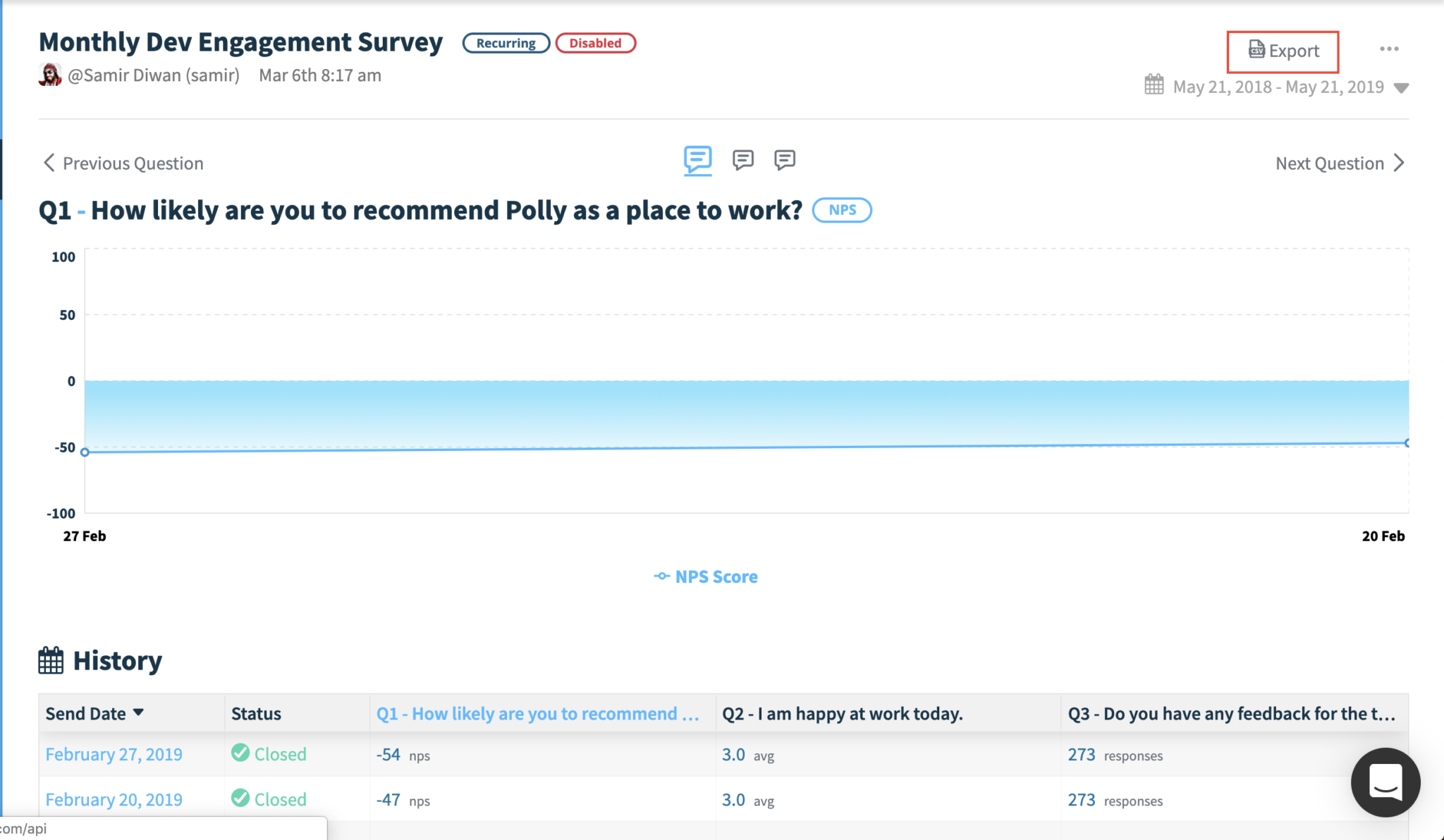 If you're on the recurring series dashboard and hit export, that will export all of your recurring series results.
From a single instance of a recurring series, hitting export will just export that single instance.
All exports, regardless of where you exported it from, will all appear in the Export History on the Exports page.
/polly export command in Slack
If you're working away in Slack, you can still export your results in Slack without breaking your focus by having to leave to go to the web. By using the command /polly export, the interaction is similar to exporting from the export page – where you can export all the same data types. Once you have selected the export, you will receive a DM from Polly once the export is ready, with the link to download. This process usually takes a few seconds, sometimes longer depending on how much data you're exporting.
Once you've clicked on the link to export, you'll be redirected to the Export History page and the download will have started immediately – you'll notice that the export is also in your Export History in case you ever lose your export and need to re-download again.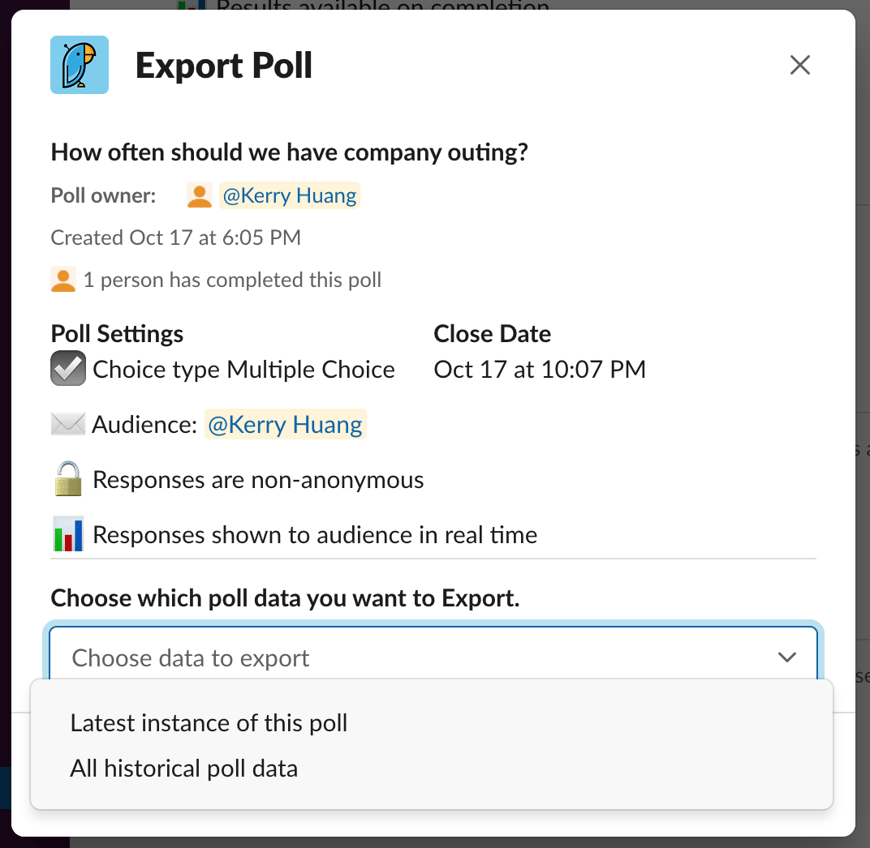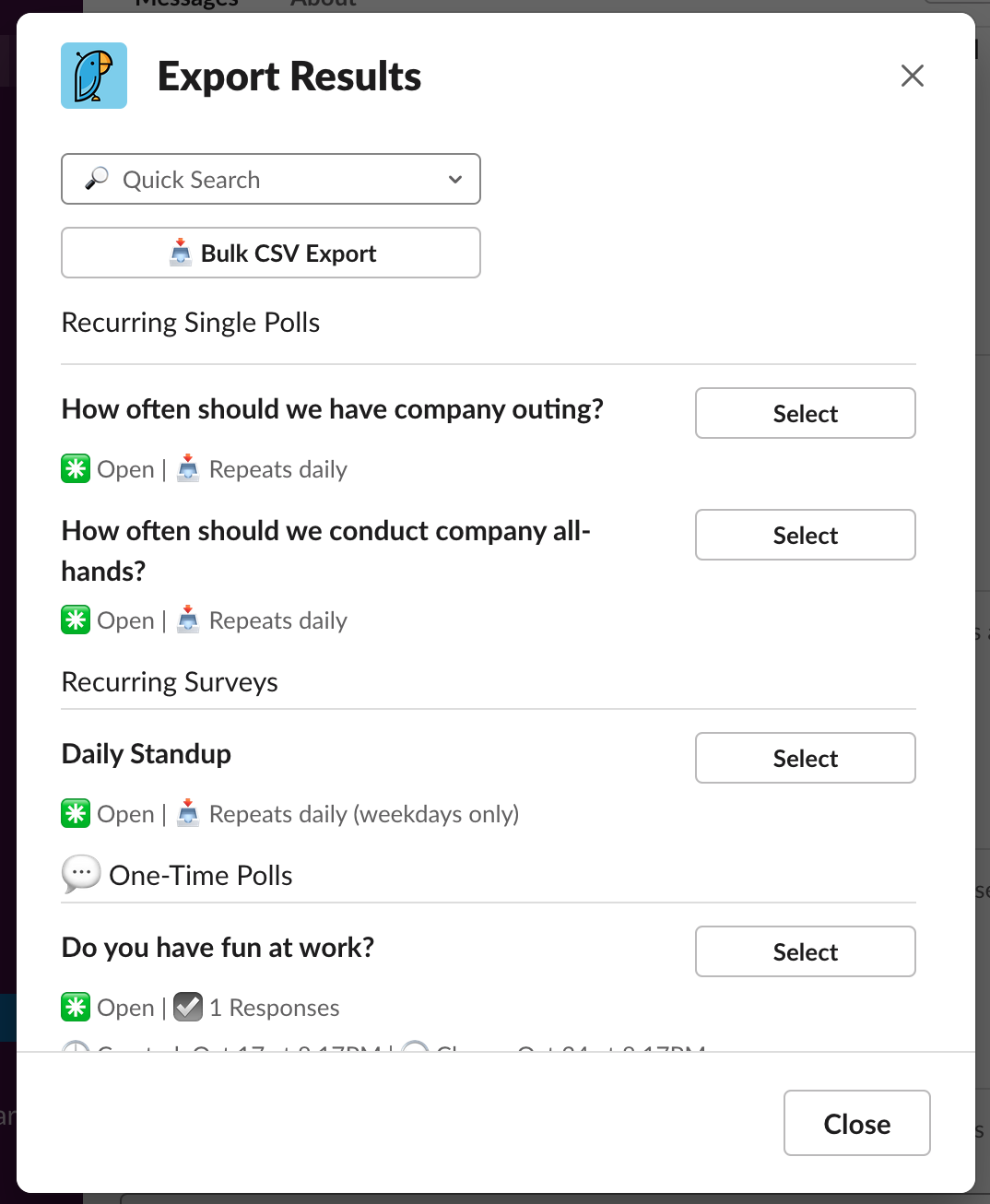 Exporting segmentation data, or with filters applied
Ever found interesting insights from filtering or segmenting your data, and wanted a way to export those exact results? You're not alone. Being able to export our results view either with filters applied or the crosstab itself would save us the extra work of having to slice and dice our data in Excel. This functionality isn't quite ready yet – but it will be soon!
Luckily, any export that you create will include segmentation data if it is available – just not the results if they are filtered out by demographic attributes or by a response. That way, you can still manipulate your data however you please with the metadata

The only instance in which segmentation data would not be included is for poll and survey results where the feedback was collected anonymously. If it was collected confidentially or publicly, then any existing demographic data you've already uploaded will come automatically with your exports.
And so much more to come…
We hope you've learned some valuable ways to get the most use out of Polly on a Business plan! Your team already lives and breathes Slack – and now you're armed with the best solution to collect valuable feedback and insight into your organization.
We're always working to continuously add more functionality to the Polly product to ensure that all of our users have access to the right tools and functionality that helps them exceed their productivity goals within Slack. As Polly matures, the product is only going to get richer and more robust – and this is just the beginning.
🔎 We're here to help! If you have any questions, requests, feedback, or just want to say hello – drop us a line and we're happy to help. As always, our help resources are always available if you're in a pinch for a quick and general question.