Explore the options available for selecting the audience that receives the polly.
✏️When authoring within Slack, we'll choose the current channel that you're in by default. You can still add or remove any channels as well. If you're sending to multiple channels, or to multiple individuals, then we can only deliver your polly by DM to the members of those channel(s) or user(s) you've selected.
Publishing options
Publish to channel: Will publish the polly directly in the channel.
Publish via DM: Will publish the polly via a direct message from Polly (in the Polly app Messages within Slack) to the members of that channel.
✏️Note: Can't locate your Polly? Check out our guide here.
Sending to multiple users, or multiple channels
When authoring on Slack or the web app, you can choose to send a polly to:
Select individual(s) or
Multiple channels
💡 If you are sending a polly to someone via DM & he/she is also a part of the channel where you are sending it via DM, they will only receive the polly once
Selecting Audience within Slack
From within Slack, the easiest way to do so is from the Polly Direct Message channel.
Start with the /polly create command to begin authoring a polly on Slack
Under Choose audience you can view a drop-down to select a user or channel
You can further choose to Send polly as DM (i.e. Direct Message) or Post in Channel.
Selecting Audience on the web app
Log in to the web app
Start creating your polly, under the Audience drop-down, select as many channels or users as you want.
✏️Note: If you are selecting multiple channels/users, your polly will be sent as a DM, to prevent duplicate postings. If you send a polly in a channel and later more people get added to that channel, the new users will be able to interact with the polly as well. If however it was sent as a DM (i.e. sender selects "send by DM" and selects a channel), it will only be sent to users in the channel at the time of sending.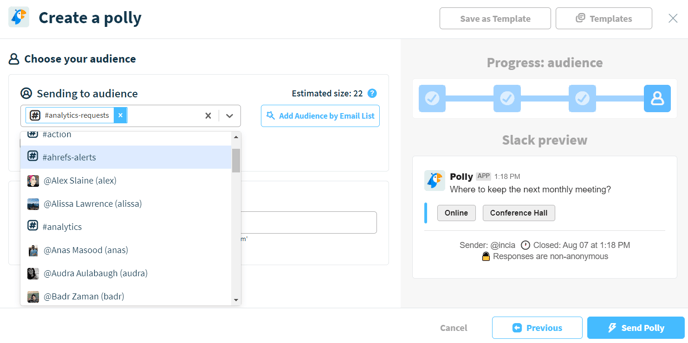 Adding audience members via email list
If you're authoring on the web app then, you can also upload a list of users in the form of a comma separate email list.
This is really handy if you want to avoid the hassle of manually searching for and adding individual users from the audience selection list.
✏️Note: The emails you upload must be valid emails and must match against users in your Slack workspace. These emails do not have to be case sensitive.
Here's how you can bulk upload an audience via email list on the web app:
Select the Add Audience by Email List option from the final step of your authoring process, in Choose Audience.


In the popup copy/paste the comma separated emails in the format below. Make sure there are no special characters like < or >




Hit submit once you have all the emails entered. You will get a confirmation on the number of emails processed.




Click on the Add Audience button which will populate these matched users in the audience selection



Tip from Polly Flock for large audiences
You should avoid sending your pollys to large audiences via direct message. It may seem like a good idea to get people's attention but in fact it can have an opposite effect. It's also possible that you send your polly via DM by mistake.
⚠️You will receive a confirmation message when you send a polly to more than 50 people via DM — allowing you to double check before sending to a large audience.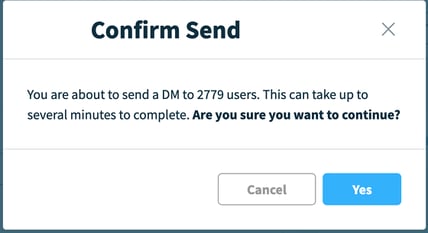 Does polly work in restricted channels?
Polly can't work in restricted channels unless the permissions are switched around.
How do I send a Polly to a channel with some external members? The channel is not appearing in the audience

The Polly bot needs to be invited to the externally shared channels (even if the channel is public). This can be done just the way you
add polly to a private channel
, the simplest way being the @polly command.
I've already sent the polly, can I add or remove participants in the Audience section?
Unfortunately no 🙁 Once a polly is sent, the Audience can't be modified. Making any changes to the polly once it has been sent is part of our editing feature. More around what can vs can't be edited can be found here
💡If you have already sent a polly & later want to add more members to it or you sent a Polly via DM and now that channel has more members, you can:
1. Close the existing polly and send a new polly in the channel, this way all members will receive it and they can reply. You can save the existing one as template so you don't have to create it from scratch again.
2. Re-send or send Reminder if you sent the polly in the channel (not as DM). This way it will appear again in the channel and the ones who have already responded can ignore it. You can re-send or send reminder by going into the
web app
> Open the polly > Controls > Re-send/send reminder
Note
that these are workarounds as audience cannot be edited once a polly is sent. More around what can vs can't be edited can be found
here