How to create pollys easily through the web app. Learn more about how to configure, schedule and select audience including response anonymity, results display, scheduling & reminders etc
💡Learn here about the web app dashboard, how to login & it's different features.
Authoring from Web App
Go to the web app through the URL app.polly.ai and Sign in through Slack
Click on Create
Begin by adding your questions to the polly. It will default to a single question polly with the option to Add Questions in multiple question types.
Click on the Next button, to proceed to configuring your settings for the polly.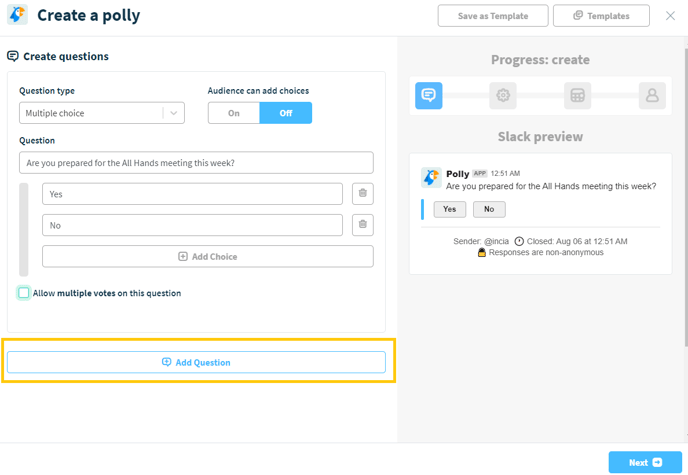 ✏️Note: The maximum number of questions you can add is 50
⚙️Configuring Options
Here's an explanation of the settings available in a multi-question polly: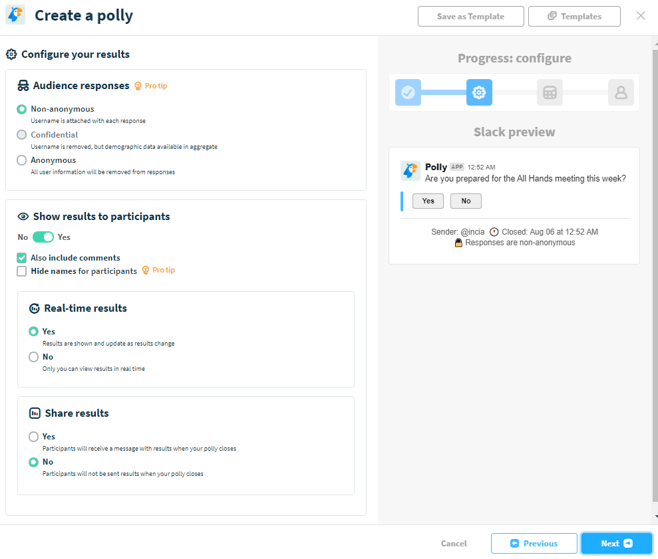 Audience Responses:
Polly allows you to choose anonymity and confidentiality of the polly responses.
Non-anonymous means that Slack usernames will be revealed for the polly responses.
Confidential means that usernames will be hidden, but demographic data will be applied to their responses if there are any, which will be available to the polly sender. So, if you were to filter responses or export data from a confidential polly, company metadata will still appear next to the anonymous responses.
Anonymous means that everything is truly anonymous and hidden from everyone. Neither the respondents nor the sender will get to know the Slack username of respondents.
Real-time results:
Yes: Real-time results are shown to participants and updates as results change.
No: Only the author can view the results in real time.
💡 If your Audience response setting is Anonymous while Real time results is Yes, it means that the respondents (as well as the polly sender) will be able to see the responses in real time but they won't be able to see the Slack usernames of who responded with what.
Showing results to participants:
Yes: Gives them a link to the polly once they've completed the polly to see the full polly results. If the box is unchecked for "also include comments" the audience will only see results, but not the comments.
No: The audience won't be able to see the results at all, unless you explicitly decide to share the results to the audience.
💡 If your Audience response setting is Non-anonymous while Showing Results to participants is No, it means that the respondents will not see who responded with what. The polly sender will be able to see this information & can share it with whoever required. This is a beneficial setting if you don't want to disclose the respondents identity openly.
📅 Scheduling & Reminders
Pollys can be sent now, or they can be scheduled for a later date and time, and you can program them to allow voting for a few hours to a few weeks.
💡A polly can also be made to recur and will be asked on a regular cadence.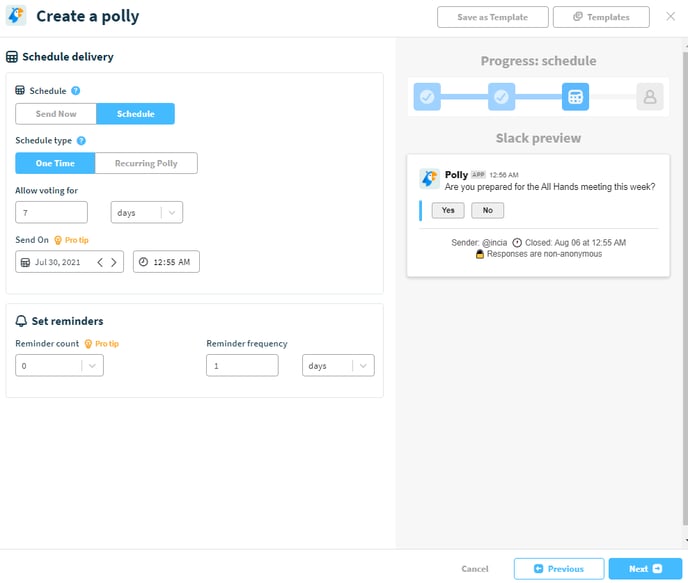 Polly can also be set to automatically remind those that haven't completed the polly. From the reminder drop downs:
You can choose how often you'd like to remind users (Reminder Count), and
How often you want to remind them (Reminder Frequency).
So if you choose a count of 2, and a frequency of 3-day intervals, then every user that hasn't completed the polly will be reminded once after 3 days. If they still haven't completed the polly, they will be reminded again 3 days later.
✏️Note: Reminders are sent via direct message to each user, & as long as they haven't muted Polly and/or notifications, they will receive a reminder to complete the polly.
Audience Selection
Multi question pollys are required to have both a title and a message to the team. The message acts as an appeal, and lets the user know why they need to complete the polly.
💡Studies show that using an appeal increases response rates, so it's a good idea to put something there, even if it's simple.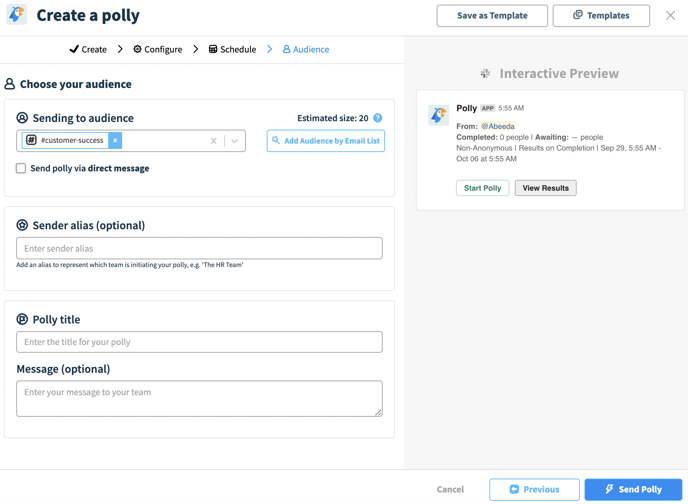 ✏️Note: In multi-question pollys you can add a title & message to your polly as well. These options are available when you are on the Audience setting while creating a polly through the web app.These options are also available for templates with multi-questions while unavailable for single question pollys
Save as template
If you plan on using a polly multiple times in different use cases, you can create and save a template and store it in your library🎉
You can then use it at any time either through the web app, or directly in Slack, by using the /polly template command.