Sending from Slack
To get started type in channel: /polly your question here
OR
/polly "Your question" "Voting Option A" "Voting Option B"
To target a specific channel (or members of that channel) initiate the /polly "your question here" command in that channel, and select the appropriate question type / voting choices.
Next, hit Advanced Options to bring up the Scheduling option.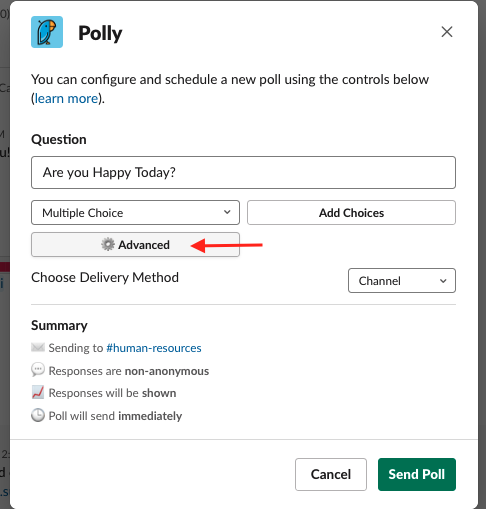 Then, just hit Schedule to configure your recurring polly and choose the recurring frequency of the question, from the drop down menu.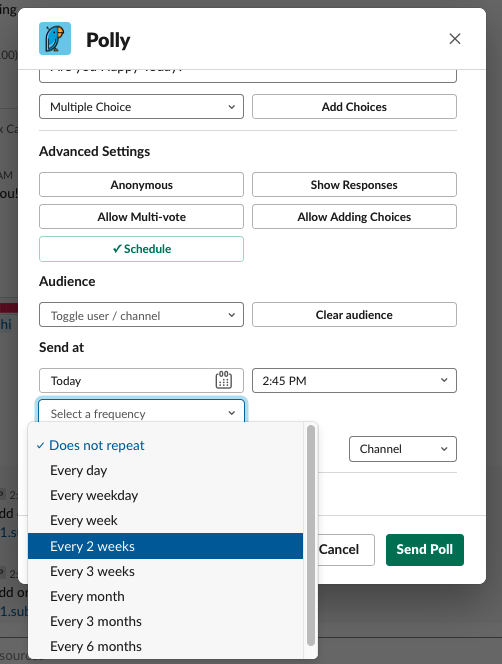 Then just hit Send to Channel when you've reviewed the polly summary. You can optionally elect to Send by DM* if you want users to get a notification when sending this polly out.
Note: Depending on what plan your team is on, your authoring controls in Slack or on the web UI may look a little bit different – some options are not available to free teams (such as Send by DM).
Additionally, recurring pollys are only available to users on a legacy paid plan or on Surveys plan and higher. Learn more
Authoring from the web app
To author a recurring polly from the web head over to the authoring page of the web app and fill out the form.
Choose the appropriate channel from the drop-down list.
Choose to make the question recur, and choose the frequency and time settings.
Add your question, customize any options, and you're good to go!