Why, hello there! Thanks for stopping by — you must be wondering what the heck a Polly workflow is. We'll get into the details of what exactly a workflow is, and some common questions we've received.
What's a workflow?
Polly lets you create custom single or multi-question workflows (or use any of our pre-built workflows) for Slack so that you can collect and measure feedback at scale. We've designed workflows to be incredibly simple to set up, and you don't need to be a developer to create a workflow. But if you are a developer, you can certainly still create custom workflows to your heart's desires with our API.
Key Terminology
Trigger
Advanced trigger options
Surveys to Send
Custom vs. Global workflows
This is the specified event that will kick off the workflow once it's been hit. For example, if the trigger is a certain emoji reaction on a message within a specific channel, every time that emoji is used as a reaction to a message, it will kick off the workflow.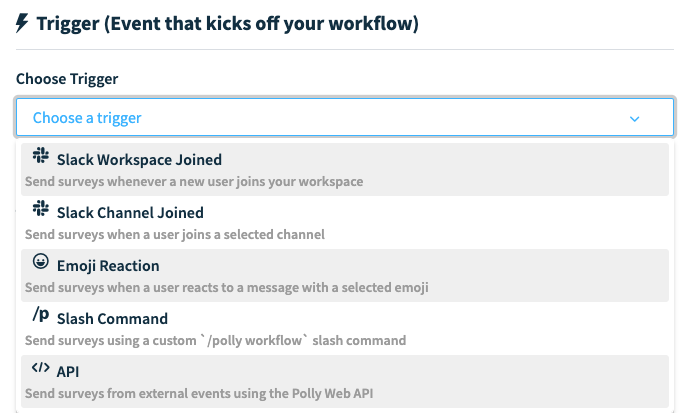 The triggers available now are:
Slack workspace joined
Slack channel joined
Emoji reaction
Slash command
API
And we'll be adding more triggers and integrations as the product matures. For more info on each of the triggers, check out our guide on setting up a workflow.
Advanced Trigger Options
Under the trigger drop-down, you have the option to display trigger data with the polly. The trigger data is essentially additional information that you might want to include in the surveys for context. By default, trigger data is not included but you can choose to do so.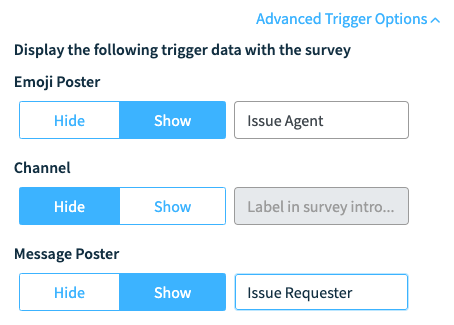 Additionally, you have the option to rename (such as channel name, @displayname, emoji reaction, etc.) to something else that's more suited for your workflow.
Similar to normal polly templates, you choose a template to send to your specified audience whenever the trigger is hit.
From the template drop-down, you can choose from any library templates that you have (either surveys you have saved as a custom template, or global Polly templates that you have saved to your library) or from any of our pre-built global templates.
You can choose to send immediately (as soon as the trigger is hit) or delay it. For multi-question pollys within a workflow, it's best to order them in chronological order.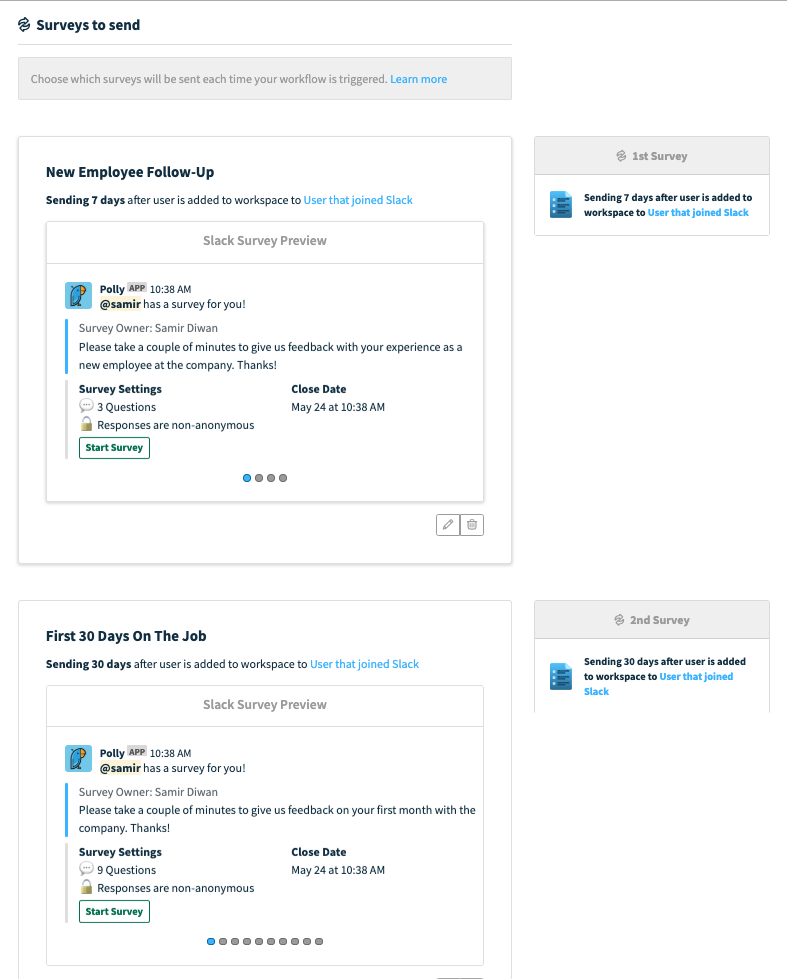 For example, a new hire workflow could look something like: 1st polly on day 7, 2nd polly on day 30, and so on so forth.
Custom vs. Global workflows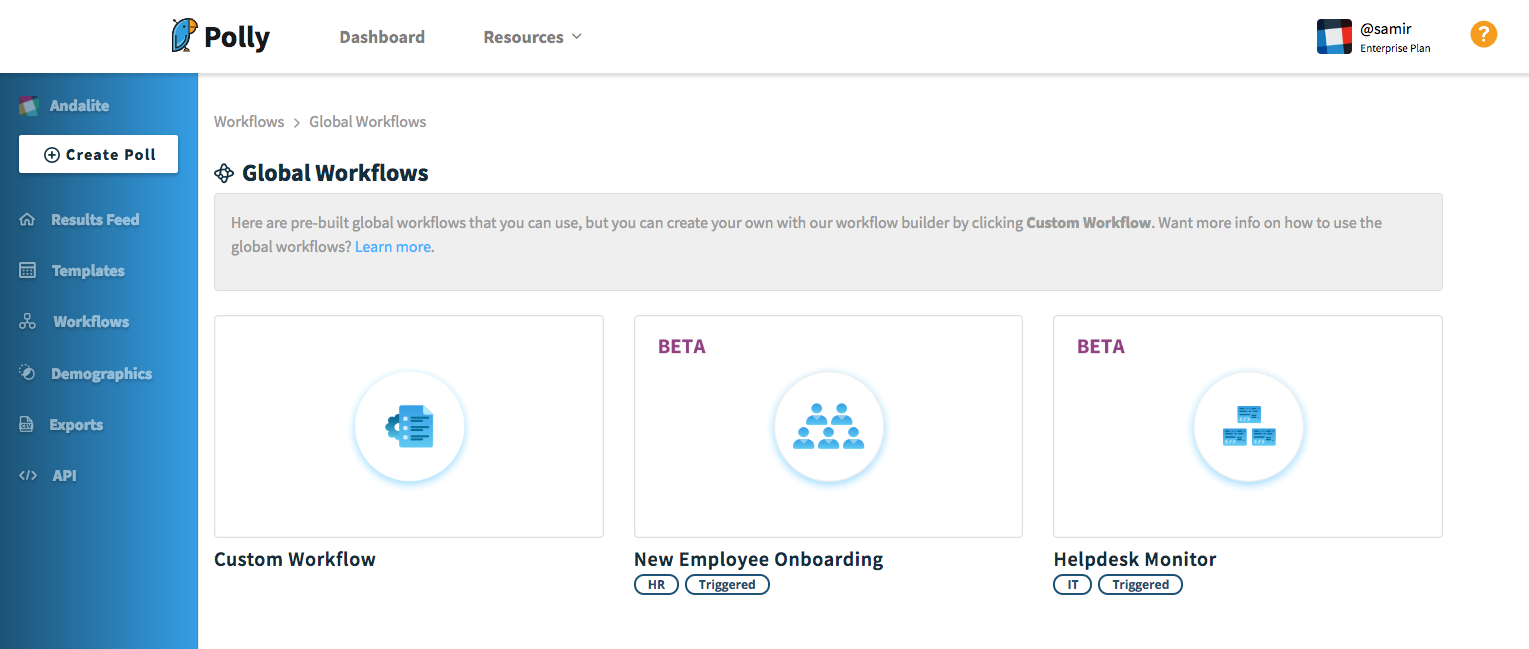 Global workflows are commonly used workflows that Polly has provided as a starting point — with everything already filled out and included for you, including the polly templates. There's only a handful of global workflows to start, but we'll continue to add more integrations and workflows. Got a suggestion for a global workflow? We'd love to hear it.
Custom workflows are workflows that you build from scratch using the workflow builder, and you can spin up as many custom workflows as your heart desires.
FAQs
Where can I find information on how to set up a workflow, how to use the pre-built workflows, or how to consume my workflow results?
Great question. We've got thorough guides for all of those :)

My results aren't showing up on the Overview Dashboard
The most common instance of this occurring is when: you just created a workflow today, and have already received responses. The likely reason that your results are not showing up is that the default date range has been set to not include today. So even though from the Workflow list it shows you that it's been triggered and you've received responses, your workflow overview dashboard is empty.
To show today's results, all you need to do is adjust the selected date range to include today, up at the top of the workflow overview page. Now, your results should appear in all of your workflow tabs.
Why aren't any of my channels showing up in the audience drop-down for triggers?
Before you can run your workflow, you'll have to make sure that Polly is a member of the channel that you want to specify the trigger for, so that Polly can pick up whenever the trigger happens and kick off the workflow.
To invite Polly to a channel, all you have to do is use the command /invite @polly in the channel.
How do I change out a question within the polly template for a global workflow?
You can preview the questions right from the workflow, but if you wanted to change around the questions/settings or the template itself, you'll need to put in just a little bit of work.
If you have your own specific polly templates, you can easily swap them out with the Template drop-down. However, to change the templates provided, you'll need to clone the templates from the global library, make your changes, and then revisit the Workflows page to swap out the pre-built template for the one you just revised.
How do I disable my workflow?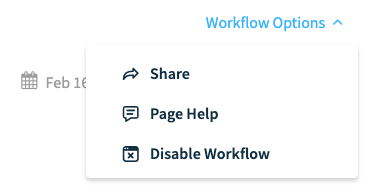 From the workflow list, head into the dashboard for the workflow that you wish to disable. Once you're on the Workflow Overview tab, you can click on Workflow Options, and hit Disable Workflow. Once your workflow is rendered inactive, it will no longer send out surveys or collect activity until you re-enable the workflow.
You'll notice from the workflow list page and the workflow overview dashboard will show a red badge that it's inactive once it's been disabled.
What do the different audience options mean?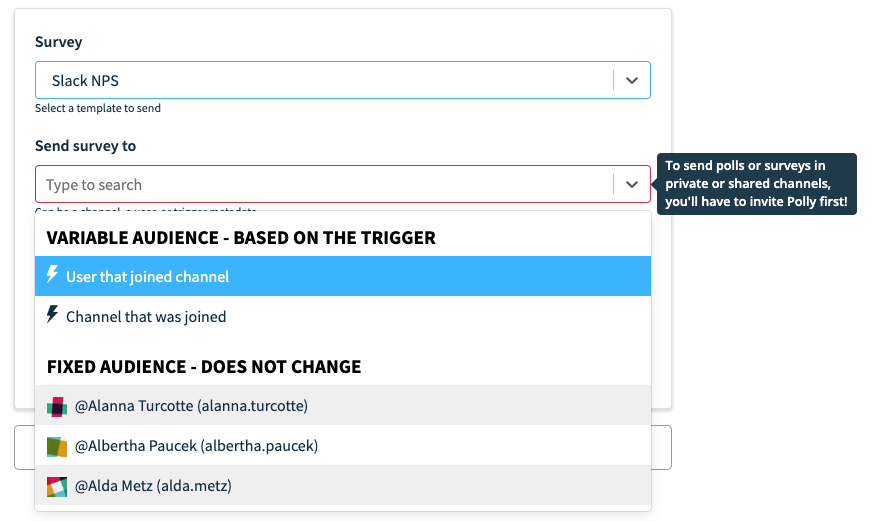 The variable audience options are based on the trigger you selected. As an example, if you chose Slack Channel Join as the trigger, you can either send the survey to the user that joins the channel, or the selected channel every time the workflow is triggered.
For the fix audience options, those are all the users and channels within your workspace that you can send to, that's different than the channel and/or user triggering the workflow. Note that the audience selected here will stay the same, so if you select a user as the audience, every time the workflow is triggered that user will get the same polly(s).
How do I re-enable my inactive workflow?
Following the same steps as above, the Workflow Options menu will have the option to re-enable the workflow if your workflow is currently inactive. Clicking on it will re-enable your workflow, and will resume as soon as the trigger is hit again once it's active.
How do I add someone to my workflow manually, or kick someone out of a workflow?
For now, adding/kicking someone to a workflow is not available yet, but it's coming soon!
Until then, if you need to add someone to a workflow that was not added automatically or need to kick someone out of a workflow (e.g. someone leaves the company before their 365-day check-in) then just get in touch with us and we'll get that changed ASAP.
Can I share my workflow results with other people?
Yes! You can share by clicking on the Workflow Options menu from the workflow dashboard, and hitting share. You can share your workflow with anyone within your Slack workspace.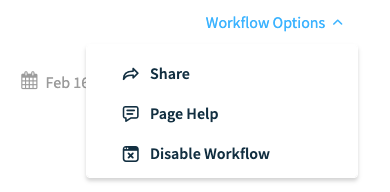 When sharing, you have the choice to give them either View or Manage access.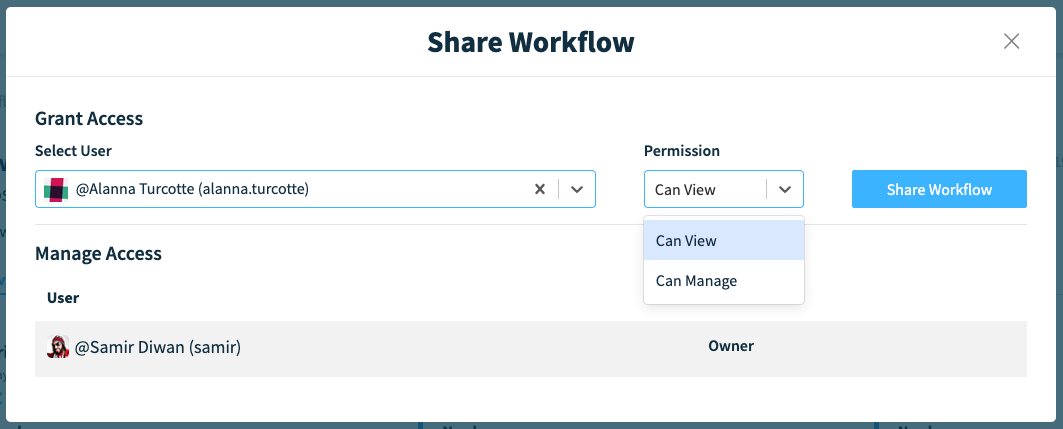 Can I get a weekly/monthly/quarterly digest of my workflow results, or get notified via Slack/email whenever someone completes a polly?
That's not yet available, but it's high on our priority list! We'll be rapidly iterating and pushing new functionality after this initial release, one of which will be the availability of notifications.
You'll be able to set up notifications for whenever someone completes a workflow, reach a certain point in a workflow, or every time someone has completed a polly within a workflow.
What features or functionality are coming soon?
Workflow notifications (email or Slack)
More out-of-the-box integrations
Adding someone to a workflow
Kicking someone out of a workflow
Adjustable sampling rate for triggers (instead of sending surveys 100% of the time when the trigger hits, only 10% of the time)
Heat-map for tables and cross-tabs for a visual representation of each score
And much more!