Learn how to create & save your own templates, explore Polly's global template library in the web app and some frequently asked questions.
A template is a previously created polly with saved settings that you can use any time in the future.
This can be useful as a way to save something you're not ready to send yet, or to save a set of questions and settings that you expect to use frequently.
Who can use templates?
All users part of Polly's free and paid plans can use templates!🎉
How to Create and Save your own Polly Templates
Login to the polly web app dashboard
Select the polly you'd like to save as a template
Click on the ⚙️Controls button > from the drop-down select Save As Template to save your existing from into a template.

You'll be prompted to enter a title for your template. We will save all of your settings – recurrence, anonymity, questions, etc.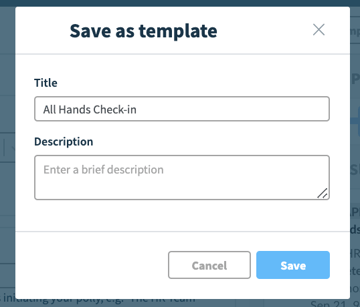 ✏️ Note: While you can create surveys through API, currently the functionality of creating templates through API isn't available. More around APIs here
Your Templates Library
Once you've saved one of your own single or multi-question pollys as a template, or added a pre-existing Polly template, they are available to you in your library.
Clicking on an item in your library will take you to the authoring page with all the necessary fields filled in for you. Select the channel you'd like to send your polly to, pick the appropriate time, make any modifications, and send off the polly.
Template Library
Polly Global Templates
Polly offers a number of templates for many popular categories including HR, IT, Agile, General, Leader and WFH. For example the Team Happiness Pulse Polly is a great template to use as a lightweight pulse to gauge your team's morale and happiness. Similarly the mid-sprint check-in is greatly used by product and engineering teams to measure progress.
We've made all of these available to Polly users with a single click. You can easily deploy them to individuals or teams, by adding them to your library of templates.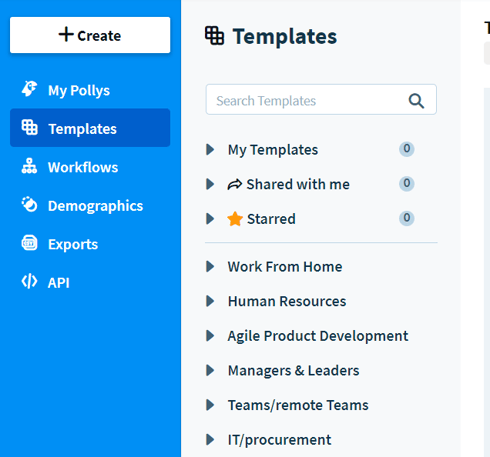 0
To use Polly's global template library:
Navigate to Templates option from the main menu of the polly web app

Choose the template of your choice from the selection

Hit ⚡Quick Create to quickly create a polly with a pre-filled template or hit Use Template to customize it further.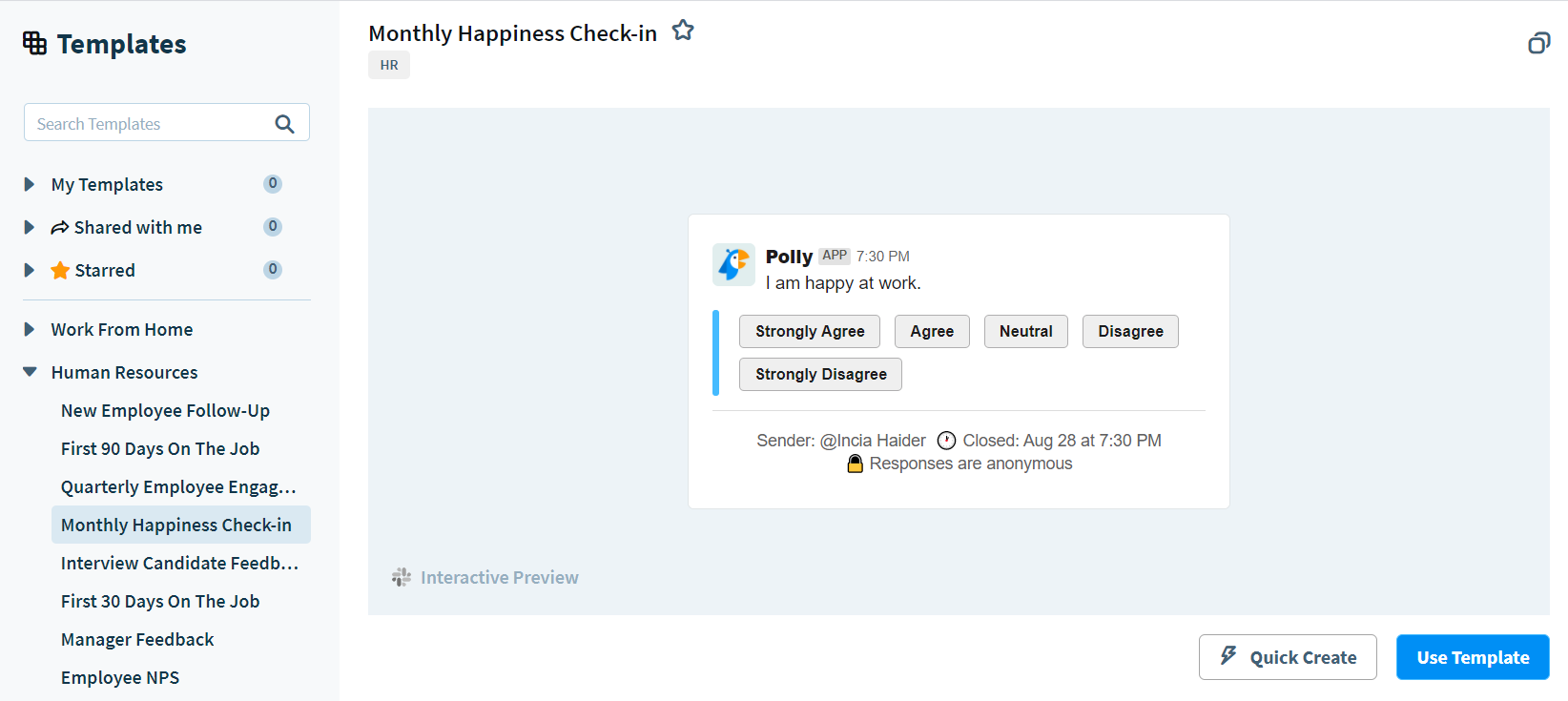 Template Frequently Asked Questions
I have an idea for a template that would be useful for the Polly ecosystem. Can you add it?
Send us your idea at contact@polly.ai and we'll add it to the global library. We'll even give you credit for it!
I made changes on my template that I use for a recurring polly, but my polly that just sent out doesn't have these changes. What's up with that?
When you make changes on a template, that unfortunately will not automatically reflect for your recurring polly. You will need to edit the recurring series, not just the template. If you use the template directly (either with /polly template or via clicking on it in your library), it will show those changes.
💡 Want to stay in Slack while creating/using templates, here's how to go about it