Facing difficulties like Polly not responding to @mentions or @polly, requiring admin approval, showing different errors & issues adding polly to private channels. We have solution for all these problems & more!
Polly Creation Not Working
If you tried something like @polly "Your poll in quotes" "voting option" "another voting option" or one of the other authoring options but nothing is happening, then you're likely not tagging Polly correctly.
In Microsoft Teams, you need to hit tab after typing @polly in order for us to recognize the mention. After typing @polly, hitting tab selects the bot.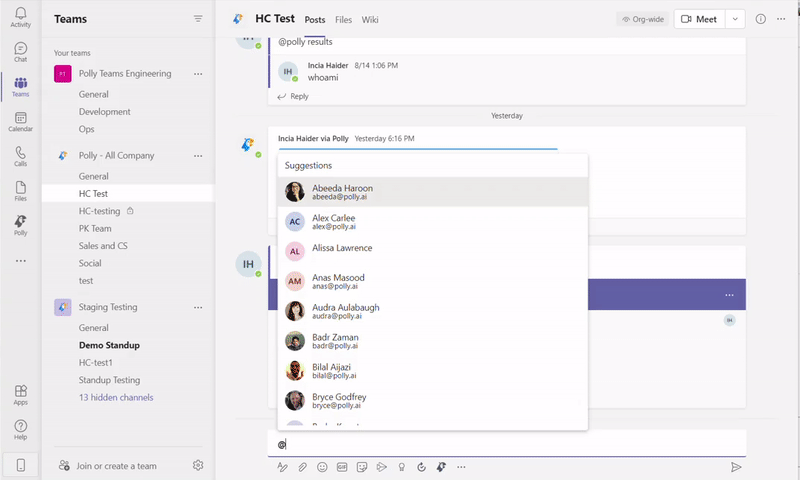 ✏️Note: Make sure Polly has been added to this Team. If you start typing @polly, you should see an auto-complete option to select Polly. If you don't see that, then Polly is likely missing from your Team. Here are details on adding or re-adding the bot.
Polly Not Responding to @ Mentions
You could be hitting one of the following issues, most likely it's #2, but let's rule out the first two options before we go to #3
Make sure you're tagging the bot correctly.
Make sure you've added both the tab and the bot. More details here.
If that wasn't it, check if bots are enabled by your Office 365 admin. Your admin will need to follow steps in this doc to check.
If #3 didn't solve your problem, you're likely hitting an edge case, and you need to reset the "bots enabled" setting. From the last step in #2, disable bots. Then re-enable them and wait 30 minutes. Microsoft has assured us that this should solve the problem for most users.
If Polly still isn't responding, please test out the following steps:
Check if Polly responds to "hi" in a 1:1 chat
Navigate to the web version of Teams (https://teams.microsoft.com) and go to the channel that you're having trouble in. Copy that URL🔗.
Find the timestamp of the poll you tried to create in the channel that had no response, and make note of it (please also make note of the time zone you are in)
Send us an email and include the URL, timestamp/timezone information, and your Office 365 domain. We will start investigating the issue ASAP.
Polly Tab Requesting Admin Approval
When I click my Polly tab, I get a pop up that says I "need admin approval" to use Polly, what should I do?
Your organization's tenant admin enabled security settings which is what is blocking access to certain applications.
Polly uses Active Directory to authenticate users. We make the request to AD for that user to authenticate who they are, and grant the Polly app the permission to read the user's basic profile (email and name).
Most likely, the tenant has disabled this functionality to allow users to grant access to Polly.
To resolve, ask your IT admin to authorize the Polly app for everyone in your organization which should unblock you. Here's a guide on how to do that.
For Polly to work & authenticate, access needs to be allowed to the teams.polly.ai domain i.e. it needs to be whitelisted.
Showing Different Errors
1. Polly is working fine in several Teams but having an issue in the organization wide team. I am seeing different error messages like, "unable to send messages" etc. Basically this error is from Microsoft saying that Polly has not been installed to that team or group chat. Just manually install it in the organization wide team through the apps section and it will solve the issue.

2. It was working fine and suddenly I am seeing the error, "bot is disabled". This is likely to arise when your MS Teams admin (IT team in most cases) have disabled Polly for the company. Please reach out to them in this scenario to enable Polly
What does, "We were unable to send some of the messages for the polly" error mean?
This error comes when someone schedules a polly for the future, generates a web link, and then tries to visit that web link before the polly is active. If the polly is accessed through the link after it is active or live, this error should not appear.
No one sent a polly, it got posted in the Channel on its own. What happened?
There could be 2 reasons as to why this happened:
A polly was created & scheduled to go out at a later time so while no one had created it at that time, it had been created in advance to be sent on this date. More around scheduling pollys here
It was not a new polly rather a recurring polly so it got sent in the Channel again as per the recurrence schedule. More on recurring pollys here
Polly in 🔒 Private Channel
Unfortunately, you can't use Polly in MS Teams private/locked channels. One workaround is to create a group chat & send polly via that chat. Group chats can be considered somewhat confidential/private since only members have access to the chat/messages.
Polly in Shared Channel
Polly isn't supported in shared channels. Basically, not all Teams apps are supported in shared channels.
Polly in Live Events
Polly currently works in Teams Channel, Chat & Meetings. We'd love to offer it for Live Events in the future, once Microsoft enables apps in Live Events.
How do I enable permissions while creating polly through the personal app tab?
The org admins need to go into the Consent and permissions section > User consent settings to allow access to users. More on this can be found here
I am getting the error, "Not allowed to add bots due to Teams settings, contact the owner to change settings". What do I need to do?
This means that you are a Channel member & not the Owner. Only a Team Owner can manage the Channel app permissions by going into ⚙️Manage Team > Settings > Member Permissions. More on this can be found in this MS Team help doc
Similarly, if you run into issues installing or using Polly, check with your IT admin or Team Owner be sure that permissions are enabled that allow members to add and use 3rd party apps.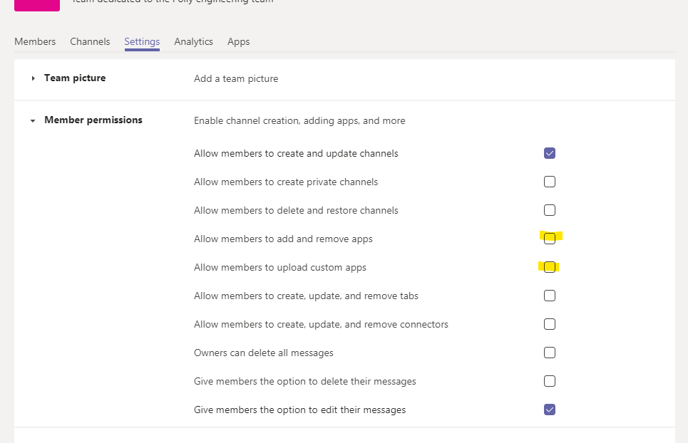 💡All set to create your first polly, here's a step by step guide for it