In this guide, we'll walk you through installation, creating your first polly and shortcuts.
Welcome! This article covers:
What is Polly?
Polly is an engagement app purpose-built for Slack, Microsoft Teams and Zoom. Polly helps internal teams of all sizes make smarter, data-driven decisions, instantly.
Why use Polly?
Here are some of the reasons why Polly is the perfect app for your company:
✔️Purpose-built for Teams - purpose-built to work simply and beautifully in Microsoft Teams!
⏰Instant feedback - Send a polly and get responses, anonymous or voluntarily, within seconds.
🎯Smart targeting - Send a polly to a channel or as a direct message to individuals in a channel to get a faster response.

❓Question choices - Multiple choice? Rating scale? Open ended questions? We've got you covered!

😀Break the ice - Bring your audience together and lighten the mood with quick, fun exercises like trivia.
Getting Started
If you haven't installed Polly to Microsoft Teams yet, learn how to do so in this quick and simple guide!
Once you have Polly installed, you're ready to send your first polly.🎉
The best way to send your first Polly is to click on the 📌pinned Polly icon in your message extension or by typing @polly and follow the suggestions to custom build your polly.
To create an advanced polly, navigate to the Polly tab, or simply type @polly into the messaging extension and hit Enter.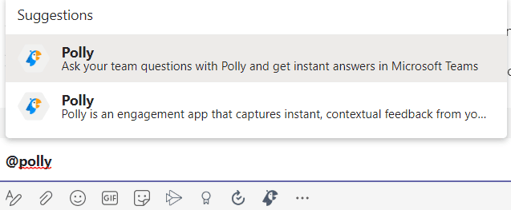 The authoring window will display a selection of options, including the use of templates. Selecting Question in polly type will take you to the window for creating a new polly, with the full list of options and settings.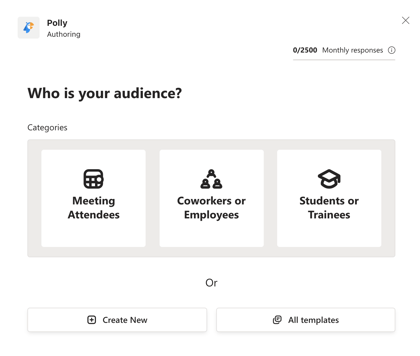 💡 Having difficulty creating pollys or facing some errors, this article will help
Can I create or set up pollys in advance?
Yes you can!
Here's a step by step guide for creating pollys in advance for your Teams Meetings.
If you want to create them in advance outside of a Teams Meeting then you should create the polly while scheduling it to go out at a later date. You could also create and save your pollys as templates so you can send them instantly at a later date. After you've created a polly you realize that you need to make some edits to it like extending the close date, editing questions etc, you can do it easily through the edit feature.
Is Polly available in any language other than English?
Presently no 😔 For now Polly is only available in English language.