Over the past 10 years, employee surveys have traditionally been run via a combination of email and the web. Employees typically get an email, need to click on a link, then complete the survey on the web.
If your team has started using Slack, there is a strong possibility that moving your employee surveys into Slack could result in a significant increase in participation from your employees. But as we found out, it doesn't make sense for everyone. The key is knowing how your team uses Slack. We looked into the usage of our customers to come up with some suggestions.
The Data
Before we jump into our findings, we thought we'd let you know where the data comes from. Of the thousands of teams running surveys on Polly, we took a look at 38 teams that:
• had switched over from running email-based surveys to surveys with Polly
• volunteered their participation rates with their old tool (primarily made up of Google Forms, SurveyMonkey, and other HR survey products)
NOTE: these companies were running short surveys (between 1-3 questions) on a weekly, biweekly, or monthly basis. We will do similar analyses of longer surveys in a future post.
Example: if a company was seeing 50% participation with their email-based survey tool, and after switching to Polly, they were seeing 60% participation, that would represent a 20% increase in participation.
What did we learn?
For 11% of the companies we observed, we actually saw the response rate drop! Meaning the participation in Slack was lower than by email. That was interesting and unexpected. Many of these teams eventually stopped using our product, and we began to investigate why this happening. We also looked at the companies that were seeing massive improvements in response rates.
As we talked to these companies, we began to see a trend. The teams that were seeing lower responses than their historical averages were using Slack like a traditional instant-messaging client – they'd ping a coworker if someone was late to a meeting, or when they wanted to get someone's attention. In short, Slack was for tapping someone on the shoulder, and email was for real work communication. Here is a breakdown of how the 38 companies categorized their Slack usage: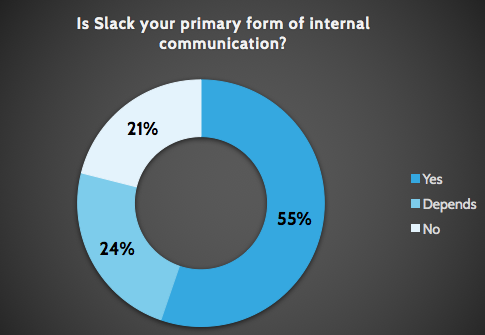 The companies that were seeing increases in response rates were using Slack as their primary form of internal communication. Many of their employees (especially the engineers) would rarely check their email. In some ways, it's obvious – if you notify people where they pay attention, you're more likely to get their attention. For some it's email, for others it's Slack.
Digging into the results a bit further, we noticed that teams were likely to see an even higher response rate if they used Slack for other day-to-day activities. For example, if you use also Slack to handle incoming customer tickets, run remote meetings, or collaborate on document feedback, then you are more likely to get more people to respond to polls you run in Slack.
One of our customers, Grammarly, is a perfect example of this. They were historically using Google Forms, even though many other major aspects of their work took place within Slack. After switching over to Polly, they saw close to a 40% increase in user participation in their weekly all-hands meeting survey.
Why a poll or survey in Slack is easier to complete
We asked the teams that were seeing increases to explain why they thought more employees were participating. After speaking with them, we came up with the following conclusions as to why response rates increase for teams that are fully-immersed in Slack:
1. It reduces context switches – Email-based surveys will almost certainly require you to start in your email and switch over to the web. This additional page load forces the user to wait and re-orient with a new UI. This is a poor experience can cause some users to drop off and/or have a less enjoyable experience with the product.
2. Participating only takes a single click – With email, you first need to incentivize the user to start the survey. This extra click is a point of friction that can cause some users to give up. With Slack, the question is right in front of you, and with your first click, you've completed your response.
3. Sharing with real-time results – In certain cases, authors may choose to share results with users immediately. In Slack, you have the luxury of giving that feedback to the user right away, then allowing them to see the results update as other users add their votes as well.
Takeaways
The first prerequisite to wanting to use Slack to run employee surveys, pulse surveys, or polls is that the entire team must firmly be embedded in Slack. If that is not the case, polling in Slack can be useful for casual, fun, and quick questions. But if your team is a Slack shop, there is no reason to be using email or web-based surveys.
While the sample set of 38 teams is not that large, the data is clear: if you use Slack heavily, you are likely to see an increase in participation on short employee polls and surveys once you switch to running them in Slack. And the wins don't just come with increased participation - they come with a familiar interface, less distraction, and a more pleasant experience answering survey questions.