With the new year comes lots of new and exciting changes to the Polly product! We've been working hard in 2017 to bring forth the necessary improvements to existing functionality and entirely new features that all have the common goal to help you be even more productive and efficient in 2018.
You'll now be armed with all the right tools at your disposal to help drive higher workplace productivity and actionable insights derived from your everyday workflows happening in Slack. If you're not already initiating some of your simple, everyday workflows in Slack – now's the time to do so.
Instead of having all of your asynchronous workflows live in isolation, they can live in a shared collaborative space where all your best work happens. The future of workplace collaboration is looking more and more distributed and remote – which means that the tools we use everyday are being optimized for dispersed teams. This puts less of an emphasis on constant in-person meetings, and more emphasis on how to move key interactions into open and centralized spaces such as Slack where the distance between team members feel practically invisible.
We've handpicked five workflows you should be measuring in 2018 that are either used often by our customers, we use ourselves, or see customers use to gain insight into their organizational health.
P.S. Already ready to start using Slack to incorporate some of these time-saving and actionable workflows? Here's a special $100 credit towards a new workspace so your team can be on its way to a successful and productive 2018.
Automate and keep track of your daily check-ins and syncs with recurring polls
Quick, daily check-ins with your immediate team is critical to understanding the progress made on certain projects and initiatives. The traditional method of holding a 15 minute stand-up meeting, while important, isn't always the most practical method or the absolute best way – especially for remote teams, fast growing team. It's easy for standups to become long and cumbersome, and for some people, even as short as 15 minutes, they can become a big disruption in their productivity.
If your current stand-up method isn't working quite as well, a recurring survey delivered at your usual daily sync time could be the answer. While it takes away from being able to see remote workers day-to-day, it can eliminate some of the hassles of getting everyone together on time.
By automatically posting the daily responses publicly, each person doesn't have to miss out on keeping up-to-date with what their coworker is working on. More importantly, you can track these responses over time – you have essentially a written record of your team's progress and can easily point to a prior response for future reference.
At Polly, our own internal team uses a daily recurring survey in place of our stand-ups all the time. The most common questions we've seen (and have used ourselves) for daily syncs are:
What have you accomplished yesterday?
What are you working on today?
Are you blocked by anything?
These three questions are simple to initiate in Slack, faster to complete, and you still get the most pertinent information from your entire team without having to pause your other important work for more than 20 seconds.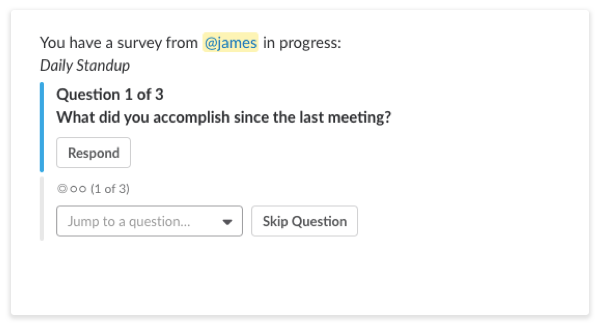 Have a more focused 1-on-1 meeting with your supervisor by initiating recurring meeting prep
One-on-one meetings have become an important part of company culture and employee engagement in recent years. But that doesn't necessarily mean that there aren't improvements to be made for a more efficient and effective one-on-one meeting with your supervisor.
Sometimes having a little structure to what's supposed to be an open time to discuss anything isn't always the worst thing in the world. It enables the manager to focus the discussion a little bit more when you meet, and it also enables the employee to cherry pick the topics they feel are most important for discussion.
You can choose to jot areas of discussion down on a piece of paper, keep a mental list, or just simply wing it – which does work, but it's not always for everyone. To get into the habit of having more focused 1-on-1 meetings, you can set up a recurring poll (either as the manager or employee!) with a single, open-ended question that asks what topics you'd like to go over before the next meeting.
That way, you can point back to the poll as a refresher during your meeting, or in future meetings if you can't quite remember what you had talked about last month.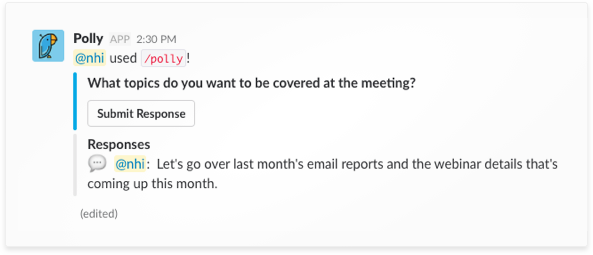 Get a better sense of the effectiveness of your training programs by encouraging quick & anonymous feedback
Do you invest in your team's career development by having them do routine job/skill training or join in on learning sessions to keep them up-to-date on current trends? Then good on you! As the person initiating these programs, it's equally important to understand whether they're effective or not.
Something even as simple as implementing a routine feedback loop for all your training programs makes it that much easier to continuously improve them and make sure that your team is getting the most value out of them.
Collecting candid verbal feedback is great, but can be harder to keep record of if it's not stored anywhere that you can easily search at any given time.
If you already know your next training session ahead of time, you can set up scheduled surveys to run shortly after the conclusion of the training session while memory is still fresh. Enabling open-ended questions and anonymizing results ensures open and honest feedback – plus, completion time is cut in half since it will deliver it directly to your team in Slack.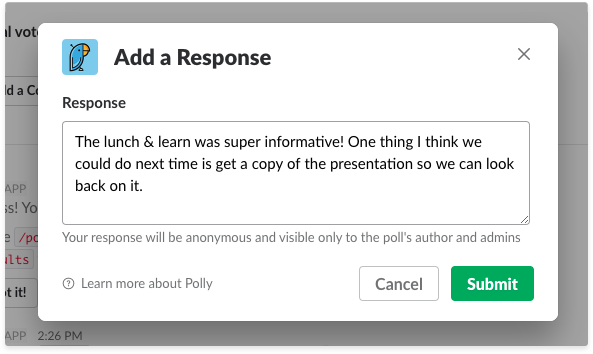 Dig deep into how your bi-weekly sprints went by driving the right habits with a recurring retrospective survey
Continuous improvement is the main driving force behind having frequent sprints – but how do you measure for improvements without digging into the most recent sprint?
It's commonplace for longer sprints (such as month-long sprints) to come attached with a monthly report, but what's the best practice for weekly (or bi-weekly) sprints? Especially for Product teams, where results sometimes aren't quantifiable like marketing teams.
Drive the habit of giving honest, and open feedback about how the most recent sprint went with an anonymous survey – this enables you to measure from other perspectives on what went well, what didn't go well, and what the areas of improvement are for next time.
By being proactive about improving the quality of sprint planning, the execution gets incrementally better over time. You have real, actionable feedback right in front of you to drive the changes needed for a better execution, and practically takes zero effort to set up.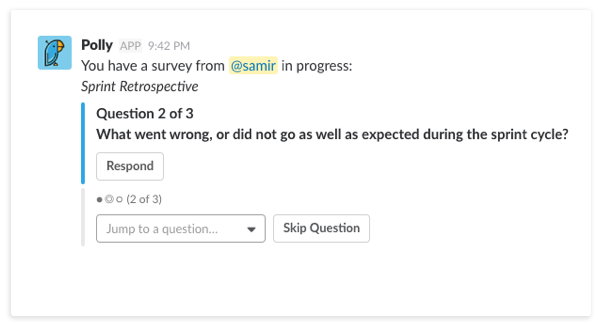 Get a quick pulse of your team's sentiment at work with a daily team health poll
It might sound simple, but asking your team how they're feeling at the beginning of every day can have tremendous results on your team health. It's an easy and automated way to check in and see how they're doing, but it also reassures your team that you truly care about their well-being. Because as we know, engaged employees mean that they're more productive.
The team here at Polly, we've adopted this shortly after we've heard some of our own customers use this to measure and maintain the health of their team. It's just a short, simple poll delivered every morning during the workday that asks how they're feeling that morning – options are of your choice that fits your team best, but we love using emojis to express our sentiments.
Pulse surveys are great if you want actionable and qualitative feedback, but daily recurring health polls are the easiest way to see if your HR initiatives are on track and keeping your team happy.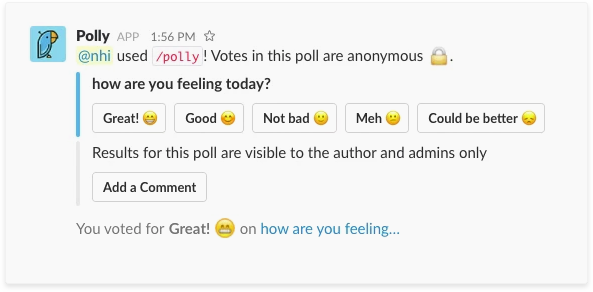 Why does it matter to measure these workflows in Slack?
There's an unlimited number of workflows you can create with Polly, and isn't necessarily limited to what you can do within just your organization. You can initiate these same simple processes with external teams – your outsourced agencies, your investors, and more. Slack's shared channels enables you to work directly with another organization in a shared channel. Or if you want to invite multiple people from a bunch of different organizations (say, your investors), then you can invite them as a multi-channel or a single-channel guest.
As your team move all your processes and workflows into Slack where there's less context switching and hindrance to your productivity, why not also create a process around your existing workflows or improve on your existing processes?
Polls, surveys, and templates, while they're a big part of what Polly does – that's not all. They are a means to an end, but measuring enables you to react and adjust. Polly's automated data collection and analysis gives you a better handle on simple workflows that didn't have a process before, weren't ever measured, or were inefficient.
2018 is looking bright and productive, and we're proud to play a part in arming you with the right tools to optimize and measure your workflows in Slack. Measuring your workflows allows endless opportunities to collect both qualitative and quantitive feedback on your initiatives, if there are any room for improvement, and plan for the future. Best of all, these all live in Slack where you already spend all your time, and can serve as a searchable knowledge base if nothing else!
Slack + Polly = a more productive and helpful pair
We're always on a mission to help you do your best work with Polly as your productive teammate. To offer you something in the new year to get you/your team on your way to a successful and productive 2018, we've partnered with Slack to give you a $100 credit towards a new workspace where you can do some of the fancy shmancy features we've talked about. If you're just getting a feel of Slack with the free plan right now – there's never been a better time to unlock all the potential Slack offers you (and save money at the same time!).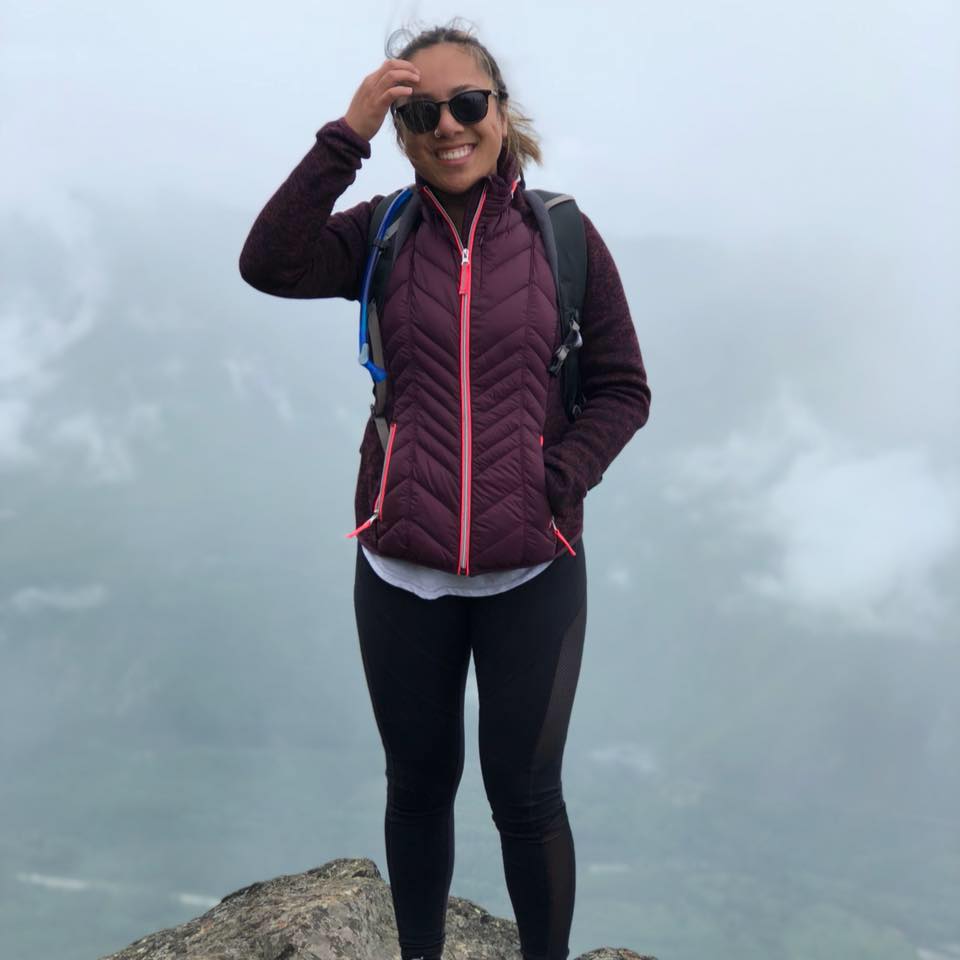 Professional Netflix binge-watcher. Wants to see all of the world.