With Slack's Developer Platform launching Block Kit today, a new design framework that give Slack apps (like us) more visual flexibility and more control over message layout structure, it was a no-brainer that we wanted to utilize these new features to build a more interactive and visually rich Polly experience in Slack.
Today we're launching a new, and de-cluttered authoring experience in Slack, that makes it easier to create quick and simple polls directly in Slack. In addition to a new look and feel, we're introducing the ability to create Image Polls, made possible by Block Kit.
The new authoring experience in Slack is the first of upcoming exciting changes we have planned for a Polly makeover. We can't share too many details yet, but know that Polly is still going to be the same trusty side-kick you know and love, but bigger and better.
New look and feel
While the old authoring format in Slack wasn't broken (if it ain't broke, don't fix it... yada yada yada), it can quickly look cluttered when you want to schedule your poll, or use any of the advanced options (anonymity, etc.).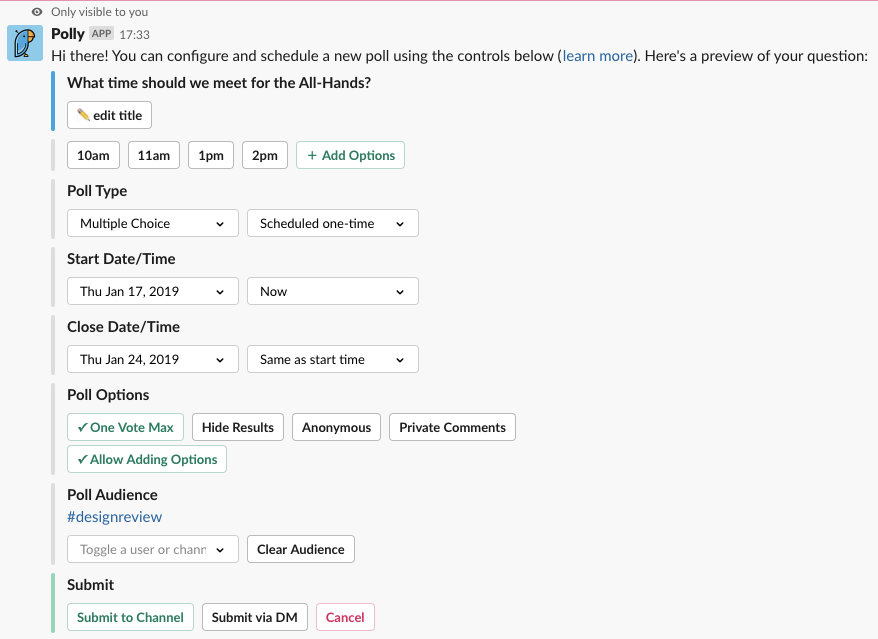 And if you didn't click on Advanced Options, it was really easy to miss that you could do a lot more than just post a simple poll in real-time: you can hide results, allow the audience to add options, multi-vote, and more.

These simple-yet-powerful advanced options were often asked about in support channels, so we knew that we had to do something to make those features more discoverable, without cluttering the authoring experience every time.
We recognized that change, while a good thing, can be initially difficult for users to get used to. With the flexibility and robustness of Block Kit, we landed on a design that still maintains Polly's simplicity, but organized in a more thoughtful manner. Our key goal was to reduce the number of visual elements on the screen at any time, and to minimize the vertical space.
The result is cleaner, and it's much more intuitive when you're authoring a long poll with many options.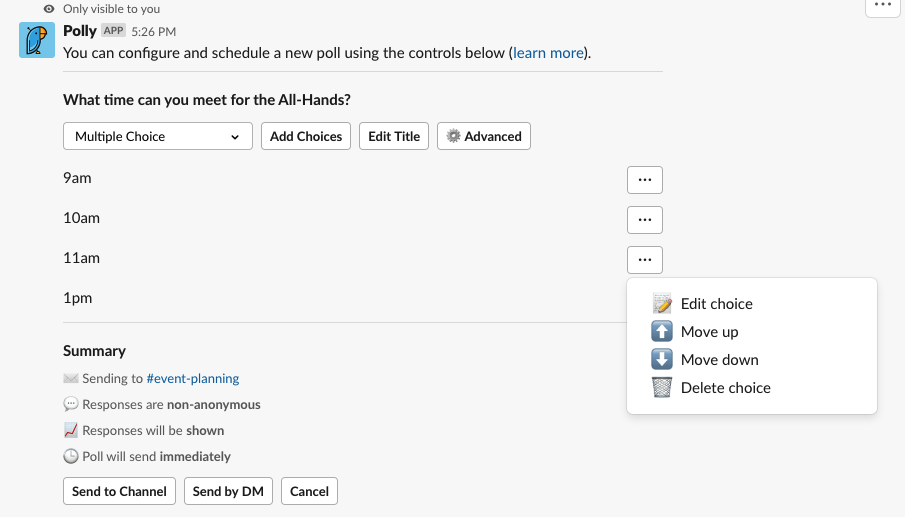 With the new formatting and robust functionality, the overflow menu makes it possible for you to remove options, delete options, or move them around. Instead of having to delete the entire poll and start over again, you can just simply edit them how you please in just a few clicks.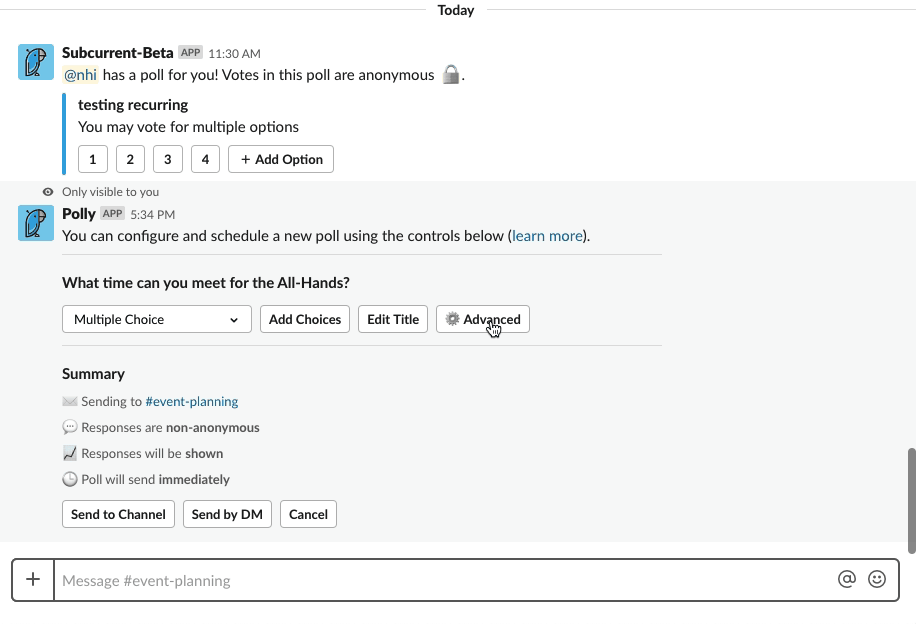 And when you need to use more advanced options, they're discoverable behind Advanced Options button, similar to before, but strategically placed next at the top. We've found that putting the Advanced Options button next to the cancel button caused a lot of our users to completely miss that so we wanted to optimize for maximum discoverability.
In addition to the new overflow menus made possible via Block Kit, we've also made some improvements to how you can schedule your one-time or recurring poll.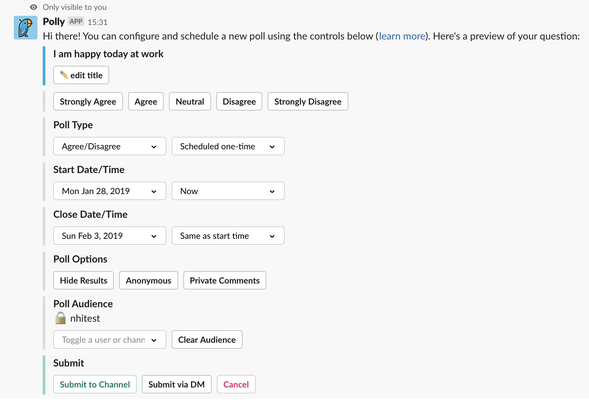 In the old format, you had to choose a date from the message menu drop-down, which meant that you had to scroll a bit if you wanted to pick a date that's further than a week or two out. And you had to do the same for the close date, which we discovered that not too many people were utilizing a different close date outside of the default 7 days.
That said, we decided to remove the option to set a close date in the new format to streamline simple poll creation within Slack. You can still close polls with the command /polly close, but for more advanced options and survey creation, we'd recommend the full experience on our web app.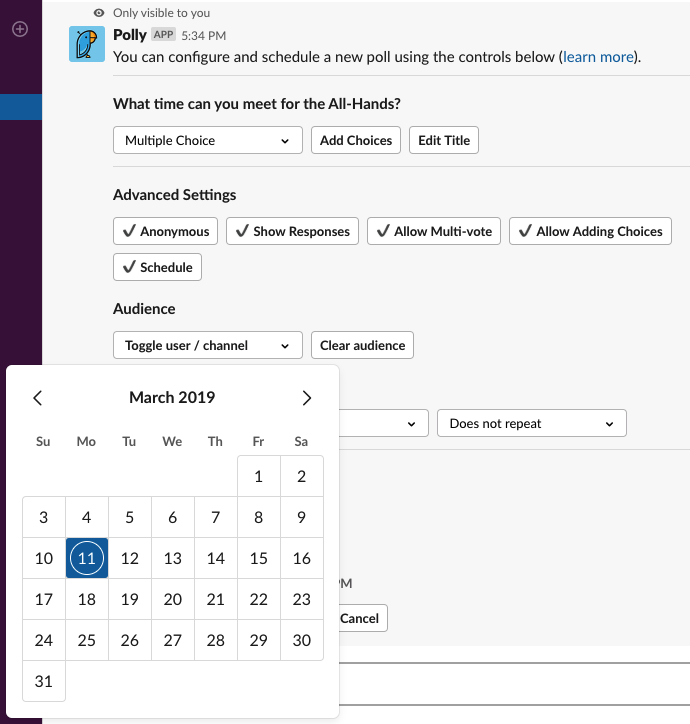 With the new and much more intuitive date picker, you can select a date from the calendar component, and then use the time-picker to define the time you want to schedule your poll. Much like the old authoring experience, you can choose whether this is a one-time scheduled poll, or if it recurs on an ongoing basis.
Before you hit submit, there's a helpful breakdown of how your poll is going to be delivered: what audience it's going to (either channel(s) or users), when it will send (immediately or at a later date), and the frequency of the poll if it is recurring. Once you're all done, you can just hit Send to channel or Send by DM.
Introducing image polls
A picture is worth a thousand words as they say, and it certainly gets the job done faster than a thousand words in a Slack poll.
A highly requested feature since Polly's beginning, was the ability to add images to polls — which allows you to vote and rank designs, determine color palettes, and more. And with Block Kit, we were able to make this dream a reality starting today.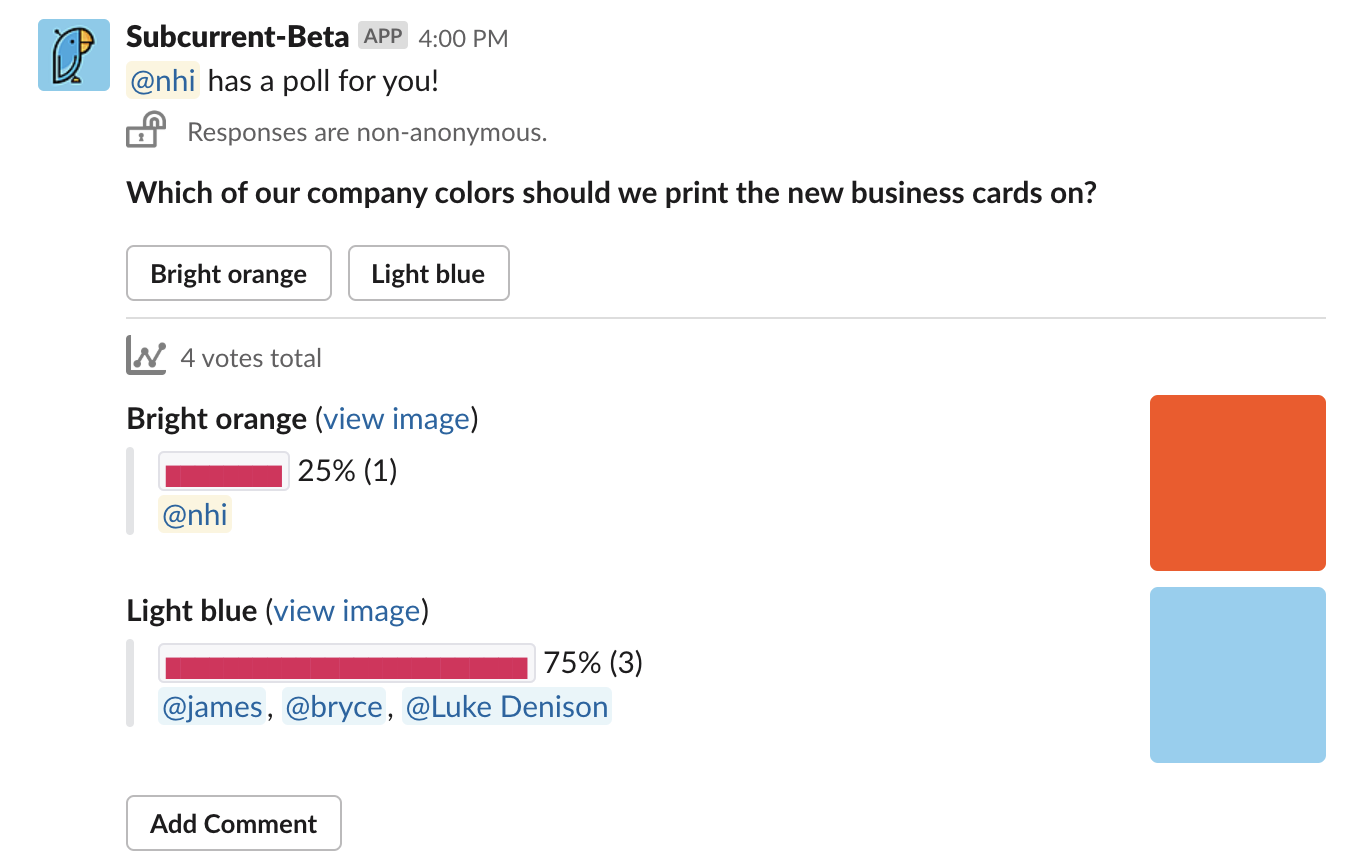 Image polls can help maintain visual context that's hard to accomplish with text descriptions. Posting images in thread, or in the channel beforehand becomes burdensome as it provides more friction for both the author and the audience to have to refer back to the image.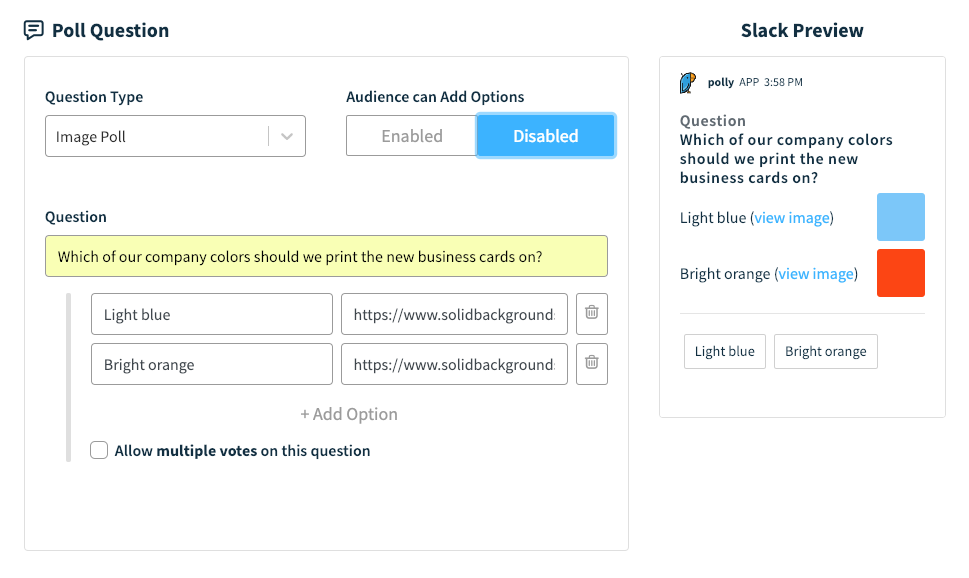 You can create an image poll today from our web authoring experience and selecting Image Poll from the poll drop down. When the poll is posted, the result is a much cleaner interface with an easy one-click to view the image in full size.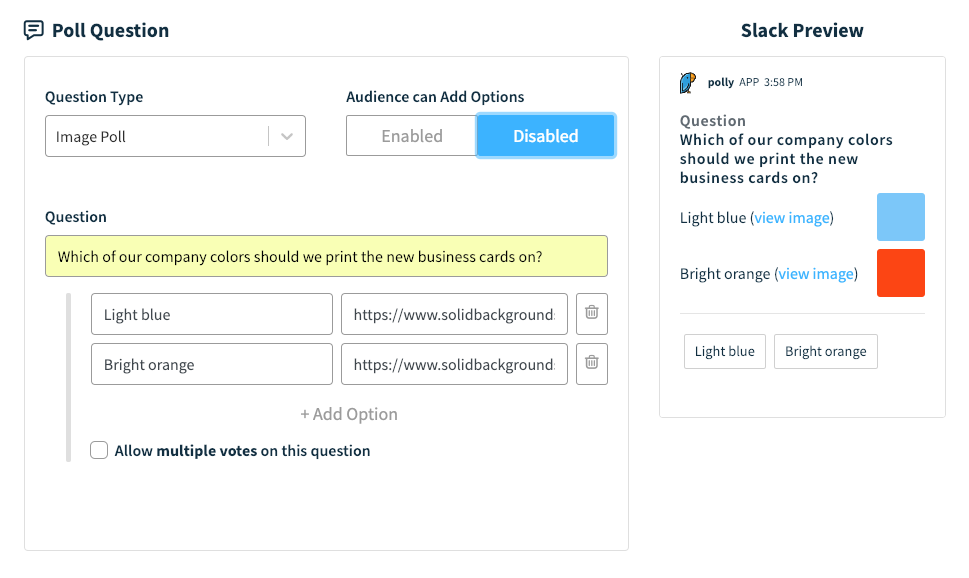 From the results page on the web app, you'll still see the same horizontal bar you know and love, but with a thumbnail of your images.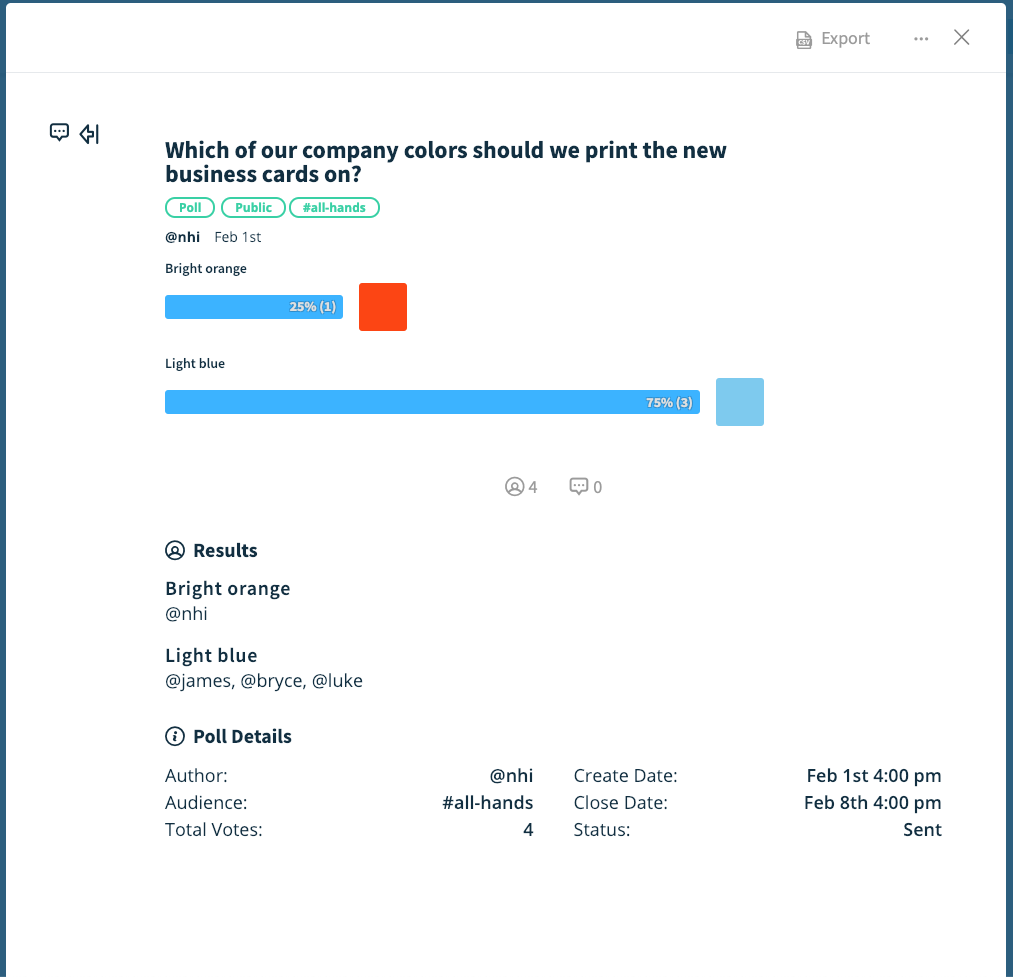 Interested in trying it out? Create your first image poll today, or use the /polly command in Slack to see the new authoring experience. ✨