Introducing data export capabilities
When you're running a large employee engagement survey with an audience of several hundred people with a series of questions you need to analyze, it becomes cumbersome to have to sift through each of the questions and manually enter them into an Excel spreadsheet in order to analyze your results. As teams started moving some of their important survey workflows into Slack with Polly, there suddenly became a large need to be able to export poll or survey data for additional data manipulation or advanced analysis, depending on the team's organizational need.
Whether you wanted to export all of your one-off survey results for an aggregated view, or wanted to analyze your organizational health segmented by departments, or wanted to create your own pivot charts of your recurring survey trends over time, now you can with CSV exports – where you set the limits to what you can uncover with your data.
We realized early on that it wasn't quite enough to be able to do a single, one-off export of a poll – sure, you can look at all respondents' choices in a single spreadsheet view or use it as a layer on top of your other organizational data to create a more holistic view. But on its own, it didn't provide the maximum value we thought our users could have had. We've been quietly developing it in the background for a public launch as we're carefully listening and testing each and every one of your feedback, noting the positives, understanding the pain points, and improving on what we could've done better. This then informed what we needed to build in order to make this a fully robust feature that enabled every user to be able to use for their own need.
As we learned from trialing the feature to roughly 50 beta users, there's a lot of different needs for exports and different types of exports. As an example, some companies needed the raw data so that they can run their own analysis on top of the raw data. Some other companies wanted more human-readable reports that were easy to understand and send off as a stand-alone report. In some instances, we learned that certain unique identifiers were crucial for the user to go off and create their own pivot tables, such as user IDs, a timestamp of votes (so they can see how often people are voting), the poll or survey ID, and so on so forth.
What are the export types available? What can I do with them?
Poll or survey single instance
The type of export you will receive will depend on whether you are exporting a single poll instance, or a single survey instance – either a user-by-user export, or a raw export. Right now, you are unable to toggle whether you want a user-by-user or a raw export, but we send you what makes the most sense for the data you want to export.
If you are exporting results for a single report, you would get a raw export. For a one-off survey, you would get a user-by-user export. In the case of exporting an anonymous poll or survey, usernames would be hidden.
Recurring polls or surveys
You also have the option to export all data for a recurring poll or survey (in the same format as a single instance), or pick and choose which instances that you want. For example, if you have a sprint retrospective survey that sends on a recurring weekly schedule, but you want to look into a specific week's retrospective, then you can choose the specific week(s) or instance(s) that makes the most sense for your needs.
Bulk exports
If you need an export of all of your data, you can do this as well with a bulk export. We would actually recommend doing this if you're currently on a free trial, because you will eventually lose access to your historical results after 45 days. Additionally, you can combine different polls or surveys in the same file – as an example, you can export your HR surveys and your lunch polls in one single file.
Filter by date range
You can also do a bulk export within a given range of dates – instead of combining multiple polls, surveys, or recurring tracks for a bulk export, you can choose a from and to date for your export. This will export everything that was sent between the beginning and end date of your export.
This can be particularly useful to analyze how quickly your team responds or participates in your polls and surveys in a given month, or compare one month's performance to a previous month's performance.
How does exporting work?
You can initiate exporting results in one of four ways:
From the specific poll details page on the Polly web app
/polly export command in Slack
The exports page on the Polly web app
Export subscriptions
Any of the four ways above will behave similarly, although there are some limitations to each way.
Poll details page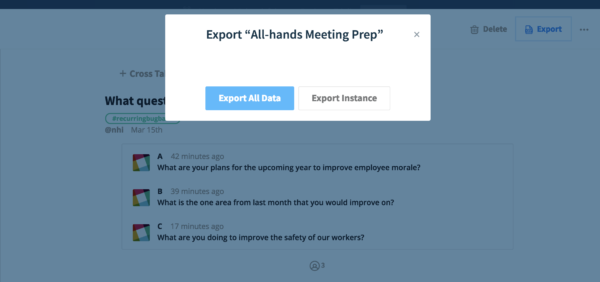 From the specific poll details page, you can export that specific one-off poll or survey instance, or if it's a recurring survey or poll, you can pick and choose the instance(s) or date range you'd like to export your data. Additionally, you can just bulk export the entire thing if it's a recurring poll or survey track. You would have to navigate to other polls if you want their results as well, but it will be a separate file – therefore, you cannot do a bulk export of multiple polls and surveys from the poll details page.
/polly export command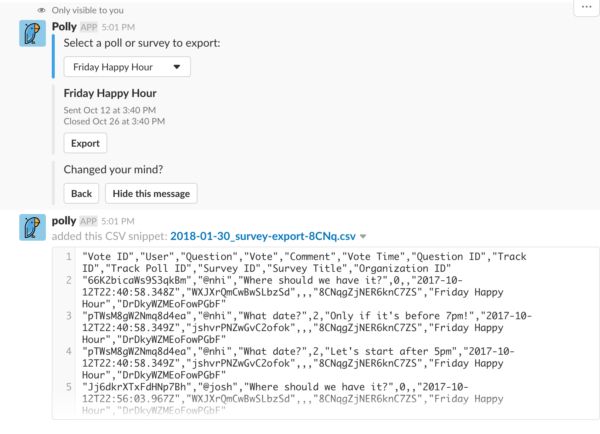 You can do every type of export with the /polly export command in Slack – without having to go to the web. This includes bulk exports (including everything, by date, or poll/survey combinations), recurring poll/survey tracks, or one-off instances for any poll or survey.
Exports page
On your web-app dashboard, there is a specific exports page on your left-hand sidebar. It not only serves as an archive for all of your past exports, but you can also initiate exports from that page as well. There's no limitation to the types of exports you can do from this page, similarly to the /polly export command.
This page can be particularly handy if you need to re-download an export that you've already done in the past – every export, whether initiated on the web or in Slack, will live in this archive at your disposal.
Export subscriptions
Instead of having to manually run exports when there's an immediate need for it, you can automate this process by subscribing to receive a specific export on a recurring basis. For example, if you have a monthly HR survey that goes out, instead of having to export the data every month, you can set up an export subscription so that you will receive the export directly to you in Slack every month, a week after the HR survey runs.
You can have as many export subscriptions as you want, and it's particularly really useful if you know what type of export you need for your recurring polls or surveys. The one limitation to export subscriptions is that you currently cannot set these up yourself – if you'd like to subscribe to a set of exports, you'll have to reach out to the Polly team in order to get that going.
---
Note: Simple CSV exports (one-off polls) are available for all Polly teams on a paid plan, but advanced exports (track, survey, global) are available for only Business or Enterprise tiers. To learn more/upgrade, visit our plans and pricing page.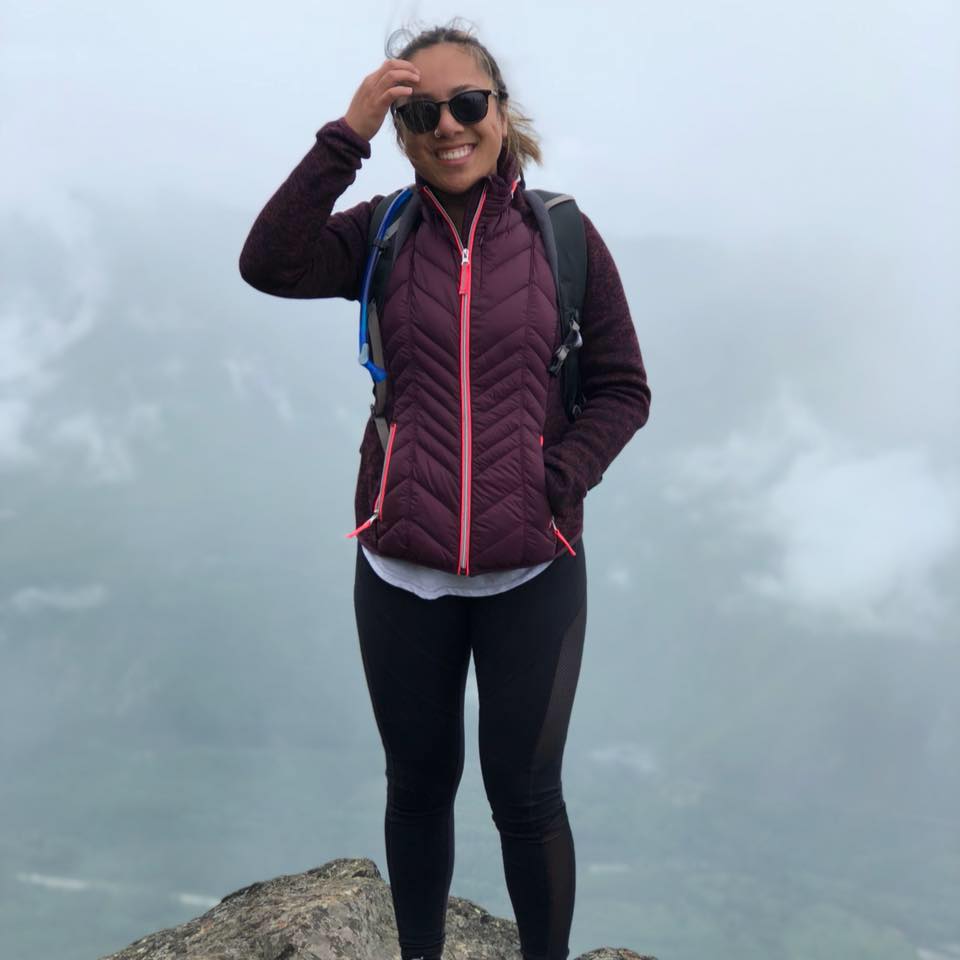 Professional Netflix binge-watcher. Wants to see all of the world.