Company
Mphasis Stelligent is a technology services company that provides DevOps Automation in the Amazon Web Services (AWS) cloud, and has been providing Continuous Integration/Continuous Delivery Solutions since 2009.
The company aims to achieve a "one-click deployment" for all of their clients — so that their customers gain the ability to continuously deploy their software, when they want to, and with confidence.
The Challenge
Managing people isn't always the easiest task — not only are you responsible for making sure your team is productive, it's just as important to make sure that they are happy and feel fulfilled at work.
The VP of Engineering and Delivery at Mphasis Stelligent, Casey Lee, manages 50+ remote engineers under him. And while Mphasis Stelligent prides themselves on having a great company culture, he wanted to actually be able to measure exactly how his team of engineers are feeling.
As Lee mentions, "we think we have a great culture — but we haven't formally measured in a way that was actionable until now."
In order to maintain the same culture that values feedback, continuous improvement and sharing, Lee found it necessary to employ a tool that is able to capture his team's sentiment.
And because all Mphasis Stelligent employees work remotely, they live and breathe Slack — Slack is their main tool of communication, so they needed a tool that works seamlessly in Slack.
The Solution
Lee had explored other alternatives to Polly during his research, but what he wanted most was a simple tool had a native Slack experience — and this is where Polly comes in.
Once a month, Polly polls each engineer on Lee's team a simple employee Net Promoter Score (eNPS) question: "I would recommend Mphasis Stelligent as a great place to work to my friends/family".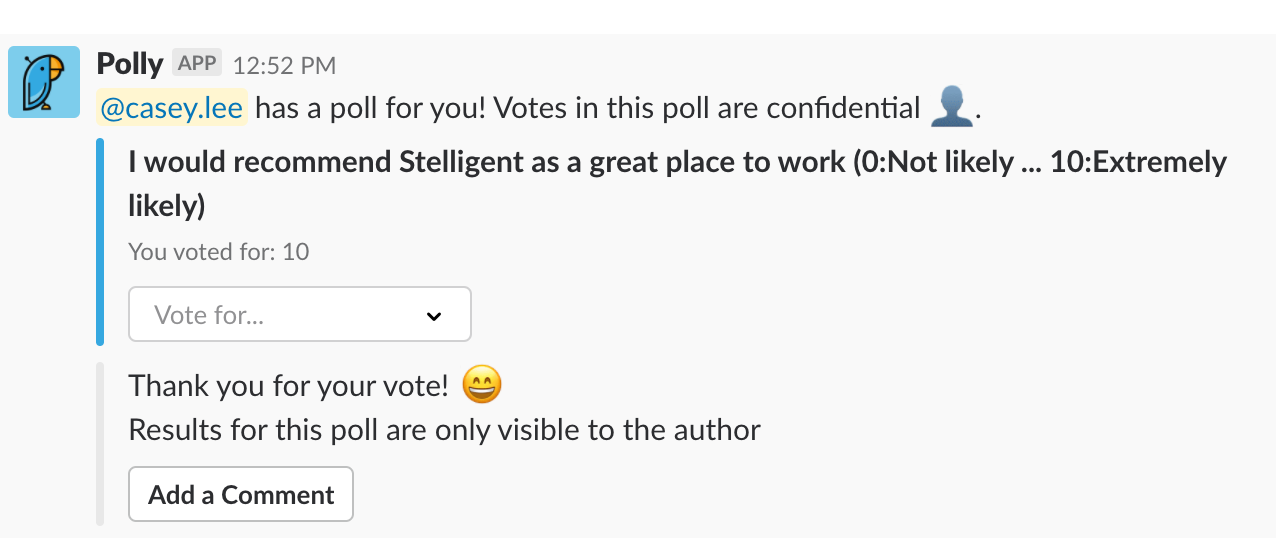 On top of the monthly eNPS poll, Lee also conducts a longer, more serious engagement survey that consists of about 16 questions that goes out to his team roughly twice a year.
Since introduction to the rest of the Mphasis Stelligent team, Polly usage has grown organically throughout the organization. "Although the focus for us right now has been initially the eNPS and the engagement survey, I've seen colleagues of mine use Polly for more fun, one-off surveys" Lee adds.
With the monthly eNPS poll that goes out to his team of 50 engineers, they were initially all made anonymous but then changed to confidential, so he could apply demographic data to make his results more meaningful.
The Result
Within the three months of implementing Polly for eNPS, Lee has been able to see really positive results so far. "We are passionate about continuous improvement and Polly provides the perfect solution to painlessly survey our engineers from right within Slack. The engineers loved how easy it is, and there's absolutely no friction. They're able to vote in the eNPS poll every month in as little as two seconds — it just works."
He adds, "Since adopting Polly, we are near 100% response rate and we're able to easily track our eNPS scores over time."
Beyond just high participation, Lee has seen the positive impact that it's had on his team, and credit much of the findings to the demographic data that he applies to the surveys. With the demographic data, he includes information such as tenure, business function, role, and such.
"Based on the demographic data, we've actually been able to figure out which group had the lowest scores, and we used this information as a baseline to harvest additional feedback in our 1:1s with the specific group of engineers that fit into this demographic."
Polly has made it really simple and effective for Lee to see how his eNPS poll is trending month over month, and the areas where he could improve with his own team.
By taking all this feedback to heart and after making changes according to the feedback he's received from his engineers, Lee has seen "a huge increase in his NPS — it's gone up about 15% just in the last several months and I'm really proud of that."
To foster the same culture of open communication and transparency at Mphasis Stelligent, Lee puts together a report to share back internally with his entire team every month: both the score results and anonymous comments, and how the current month compares to previous months. This level of transparency gives his team a sense of ownership in maintaining the open Mphasis Stelligent culture, and for that, Casey is really pleased with how Polly has helped shape it.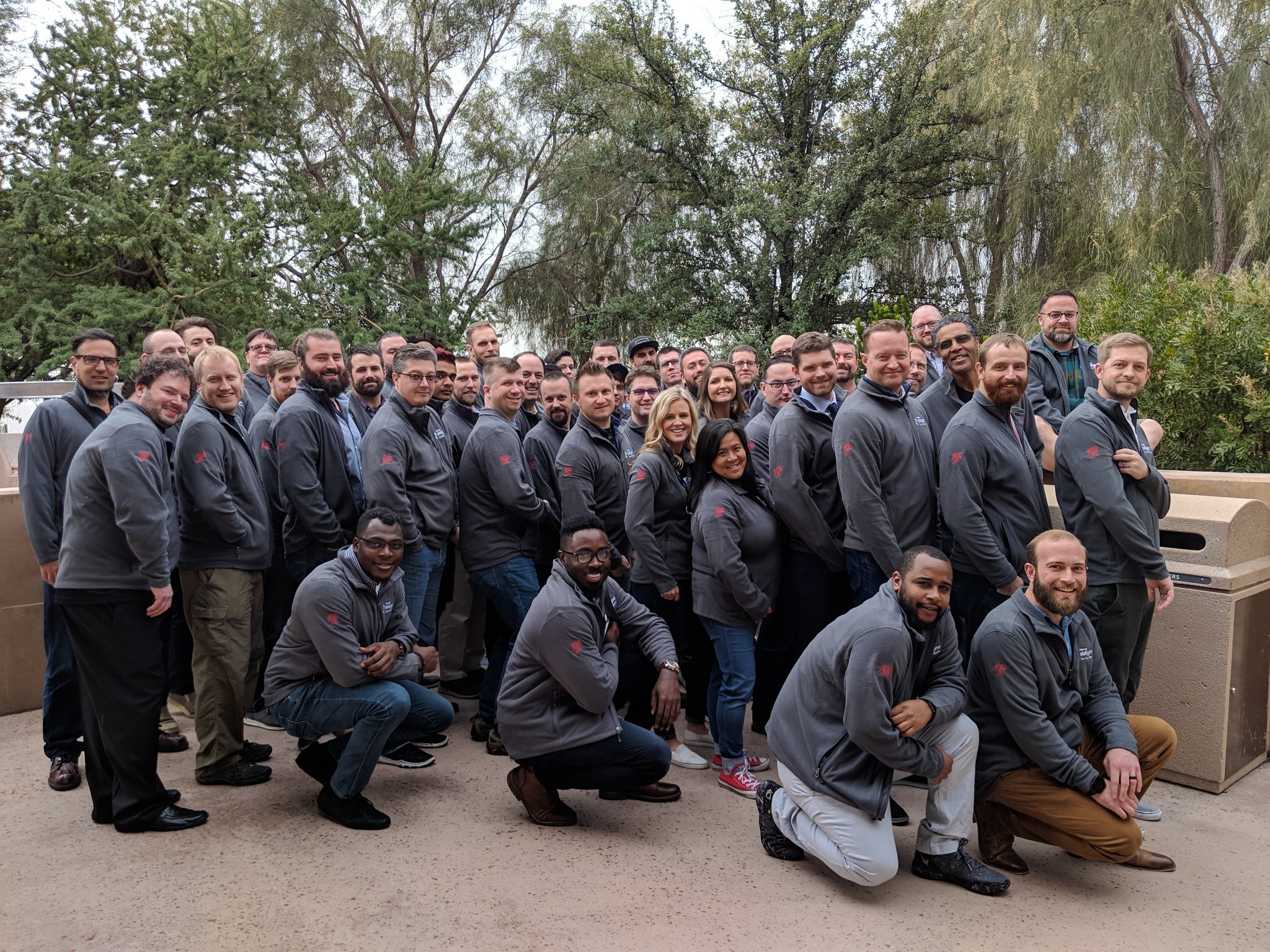 © copyright Stelligent Systems LLC & Subcurrent Inc