Company
With nearly 30 years in civil litigation, Practico's team of costs lawyers provides costs consultancy services to leading law firms.
Under the English legal system, the losing party is usually ordered to pay the winner's legal costs. Practico leads its industry in supporting court-mandated costs management and assessment. Their niche is in resolving costs issues arising from complex and high-value cases.
Practico migrated to an entirely cloud-based IT infrastructure five years ago and is embracing new products like Microsoft Teams to work collaboratively and manage client matters.
Employees


15+ employees

Industry


Costs litigation, English law jurisdiction

Customer Since


January 2020

Polly Polls and Surveys


50+ polls
The challenge
As a progressive firm, Practico leads its industry in leveraging modern technology to get work done and collaborate with team members. The majority of the firm's employees worked in the same London office so decision-making processes were, until recently, optimized for the physical office environment.
Keeping with the current global shift to remote work, Practico had already adopted Microsoft Teams integrated with Planner for team communication and collaboration months before the COVID-19 pandemic swept the globe.
"Prior to the entire firm working from home, many of us already worked remotely on an occasional basis, but we didn't have a great way to connect with the dispersed teammates consistently," Andy Ellis, Practico's Managing Director recalls.
"We used the classic mishmash of a regular operational meeting once a week where everyone in the office would be in it, and everyone not in the office would join by telephone."
The weekly ops meetings would take about 45 minutes to an hour, but it was too easy for the entire team to get sidetracked or discuss other items that, although important, were not relevant to the entire group.
Once the entire firm decamped to home, Ellis quickly realized they needed a solution that enabled them to make quick decisions online while checking in with everyone in a way that was more efficient and productive.
The solution
Initially the Practico firm adopted Polly for Microsoft Teams. This was introduced by testing with some light-hearted polling. "One of the first polls I sent to my team asked: ~Who do you think is going to be the last person to adopt Microsoft Teams? And I set all four options as the same person," Ellis says with a chuckle.
"Since we shifted to remote work, we've used AgilePolly every day as a quick and effective way to check in with teammates. With Polly, we're able to round up more responses than we would have been able to in our previous office environment" Ellis said in reference to AgilePolly's adoption in the last few weeks.
"It was much easier to use Polly to check status and identify any pinch points rather than tag or message everyone individually to try and work it out."
Practico replaced their weekly operational meeting with a daily standup, Monday through Friday.
Because they're not a typical product or project-based team, their take on asynchronous check-ins varies a bit from the typical standup.
Here are the questions tailored to their business that they ask among the teammates to get a quick pulse on the work everyone is doing:
Are there any key operational concerns today or any enquiries to follow up?

When will you expect to need new work?

Are there any issues blocking your progress?
"The daily standup is already significantly more structured than our previous ops meeting. Rather than try to shuffle everyone together for a long meeting once a week, it became an effortless part of everyone's daily routine to update the team on what they were up to," he concludes.
The result
Almost immediately, Ellis saw a dramatic improvement in the team's productivity around status reports and follow-up communications, particularly when it came to the daily standup.
In terms of participation, "we were able to get 100% engagement from everyone, every single day - which is not something that was easy to accomplish in our old ops meeting. It has left us time for informal group social video calls twice a week in which the one rule is that we don't talk about work. That is incredibly valuable in the current crisis and really helps to reinforce our collective human bond."
Ellis continued, "We used to take up an hour of each colleague's week wrapped up in one meeting, doubtless supplemented with numerous ad hoc requests. Contrast this with, at most, 15 minutes across their entire week spent delivering crisp daily updates."
"Even after the pandemic subsides, and we go back to occupying the physical office, I predict that a permanent bias towards flexible working and a healthy appetite for smart productivity tools will have modified our DNA. We will definitely continue using AgilePolly for daily check-ins. It's just provided so much more visibility on where we are each day."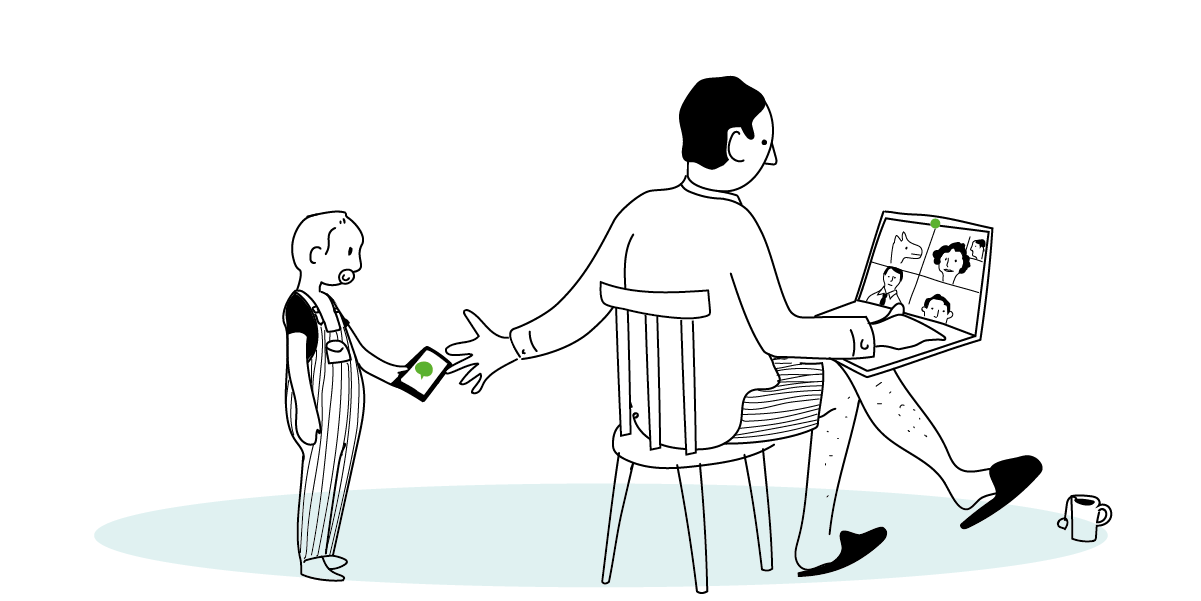 Practico had some bespoke artwork done to shed some humor on the realities of adjusting to extended remote work.
Check out the Practico team and their work at:
Website: www.practico.co.uk