Why use Polly for your HR survey initiatives?
Unparalleled participation rates, built with the Slack experience in mind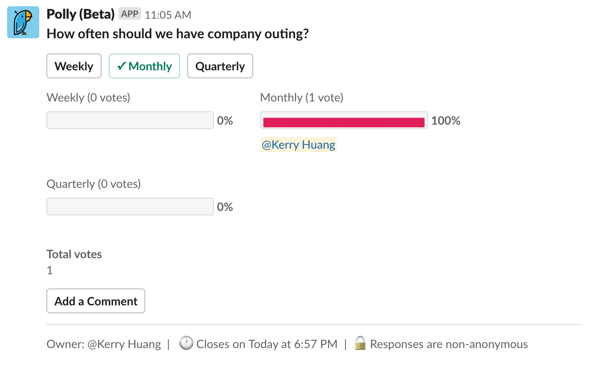 Your team already lives in Slack – you communicate with one another, share files, coordinate plans, and more – so why not bring polls and surveys into Slack where your team is most productive?
Polly mimics the same look and feel of Slack that we all know and love. With the same native Slack experience for polls and surveys, our users typically see a much higher participation and faster response rate than traditional web or email-based surveys.
By moving your HR survey workflows over to Slack, you're capturing your audience where they're already attentive – there is no friction or interruption in their workflow to go complete a survey elsewhere. Some users have reported to us seeing a 100% increase in participation, and the responses can be more qualitative as well.
Survey templates backed by experts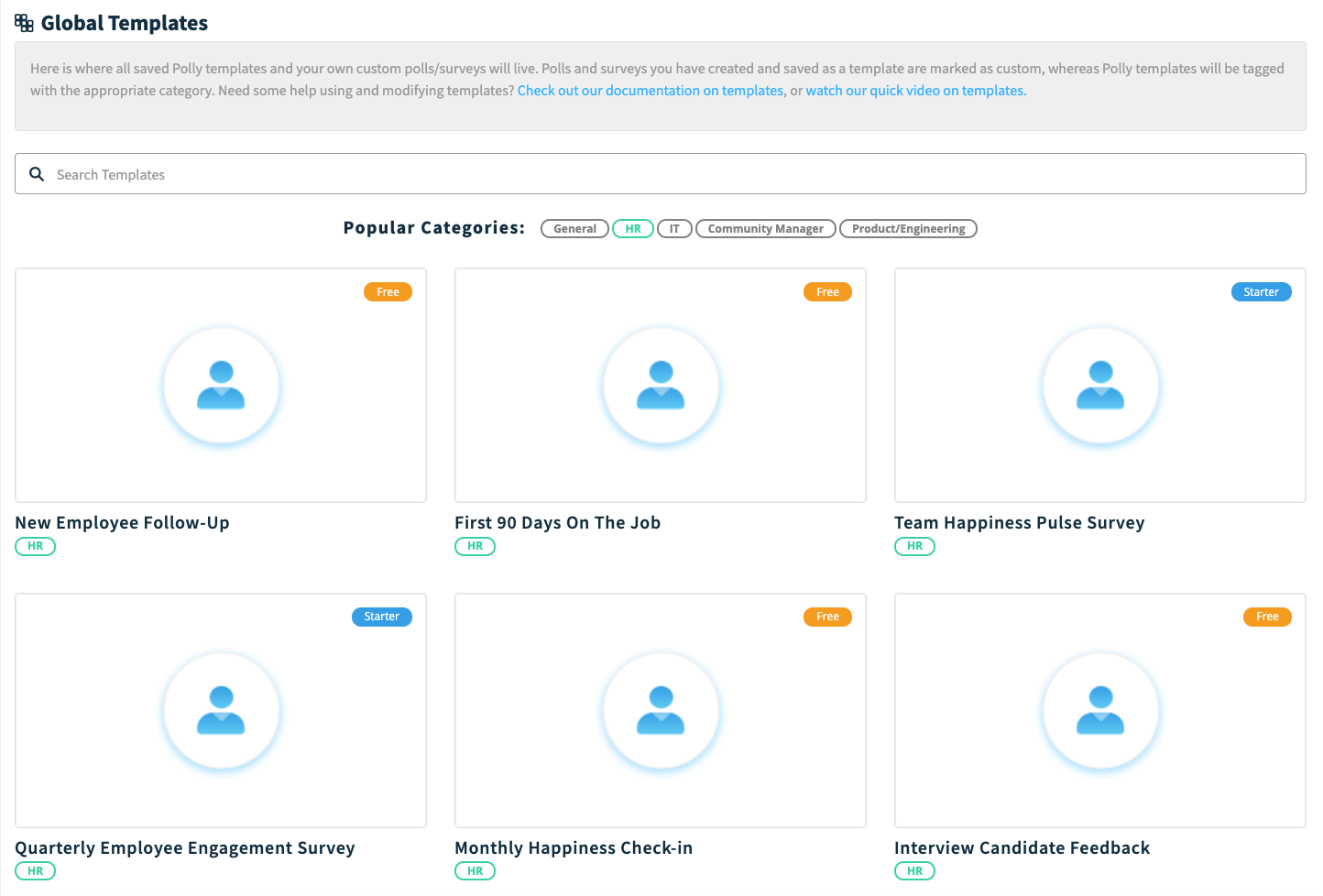 We've curated the best-in-class questions for employee engagement surveys that are backed by research and science to come up with a comprehensive list of questions you can easily rotate through for actionable and measurable results.
By using one of our templates, you also get access to a global benchmark of all the other organizations that have also used the same template so you can compare how your company fares in your employee engagement initiatives to the ecosystem of other companies.
We've included some of the most common survey templates for your convenience that centers around the entire employee lifecycle – from the interview process to new hire onboarding, to new employee follow-up, to employee pulse surveys, to longer employee engagement surveys, and more.
All Polly templates are highly customizable to your company's needs. You can change out the questions to fit your criteria, elect to have all questions delivered at once or rotating, elect to show or hide results, give the option to add additional comments, select certain questions to be required, and more.
Streamline all of your HR workflows with Polly
Polly makes it easy to let your survey workflows run on autopilot while you can go off and focus on what matters most. Instead of having to go create the same quarterly Employee Engagement survey at the end of each quarter, you can create the survey just once, and set it up to recur on a quarterly (or on a cadence of your choice) basis.
You can also shave time off spent reminding your team to complete the survey by setting up automatic recurring reminders. Polly reminders behave similarly to Slack reminders – they strike the right balance of not creating too much noise or friction (unlike traditional email-based reminders for 3rd part HR survey tools) but also being prominent enough that your survey receives the attention it deserves.
Additionally, automated exports can be delivered right to you in Slack on a recurring schedule – all it takes is to set up a recurring export subscription. This is ideal for frequent recurring polls or surveys that you might want to get monthly exports for, without having to go through the work of actually doing the export yourself.
There's a common theme among all these different methods of streamlining your HR workflows: recurrence. We like to help make your work life a little bit more productive and hands-free however we can – so by setting up some of your HR workflows to run automatically from start to finish, means that you have more time to do better work.
What you can do with Polly
Simplify candidate interview process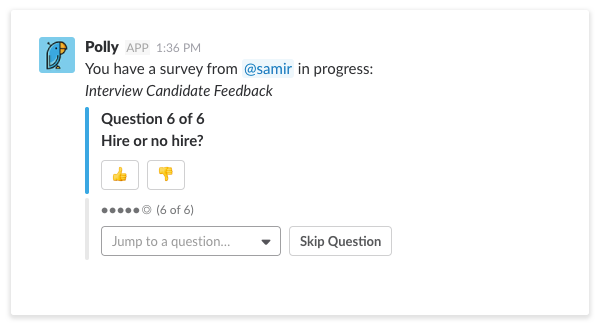 At Polly, we've nailed down the candidate interview process using our own tool and we've found that we've hired better, more qualified people, in less time, and with less productivity time lost.
By bringing the interview feedback and approval part of the hiring process into Slack, it has made our process much more efficient and standardized.
For your own team, create a #interview-john-smith channel (or something similar) with everyone that's directly involved: the hiring manager, recruiter, and anyone else conducting the interview.
Then try setting up an interview candidate feedback survey in Slack for every stage of the hiring process, with a few simple questions soliciting anonymous feedback about the candidate and concluding with a final yes/no question in order to move onto the next stage.
By facilitating this same feedback collection process for every interviewee, it not only speeds up the hiring timeline, but also eliminates groupthink bias when collecting candid feedback in person, or through an email thread. Not to mention, you have an archive of all of your candidate interview feedback results so it never gets lost in your inbox.
Manage new hire onboarding – all within Slack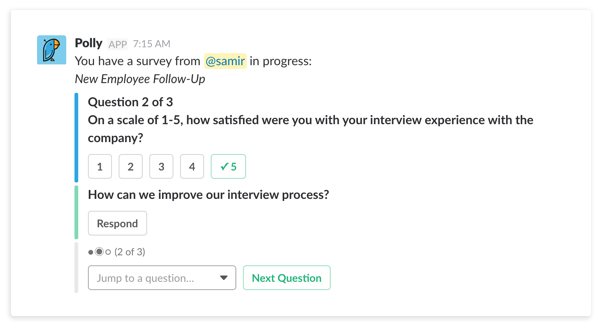 Once a candidate has accepted an offer, there are seemingly endless on-boarding tasks to go through to make sure that they're appropriately ramped up for their job. This includes (but isn't limited to) getting all the appropriate papers signed and documented, going through orientation, getting trained on the job, and much more.
We encourage you to create a #new-hire channel (if you haven't already) where all of your new hires will get added to once they've joined the company. Designate the channel as a hub where you can quickly find information or appropriate documents when in a pinch, such as PTO approval and sick day policies.
And since all your new hires join this channel upon joining the company, it's a great place to send a private survey to each new hire to collect feedback on how things are going, either at the end of the first day, first week or after several weeks – whatever makes the most sense to your team's new hire process.
Collecting this feedback about their onboarding experience (from the interview all the way to the training and support available) gives you critical insights to continuously improve the whole process, without ever having to leave Slack.
Foster higher employee engagement with pulse surveys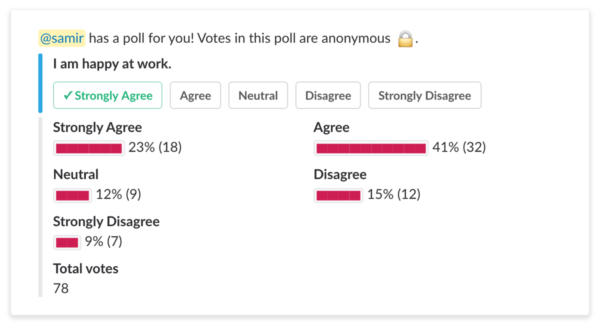 Employee engagement surveys used to be a tedious process and traditionally only happened once a year. Annual surveys work fine for some organizations and it may be the preferred method, but it's not always the most accurate representation of your team because it's done so infrequently.
Pulse surveys have been increasingly popular nowadays because they take less time and effort to complete on the respondent's end. Having a lighter, more frequent pulse survey gives you a clear snapshot of your employee engagement at any given time.
Create your own employee engagement pulse survey or just use our own team happiness pulse survey – and you can swap out any of the questions with your own.
Instead of having to create the same quick, survey every time – try setting up a longer survey but elect to rotate through the questions every time the survey is delivered on a recurring cadence of your choice. By choosing rotating questions, your team will get a different, single question every time.
Having a better understanding of how your team stands every week opens up opportunities to improve your employee engagement initiatives, and because the surveys are so quick and lightweight, you get better participation rates as well.
Hype up your team with recurring employee recognition polls

Establishing a positive company culture is important for highly engaged and loyal employees – and what better way to highlight your awesome team members than a lightweight employee recognition recurring poll?
Recognizing your team for the good work they do goes a long way in making your team feel more appreciated and valued at work.
There are a few different ways you go about doing it in a manner that makes everyone feel included and appreciated – here's one we use Polly ourselves to make our small but mighty team feel good.
Once a week (we like Fridays!) we send out an anonymous and open-ended poll with public responses enabled, asking our team to submit a response celebrating a team member's win for the week – big or small! This way, everyone gets a little bit of love at the end of the week to end on a good note.
With open-ended polls, you can submit as many responses as possible, so you can celebrate every member of your team if you wanted to. Public responses help others on your team recognize all the good work your entire team has done over the week.
As a result of these weekly accomplishment highlights, it not only makes us aware of what everyone else has done, but it cultivates a culture of consistently celebrating and recognizing good work. Employee recognition goes beyond just feeling good – it plays a huge role in employee engagement, retention, and even boosts employee morale.
Digging into your data for actionable insights made simple
As an HR professional, being able to drill down into your organizational metrics is a huge part of your job – you want to uncover insights and trends across various attributes, such as department, salary level, seniority level, and the likes.
Tying pertinent survey results back to demographic attributes mentioned helps you measure the things that you normally wouldn't be able to see from a high-level overview of your poll data.
Upload a CSV of your employee demographic data that you already keep a record of, and this information will automatically match up with your team via the email address that your team members have used to sign up for their Slack account.
You won't need to do any work beyond that – once you've uploaded the CSV, you're ready to go. The demographic attributes automatically apply to not only future results, but past results as well.
From there, you can sort and filter your results to uncover the metrics that matter most to you: is one location more engaged versus the other? Does the number of years at the company make a difference in happiness? How do the middle managers stack against each other?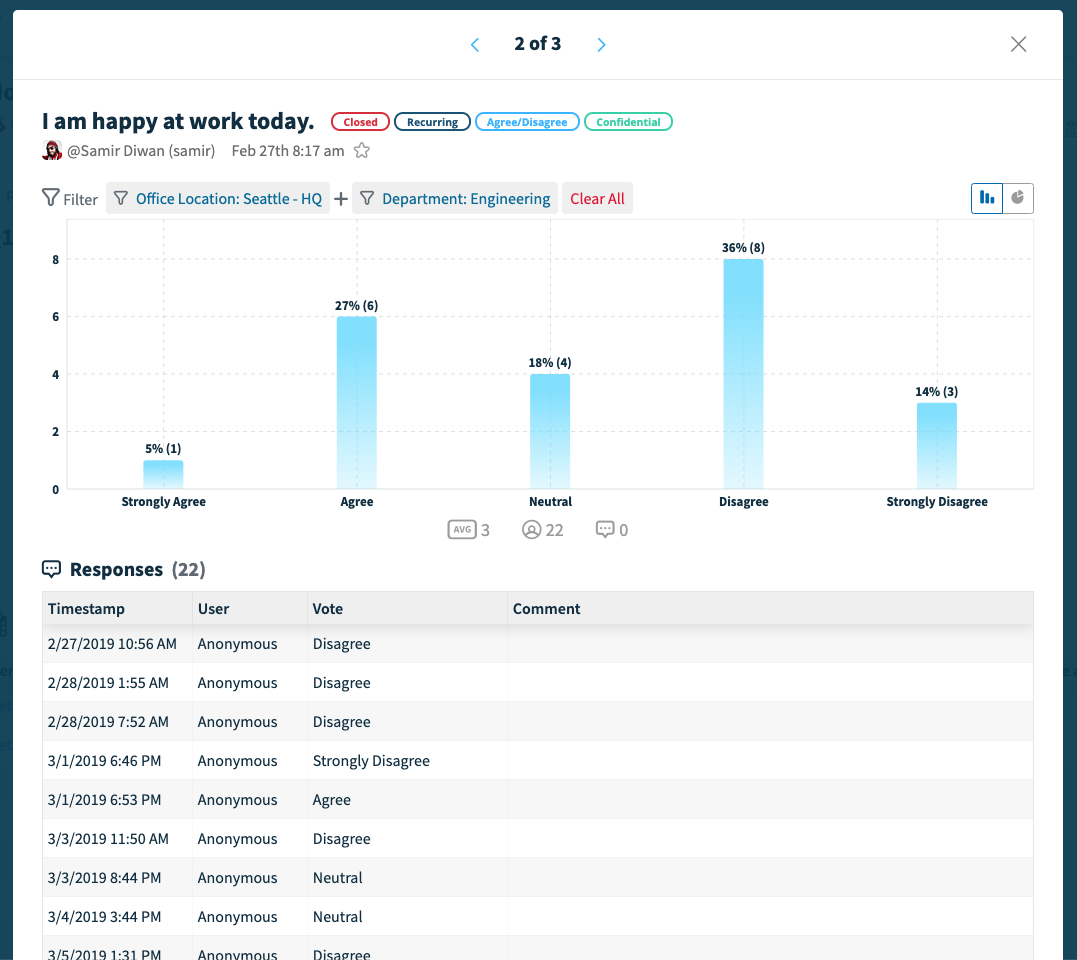 These questions can easily be answered with the filters, or by exporting your data with the demographic attributes attached, and arranging your data however you wish – we like pivot tables over here at Polly!
💡
To find out more about how to start running your HR processes in Slack with Polly,
schedule a demo today
to see what it can unlock for your organization. Ready to jump the gun and start using Polly for your HR workflows? You can
start a free trial
today.
🔎 We're here to help! If you have any questions, requests, feedback, or just want to say hello –
drop us a line
and we're happy to help. As always, our
help resources
are always available if you're in a pinch for a quick and general question.