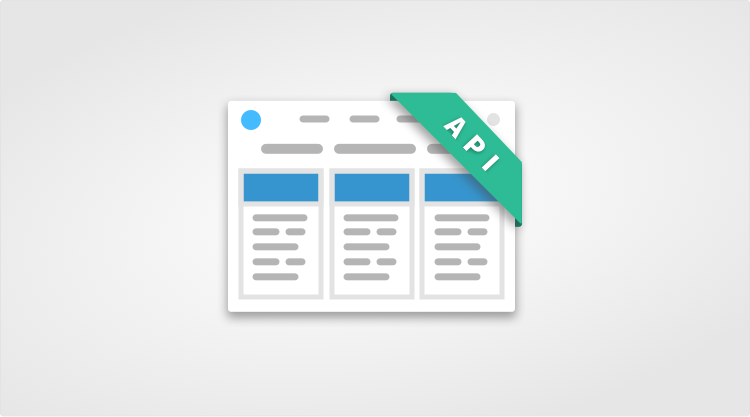 Some would argue that IT is the backbone of every modern business – which makes sense in a world that places the greatest importance on speed, efficiency, and user-friendliness.
Every IT department exists to streamline operations and be as efficient as possible, so the whole company continues to provide the best product or service.
IT managers love using Slack to keep their team and workflows organized in one place, and Polly is here to help you measure these internal workflows.
We'll cover some of the different ways your IT team can integrate Polly into your workflows to be more efficient – and more importantly, to gain insight into the very same processes that you're running.
Why use Polly for your IT processes?
Measure internal customer satisfaction for IT service tickets
Connect siloed IT processes with automatic survey triggers
Build for your own needs with Polly's API and integrations
Secure, scalable, and enterprise-ready
Keep on reading to see how IT teams today use Polly to keep their workflows running smoothly.
Measure the success of your internal IT ticketing workflows
For the majority of IT teams, the performance of how well-oiled your machine is consists of many of the same KPIs we see team to team: ticket volume, channel distribution and attribution, first response time, mean resolution time, you know the drill.
But often times, the hardest metric to measure effectively, is arguably also the most important: customer satisfaction.
Despite all of the other metrics that tell you how efficient your IT department is, no other KPI gives you a direct insight into how well you're satisfying your customers (read: your fellow coworkers!), thus, how effective your team is at their job.
With the ServiceNow integration for Slack plus many more integrations (such as Zendesk), more IT folks across the globe are bringing their work into Slack to resolve tickets quicker and collaborate in real-time.
The important piece of this puzzle that's missing, is the feedback loop – and that's where Polly comes in.
Without having to leave Slack and disrupting your productivity by switching contexts, you can set up a simple feedback survey that fires off automatically after every ticket that's closed.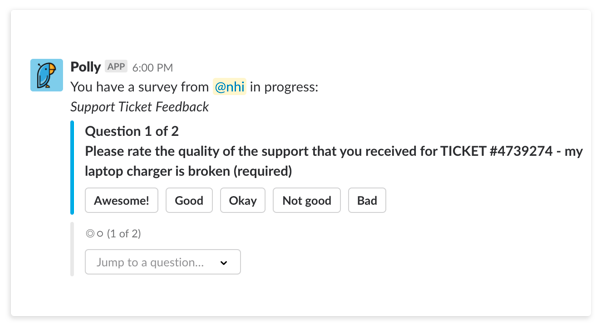 Simplicity in design encourages a higher participation – which means richer results. You can use this data to provide an aggregate view of an individual team member's support ticket performance or averages for the whole team by day, week, month, whatever frequency your heart desires.
Connect processes together with survey triggers in Slack
If you're like most IT teams, you probably have a whole ecosystem of apps in your toolbox that you use day-to-day, with many of them offering a Slack integration counterpart.
This means that you've probably moved some of your critical workflows into Slack – such as managing requests, prioritizing requests, and centralizing important information.
You can integrate Polly into some of these Slack workflows is through a variety of different triggers: webhooks, a channel join, or an emoji reaction in a specific channel.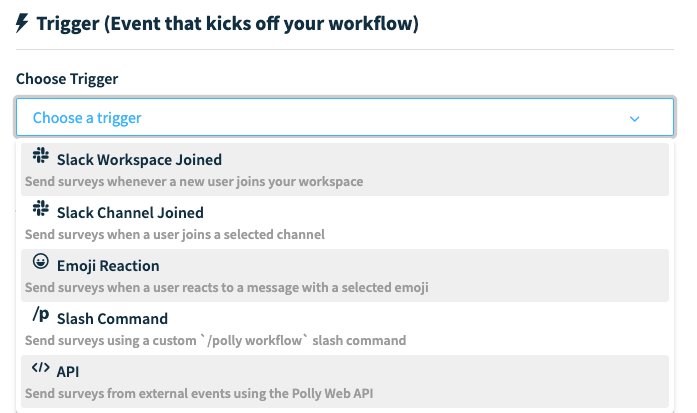 In place of using a third-party help desk tool like ServiceNow, say you manage and prioritize internal requests in a specific Slack channel using emoji reactions, like the example below:
React with
:eyes: when you're looking into an issue
Add a
:white_check_mark: when an issue has been resolved
Using this method, you can trigger a quick and easy support request feedback (much like the one above!) whenever the emoji
has been used to confirm the resolved issue, directly to the person that posted the request.
Outside of IT support-specific processes, you can set up surveys based on the three types of triggers above for any number of scenarios:
For every new IT hire that joins the company, you can automatically send off a New Hire survey to them
Once the new hire has completed their training and has been added to the #training-and-documentation channel, they'll automatically receive a survey for training feedback
And so much more.
Building with Polly's API and integrations
Beyond the IT-specific workflows, your workspace can customize your Polly instance to fit your needs with Polly's API, or connect Polly to featured integrations – such as via webhook, Trello, Google Sheets, Zapier, Google Calendar, or Jira.
These are some examples of the tools that teams depend on every day to get their work done, and Polly's integrations with these tools allow you to connect them together seamlessly so that your business can run more smoothly.
Here are just a few examples of the possible things your company can do with the featured integrations:
Pipe survey results into a Google Sheet automatically as they roll in
Every time a Google Calendar event has ended or started, a survey gets sent
Once a sprint has closed in Jira, a sprint retrospective survey goes out to your team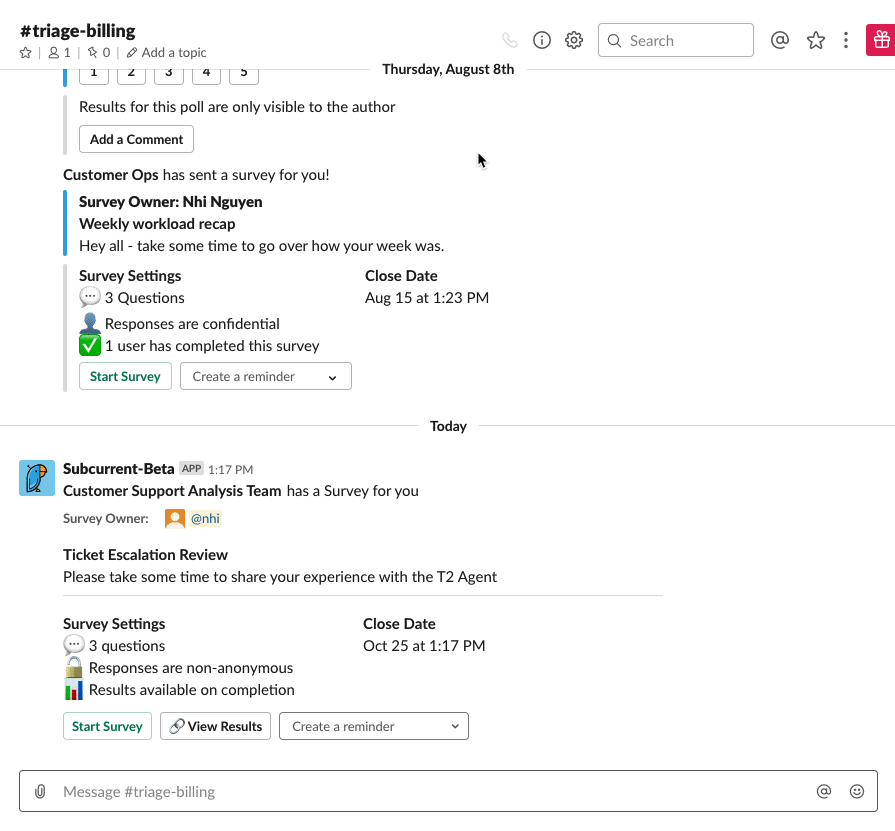 If you need a bit more customization and flexibility with the tools that you use every day, you can bring this level of customization to life with Polly's API. In terms of what you can build – it just depends on what your needs are.
Here are some of the few ways you can utilize Polly's API to automate more parts of your workflows:
Push a poll or survey automatically by calling our HTTP endpoint
Send a follow-up survey based on a previous survey's responses once it has closed
End a survey after a certain response, maximum votes, or a percentage of the audience
Interested in building out a custom Polly integration for your workspace? Get in touch with us about joining our private beta.
Secure, scalable, and enterprise-ready
Let's face it: as the IT department, your team oversee all of the tools and applications your entire company does.
It's very likely that each application has to be thoroughly evaluated to ensure that each application meets standards for security and compliance, and can scale easily for your business needs.
For even the largest of organizations, Polly is built to support you even as you scale.
Polly can be optimized for Enterprise Grid, and offer similar security and compliance benefits that come with Grid licenses, such as:
Org-wide deployment and/or whitelisting of Polly for rollout
Custom Terms of Service for your workspace that all employees agree to prior to using Polly
Custom data retention policies
Limit the channels that Polly can be used in
Limit the users that can create and/or use Polly
Workspace-wide deletion requests
Workspace-wide data exports
If your organization is on Enterprise Grid, reach out to us to see how Polly can be seamlessly integrated into your Grid instance.
And at Polly, your data and security is our top concern.
You can easily configure and manage the above security and compliance controls across your organization, or tailor each policy to be even more granular across workspace to workspace.
We're proud to meet and exceed the industry's standard for our security practices – learn more about Polly's approach to security here.