All-hands meetings are some of the most important team events you can plan. That's why we've got you covered with everything you need to make sure your team leaves every all-hands meeting looking forward to the next one.
Let's get started.
All-hands meetings can be broken down into three main stages, followed by closing the loop:
At each of these three stages, there are several opportunities to engage, empower, and learn from your team with Polly. This guide covers actionable steps you can take at each stage to make sure you're making the most of those opportunities, and supporting a better all-hands experience.
Implementing any of these steps individually can improve your meetings, but consistently following all of them in order will kick off an unstoppable cycle of improvement. So, let's start building momentum with some things you can do before your next all-hands in Microsoft Teams.
Preparation is the key to unlocking great all-hands meetings, and it doesn't have to come at the cost of spontaneity. The more prepared you are, the easier it will be to ensure all the important topics get ample time in the spotlight, while still leaving room for improvisation.
The first three steps of this process all focus on preparation, and we'll cover them in order. Some of these steps you can take on your own, while others will require input from your team.
Analyze previous all-hands
To improve your next all-hands meeting, start with the outcome of the last one:
How did people feel about the all-hands overall?
What worked?
What didn't work?
Which topics or segments did the team find especially engaging or important?
In hindsight, is there anything you wish you had covered, but didn't?
If you followed this guide during your last all-hands meeting and have some feedback collected already, these questions should all be easy to answer.
If this is your first time following this process, you have a few choices:
Send an all-hands feedback polly now. Capturing this data late is still better than not capturing it at all.
Skip this step (just this once).
Once you've reviewed your previous all-hands data, you should have a pretty good idea of what the team found valuable, and in turn, what you'll want to cover in your upcoming all-hands. But having a pretty good idea of what to cover isn't quite as good as knowing exactly what to cover. That's where your collaborative agenda comes in.
Collaborative agenda
Want to make sure you always discuss the issues that matter most to attendees? It's easier than you might think—just ask them.
An all-hands meeting isn't for the benefit of the presenters; it's for the benefit of the audience. During that hour, senior leadership has the opportunity to communicate directly with the team on any topic, so those topics might as well be laser-focused on audience interest.
A week or so before your next all-hands, send a quick polly with the goal of gauging which subjects earn the most support, and identifying topics you may not have considered. Your collaborative agenda polly should be brief (no more than three questions), and include two main components:
(Required) ranked choice among a list of topics
Give attendees a list of options and encourage them to rank their top three. We're using a ranked choice format here because there may be more than one topic your audience finds important.
(Optional) open-ended
Give attendees an open space to bring their own topic suggestions. This is a great opportunity to discover talk tracks that might never have revealed themselves.
To save time, you can use the All-Hands Meeting Prep polly template.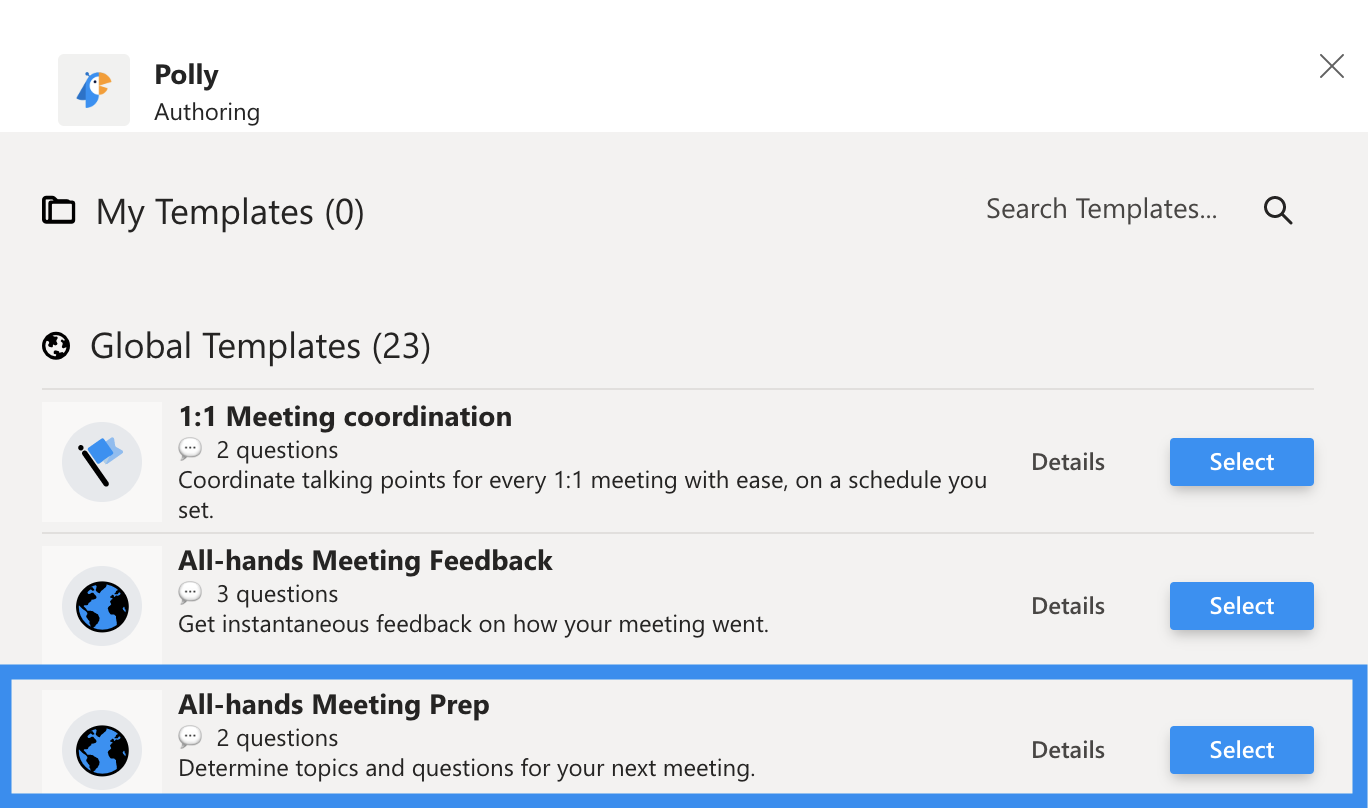 Let the responses from your colleagues inform your topic choices as you put together each section of the agenda. Once you have your collaborative agenda prepared, you'll have everything you need to draft mid-meeting questions to help gauge audience response.
Sharing your collaborative agenda ahead of time in the invite can be helpful in getting attendees prepped and excited about the meeting, as they see topics that speak to their interests and their influence on the presentation's direction.
Create questions in advance
Polly makes it easy to capture feedback in-the-moment, but you can make it dead simple to make sure you don't forget anything by creating questions ahead of time. Before scheduling your meeting,
Create a polly based on the topics you plan to cover
Save your polly so it's ready to go during your meeting.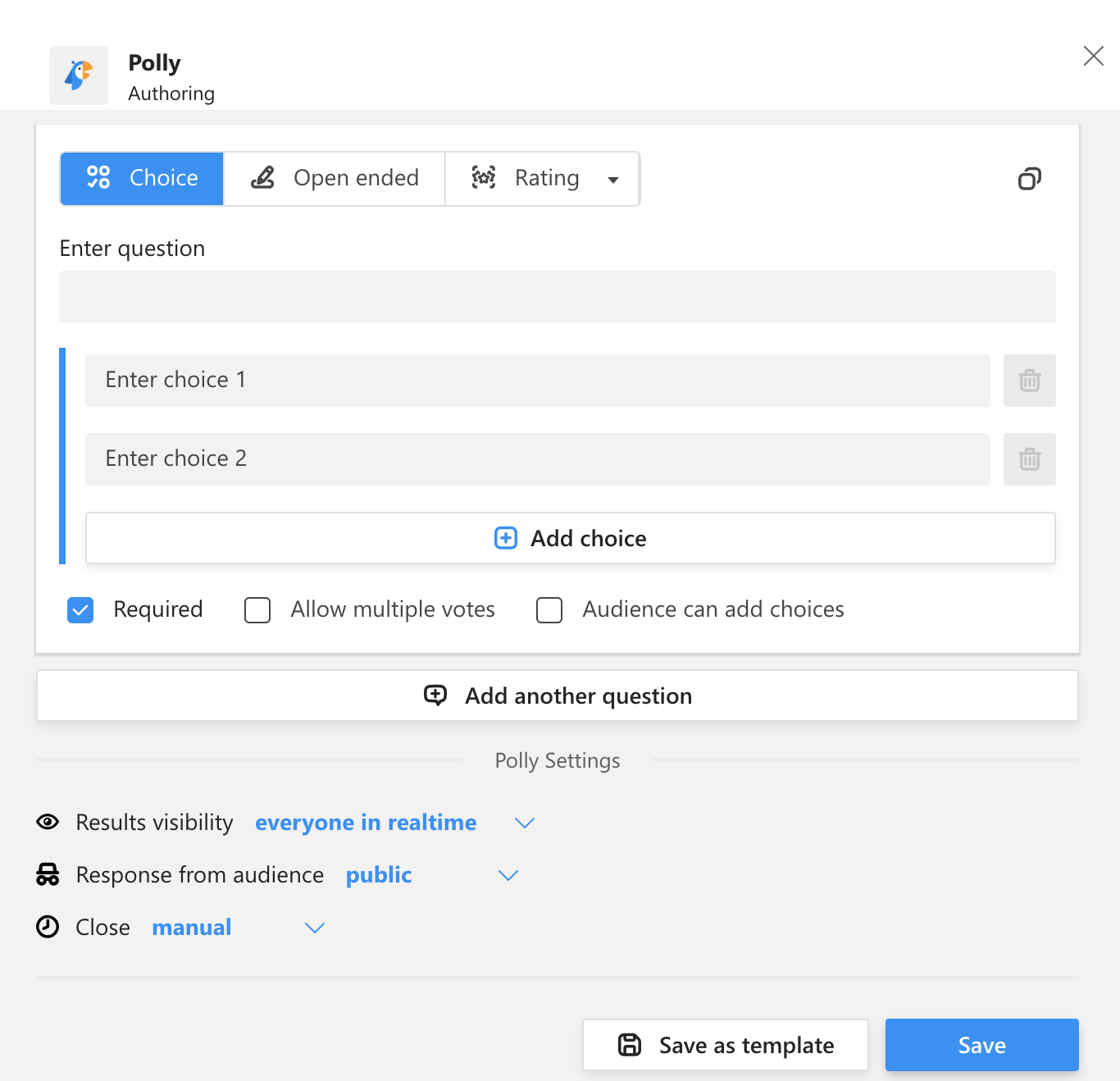 Once the meeting starts, you can send those prepared questions at exactly the right time. Sending questions this way helps capture responses while context is fresh in everyone's mind.
There are numerous topics and subtopics that can bubble up during a meeting in progress. Having your key questions prepared in advance opens up more bandwidth for capturing feedback on-the-fly that might otherwise be missed.
Stage 2: In-meeting
Once your meeting starts, you have numerous tools to engage, empower, and entertain your audience. Whether you need to establish a warmer atmosphere, gauge your audience's response, or open the floor, Polly has you covered.
Break the ice
Meetings (especially large-scale meetings like all-hands) don't often start right on time. Instead of simply letting that time pass, kick off a quick game of trivia to get everyone in a friendly, collaborative mood.
Two ways you can use Polly to break the ice and fill those gaps of silence in Microsoft Teams Meetings are Quizzes and Trivia.
Trivia includes built-in questions on a massive range of topics, from science, to TV shows, movies, music, sports, and more. Questions are timed, a leaderboard keeps track of who is ahead during the game, and celebrates the winners. Because trivia games take a few minutes to complete, they're best used at the beginning or end of a meeting.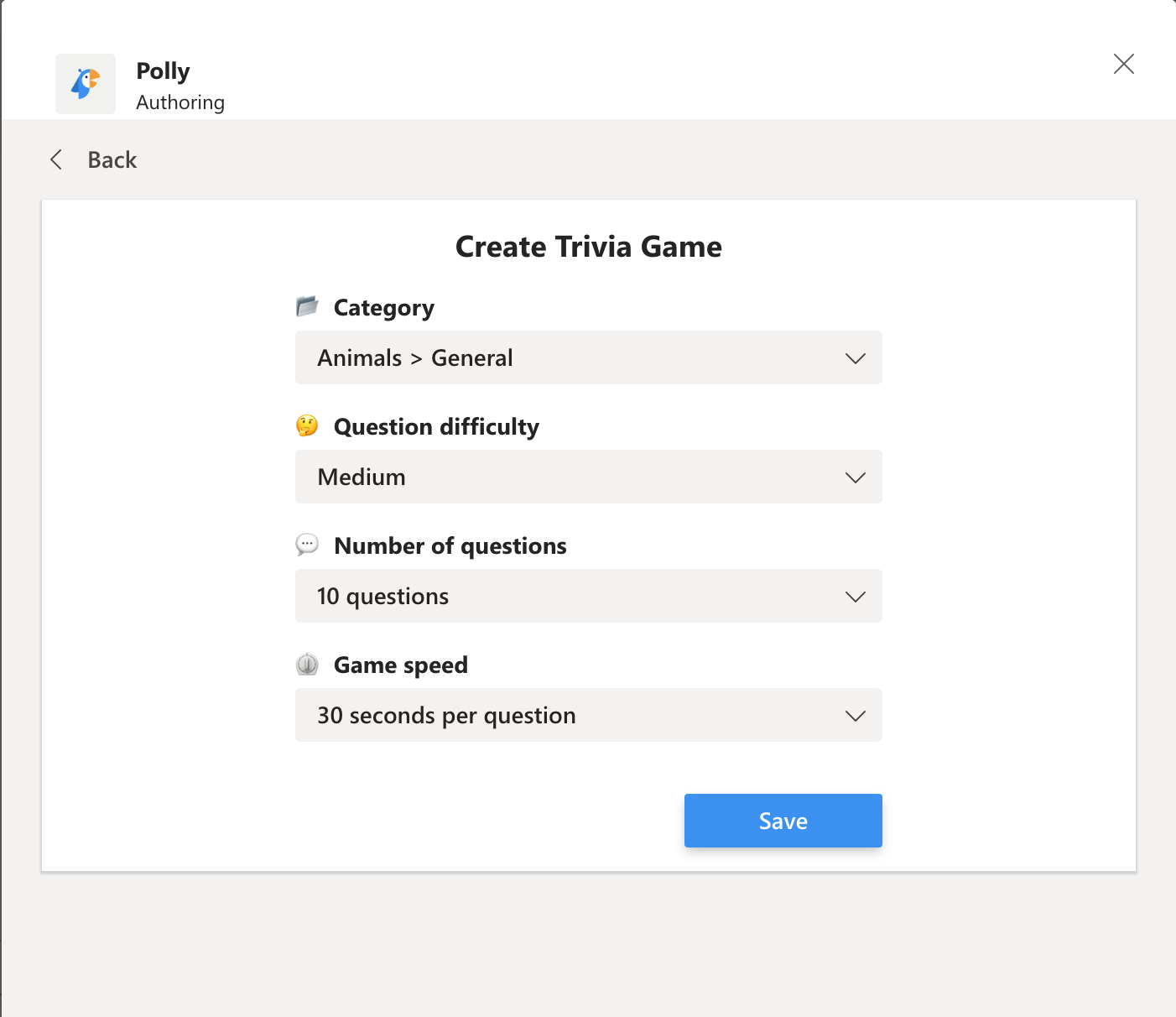 Quizzes are a great way to captivate your audience in the moment, during a meeting. It's helpful to have a handful of fun quiz questions prepared in advance of your meeting. If you're starting to lose your audience, there are few better ways to get them back than engaging them with a quick quiz—especially if it's on a relevant (or amusing) topic.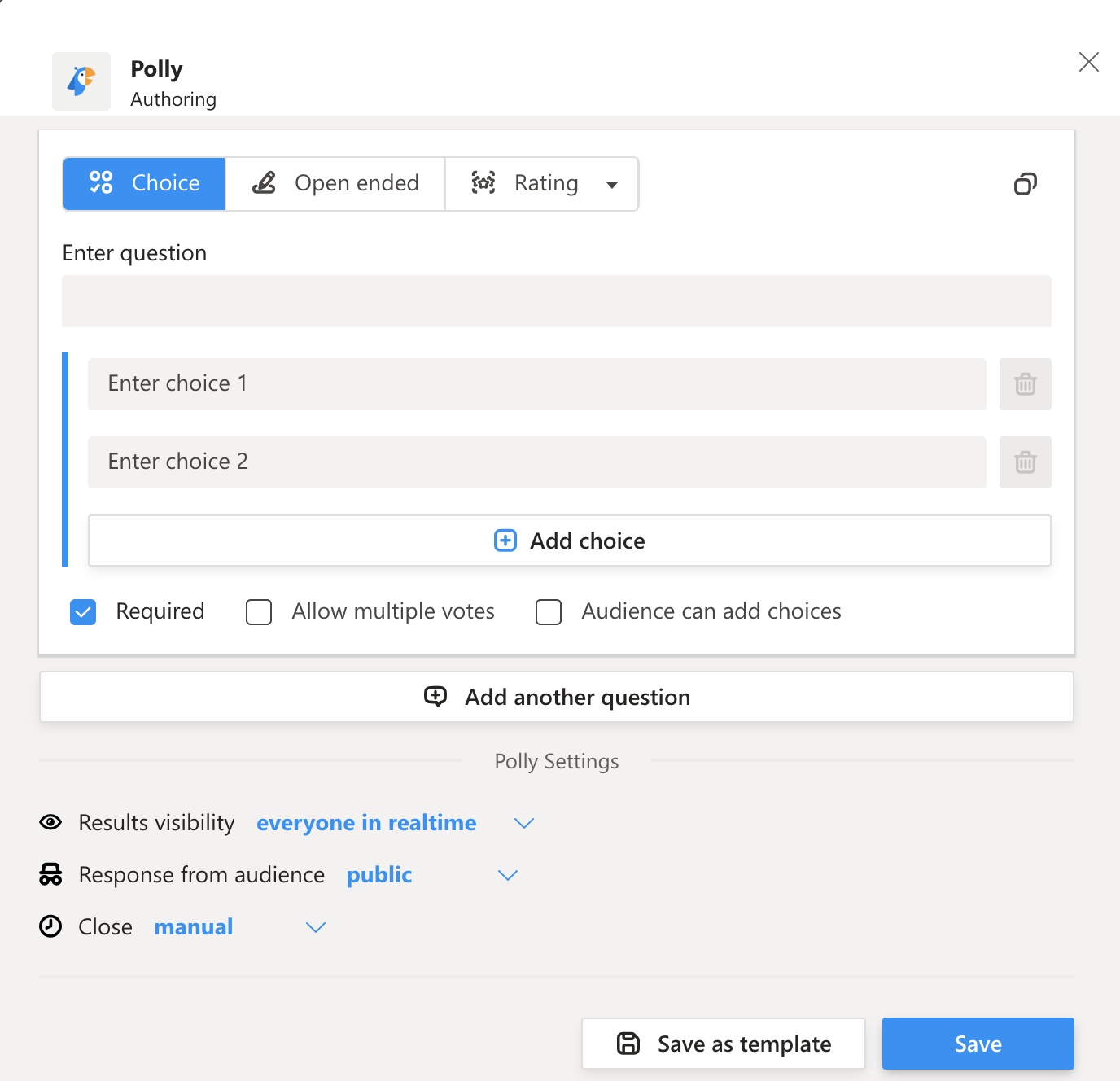 Q&A
A live Q&A is one of the most powerful ways to engage and empower your all-hands audience. While a live Q&A might sound intimidating or even chaotic, Polly gives you a set of tools for guiding the discussion and keeping it productive.
Moderation gives you (or a designated moderator) a chance to review incoming questions and ensure there are no duplicate or off-topic questions visible to the audience.
Upvoting empowers the audience to vote on questions that passed moderation, ensuring the questions with the most audience interest get the most attention.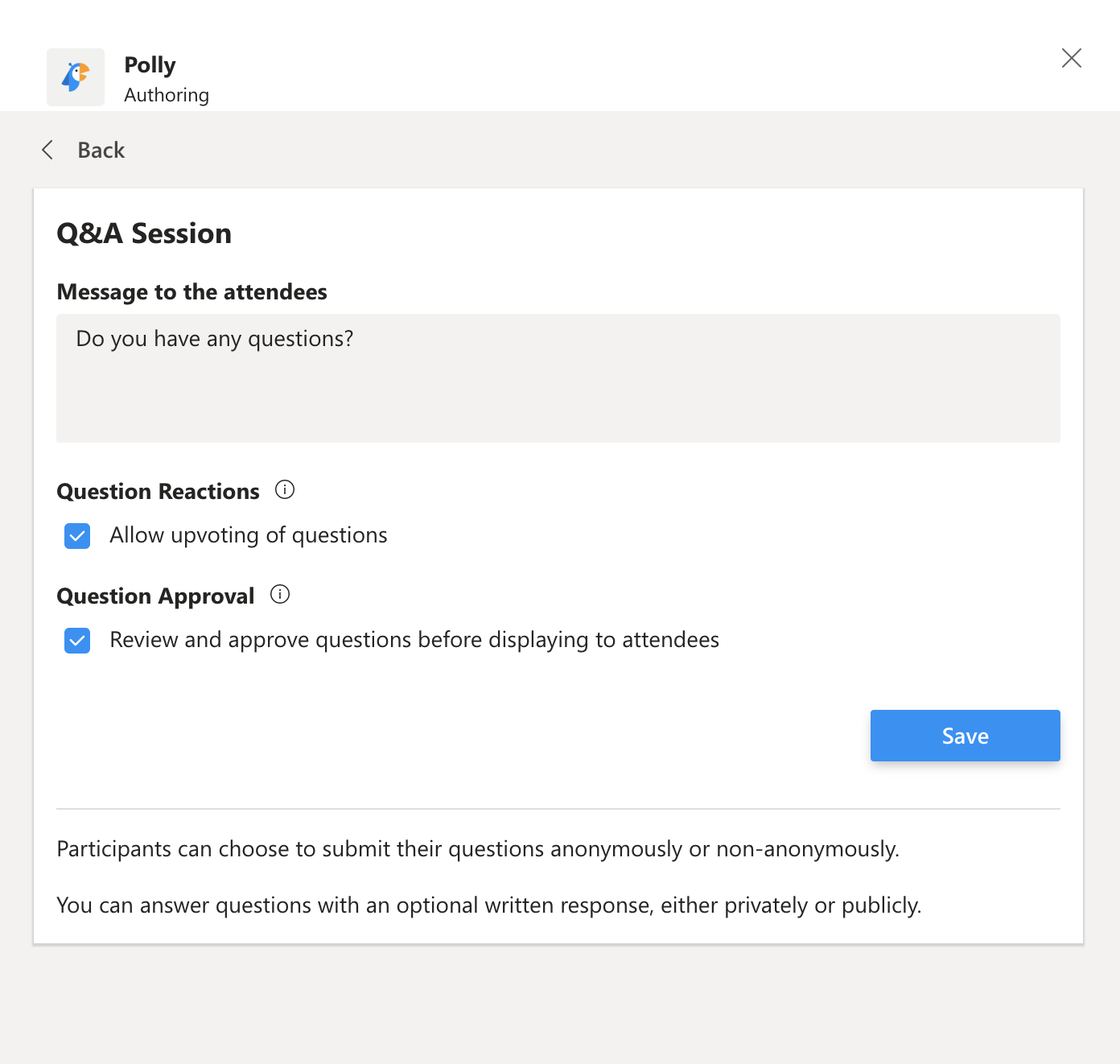 Saved Questions
If you created some saved questions in advance of your meeting, you can send them with a single click. As a presenter, this makes it easy to keep your focus on the presentation and avoid disrupting the tempo.
Depending on the length of your meeting, a good rule of thumb would be to have a saved question for every main topic.
Ask on-the-fly
The more prepared you are for your meeting, the more predictable a course it will follow, but there will almost always be surprises. Even with a solid agenda in place, topics in an all-hands meeting can shift. When they do, you can author and send pollys on the fly.
Stage 3: Post-meeting
The party doesn't end when the meeting window closes. There are still steps you can take to improve your audience's perception of the all-hands that just ended, while gathering the feedback you need to make the next one even better.
Post-meeting feedback
Immediately after every all-hands, send a quick, simple polly. Doing this not only shows attendees that you care about their experience and are working to make it the best it can be—it also gives them a chance to help you improve.
To keep response rates high and show respect for everyone's time, this polly should be answerable in under a minute.
Q1 (Agreement level): This meeting was a good use of my time.
Q2 (Agreement level): The topics covered were relevant to me.
Q3 (Open-ended): Which topics should we cover in the next meeting?
To save time, you can use the All-hands Post-meeting Feedback polly template, or you can create your own.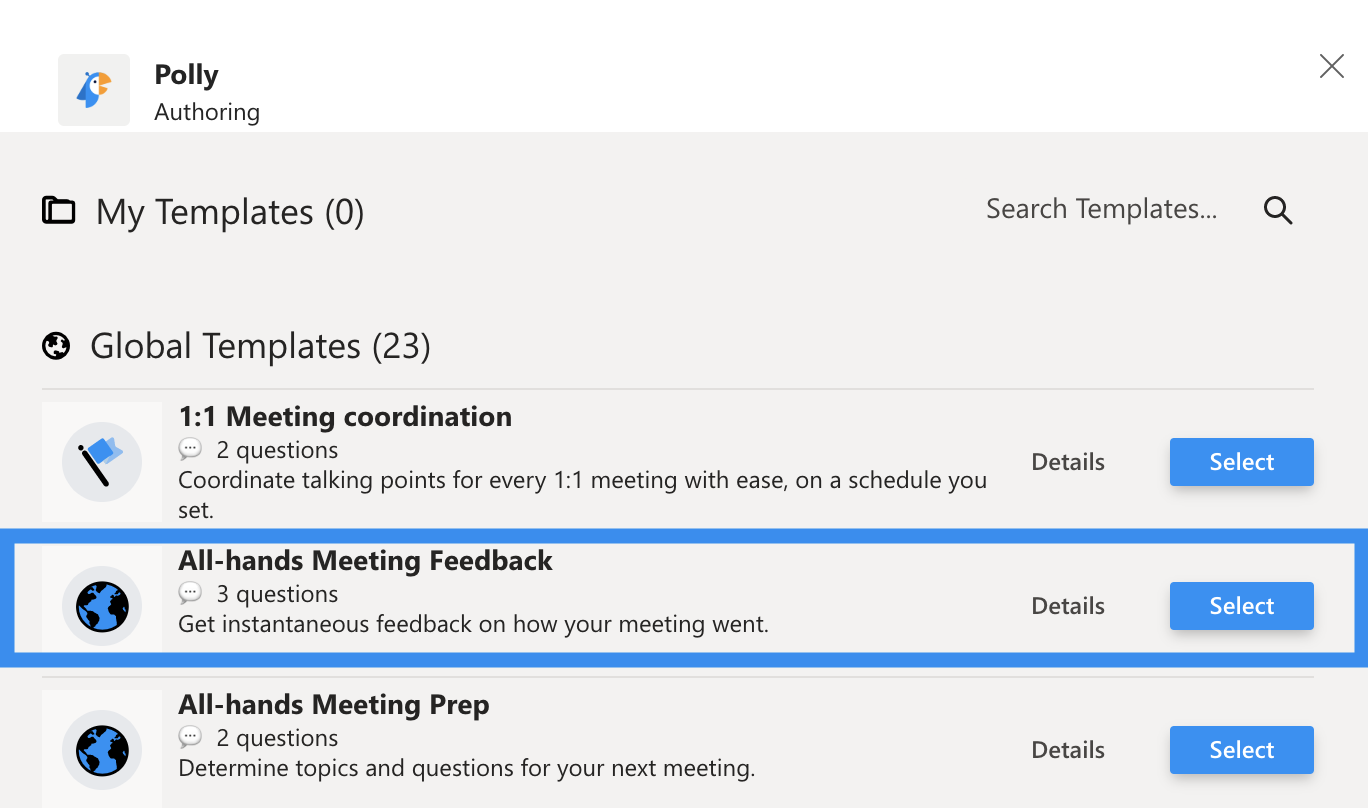 Follow-up
Collecting data is a waste of everyone's time and effort if you don't do anything with it. That's why following up on the feedback you received during the all-hands is just as important as gathering it in the first place.
If there were questions that made it past moderation, but weren't fully addressed during your Q&A, make sure to address them. Depending on the type of question, it might be best addressed in-channel, or in the agenda of your next meeting.
Closing the loop
The responses you receive throughout the meeting—the pulse checks, the quizzes, the Q&A topics and upvotes—complete the cycle, becoming the data you use in your analysis during stage one. Each time this cycle completes, you're hosting a better all-hands.
There's no finish line, but that also means there's no ceiling to how engaging and empowering your all-hands meetings can be.
If you need help getting set up, drop us a line anytime at contact@polly.ai!