Employee satisfaction plays a critical role in any business. Employees who are happy and satisfied are more productive and motivated, which can lead to a positive working environment. However, a recent report of 5,000 U.S households discovered that only 45% of employees were satisfied with their job, demonstrating a significant reduction in satisfaction levels over the past two decades.
Keeping employee satisfaction levels high is essential. But, to do so, you need to monitor how happy your employees are. One of the most efficient ways to effectively measure employee satisfaction is by administering surveys. However, a poorly conducted survey can be a waste of time for your staff, as well as your HR department, so it's essential that you follow best practices when conducting satisfaction surveys to increase engagement and receive useful data.
Read on for the best practices you need to follow to create meaningful employee satisfaction survey questions.
1. Start by Defining Your Goals
Before you start writing down your survey questions, you need to establish clear goals and objectives. What are you trying to find out or measure? Who do you need to target to get actionable insights? Are you looking to find out the current state of satisfaction within your organization, or are you looking to determine how to improve satisfaction levels?
A clearly defined objective is essential for any survey. Your satisfaction survey questions should be aimed at measuring your employees' attitudes, motivations, opinions and help you gauge how they feel about their work and the organization.
2. Target the Right People
Once you have clearly defined objectives, you might find out that your survey doesn't have to include every single employee. Depending on your goals, it could make more sense to focus on a particular set of employees. Whether you're choosing to focus on one particular department, low-level managers, or even new members of staff, targeting your survey to a specific group of employees will help you achieve better results.
While surveying everyone across the whole company might seem easier at first, creating an engaging questionnaire that works for everyone is a tricky task. If you're asking the same questions to high-level managers and secretaries, chances are you're asking the wrong questions. Instead, use highly focused surveys which will allow you to ask more precise and meaningful questions, making each survey more relevant.
3. Boost Participation Rates Questions Answered
Creating an excellent survey can be hard work, so it can be frustrating when employees don't feel the need to respond to your questions. In fact, 29% of employees think surveys are pointless. And with an average response rate of 30%, it's important to make sure as many employees as possible take part. You won't get useable data unless you have a high participation rate.
While there are different techniques you can use to boost response rates, keeping your surveys short is the best. Surveys that take longer than 7-8 minutes to complete see an abandon rate of 20%.
Another way to boost participation is by offering incentives. Channel your employees' competitive spirit by holding a competition between the company's different locations or departments and reward the location or department with the highest participation rate with a prize. If you work in a smaller company, why not treat everyone to ice cream or smoothies if the participation rate reaches a certain threshold? Beyond that, don't forget to thank everyone for taking part once the survey is closed.
4. Ensure Confidentiality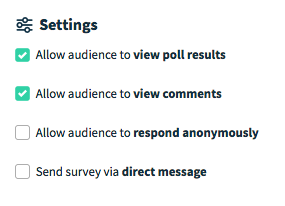 If you want honest and straightforward answers to your questions, you'll have to make sure that your employees can take the survey anonymously. Ensuring confidentiality will allow employees to give honest feedback and say what they really feel without fear of retaliation or judgment. Assure your staff that their answers are completely confidential to improve participation rates and get honest feedback.
There are a number of ways to conduct anonymous surveys. Polly, for instance, enables anonymous voting through Slack, with even the survey author and admin unable to see employee selections.
5. Choose the Right Type of Questions
The type of questions you ask will determine the type of answers you receive. While Yes/No questions can be helpful, your satisfaction survey should dig a little deeper and include a mix of multiple choice and open-ended questions.
Striking the right balance is important. Focus on a small number of questions and use an agree/disagree type (strongly agree, agree, neutral, disagree and strongly disagree). While closed-ended questions are quick and easy to answer, they won't provide you with as many insights as open-ended questions. Incorporate at least 2-3 highly-targeted open-ended questions to allow employees to speak their mind on certain topics surrounding satisfaction. Think about what you are trying to understand from your survey, and try to strike the right balance between open and closed-ended questions to create a survey that is both easy to take and insightful.
6. Make Your Intent Clear
There should be no confusion with your questions. Carefully phrase your survey questions so that the intent is clear and there is no way they can be misinterpreted. Different wording can deliver different results, so make sure you're approaching your questions from the right angle. Once you have decided on your questions, consider freezing them for a period of time to ensure that the data is comparable month on month or year on year.
A simple way to do this is set up a recurring poll that sends a survey to employees at specific intervals. While this can reduce ongoing administration time, it's important to get it right from the start. Conduct in-depth research before you create the survey and only consider adding questions that will not change the nature of the poll.
7. Consider Pulse Surveys
Instead of a yearly survey that will take an hour to complete, adopt a fast and frequent pulse survey. Though they are conventional and provide more detailed answers, annual surveys aren't the best way to monitor your employees' satisfaction. Instead, short and regular pulse surveys are much more efficient.
While pulse surveys are relatively new, they can provide you with a real-time measurement of employee satisfaction over time, which will make it easier to notice trends. When conducting a pulse survey, choose a small number of custom questions (4-10) based on your goals. The topics should cover a range of areas including motivation, happiness, workload, feelings about the company and work/life balance.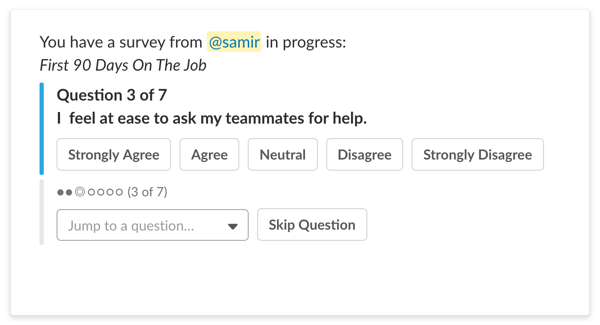 8. Minimize Interruptions
Make it even easier for employees to respond by reaching them on platforms they are already using at work. As more and more companies focus on teamwork, collaboration tools like Slack have become an essential part of a typical employee's workday.
Third-party tools such as Polly make it super easy to create short and engaging surveys directly into Slack, minimizing interruptions and boosting participation levels.
9. Report Your Results
Finally, don't forget to share your results with your employees! Even if the results aren't as expected, it's crucial to share your findings with your staff if you want to make them feel valued and let them know their opinions matter.
If they took the time to take the survey, chances are they'll be interested in hearing about the results. More importantly, transparency shows that management is listening and ready to make changes where necessary.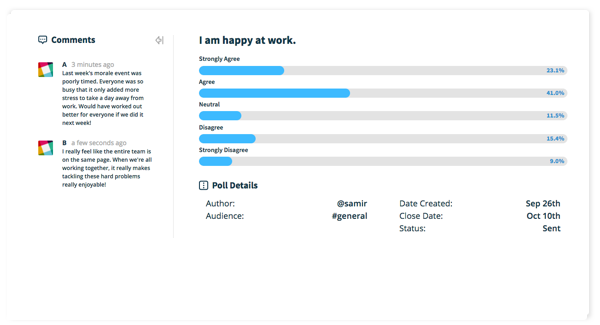 Be Ready to Take Action
Finally, unless you take action, your survey questions are pointless! The results you uncover need to translate into actionable steps that enhance employee satisfaction within your organization. Build employee confidence in your polls by focusing on a few quick changes that show you are willing to take action while tackling the bigger issues with a more detailed plan.
Follow the best practices above and start refining your satisfaction survey questions to build a productive, motivated and more engaged workforce.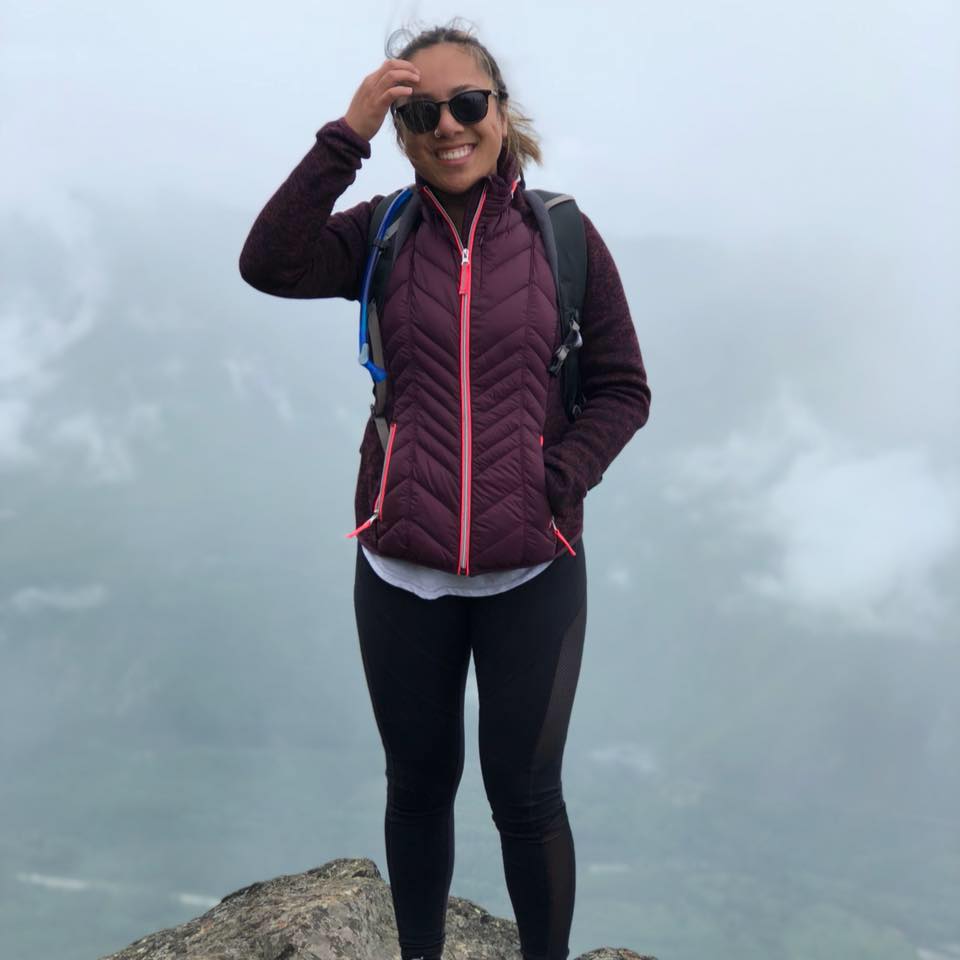 Professional Netflix binge-watcher. Wants to see all of the world.