At Polly, our mission is to change the culture of polls and surveys at the workplace. And we're doing this by providing a solution that's for everyone - engineering, sales, support, marketing, and others - not just HR. Almost 2 years ago we launched our first version of Polly for Slack and set the company on a course to achieve this mission.
While Polly is a Slack-based product, some of our experiences still live on the web - like complex poll authoring, dashboards, and controls like sharing and reminding. Over the years our users have passionately told us they want more of Polly's experiences to live in Slack. But it can't just be about moving experiences from the web into Slack, could it? In order to do this right, we asked ourselves - how do we leverage the power of Slack in every interaction with the user?
For us, Slack is a real-time, collaborative, and transparent experience. As a result, we adopted a core design philosophy: to make sure every message from Polly feels alive. We felt so strongly about this that we even made our homepage interactive (you see that demo right below the fold, go ahead and click on those buttons, they work just like they would in Slack!).
That's why we couldn't be more excited about the new message menu functionality Slack is launching today. We're taking advantage of message menus throughout the product to kick off new productive workflows, introduce functionality in Slack that previously lived on the web, and to provide new interactive experiences for our users.
Here's what we've Built
Giving our users more control over their polls
We're giving a lot more control to poll authors by introducing or enhancing the following commands with message menus:
• /polly delete
• /polly remind
• /polly share
• /polly close
Users can now dynamically search for the poll they're looking to delete, remind, share, or close right within Slack.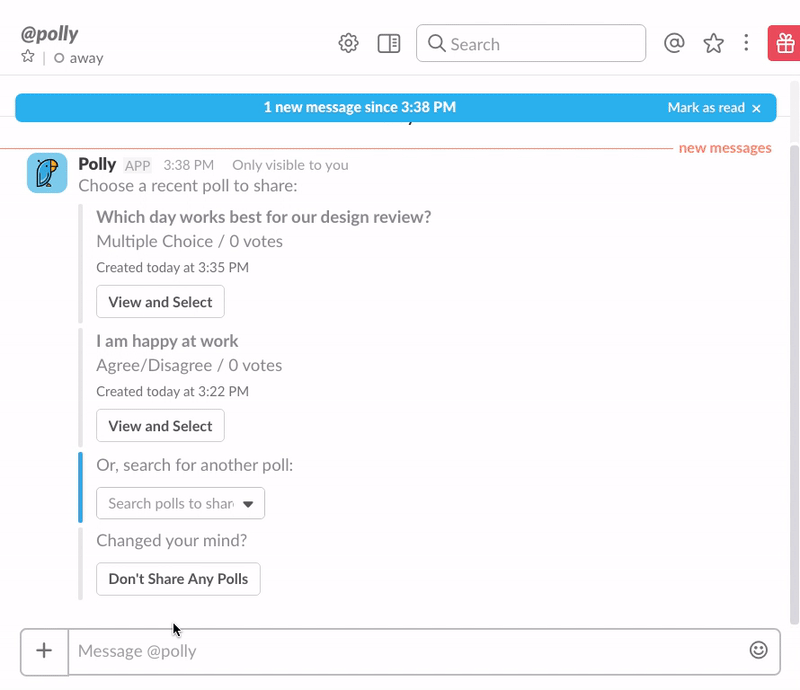 Message menus are so much more than just a drop-down menu - once a user finds the poll they want to share, we dynamically change the message to give them more information, and provide them with a new menu - one that shows the user all recent conversations with individual users and channels.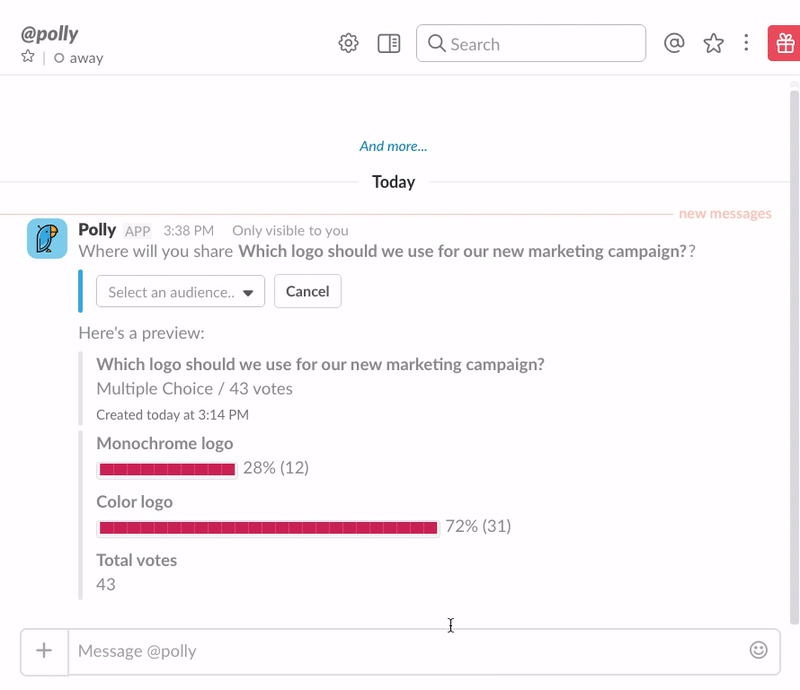 Enhancing Poll Scheduling
Polly also has this concept of scheduling recurring polls - asking the same question on a given frequency. For example, Grammarly uses this feature to get feedback on their all-hands meeting on a weekly basis every Monday morning.
While the feature has been useful, getting scheduling information from users was too complex in Slack. Up until today, we've gathered scheduling information in one of two ways:
1. Exchange the information through a conversation with Polly (many users found this to be frustrating)
2. Have the users complete the experience on the web (many users complained that they found the context switch jarring)
With message menus, we've made the experience simple by creating a date and time picker right within Slack.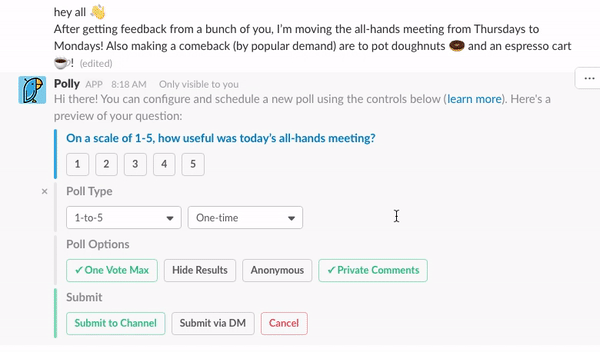 Give it a try!
We're also sprinkling in message menus in various other Polly experiences like poll authoring - where we're now able to collapse 5 buttons into a single dropdown. This helps reduce clutter and keeps our messages nice and compact, which makes the UX significantly better for our mobile users.
Over the next few weeks, you'll see message menus pop up in various Polly experiences. We'd love to get your feedback on these features - let us know what you think!