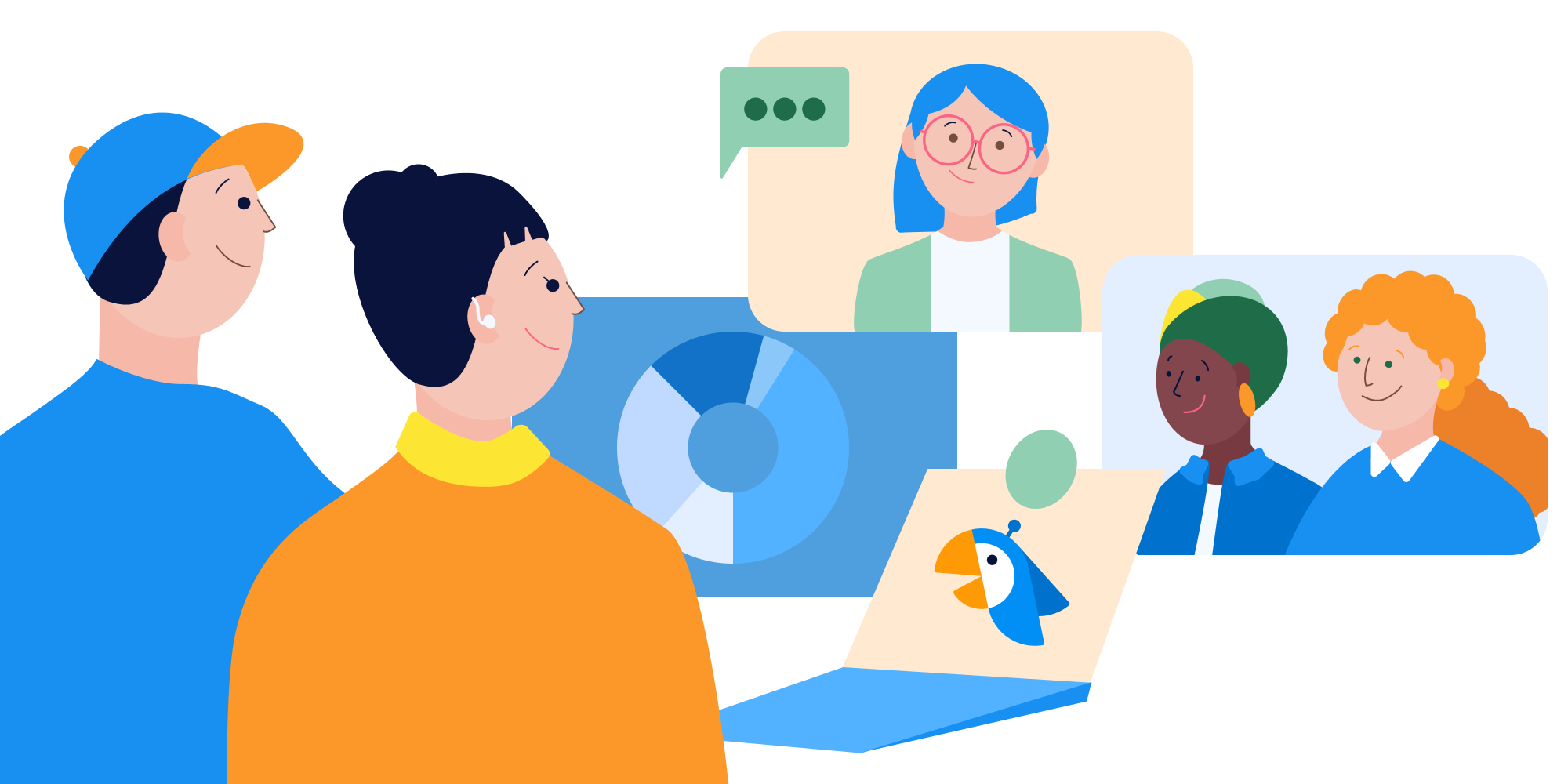 It might sound like managing teams both in-person and remotely isn't worth the extra work required, but that's often not the case. In fact, a hybrid remote working model could be your best option if you need teams in the office or in the field. It offers you the benefits of both approaches, and helps balance the downsides of both too.
If you're looking for ideas on how to start or improve your team's hybrid remote working experience, you're in the right place.
In this guide we'll explore:
Managing teams across multiple locations has unique challenges, but it also introduces unique benefits. Let's explore what this model is all about and how you can make it work for your team.
What is hybrid remote work?
Hybrid remote work is where you have team members located both in physical office spaces and remotely. It's a method that allows you to work with the best talent anywhere, with a mix of both owned or rented in-person office space and support for teams working from home or in coworking spaces.
Every company is different, but a team's approach to hybrid remote tends to fall into one of these categories:
Office-first approach: Where most of your team works in-office but remote working is allowed.
Flexible hybrid and remote: Where team members can choose to work in-person or remotely, flexibly.
Remote-first approach: Where most of your team works remotely but office spaces are available for use.
The route you take depends on your company's goals and needs, and also what your employees are looking for. Your hybrid remote work style will be led by your senior leadership's outlook on remote or in-person work, and often mirrors your company culture.
What are the benefits of a hybrid work model?
For many companies, a hybrid remote work model has many benefits. If you already have office space, you can make savings by reducing the space you have. For remote-first or distributed teams, opening up office spaces in satellite locations can give your team members a place they can travel to and work together from.
Some of the main benefits include:
🖥️ Flexible work arrangements for team members
🤝 Opportunity to maintain in-person spaces for face time with team members, clients, and partners
👋 Physical spaces for your remote workers to visit
🔗 Higher levels of employee retention
📊 Simplified planning and resource management
👍 Higher levels of employee

workplace autonomy

🌳 Greater work-life balance and more time for wellbeing
🏖️ Chance to reduce burnout and stress by offering alternative work environments
💻 Opportunities to work either in-person or remotely based on the task or need
🪑 Better space management and the chance to reduce your office space size
While a hybrid remote working model makes sense for a lot of companies, it's not always easy to introduce or maintain. Common challenges include reduced team communication, difficulty organizing events and meetings for everyone, and the need to balance perks for both groups in a fair way.
Creating or maintaining your hybrid remote work environment takes careful thought, planning, and execution. Luckily, there are plenty of ways you can create a good sense of balance between the two groups for an even better employee experience.
9 ways to improve the hybrid remote working experience
A successful hybrid remote working setup isn't just about opening an office space and letting your team members know they can work from home. It requires strategy, intention, and the right tools and resources to make it a success.
Here's how you can create the right hybrid work environment for collaboration and success, wherever your employees are working from.
1. Establish or revisit your hybrid remote work policy
For a hybrid remote setup to work successfully, everyone needs to know what it involves. Create or revisit your hybrid remote work policy and make sure it aligns with your work culture and overall goals.
In your policy, set out what the hybrid remote work arrangements are at your organization. Cover key details like what's expected, where your office locations are, support you offer to both remote and in-office employees, and who team members can go to with any questions.
2. Focus on team communication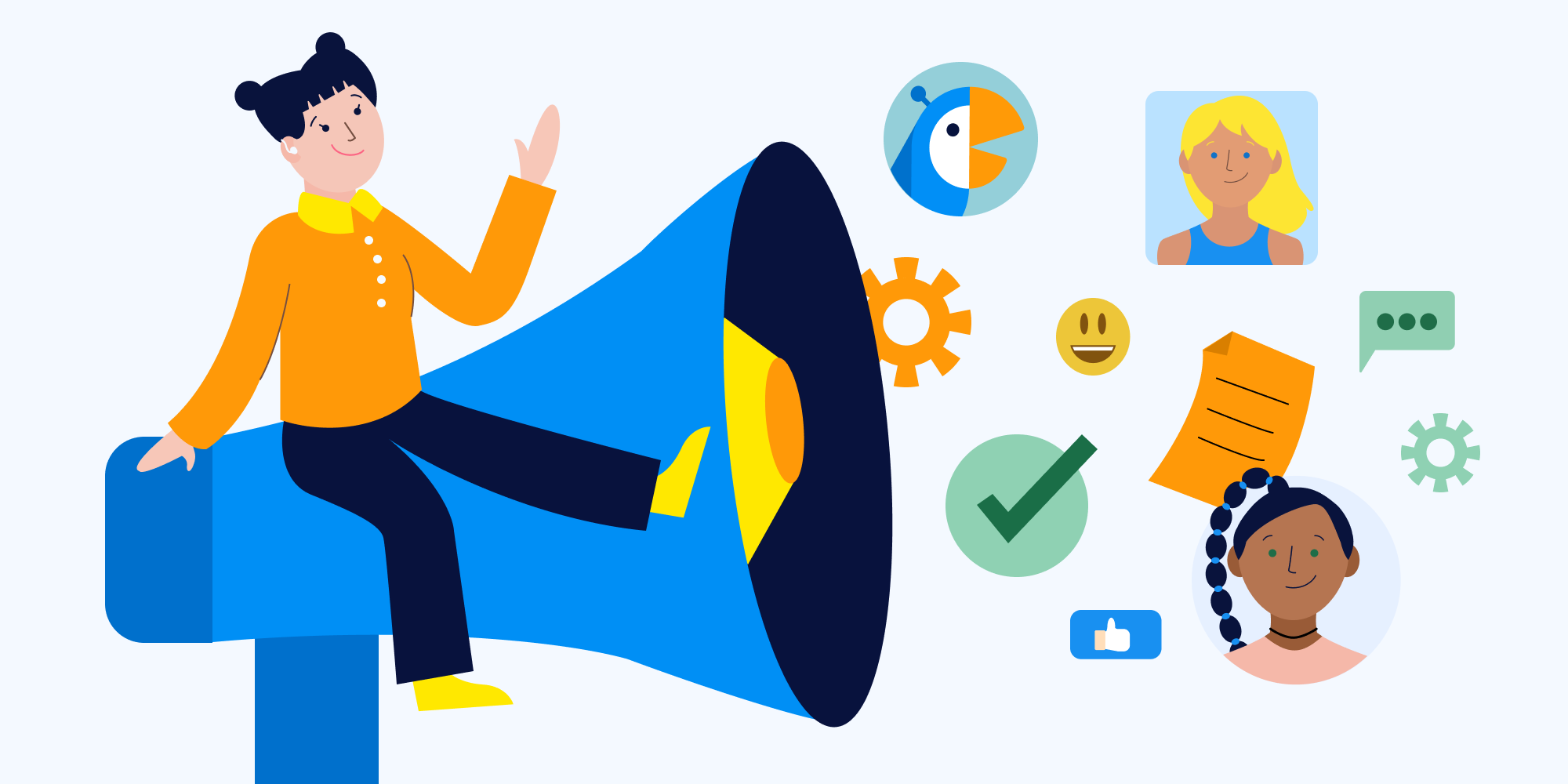 Teams are often nervous about adopting a hybrid remote model as they worry that team communication can suffer. That's true, if you don't adapt internal communications for hybrid work environments — so make it a priority.
Replace those casual in-person interactions with virtual coffee dates, host meetings that both in-office and remote workers can attend, and create spaces for conversation in apps like Slack or Microsoft Teams.
3. Create opportunities for team building
Just like team communication, team collaboration and relationships can struggle if you don't create moments for them to happen. Prioritize employee engagement and schedule team building events so everyone can get to know each other, no matter where they're based.
Plan a remote-friendly company retreat, host virtual or livestreamed hackathons, and host welcome sessions for new team members to get to know others. Play team building games together and use virtual icebreakers to make digital gatherings feel more casual and welcoming.
4. Experiment with set or flexible work schedules
An advantage of having both in-person and remote workspaces is that you can experiment with different schedules and working patterns. Empower your team members to personalize their experience, so they can design their work options and working hours around their needs and goals.
Offer the chance for team members to work full time from the office, remotely, or a mix of both. Provide different work locations that they can try out, and offer support to get their home office spaces set up the way they need them. Once they're happy, you can get a clearer idea of how much in-person space you need to offer and what your budget for home office setups should be.
5. Make meetings more collaborative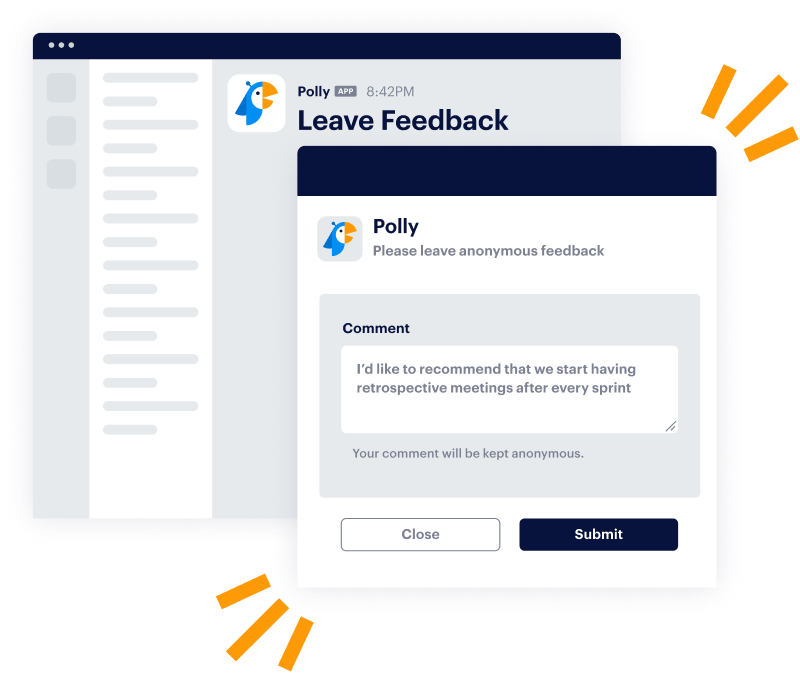 Meetings are just as much a challenge in a hybrid workplace as they are in a traditional one. To make the transition smoother for everyone, make the meetings process more collaborative from start to finish.
Share your agendas as far in advance as possible, and encourage team members to add to them. Use our meeting prep template to gather ideas in a quick and easy way. Create space at each meeting for everyone to talk that has something to say, and use our meeting feedback template to collect comments on the experience so you can improve it for the future.
6. Livestream or record meetings
In a traditional office work environment, it's much easier to gather everyone for an important all-hands meeting. That's harder in a remote or hybrid team where people are in different time zones, which is why you should take steps to make sure everyone gets the information as soon as possible.
Introduce a way to livestream your essential meetings to remote employees, or record the meeting and put a replay live straight after the meeting. Give team members a way to contribute alongside this, like a thread in Slack or with our all-hands meeting feedback template.
7. Host both in-person and remote social events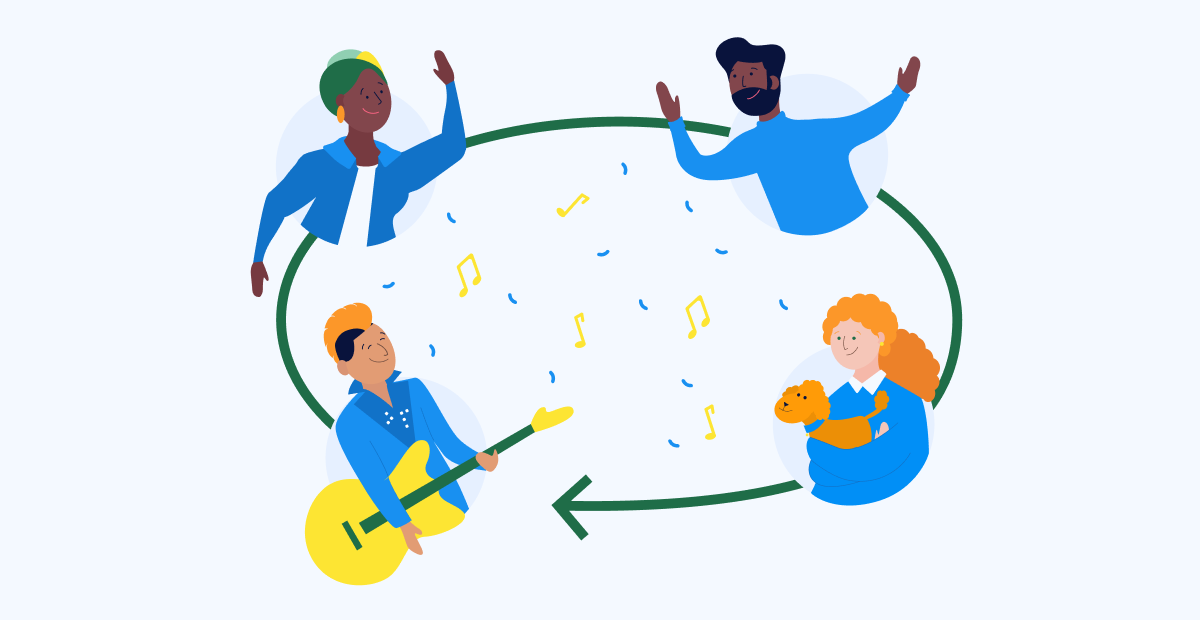 Socializing at the end of a work day is one of the reasons people enjoy the on-site experience, but it doesn't mean they should be the only ones to spend casual time together. Remote teams should get similar experiences too, which is why it's important to plan both in-office and remote social moments.
Ask team members what kind of social events they'd enjoy the most, then start adding them to the calendar. Experiences like holiday parties, escape rooms, office games, quizzes, and coffee dates all work well whether you're gathering in person or virtually.
8. Ask for feedback
At the heart of any successful work culture is feedback. In a hybrid remote environment this is even more essential, as you'll want to balance the needs and wants of both groups as equally as possible. Feedback should be not only an option but actively encouraged, so you can create the best possible working environment for all.
Make it easy for employees to give feedback, and have a process for reviewing it and putting change into action. While you could do this manually, Polly is an excellent way to not only collect employee feedback but create a culture of feedback throughout the organization. We make it easy to run polls and surveys, Q&A sessions, set up a suggestion box, and more.
9. Use the right tools
Without the right tools, it's tough for team members to communicate and share ideas, struggles, success, and opportunities. Open up the doors for better communication and a successful hybrid remote work environment with the right internal communications tools and apps.
We may be biased, but we think that Polly is one of the best tools for a hybrid remote environment. Other popular choices include Slack for team communication and Zoom for video calls and meetings. You may also want a digital workplace or project management tool that allows you to centralize your work, so both in-office and remote teams can access information in the same way.
Streamline the hybrid remote work experience with Polly
The future of work isn't set in stone, but for many companies a hybrid remote work model represents the best way to balance resources and create the kind of experience that works for a range of employees. Use this guide to help you develop or transform your hybrid remote work policy into a strategy that can see you through into the future.
If you're looking for a tool to help you along the way, bring Polly aboard as your co-pilot. Our employee engagement features simplify the process of gathering feedback, hosting engaging team building events, and making your team members feel welcome and supported.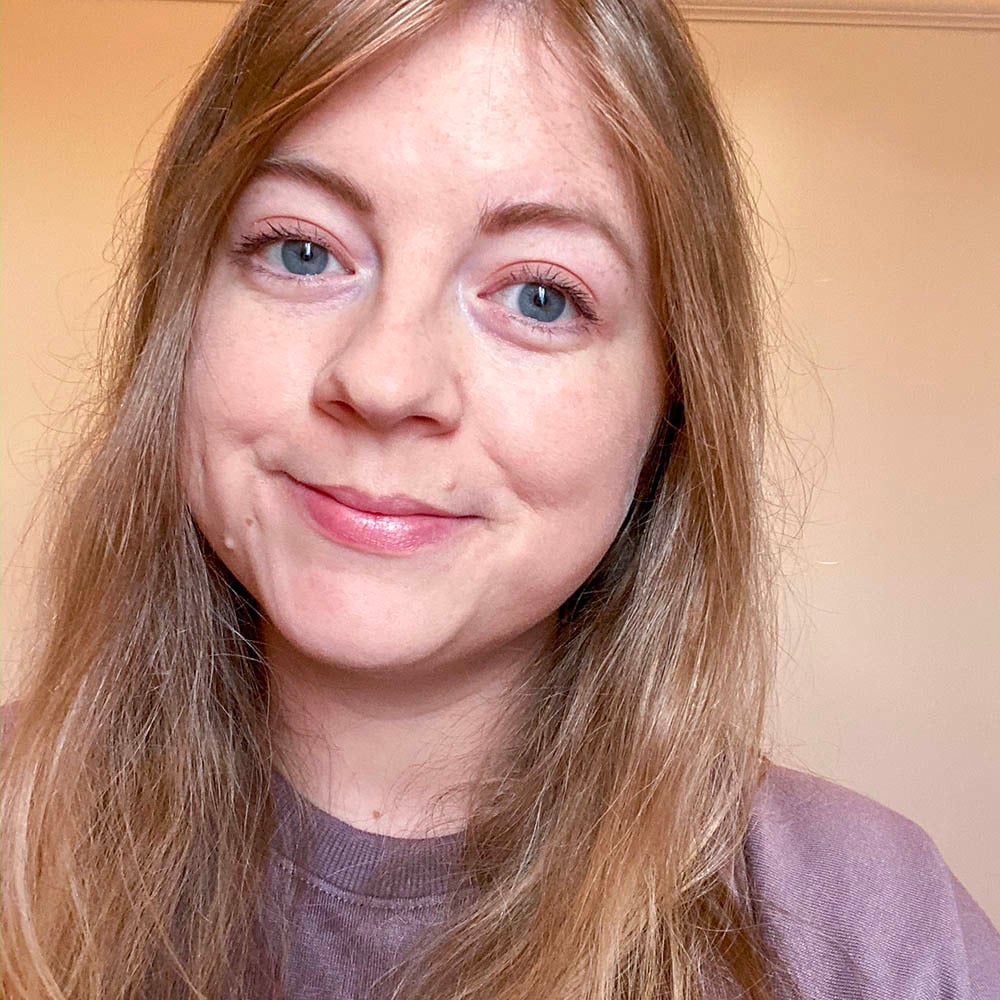 Nicola Scoon is a freelance writer that's passionate about employee engagement and better workplace experiences. She draws on her experience in internal communications to help companies create content that empowers, encourages, and motivates people to create better experiences for all.