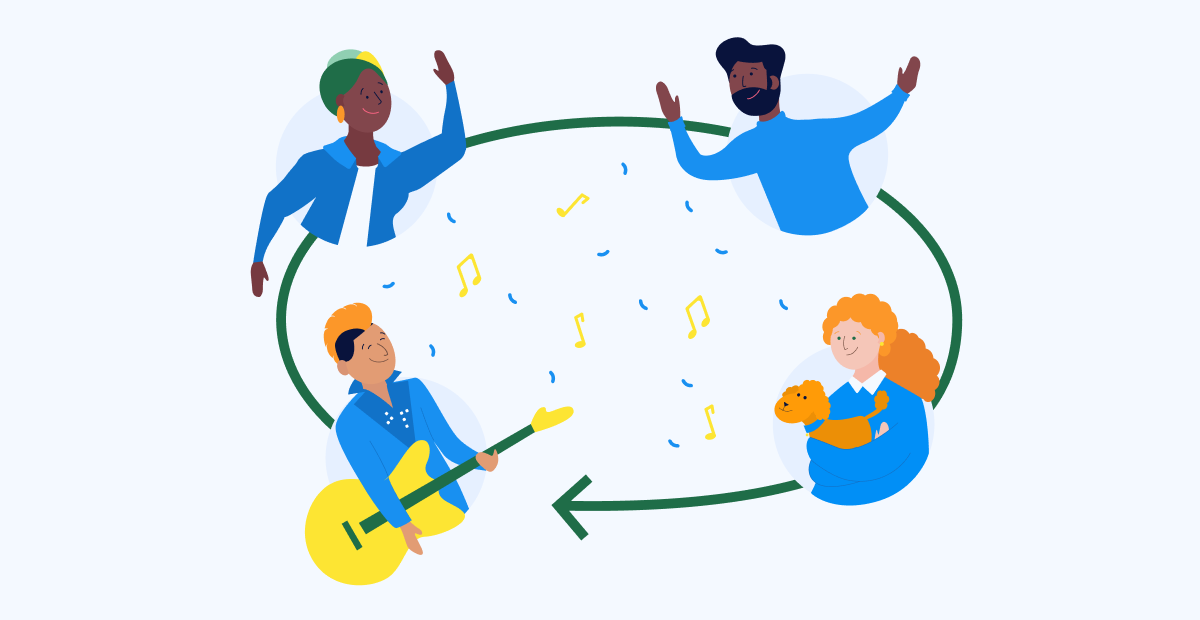 Our work days are often filled with to-do lists, deadlines, and projects that need our attention. This means that team relationships, communication skills, and teamwork can often get left behind. Playing office games gives you a chance to step away from your demands and spend time together, focusing on some of the other areas that matter most: morale and collaboration.
In this guide, we'll talk about why office games should be a must-have on your team calendar. We'll also share our top virtual office games to play together, so you can find an idea for a meeting, a free moment, or your next holiday party.
Why fun office games are worth investing in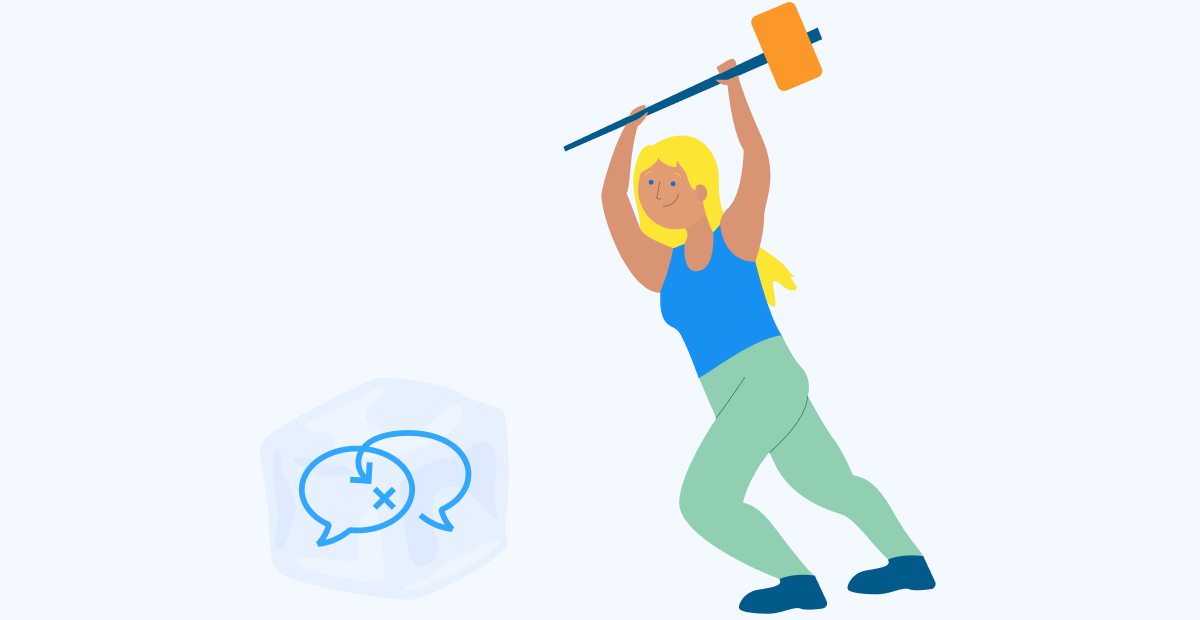 Office games and virtual team building games aren't just a way to relax (though that's a worthy goal as well). They provide valuable chances to get to know each other, forge friendships, build trust, and contribute to better employee experiences. Plus, socializing with team members can help account for at least 50% of communication improvements at work.
When you invest in office games and team building activities for your remote team, you create opportunities to:
⛱️ Take a break from routines

😊 Improve employee morale and happiness

💚 Get to know other team members better

🎮 Create a team culture of fun and engagement

💡 Develop skills like problem solving, brainstorming, and creative thinking

👍 Create stronger team bonds and relationships

🤝 Develop trust and create an environment where working together feels natural

🏃Put your company culture and values into action

☕ Find new, fun ways to make introverted employees feel welcome
📈 Increase employee satisfaction

😃 Have fun together trying something new
As you can see, there's a lot to value in playing office games. Whether you get together for a weekly online board game night or do a virtual icebreaker at the start of your all hands meetings, spending this time together brings plenty of benefits.
16 of the best office games to play with your remote team
When you work remotely, you need to find opportunities for fun beyond ping pong or an elaborate obstacle course at your annual office party. The virtual work environment introduces some challenges and creates new opportunities for fun activities to enjoy together.
Explore this list of our favorite office games that work well remotely. Each one gives you a chance to spend time together, get to know each other, and create a sense of belonging and joy.
1. Never have I ever
Play a few rounds of "Never have I ever" to get a better understanding of who your team members are and what they've experienced. Opt for themes like travel, sport, and entertainment to learn what your teammates get up to on the weekends. This team building activity can be lots of fun, and helps you uncover some hidden talents or random facts.
2. Guess the city
Get together with your team to play a fun guessing game to see who can figure out which city, town, or country you're exploring through photos or videos. Is that Swedish on the street sign? From the architecture, are you in Hungary or Bulgaria? Share your screen as you use the GeoGuessr tool on Zoom, or put together your own rounds using photos you've found online.
3. Virtual escape room
Escape rooms are popular with friend groups and teams, and they also work well in a virtual setting. Sign up for this team building game and see who can be the first team to solve their challenges and puzzles within the time limit and claim bragging rights.
4. Virtual icebreakers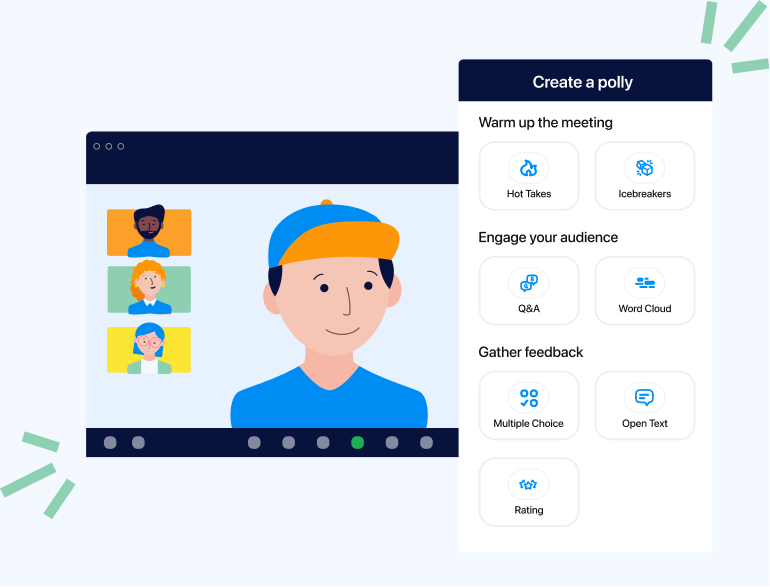 Icebreakers offer you a wonderful way to get to know people, and they're great for getting to know a new member of a team. Make icebreaker games part of your regular routine with our fun Zoom icebreakers, or prepare some icebreaker questions for a first team meeting with someone new.
5. Virtual scavenger hunt
Take the traditional scavenger hunt and give it a virtual refresh. Create a short list of items and challenge your team members to find them around their home or remote office space. Make this a fun game of speed as you see who can return first, or set the challenge beforehand and ask them to reveal their findings during your video call.
6. Guess the moment
See which of your team members are history buffs and who knows their pop culture best with this guessing game. Set the scene by sharing facts and clues about a moment or an era in history, and see who can figure out the answer. For example, to get your guests to guess "1985" give them prompts like "Back to the Future was released," "Nintendo released NES in the USA," and "the Live Aid concerts took place."
7. Online board games
Remote teams can still experience the joys of playing board games together. There are lots of great games you can play online, including Catan, Dominion, and Codenames. Try these online board games for a way to encourage team bonding and fun. Let the team vote on which game they want to try first!
8. Hot takes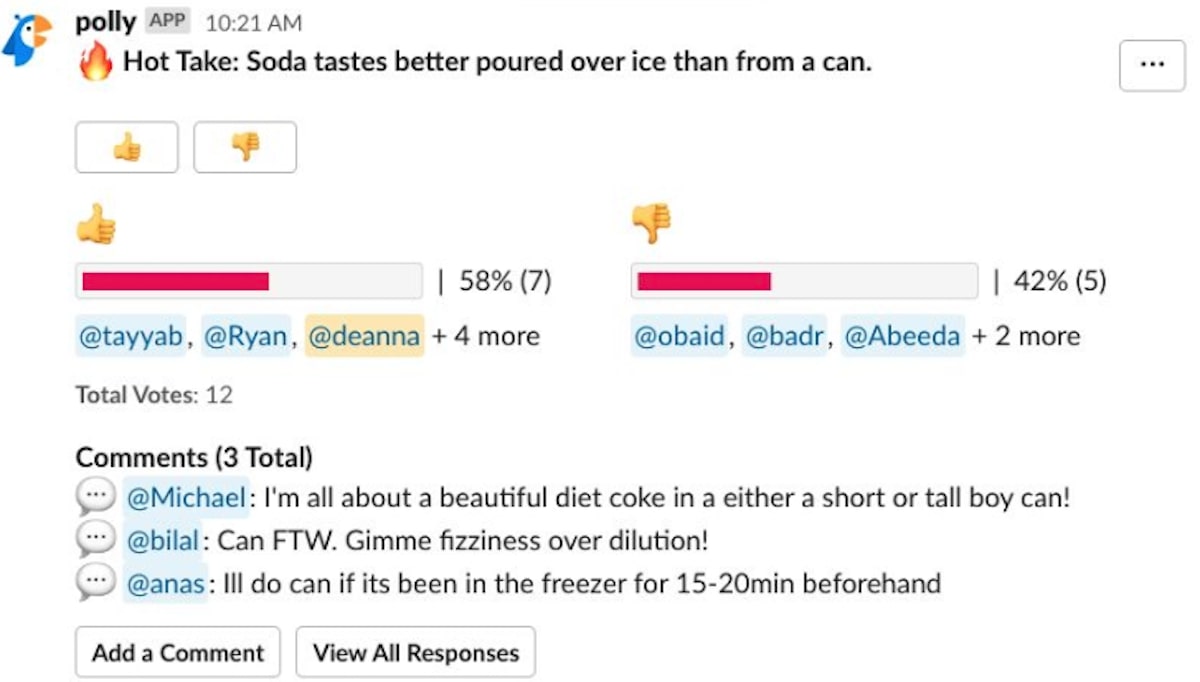 Get to know what your team members really think about interesting subjects with a few rounds of hot takes. Use Polly's built-in feature to ask everyone their thoughts on statements designed to spark friendly debate. This is a great five minute team building activity that you can enjoy without leaving the comfort of Slack.
9. Virtual pub quiz
There's always someone on the team who loves coming up with questions to challenge the group. Encourage them to run your virtual pub quiz, or arrange a hosted game for the whole company.
Put together different categories — like '90s TV shows, trending music, and Olympic sports — or host a themed quiz to celebrate a holiday like Thanksgiving or New Year. Ask the office to divide into teams and come up with team names. Give a prize to everyone on the winning team, whether that's a delivered meal, office swag, leaving an hour early next Friday, or another award.
10. Two truths and a lie
We often think of "Two truths and a lie" as a party game, but who says party games don't belong in the office? Ask your team members to come to the call with their three statements about themselves, or have them ready to share in a Slack channel. Is it more likely that your HR manager lived in Prague for a year or that she doesn't wear socks? Task people with guessing the one lie, and learn something new about your teammates.
11. Trivia
Trivia is always a fun game — especially if you can play it without setting up anything complicated. Use Polly to run your game in Slack or Microsoft Teams. Hop into your messaging tool of choice and ask Polly to start a Trivia game, using our built-in library of questions and answers. Enjoy the challenge of trying to guess the right answer to these trivia questions against your team mates.
12. Virtual charades
Charades is a classic party game you can play during a virtual call — especially if each person has space to move around. Split the group into teams, and hand out charades prompts for them to use — or use a charades prompts generator. Act out the phrase or word and see which team is the best at guessing what's going on.
13. Virtual murder mystery experience
If you're looking for something spooky to do as a team over Halloween or just fancy a game of suspense, try a virtual murder mystery. These externally hosted events are another great way to have fun and work on problem solving skills in a small group as you figure out who the culprit is — without worrying about planning and running the experience yourself.
14. This or that questions
For a light-hearted way to get to know your fellow team members, try a few rounds of this or that questions. Ask people if they prefer Netflix or Hulu, winter or summer sports, and baking or cooking. Use Polly to set up some engaging this or that questions within your Slack or Microsoft Teams channel, or ask a few questions during your next team meeting.
15. Guess who
See how well you know the people you work with by trying to guess who in the office it is from only a few photos. Have one person collect baby pictures, photos of a work desk, or pics from someone's travels or hobbies. Then, that person will share the images without any identifying information and get the guessing game going. Alternatively, you can share a few facts about someone and see if you can guess who it is.
16. Virtual party games
Last but not least, virtual party games are always a great way to have fun together. If you want to relax, have a laugh, and enjoy some quality time with your team members then download and try games like Jackbox or Mario Kart Tour as part of a virtual happy hour experience. If you don't want to download games, look for options you can play in a browser — like online Pictionary games.
Create a fun team environment with these office games ideas
Playing office games can feel like a win for the whole team as you all relax, connect, and work together. Use this list to find ideas, then ask your team members to vote on their favorites. Then, plan your office games for the next few team meetings and your Slack and Microsoft Teams channels so you can build them into your team culture.
Shortcut your way to success with the help of Polly's employee engagement features. Run fun polls, ask trivia questions, play quizzes, and uncover new ways to engage through the tools you already know and love.
Try Polly for free to instantly improve your employee engagement.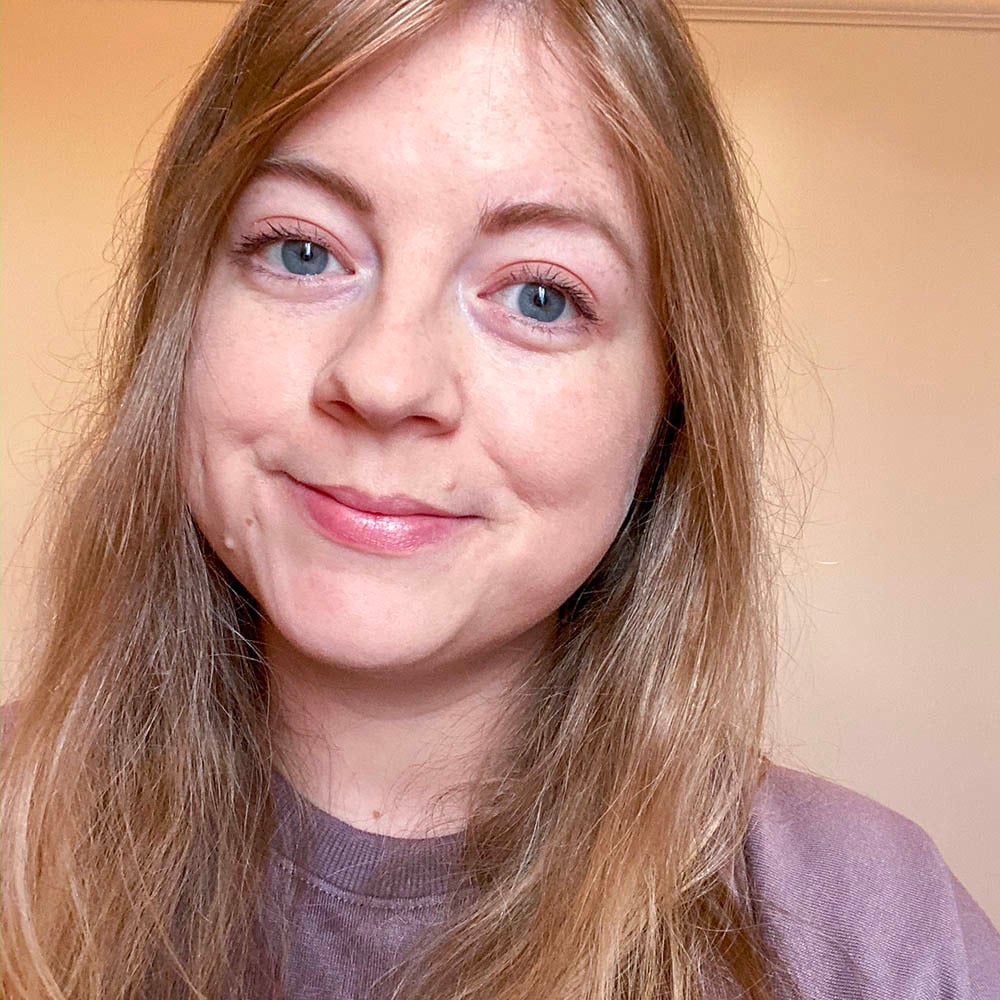 Nicola Scoon is a freelance writer that's passionate about employee engagement and better workplace experiences. She draws on her experience in internal communications to help companies create content that empowers, encourages, and motivates people to create better experiences for all.