Projects fall apart when team members don't work together. Teamwork is essential, but it's team collaboration that really makes the difference and helps you build stronger, more successful teams.
In this article we'll explore:
Let's take a closer look at this collaborative way of working together, why it's so valuable, and how you can introduce or improve this approach within your organization.
What is team collaboration?
Team collaboration is where you intentionally work together to make your project more successful. It's more than just happening to work on the same project as someone—it's about brainstorming, problem solving, and knowledge sharing.
With such similar names and themes, team collaboration often gets mistaken for teamwork. But the two are slightly different. They both involve working together, but with team collaboration the focus is on uniting to solve problems, share ideas, and work closely together to achieve a shared goal.
Team collaboration can involve:
💡 Taking part in brainstorming sessions to share ideas
🍽️ Hosting lunch and learns or training sessions to share knowledge
😀 Taking part in training sessions and team bonding activities
🤝 Inviting diverse groups to join the conversation
📫 Opening up feedback channels to foster continuous improvement
Good teams work together, but the best teams make team collaboration a priority. They share ideas freely, intentionally improve the skill sets of others, and lend their diverse voices and opinions to create a more inclusive environment.
The benefits of team collaboration
Team collaboration is a must-have for any team that recognizes the value that comes from a range of diverse voices, experiences, and knowledge.
Coming together as a team to work on a project, idea, or challenge has lots of incredible benefits, including:
⌚ Solve challenges in less time

❔ Improved problem solving skills

💪 Stronger team relationships and bonds

🤝 More diverse team opinions and ideas being heard

📊 Easier

project development

and project management

💡 Fresh ideas and inspiration

🔗 More opportunities for peer-to-peer learning

➕ Better cross-collaboration with other teams and departments

😀 Greater sense of pride, happiness, and inclusion
Without team collaboration, individuals work in silos and information doesn't get shared. People are unwilling or unable to trust others, and the best ideas never get heard. With team collaboration, your team members feel safe, comfortable, and excited to work together. They come to a project or problem ready to think, share, and collaborate.
8 ways to improve team collaboration in the workplace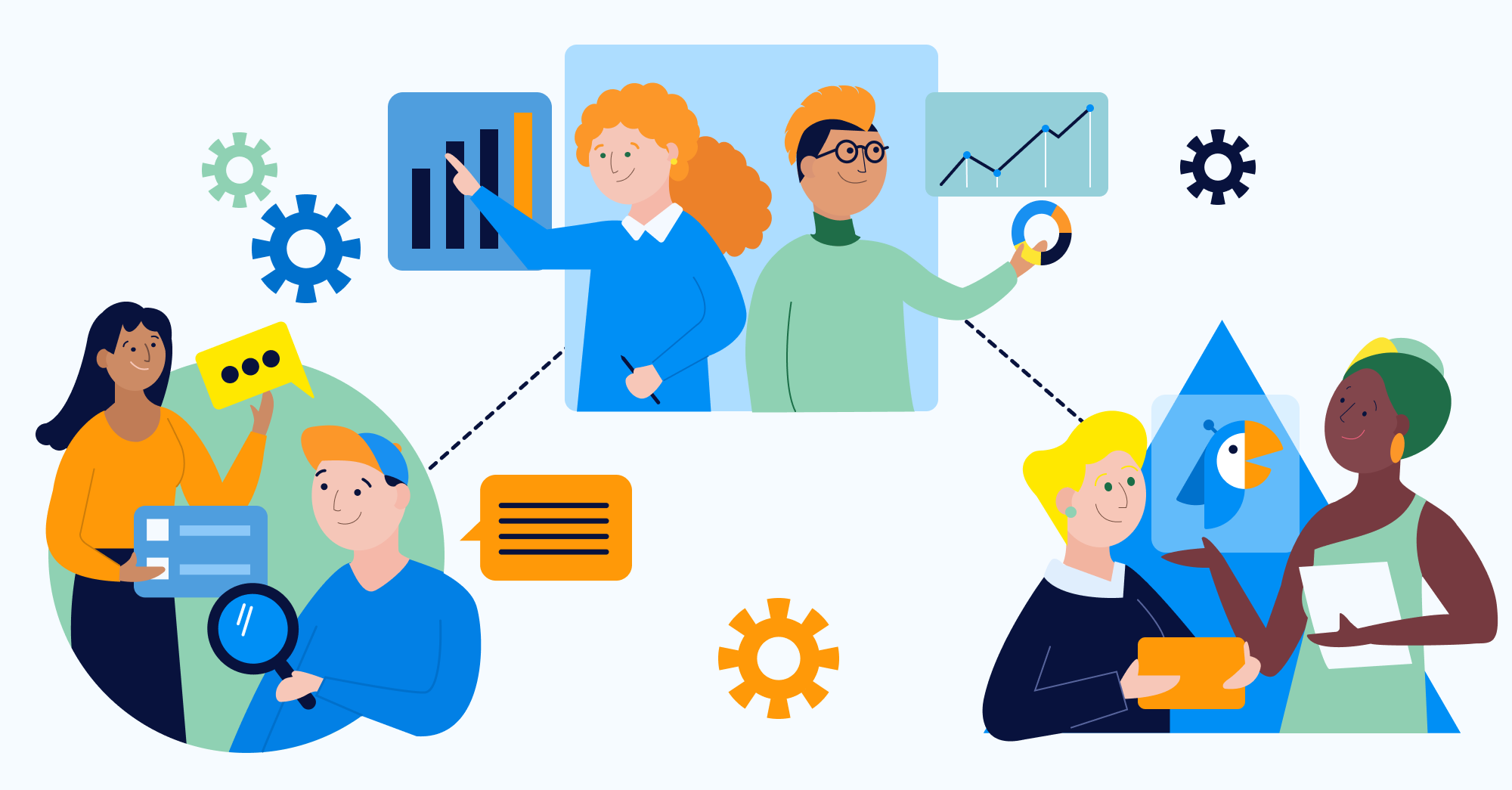 You can't improve your team collaboration skills overnight, but you can commit to working on them over time. If you want to promote better team collaboration in the digital workplace, these are some of the most effective areas to focus on first.
1. Identify shared goals
Central to any collaboration strategy should be your team goals. Identifying what your team's needs and common goals are helps you work towards them together, instead of individually prioritizing your own idea of what the end goal is.
Gather your team to set some goals together. Decide what you're going to accomplish, who's going to do what, and what a realistic deadline is. Figure out how you'll measure team performance and what a successful outcome looks like. Start strong and your team will find it easier to naturally collaborate along the way.
2. Provide guidance and set expectations
Not everyone is used to working collaboratively. As a team leader it's your responsibility to give your team members the guidance they need to understand how to work together, and let them know what's expected of them and others in this collaborative environment.
Guide others on what a collaborative team looks like. Explain the idea behind the concept, and the practical aspects of how it all works — like getting together for brainstorming sessions, communicating regularly though team chat apps, or how to submit feedback and ideas. Set expectations around file sharing, communication, and how to work together as a remote team.
3. Create opportunities to get to know each other
It's easier to work closely with others if you feel comfortable around them and see them as more than a name in your project management tool. Introduce plenty of ways your team members can connect, get to know each other, and build a sense of community.
Set up video calls for your team members to chat, share ideas, or co-work together. Host team meetings where there's an opportunity to share a fun personal update and cheer each other on. Run team building games like Zoom icebreakers, and get together for virtual or in-person retreats when you can.
4. Open up channels of communication
Team collaboration requires excellent communication in many different forms. Make it easier for your team members to collaborate with digital workspaces and communication tools that open up chances to talk.
Add a team messaging or internal communication tool like Slack or Microsoft Teams to your toolkit, and use this as a place for team members to gather, share ideas, and get to know each other asynchronously. Host video calls, live Q&A sessions, and town hall meetings where people can communicate and collaborate.
Use Polly's integrations to help you make these team communication channels even more engaging with polls, surveys, and feedback systems in Slack or Microsoft Teams, and real-time voting in your Zoom video conferencing calls.
5. Build a culture of transparency and trust
At the heart of any collaborative team is the sense that they can trust those they work with. Build trust and a sense of comfort among your team members by fostering a company culture that allows this to happen.
Design your company and team culture to be a collaborative environment with systems of continuous feedback. Consider shaping a feedback culture and introduce the elements that support this — like employee engagement surveys, live Q&A sessions, and an Open Forum.
6. Check in with team members regularly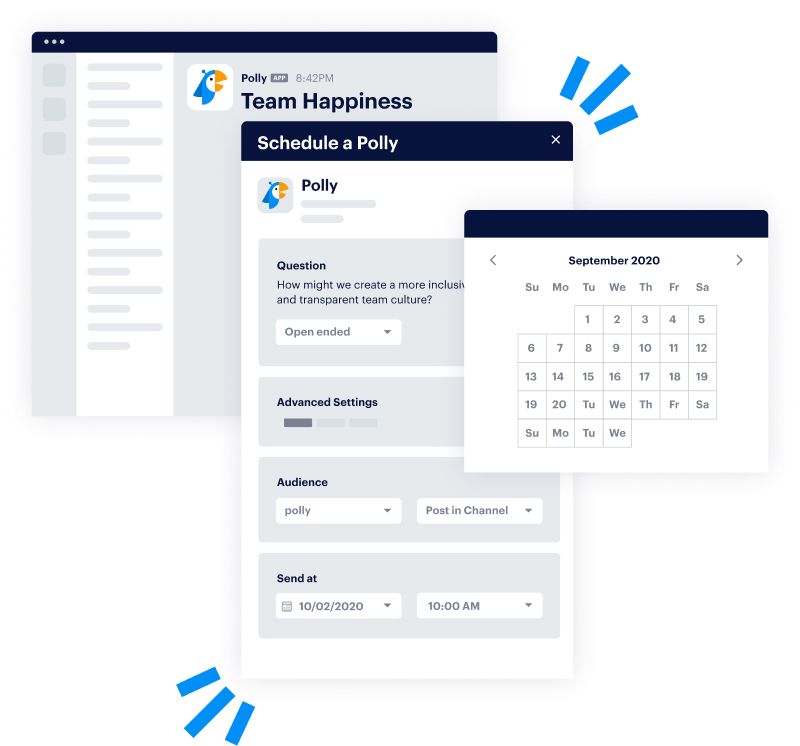 Collaborative work doesn't flourish overnight. There can be some challenges at first, and there's always a need to check what's working so you can make improvements. Build regular opportunities for discussion and feedback with team members into your schedule.
Polly has plenty of templates to help streamline the process and give you valuable metrics to look back on. Our collection of templates include remote pulse check ins, weekly team check ins, team happiness pulse surveys, and more.
7. Create space for creativity and collaboration
For your teams to really work together, they need digital or hybrid spaces that help make this easier. Introduce team collaboration tools and digital work environments that support and encourage collaboration.
Figure out which tools and resources your team members need to work together more collaboratively. Look for team collaboration software tools that give you the features you need — like whiteboards, live polls and voting, or team building exercises.
8. Celebrate success and reward collaboration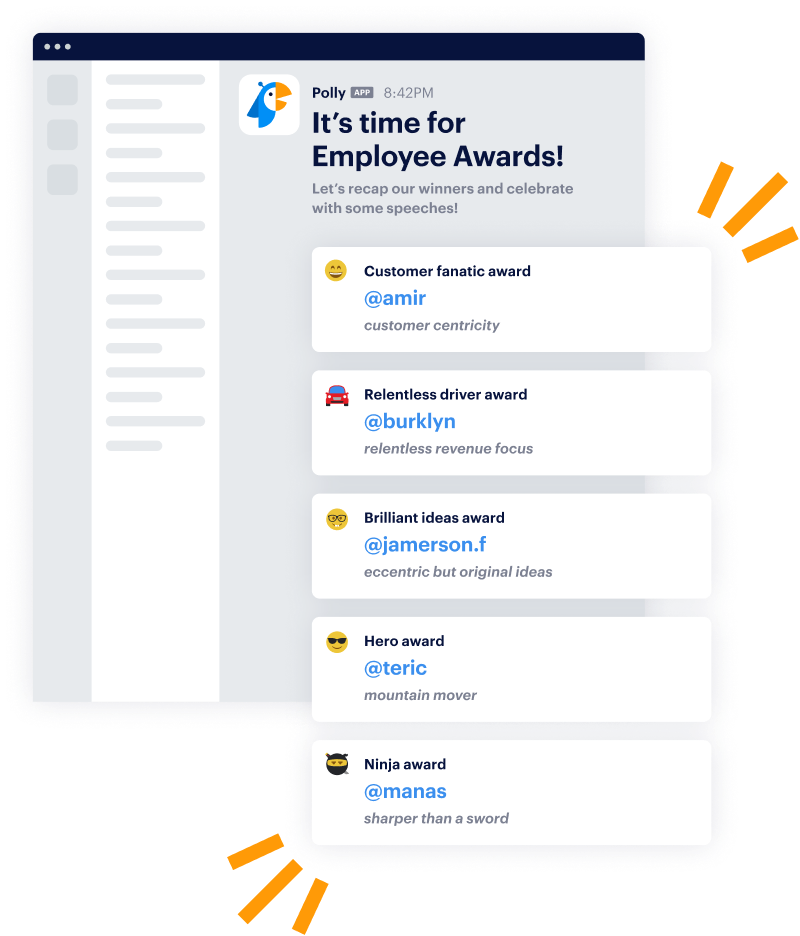 Team collaboration often brings you exciting ideas and innovative initiatives that help make a project or your company more successful. Reward these innovations and not only celebrate the great work done so far, but encourage more of it in the future.
Celebrate your team members' hard work with company awards and employee recognition programs. Shout them out in team meetings, congratulate them at all hands meetings, and reward their contributions in ways that feel personal, intentional, and meaningful.
Make team collaboration feel effortless with the right tools
Effective team collaboration is about more than getting together on a video call once a week. It's about the entire team working together seamlessly, sharing knowledge, and intentionally cooperating to reach a shared goal. Use these team collaboration tips to build a stronger, more engaged team and enjoy the impact it has on your projects and company culture.
If you're ready to make team collaboration feel even easier, bring Polly aboard as your co-pilot. Our collection of product team and employee engagement features gives you a more effective way to bring people together, get their opinions, and collaborate together in the spaces you already use.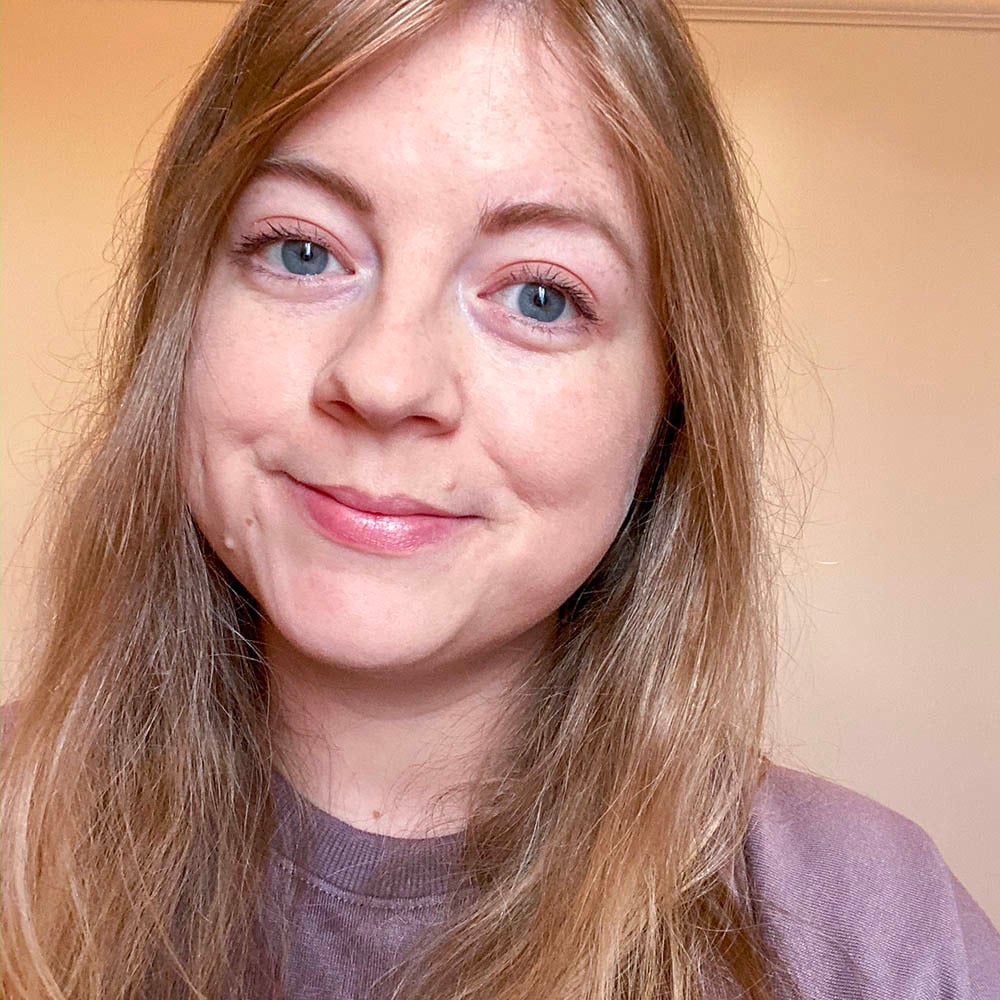 Nicola Scoon is a freelance writer that's passionate about employee engagement and better workplace experiences. She draws on her experience in internal communications to help companies create content that empowers, encourages, and motivates people to create better experiences for all.