Getting Started with Polly
---
Congrats on taking the first step towards on becoming the next Polly jedi! We're glad you're here. As you're getting to know Polly, we hope this step-by-step getting started guide will serve you well and you'll soon be on your way to creating and measuring your surveys like a pro.
Here's some of the areas we'll cover in this getting started guide:
Introducing Polly to your team
Creating your first poll or survey
Analyzing and sharing your results
Overview of advanced features
Let's get going!
Introducing Polly to your team
If you are the person that installed Polly for your Slack workspace, then congrats! You've been designated as the Polly champion – the first step is to introduce Polly to your team. Regardless if you're introducing Polly to a team of 10 people or 10,000 people, it's not always a seamless and easy task introducing yet another app to their toolbox. Here's a few quick and easy steps that will make onboarding your team to Polly smoother and more meaningful.
Step 1 – Arm your team with the right resources
As the admin, you are the point of contact between Polly and the average user. By nature, you and all Polly admins armed with resources after the initial install – and it makes sense to do the same for your team. To get them going with their own surveys and polls, there's a few helpful resources catered to guiding them along the way. Here are some links to start:
Point them to this document (of course!)
Our help pages for every question they might have
Step 2 – Send out a fun, casual poll to your entire organization as a test run
One of the best ways to ease your team into using Polly for all your workflows is to start sending casual polls at first. There's endless casual polls that you could send out as a test run – it just depends from organization to organization. Here's a few that we see most often:
Lunch polls – quickly decide on which new lunch place your team is trying out, or what type of food/restaurant you should get catered for the next lunch meeting
Team outing survey – set up a survey with two short questions to decide on a date and location that works with everyone's schedule for your next team outing
And more!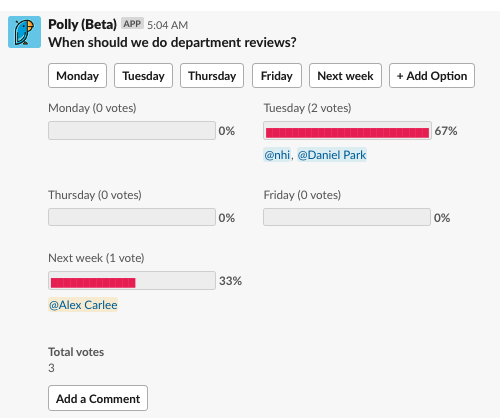 The above options are just some examples of simple, day-to-day workflows that were historically done candidly with back and forth conversations to come to a consensus. Not only do polls/surveys save you time and effort in the back-and-forth conversations, but you might even find that your team is more engaged, see better participation rates, and time savings!
Step 3 – Encourage your team to go off and create their own polls and surveys
Authoring a poll or survey is the exact same process, regardless if you're an admin or just a regular user. Once everyone knows Polly like the back of their hands, it's much easier to transition a lot of your traditional surveys from email to Polly in Slack. Encourage them to create polls or surveys (if there is a need for it!) to get them more familiar with poll/survey creation and for them to feel empowered to drive decision-making from the surveys that they post.
We'll go ahead and jump down to Polly for users on more information on how to create, send off a poll or survey, and analyze results – and all the other advanced options that come along with it.
Create, send, and analyze
Now that you're somewhat familiar with Polly – whether you've taken a survey from your coworker, or you've voted on a casual poll, let's get started on what to do next. At the end of this guide, you'll be able to create your own polls/surveys and analyze them like a pro.
Step 1 – Author a poll in Slack
To start a poll in Slack, just /Polly [your question here] in any channel to initiate the authoring controls. You'll be able to easily add/edit/delete options as you please. By default, the question type is set to multiple choice, but you can easily toggle to a different poll type.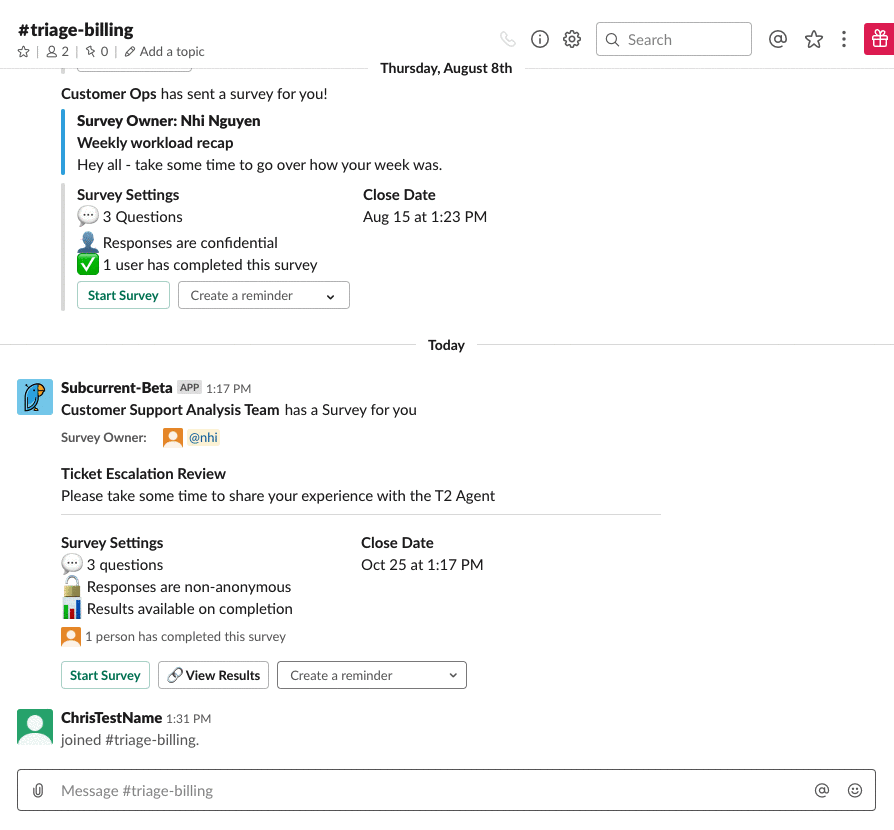 Once you're all set with your poll, just simply post in channel or send directly to the selected channel's members via direct message (from Polly). With polls, they post almost instantaneously if you've scheduled it to post immediately. Do note that if you are trying to poll a private channel, you'll need to /invite @Polly first before doing so! We'll go over what the different advanced options are below.
Step 2 – Author a survey (or poll) on the web app
If you'd like to send a series of questions in succession, or otherwise known as a survey. Since it's a more complex process, it's currently only available to do so via the web app – but you can initiate the survey process while you're still in Slack by using the /polly survey command and we'll send ya a link straight to the authoring page.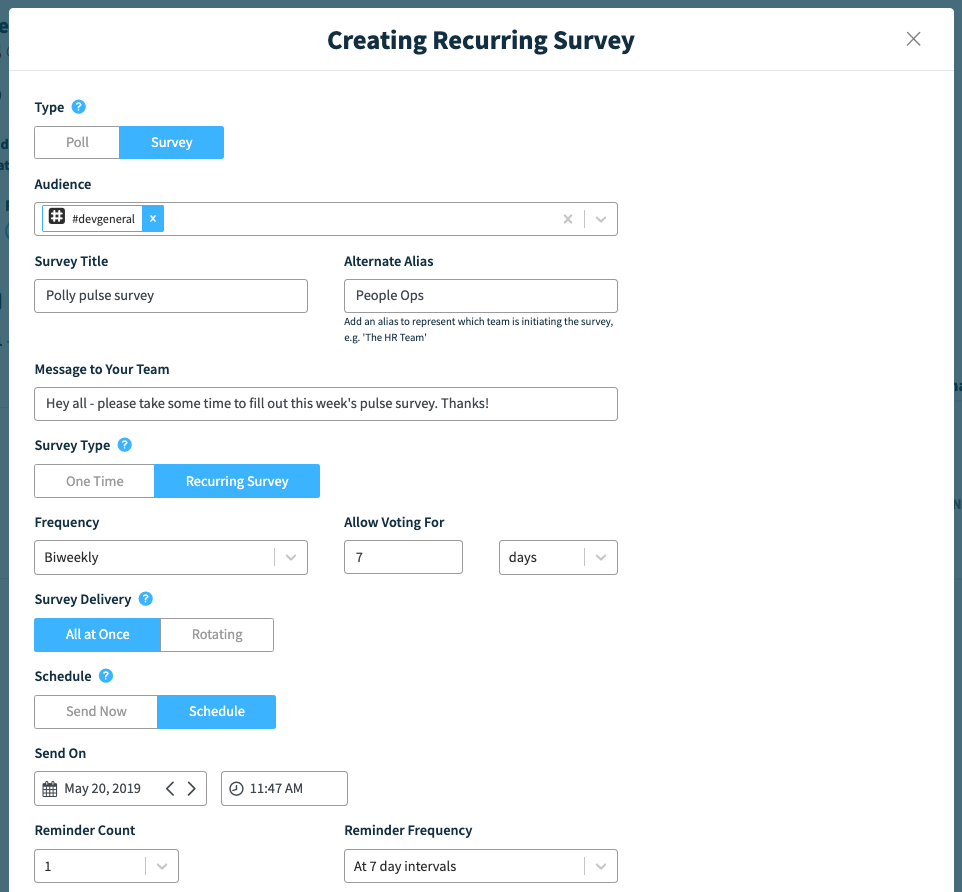 Once you've selected the type to be a survey, you can now add more information about your survey such as a title and a descriptive message that will show for your team. The rest of the survey authoring process is pretty straightforward – selecting a channel, inputting your questions and options, enabling comments, and you can make certain survey questions required or not.
You can choose all sorts of question types from Multiple Choice, 1-10, 1-5, Agree/Disagree, or Open Ended. By default, the survey is open for just 2 weeks but you can keep it open for longer or shorter by inputting the number of days.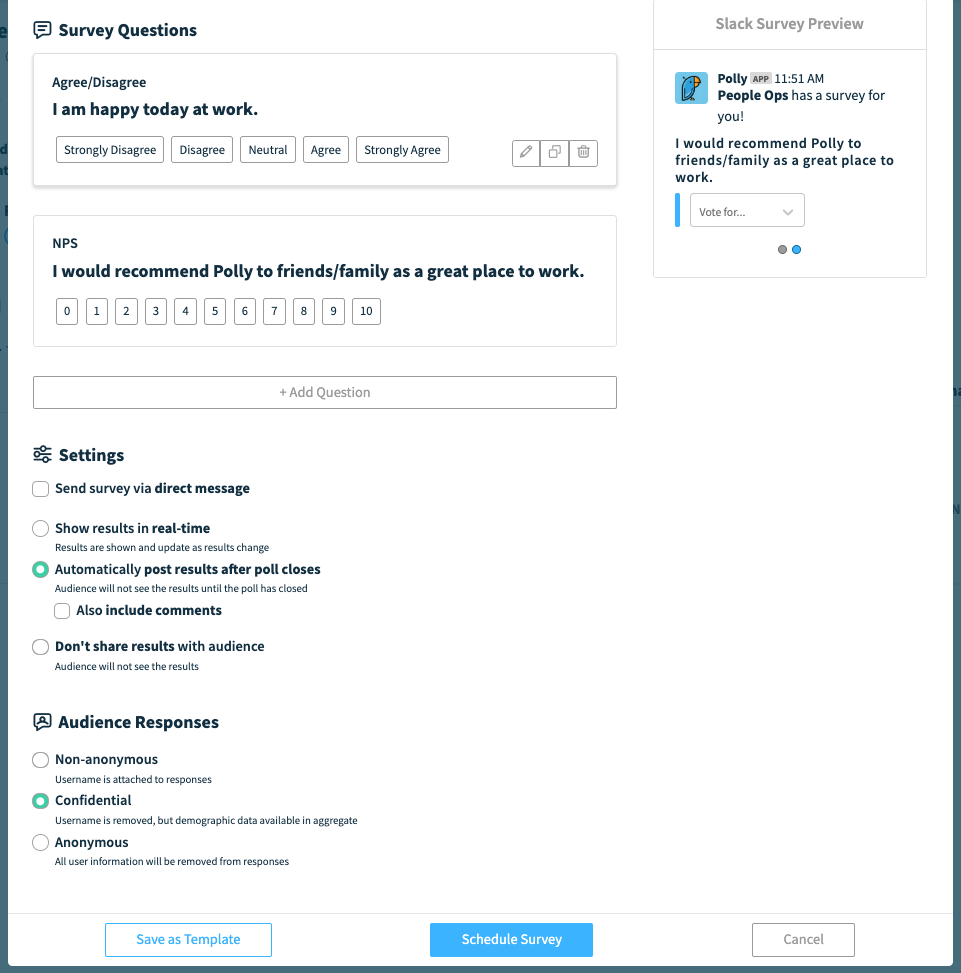 Once you're ready, just hit Create Survey! If you've chosen to publish immediately, surveys can sometimes take up to 5 minutes to deliver.
Step 3 – Analyze and share your results
Depending on exactly how you published your survey, the best part about Polly is that results post directly in Slack in real time with vote percentages, counts, and the names of who voted for which option (if not anonymous). However, if you've chosen to send the poll or survey privately via DM or have opted to hide results from the team (but it would still publish publicly in the channel), then only you, the author, have the ability to view the results.
To view results, you can either navigate to your dashboard's poll feed where you'll see all of your most recent polls, or you could search for a particular one in Slack by using the /polly results command and choosing from the drop-down menu.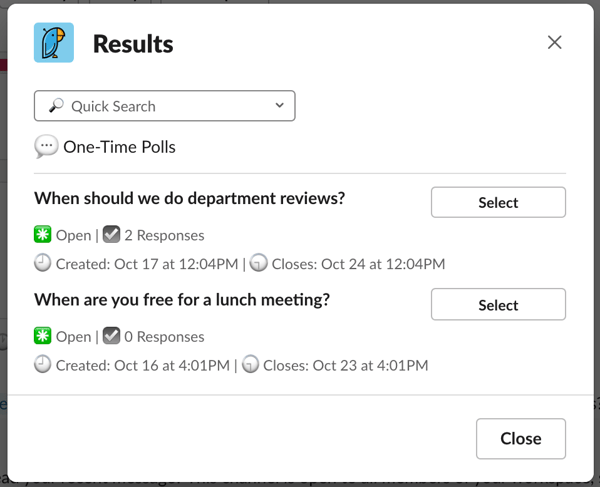 And if you want to get more granular with the data, you can analyze it even further by clicking on the link below the results to view the poll/survey details on the web dashboard. Within the specific poll details, you have access to more information about the poll – such as the comments left, total number of votes, if any reminders were scheduled, close date, and more.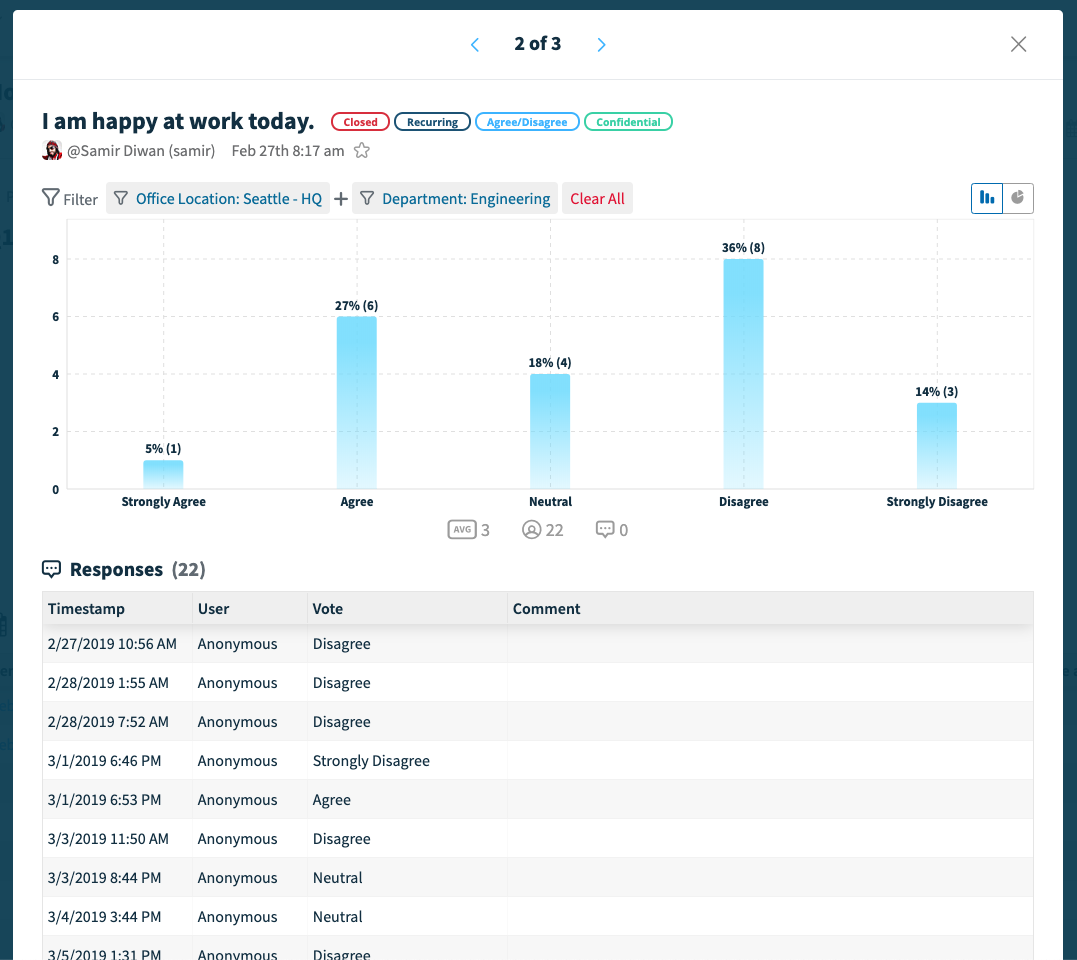 Have poll/survey results you need to show to other members of the team? You can also choose to share any poll or survey results that you have authored to anyone on your team – including those that weren't directly in the channel where the poll/survey was sent, so long that they're still on your Slack team. To do this in Slack, you can initiate sharing to team members with /polly share and just select the poll or survey you'd wish to share, to the select channel or member.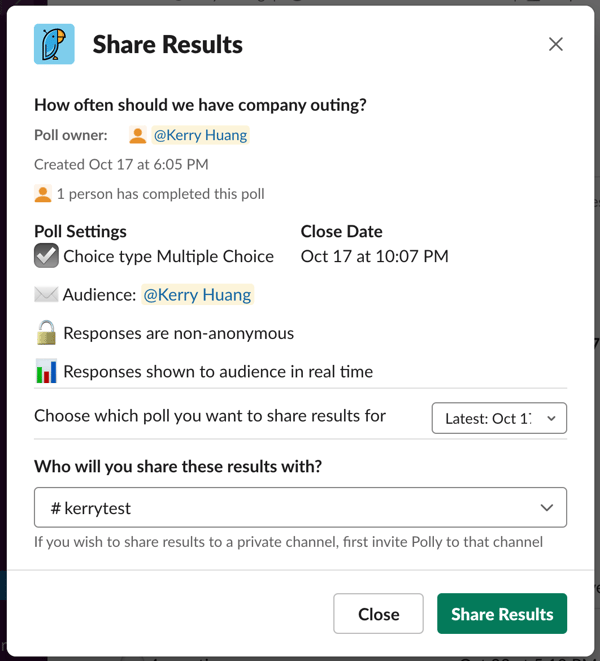 You can also share from the dashboard (either a poll or survey) in a very similar process. Just click on the poll/survey of choice → … overflow menu → share.
You have the option to share a link to the web dashboard results, share it directly in Slack to a channel or colleague, or grant dashboard access for the results so that they have access to it at all times.

What else can you do?
Besides the basic poll and survey authoring workflow, there's a lot Polly has to offer:
the flexibility of your control as poll author
using and creating templates
being able to dig into and manipulate your data with CSV exports, and
more advanced analytics features on the web dashboard.
These will allow you to have a better control on your polls & surveys, gain a better insight into your organizational data collected from surveys, and enable you to make actionable decisions off of them. Almost all of these advanced options are premium features that are only available on paid tier beyond a free trial.
💡 To learn more about the premium features and the free trial, check out our plans and pricing. Or alternatively, we're happy to show you if you request a demo.
🔎 We're here to help! If you have any questions, requests, feedback, or just want to say hello – drop us a line and we're happy to help. As always, our help resources are always available if you're in a pinch for a quick and general question.